Hi friends! It's Emily back from Painting it Purple with another DIY project for you! This is my fourth post as a Craftaholics Anonymous Creative Team Member and I think this is my favorite so far. I haven't shared a DIY with you since my first post back in February when I shared my DIY Cement Planter tutorial so this time I'm sharing a really simple project that involves some of my favorite supplies – acrylic paint and my sewing machine!
DIY Gift Card Holder
I LOVE giving gifts but lately I've been struggling to find the time to make the perfect gifts and I've had to resort to giving gift cards. Which isn't horrible, I love getting gift cards, but I also love to give awesome handmade gifts. I haven't been able to find a really great gift card holder anywhere so I decided this was the perfect time to make my own. This is a simple DIY project with very little sewing, perfect for beginners.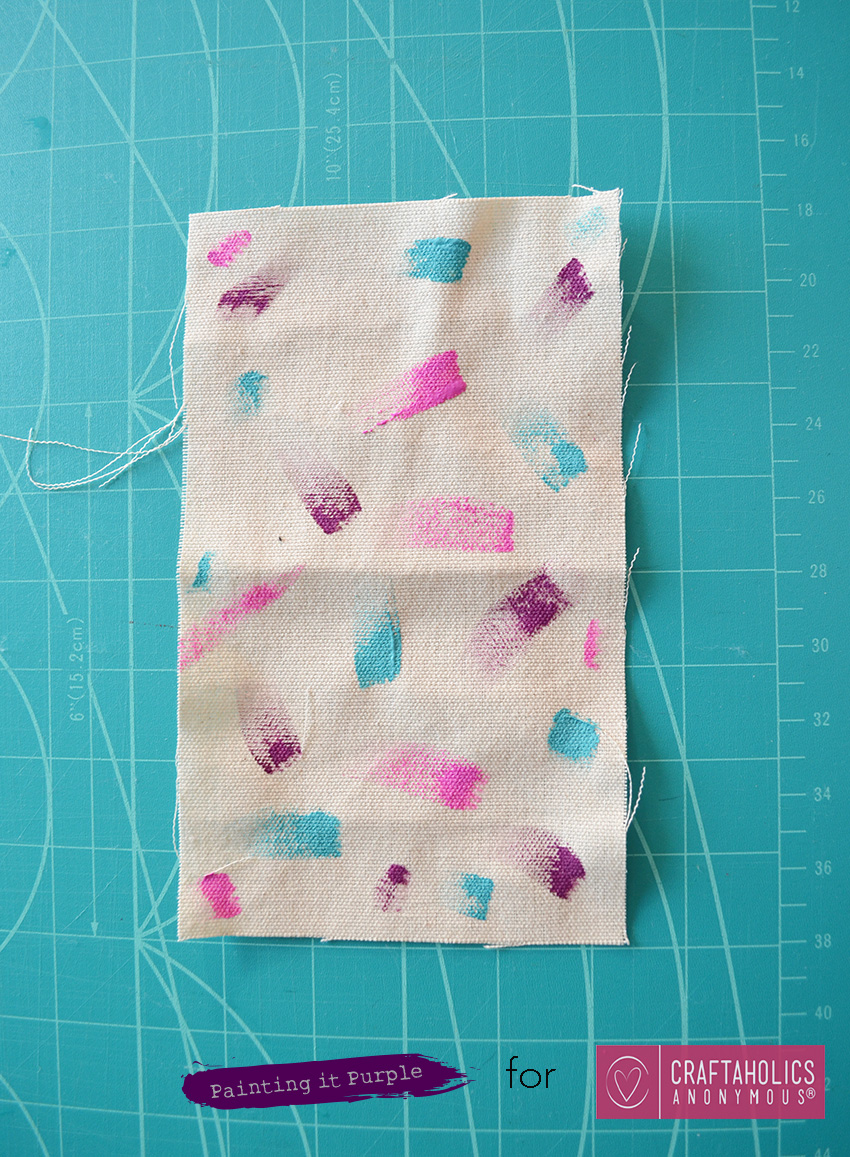 Supplies:
Canvas fabric
Acrylic Paint
Paint Brush
1 Button
Needle and thread
Sewing machine
Fabric glue
Step One: Start by cutting your canvas. I cut mine 9″ x 6″.
Step Two: Paint your fabric. I used a paint brush and just did random strokes in different colors.
Step Three: Sew your edges. Fold over about half an inch all the way around your canvas and sew. I used bright pink thread because I wanted to see the stitch but if you want a hidden stitch, use a thread that matches your canvas.
Step Four: Place your canvas right side down and place the gift card inside. Fold the fabric up so it covers the entire gift card. Use some fabric glue to close the left and right seams. Just dab some glue along the inside seam and push down. Let the glue dry.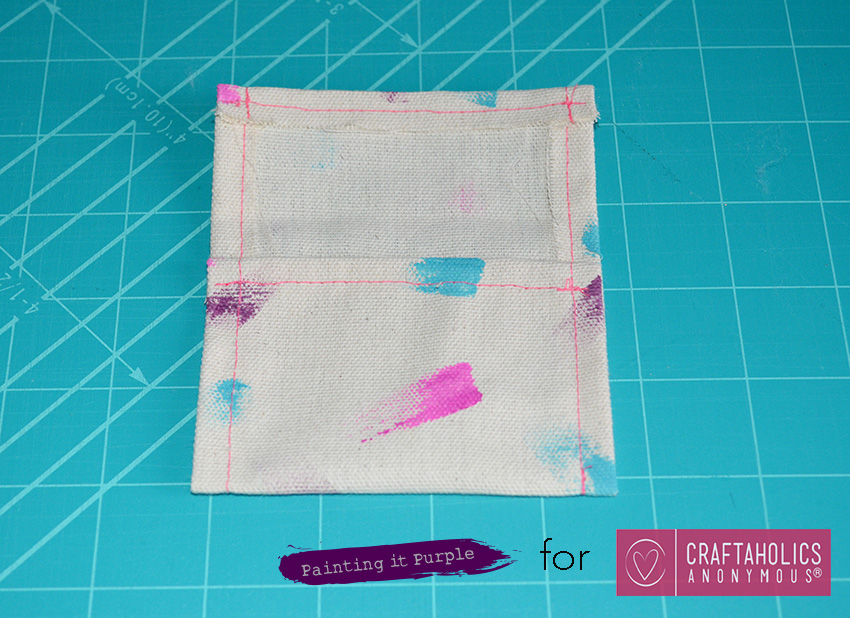 Step Five: Attach your button to the bottom of the top flap. So when you close the top part over the gift card, the button will be on the outside at the front.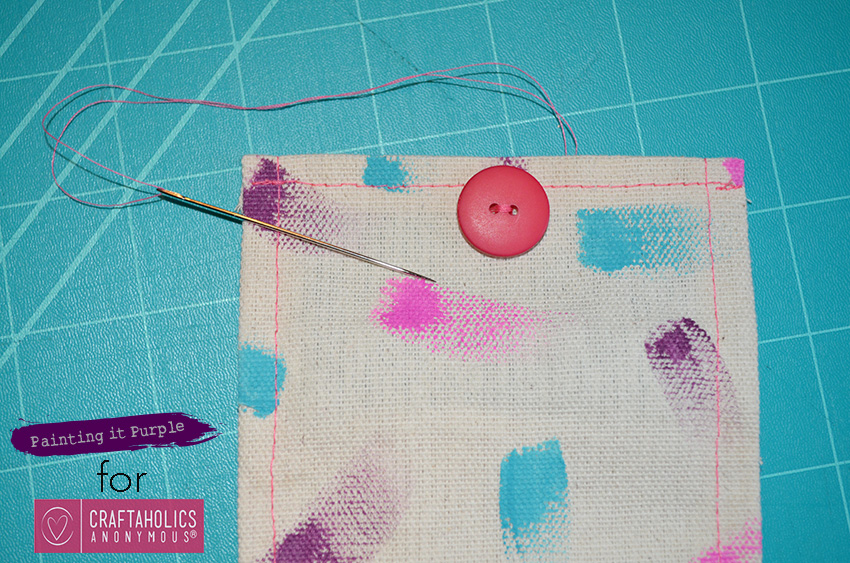 Now all you have to do is pick up a gift card, put it in your holder and wrap some twine around the button to close. I found the PERFECT gift card at Michaels and I'm really loving how my gift card holder turned out.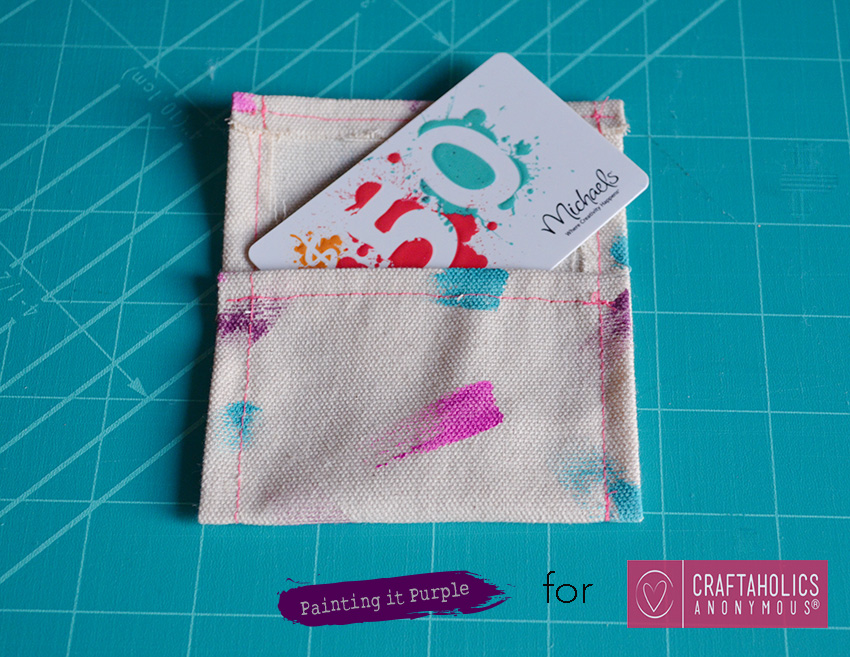 Such a simple project! If you want to join us in our DIY adventures, post a photo of your project to Instagram and tag @PaintingitPurple and @CraftaholicsAnonymous
HAPPY CRAFTING!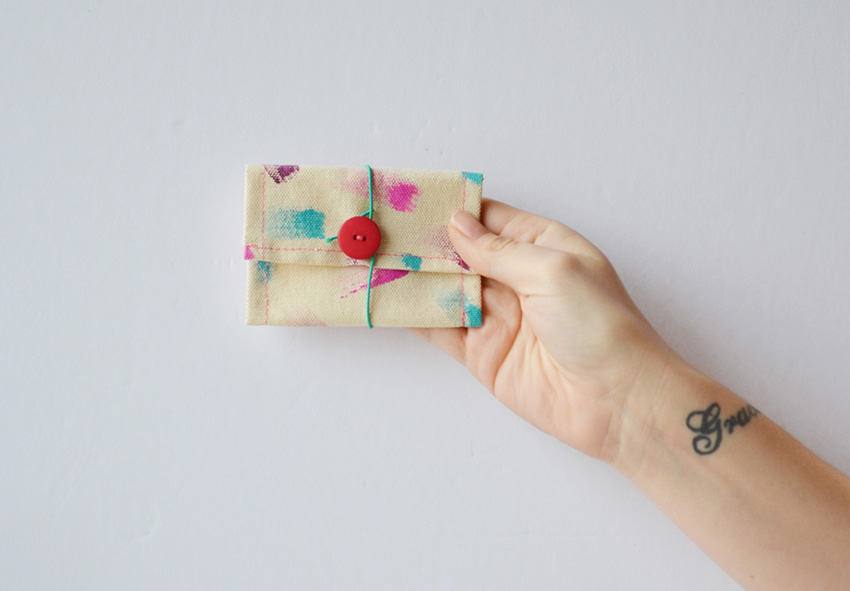 Looking for more simple sewing projects?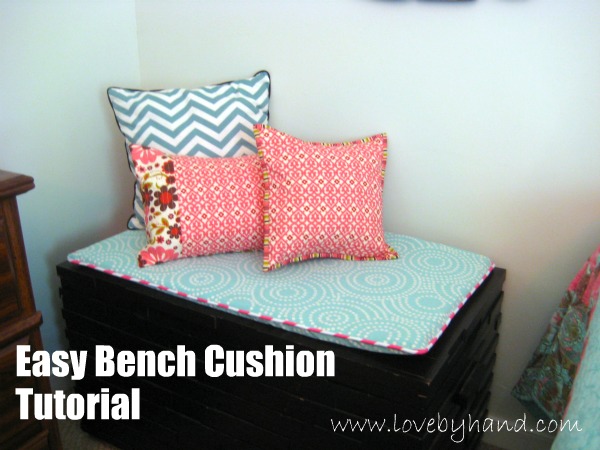 Easy DIY Bench Cushion Tutorial