Woven DIY Christmas Ornament
Can you believe the Holidays are already here? This year has flown by but we have been really excited to start sharing all of our Holiday posts over at Painting it Purple. My list of Holiday DIYs seriously grows every single day but I'm very happy I was finally able to tackle this specific DIY Christmas ornament. I've been seriously obsessed with weaving lately (see my first weave here) so obviously I had to find a way to incorporate weaving into my holiday DIY projects.
I had a few different ideas – I was going to try to make a wall weave with an ugly Christmas sweater pattern and then I was going to make a weave in the holiday colours we chose to decorate our house this year but then I saw some adorable tiny weaves and knew I NEEDED to make tiny weave Holiday ornaments for our tree.
What you need:
Small loom (or cardboard)
Twine
Yarn in the colours you want to use – I used scraps of white, green and red with some silver ribbon.
Weaving needle
Scissors
Step one: If you have a loom already – using the twine wrap roughly 6 inches of your loom. If you do not have a loom and you are using cardboard – cut a piece that is a few inches bigger than you want your ornament to be. Use a ruler to measure and mark each half inch across the top and bottom of your loom. Make cuts in each and now you are ready to wrap your loom.
Step two: Thread your needle with the yarn you want to use and start weaving a few rows leaving a tail at the beginning to be weaved in later. Repeat the over-under pattern all the way across and back a few times (I made 4 rows before adding my tassels)
Step three: Attach your tassels. I cut three pieces of string at six inches each. See the image below for a quick guide to adding tassels.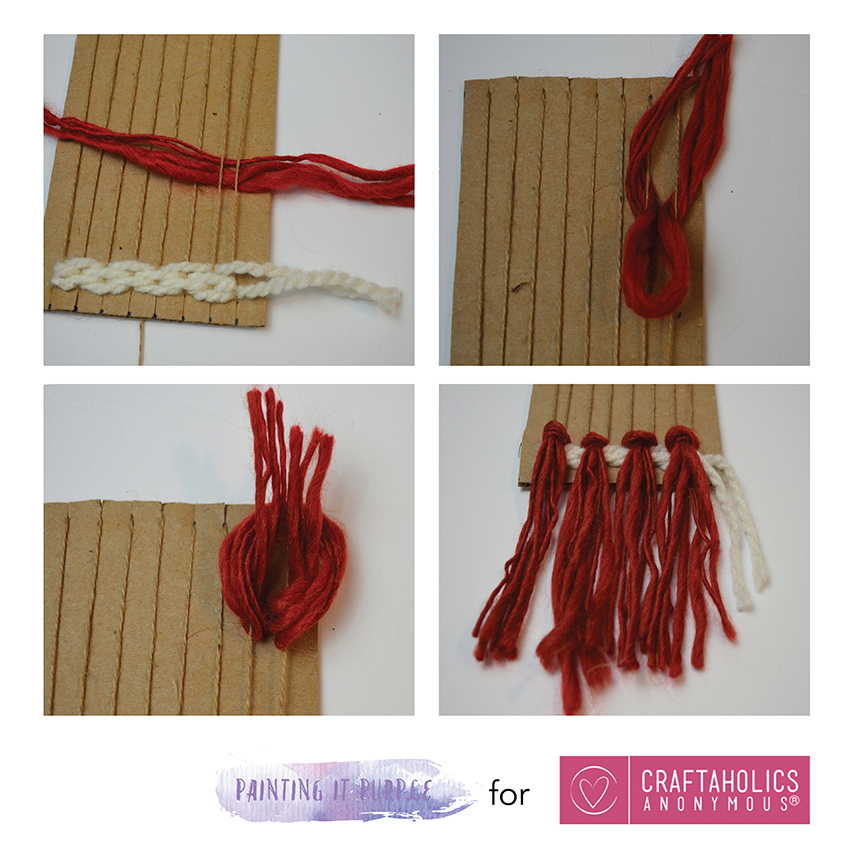 Step four: Continue weaving, making patterns as you go. There are no real steps here – you can do whatever you want, have fun with your weaves!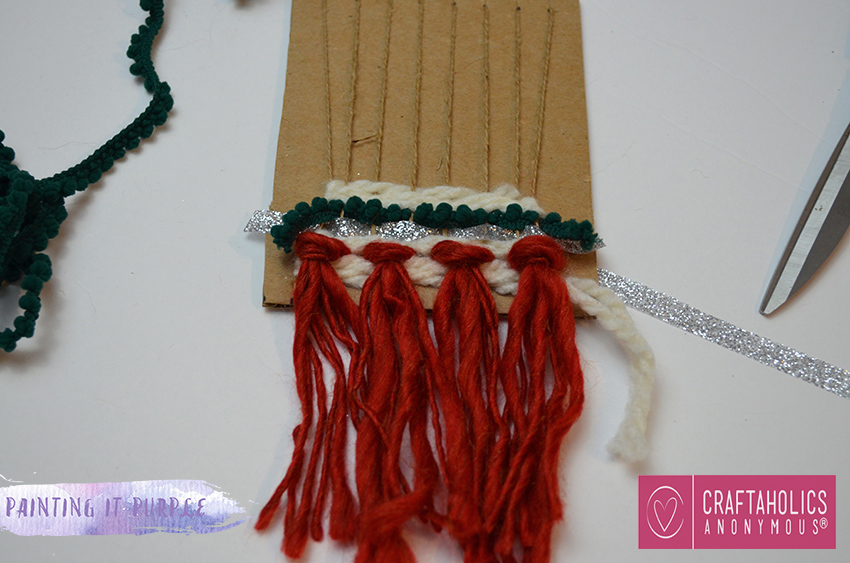 Step five: When you are finished you want to weave in all of the ends and remove your weave from the loom. Cut each string at the top and tie them in knots making sure it is tight to the beginning of your weave. Pull the rest of the weave off from the bottom.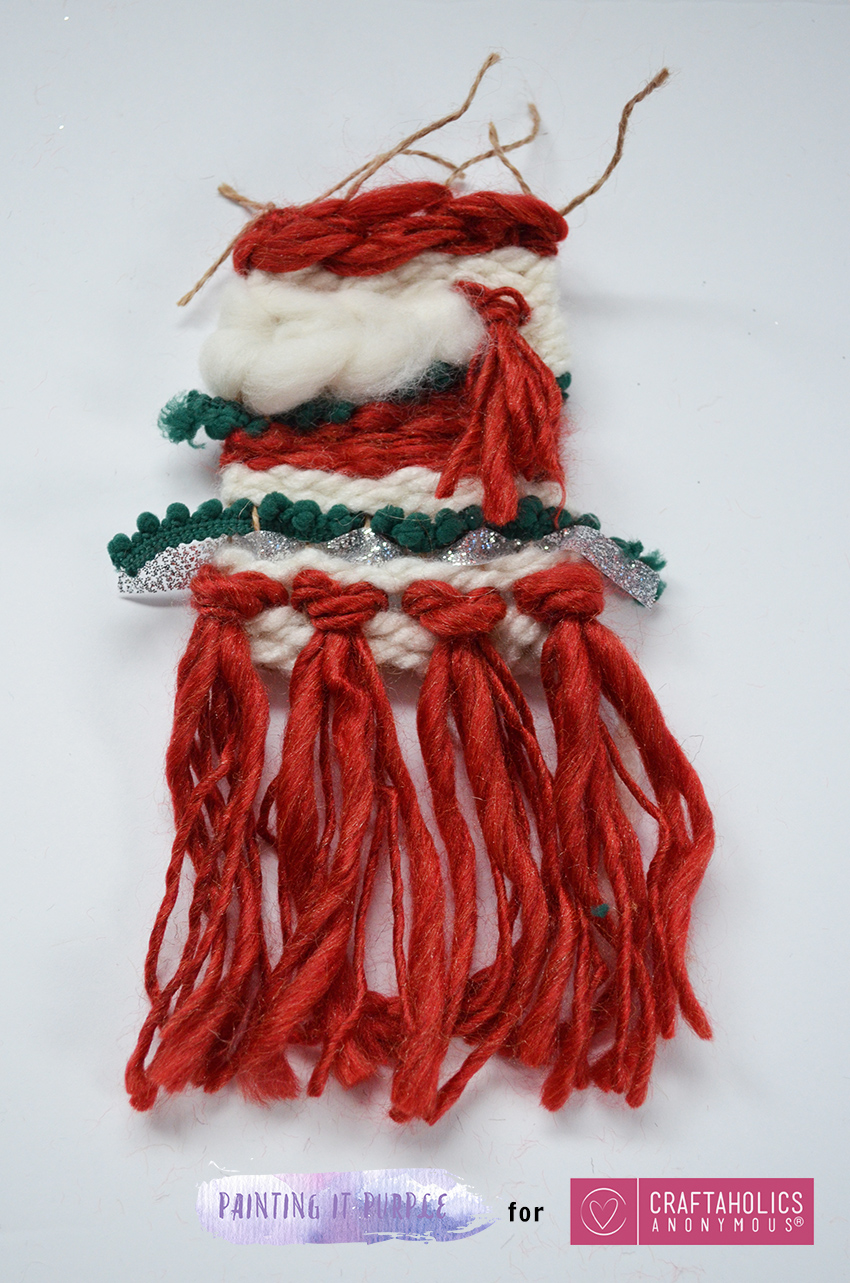 Step six: Once your weave is off the loom and the top strings are cut, make sure to tie them tightly and weave these into the back of your DIY Weave Ornament.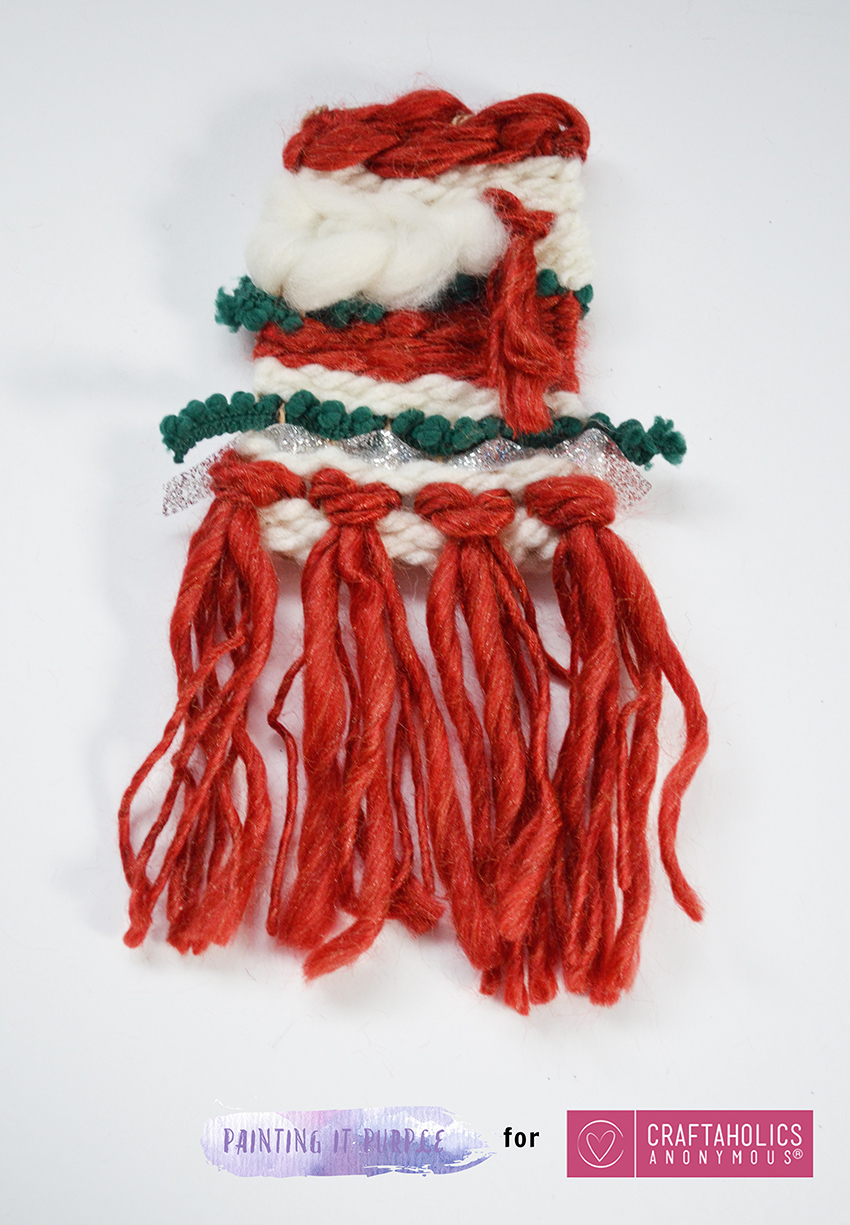 Step seven: Cut another piece of twine and attach it to each side of your weave ornament. This is how you are going to hang the ornament on your tree! I left my ends visible because I like how the twine looks but you can easily weave these ends in as well.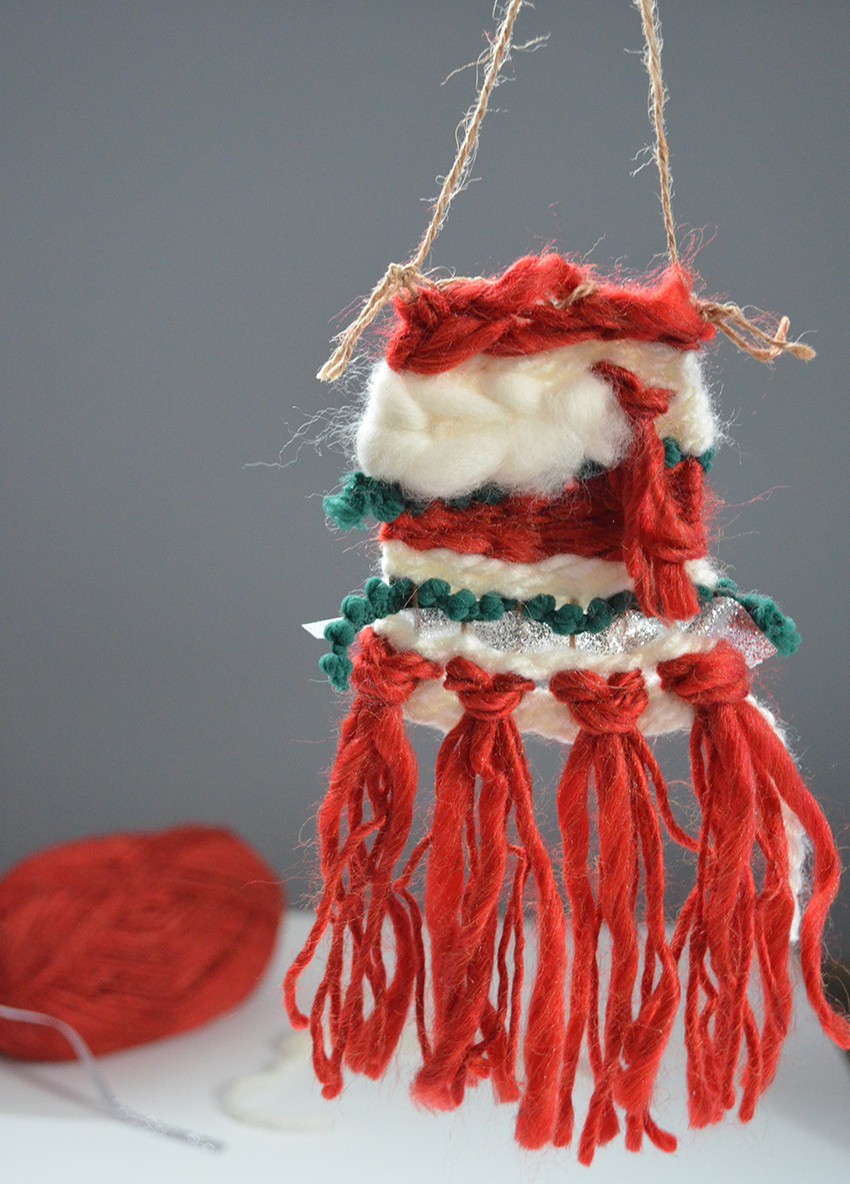 What is your favourite Holiday DIY project?
More DIY Christmas Ornament Ideas You'll Love!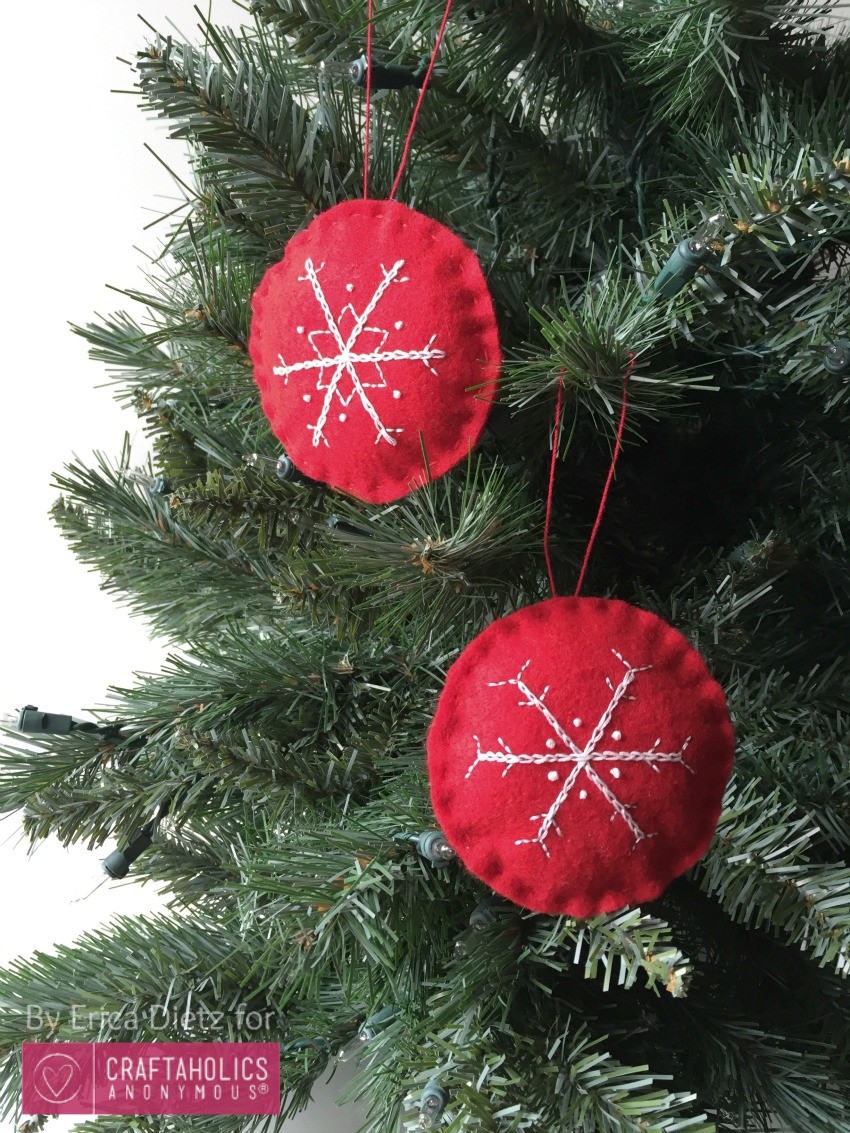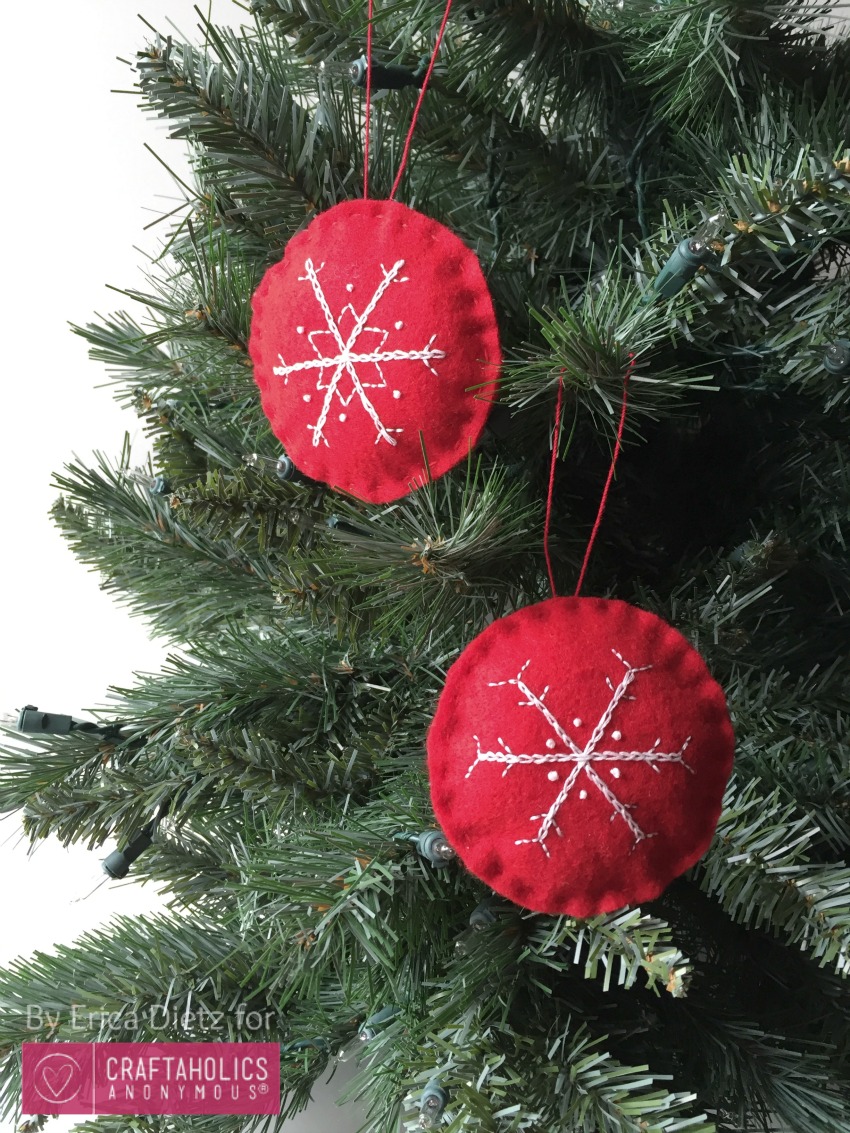 Embroidered Felt Snowflake Ornaments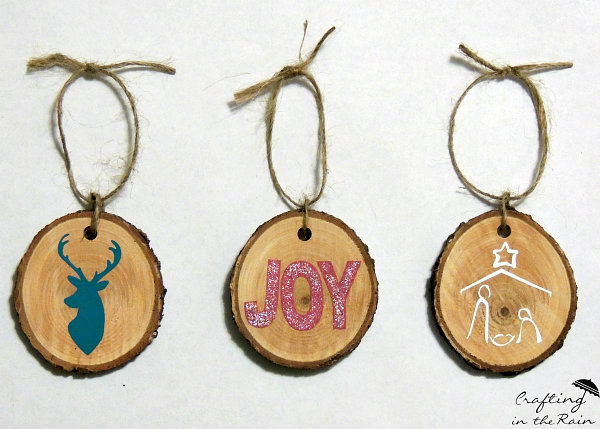 Wood Slice Ornaments