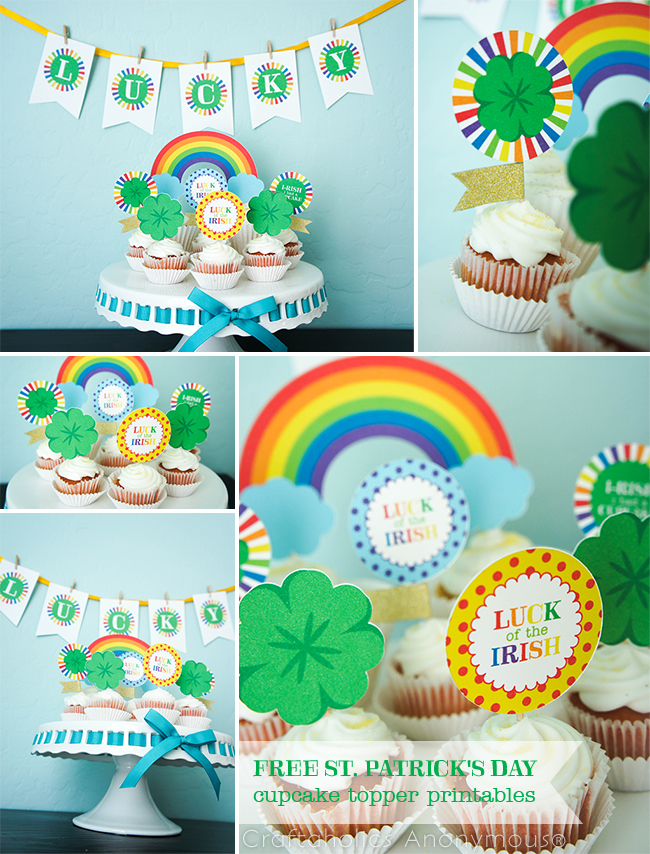 St. Patrick's Day Rainbow Cupcake Toppers
Hello fellow Craftaholics! Erin here from Strawberry Mommycakes. Today I'm sharing the cutest St. Patrick's Day Rainbow Cupcake Toppers Printable. These are not your average cupcake toppers…The rainbow topper is pretty much the cutest thing ever and it just looks amazing with the different shapes. This is such a fun and colorful printable set…perfect for your St. Patrick's Day party! I've included a PDF Version AND all the Silhouette files.
I recently purchased a Silhouette because EVERYONE was telling me how much I needed one…and they were so right! I created this set up in minutes. It also helps that I bought the cupcakes at Wal-Mart (baking is SO not my forte).
Free St. Patrick's Day Printables
What you will need:
Instructions:
If you have a Silhouette, just print and cut straight from your computer! If not, print out the printables, then cut out the rainbow, clover toppers and banner with scissors. Use the 2″ hole punch to cut out the cupcake toppers.
Glue each end of the rainbow to toothpicks, so you can stick each end in a different cupcake.
Glue toothpicks to the back of each cupcake topper.
If you'd like the washi tape flag, fold a piece of washi tape around the toothpick under the topper. Cut at two angles so it creates a flag.
Cut out banner and attach it to ribbon (I used mini clothes pins…really easy and super cute!)
Hope you enjoy these cheery St. Patrick's Day printables! If you use them, please leave a comment below! We'd love to hear how you used these St. Patrick's Day Rainbow Cupcake toppers.
Want more craft/holiday ideas? Follow along here! Pinterest // Facebook // Twitter // Instagram