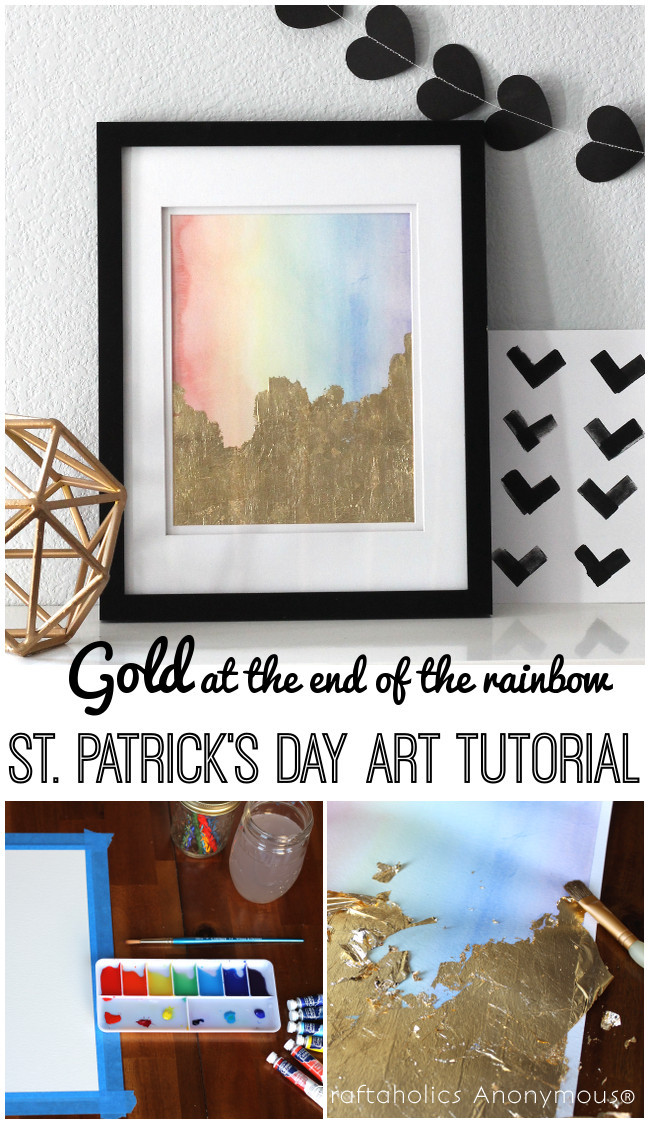 Hello! I'm Alexis from Persia Lou, and I'm really excited to share a simple St. Patrick's Day rainbow art project with you today.
A few weeks ago I decided that I was absolutely not going to do any St. Patrick's Day projects this year. I just couldn't get very excited about the green and the shamrocks, BUT then I remembered the whole gold at the end of the rainbow thing, and I changed my mind. I have completely bought into the gold trend, and I just couldn't pass up the chance to play around with gold and rainbows combined.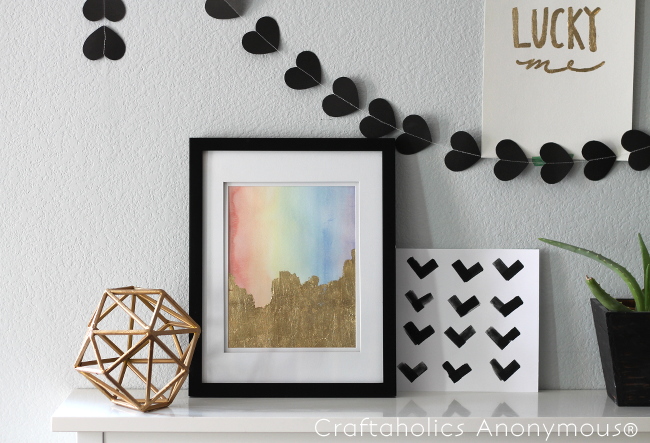 My Gold at the End of the Rainbow Art was really simple to put together and takes little to no artistic skill or training. You can absolutely make this! Here's how:
Rainbow Art Tutorial
First gather up your materials. You will need:
Watercolor paper (I recommend 140 lb. weight)

Watercolors (tubes or pan colors work great)
Brushes
Painter's tape or masking tape.
Water
Metal Leaf Adhesive
1. Once you have collected everything, it's time to prepare your paper and colors. Tape your paper to your table using the painter's tape. This will minimize warping of the paper and give you a nice, crisp edge around your painting.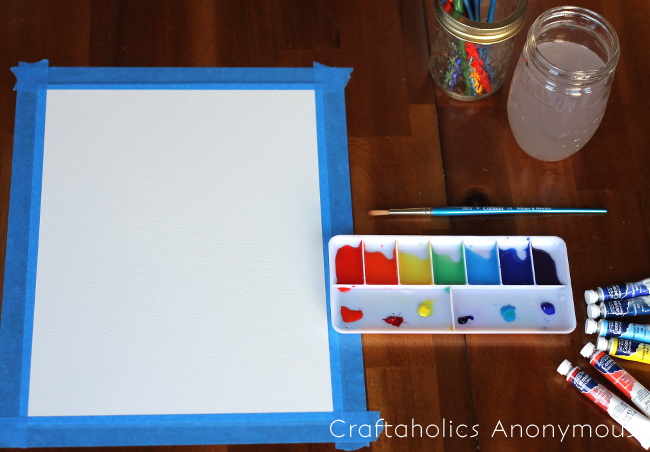 2. I used tube watercolors and mixed up red, orange, yellow, green, blue, indigo, and violet. It's a good idea to test your colors on a scrap piece of paper to make sure you are happy with them before you begin painting.
3. Because I wanted the colors of my rainbow to really blend together, I painted my rainbow onto a wet surface. To do this, you start off by painting the entire piece of paper with water. The paper should be damp and look shiny, but there should not be any pools of standing water on the paper.
4. When the entire paper is wet, start by filling your brush with your red paint and paint a stripe along the left side of the paper. Just eyeball the width. Because the colors will all blend together, the spacing of the stripes does not need to be exact. Next, fill your brush with orange and brush a stripe of orange right against the red stripe. Then just keep moving on down the rainbow.
5. You will need to work fairly quickly to complete the rainbow while the paper remains wet. If your paper dries before you get to the end, just go ahead and add more water.
6. When the paper is filled with color, it is time to let everything dry. Your painting needs to be completely dry before you can add the metal leaf.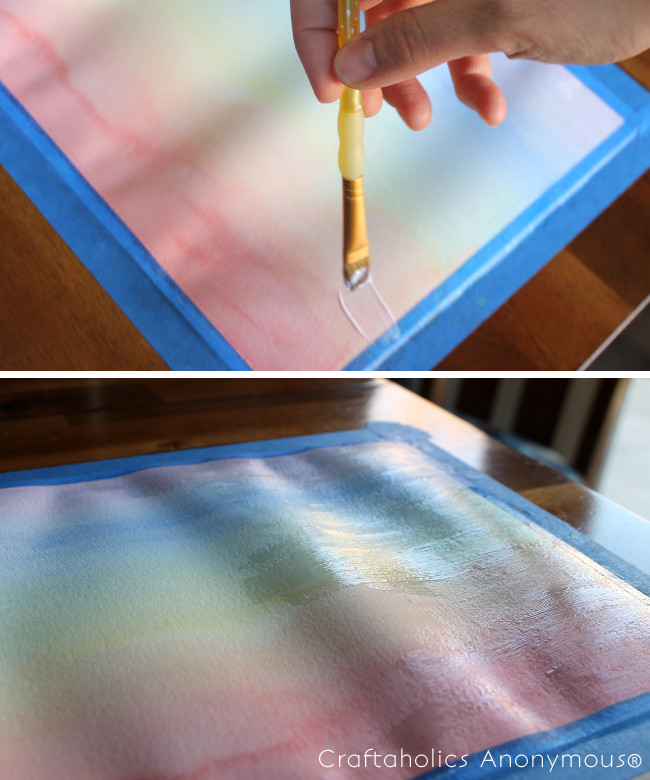 7. It's gilding time! The metal leaf adhesive is applied with a brush, and the metal leaf will stick where ever you apply the adhesive. I just brushed the adhesive on in a kind of random shape along the bottom of the painting. If you look at the paper from an angle, you can see exactly where it is.
8. Once the adhesive is applied, wait about 30 minutes to let the adhesive dry and get tacky. Then place the metal leaf over the adhesive. This can be a little tricky, but it doesn't have to be perfect. Just make sure metal leaf is placed on all of the adhesive.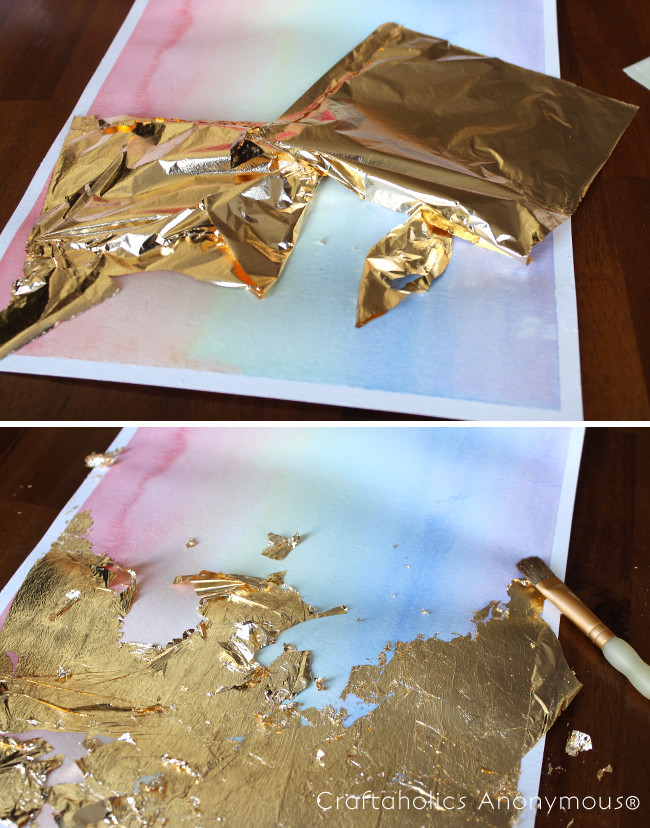 9. Any leaf that is not placed on adhesive will easily come off. Use your brush to wipe away all the excess gold leaf and reveal your beautiful design!
I am so happy with the way this project came out. It reminds me of a rainbow waterfall dropping into a golden cloud.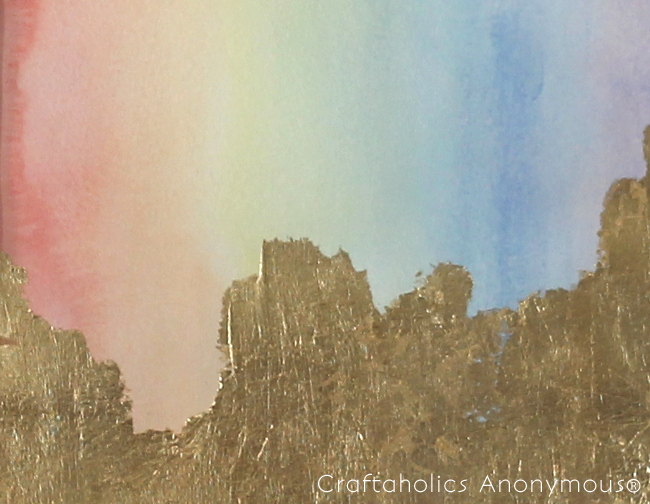 This art piece is great for St. Patrick's day, but I also just plain like it. Right now, it's hanging out in my entryway with a few other things I like.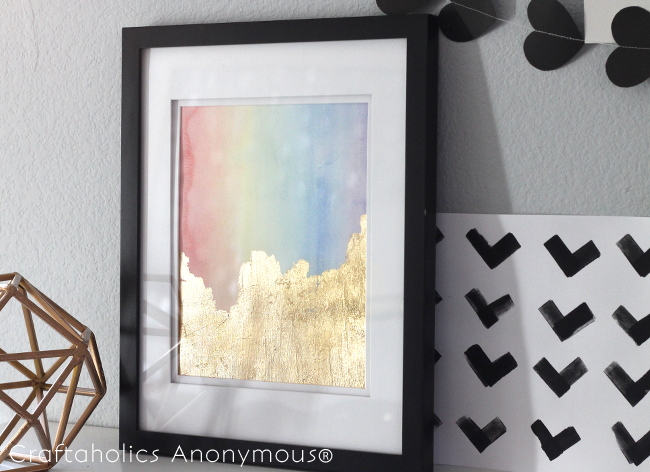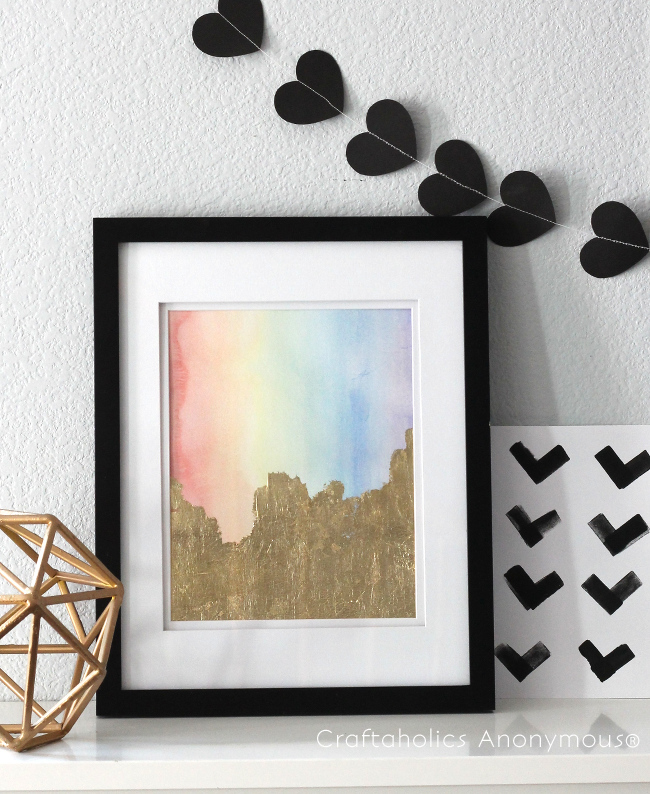 I hope you like it too! If you do, I really hope you will pull out your watercolors and give it a try.
Have you used watercolors lately? What did you paint? I'd love to hear in the comments below! 
More Rainbow Crafts:

Free St. Patrick's Day Rainbow Printables