This year it is my turn to host our family for Thanksgiving, and I've decided I want to try to fancy up our Thanksgiving a bit. A pretty table setting with a place card makes any meal feel extra special. I came up with some pretty watercolor placecards that we will be using for our Thanksgiving dinner this year, but they would be perfect for a wedding or any special event.
DIY Watercolor Place Cards Tutorial
by Alexis of Persia Lou
Start off by gathering your materials.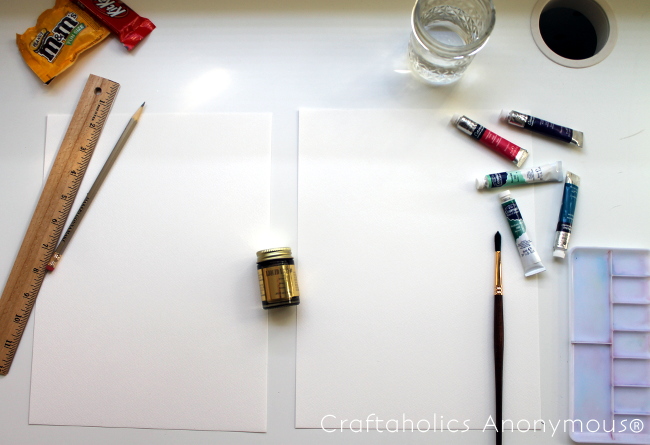 To make your watercolor placecards you will need:
watercolor paper (I used 90 lb)
watercolors (tube or pan colors will work just fine)
water
paper towels
ruler
pencil
watercolor brush
inexpensive small round brush
Using your pencil and ruler draw a light line across the middle of the paper so you have two 6×9″ halves.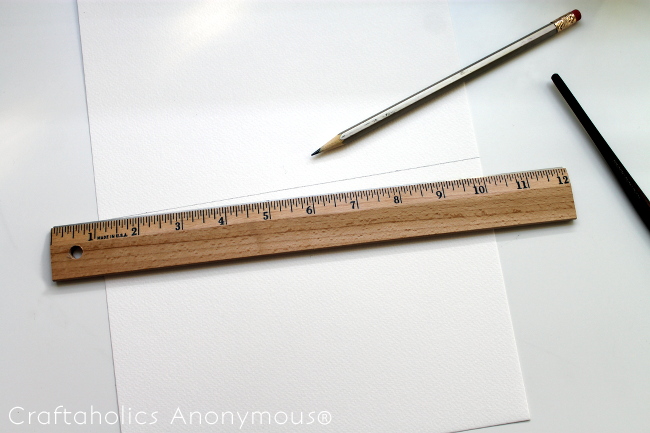 If you are using tube watercolors, mix up the colors you want to use.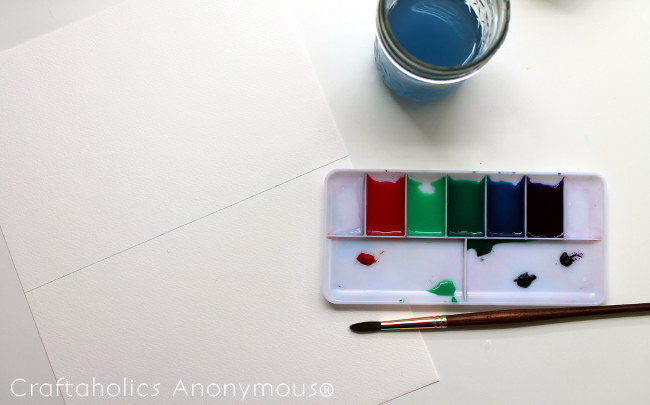 Starting at the pencil line, paint the a light wash about an inch and a half down from the line (to lighten the color, add more water). Then paint about another inch and a half below that with a darker wash. Blend the colors together.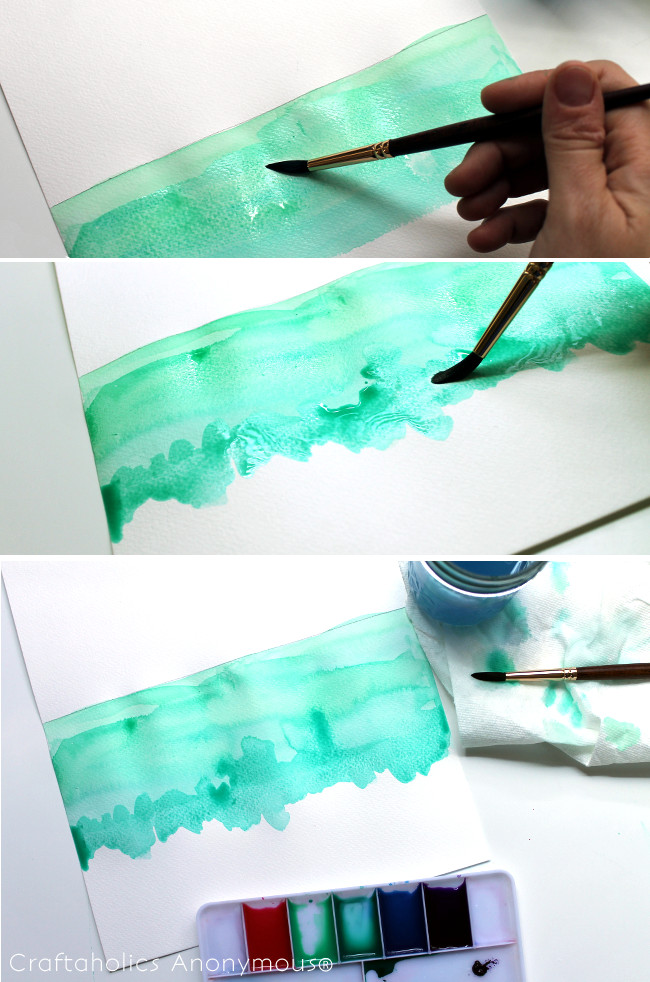 With the darker wash, paint in a zig zag motion over the edge down below the midpoint between the pencil line and the bottom edge of the paper. this gives the watercolor portion an uneven edge. Feel free to play around with colors and designs.
Next, repeat this painting process starting at the top of the paper, and then set it aside to dry. When your paintings have dried, but are still slightly damp, you can put a heavy book on top to  help flatten out any warping of the paper.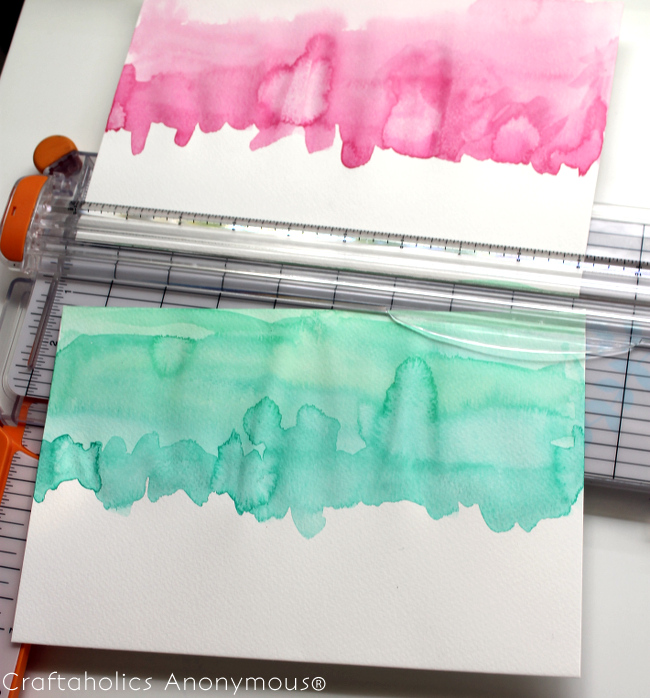 Cut the paper in half along the pencil line. And then cut each half into three 3×6″ rectangles.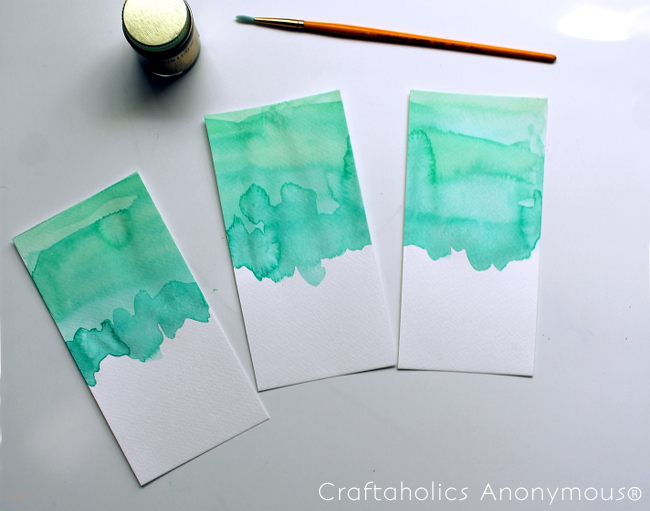 To add the names to the placecards I used liquid gold leaf and a small round paintbrush. Be sure to use an inexpensive paintbrush you don't care about because the liquid leaf will ruin it.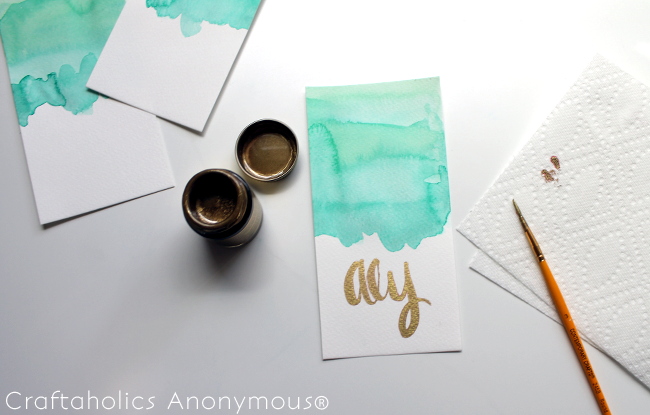 To create a calligraphic effect, try holding the brush at a right angle to the paper. When you move the brush upward, use very light pressure, so the line is thin. When you move the brush downward, use more pressure, which will create a thicker stroke.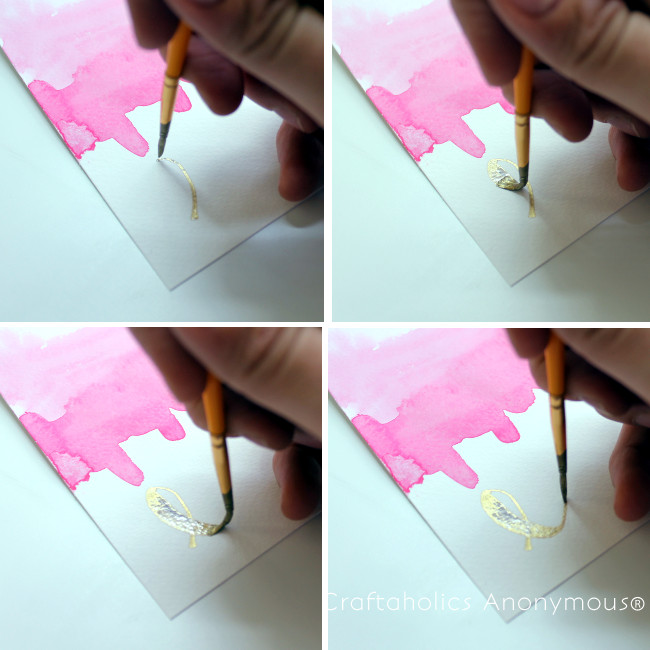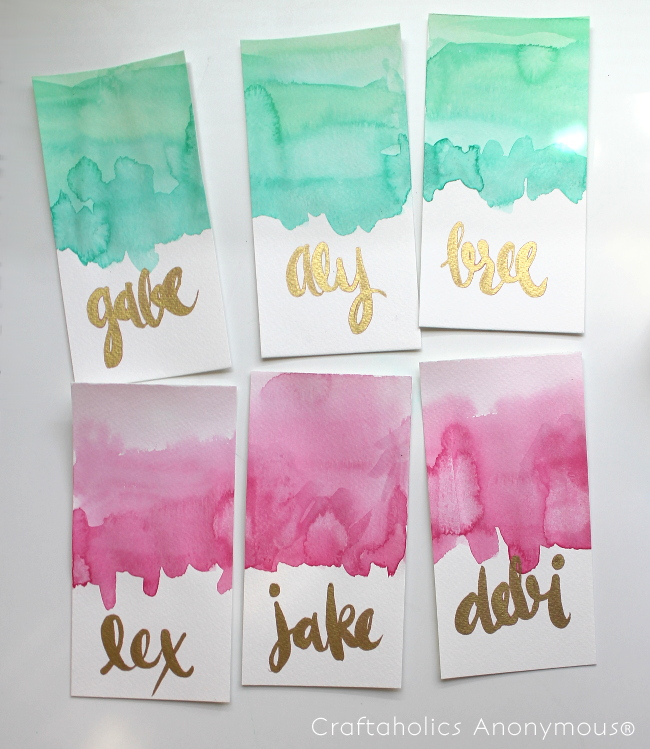 When the lettering is dry, fold the cards in half and your place cards are all done!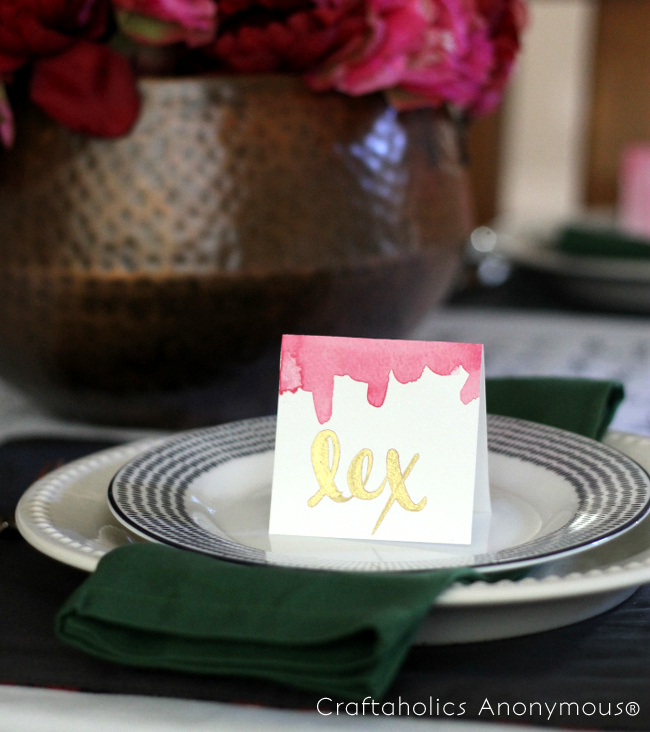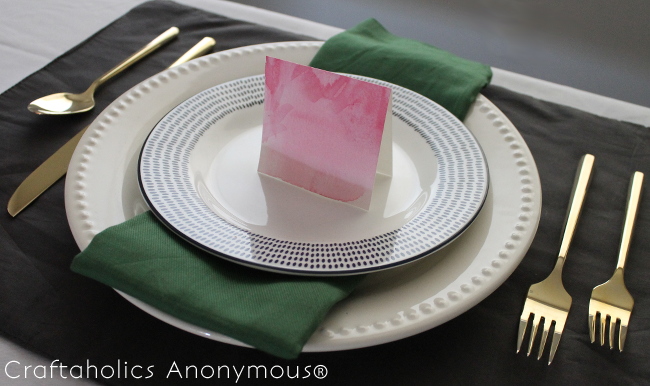 I really love that the backs of the placecards are pretty too. They will be adding a nice pop of color to our Thanksgiving feast.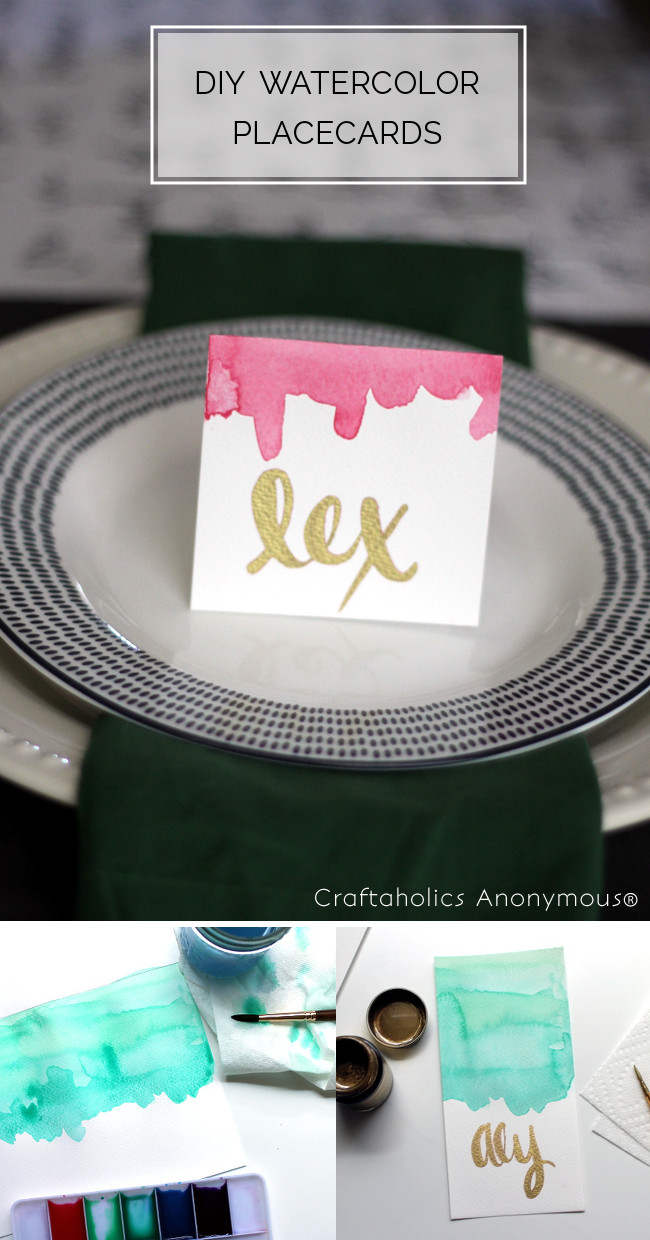 I hope you enjoyed these watercolor place cards!
What type of place cards are you making for Thanksgiving this year? Do you do place cards for Thanksgiving?
More Watercolor Crafts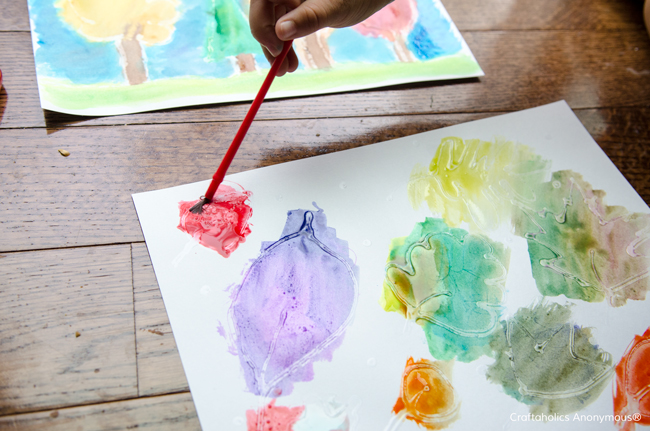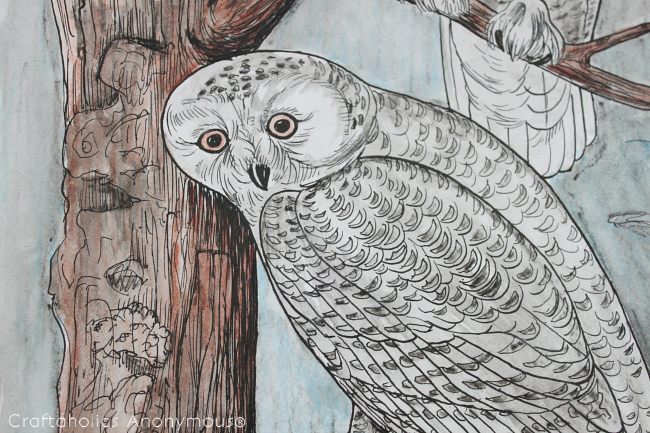 Fall Leaf Watercolor Painting Tutorial