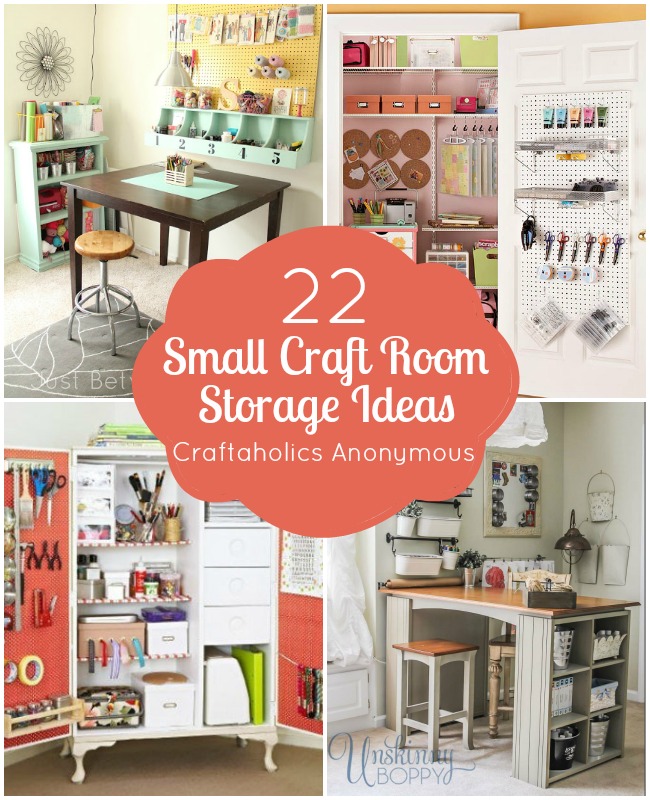 Do you have a small space to create in? Here are so awesome storage ideas for a small craft room or space! Suggestions below were taken from this thread on the Craftaholics Anonymous® Facebook Page.
"I need help. I'm moving into a small house and losing my wonderful craft room. I will not have a space dedicated to my love. I need suggestions for organizing all of my supplies in a way that takes to minimal space. HELP!" – Becky
Small Craft Room Storage Ideas
1. "How about making a closet somewhere you have a little space with a folding table and lots of space on top and underneath to store your things?" – Angie A.
2. "I converted a wardrobe into a fold down work station with plenty of storage." Barbara C.
3. "I feel your pain. On a Walmart bookshelf, I used floss organizers for all my loose stuff and made a ton of Jamie Cripps silhouette organizers for all my inks and sprays and washi tape. I put all my embellishments in binders in sheet protectors by category. All my paper is on the bottom sorted by colors. You can see more here!" – Suzanne V.
4. "I lived in a dorm room for 2 years and now I live in a small apartment. I organized all of my craft supplies into Rubbermaid bins. Each one is labeled with what it contains on the top and side. Then I slid them under bed so that they are out of sight! It works really well." – Katelyn D.
5. "Can you put bed up on risers? You can buy those at Walmart, Big Lots, or bedding stores and use space underneath for storage. Possibly use old suitcases to hold supplies and stack them as decor." – Kim H.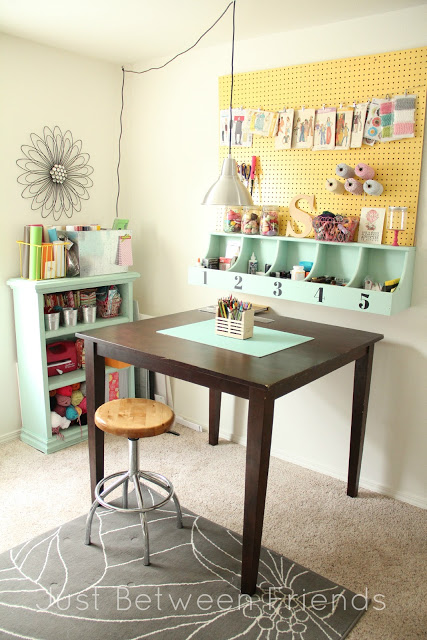 Image from Just Between Friends
6. "I love my computer armoire. I put everything in it, including craft supplies and a sewing machine and laptop. I have it in my family room and pull it open when needed, close for company or cleaning. I had my hubby put a lock on it to keep my kiddos out. It's wonderful! I also have a friend who turned her coat closet into a craft room similar to the previous post… She replaced the closet with a coat stand so she doesn't miss the space." – Jennifer E.
7. "I use alot of plastic see thru shoe boxes. You can stack them.I have mine in a bookshelf. Book case is only as deep as the shoe boxes. Or you can stand them on end.I also have some drawers that are fastened together.They don't take much space and you can see whats in them or label them." – Carol P.
8. "Do you really need a dining room or living room? I'd say craft room is top priority." – Hope B.
9. "I've been lucky finding small shelving units at thrift stores. Ideal for paints, glues etc etc Also, a rolling scrapbooking bag, even if you don't scrapbook per se, can hold a LOT of supplies and keep them handy for moving where it's convenient. Do be careful with shelf construction if u have cats or little ones. Make sure they s are securely fastened and preferably have an edge or lip to hold things on." – Kitty C.
10. "Use clear storage containers that stack & use wall grids or pegboards. Don't forget under-bed storage & those bags you suck the air out. Trunks & footstools you use as coffee tables can double as storage. Inside of cupboard doors can be used to hang scissors, hole punchers, etc. On back of doors, hang clear shoe organizers for craft stuff. You'll get better ideas once you see what fits. Good luck." – Linda E.
11. "Shelves. When living in a small space, build up with shelves. I learned that when living in a dorm and continue to do it with my craft stuff in a 500 sq ft apartment. They're easy to install and you can even buy pretty mounting brackets." – Ambelleina W.
12. "Utilize the wall! Lots of ideas to keep paper and craft hanging up. Also the doors for keeping beads, buttons and so much more. I also used part of my closet they have lots of things to get for babies and I would use like the hanging shelf for craft instead of putting sweaters in. Also instead of chairs get a bench you not only use it for sitting on but storing lots of heavy craft items!" – Cynthia H.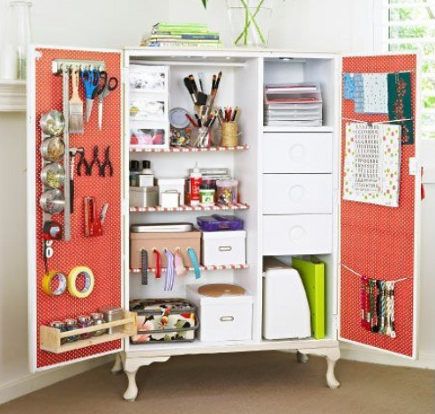 Image from The Embellished Nest
13. "I don't have a designated craft room either. I have a craft closet. I use plastic bins and trays. I get out what I need and craft on my dining table then put it all away." – Victoria D.
14. "I agree with Hope. There is plenty of cupboard space and shelving in the kitchen. More families should order take out and eat in front of the tv on the couch. Invest in TV trays. Why sacrifice the craft room/sanctuary/woman cave?" – Shauna S.
15. "Check out the workbox!!" – Sue A.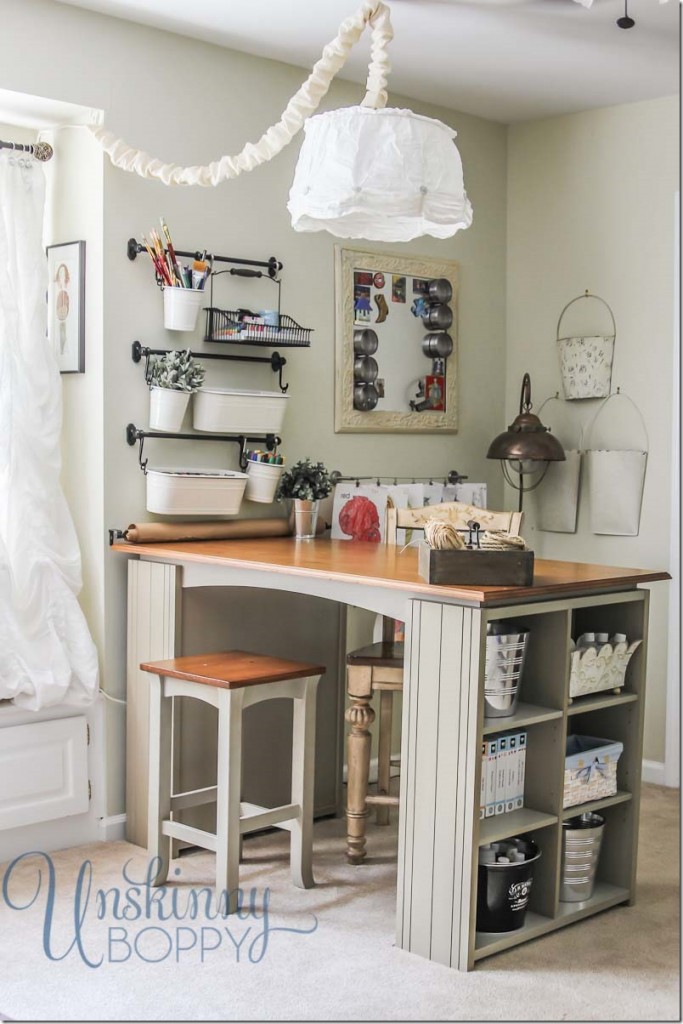 Image from The Unskinny Boppy
16. "I use those plastic drawers that are stacked and on wheels. Easy to move and store." – Marsha K.
17. "I use an Ikea secretary desk to house my cameo and sewing machine." – Johanna M.
18. "My mom uses a desk swings open – to "unfold" like a L shape. I think it came from office max. You can push the are in and shuts with doors. Has lots of storage!" – Taunya T.
19. "I have a built in buffet, wall to wall, with storage cabinets under. DYI kitchen cupboards with a top turns into a buffet, and if need be, on wheels. Wa-La!" – Annie R.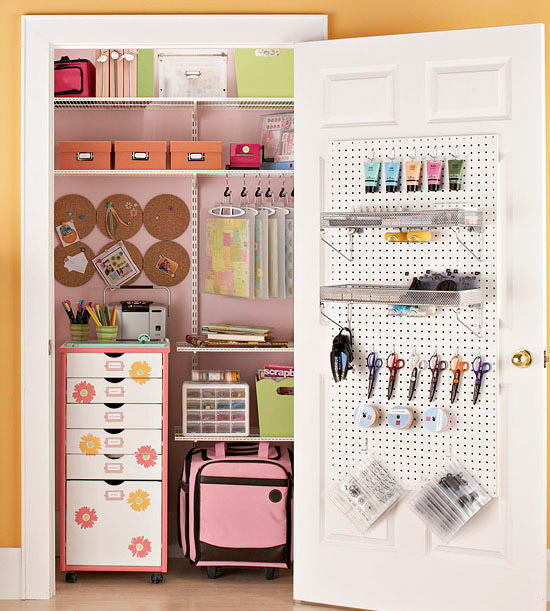 Image from Better Homes & Gardens
20. "The Original Scrapbox. Google it. It is awesome!" – Audra A.
21. "Turn a closet or armoire into a craft space with a fold down table!" – Kathy K.
22. "Shelves all the way to the ceiling & redesign the closet if you have one that can be used to store things. Lots & lots of lidded baskets/containers and under the bed or sofa is a great place to store containers of craft things." – Michele P.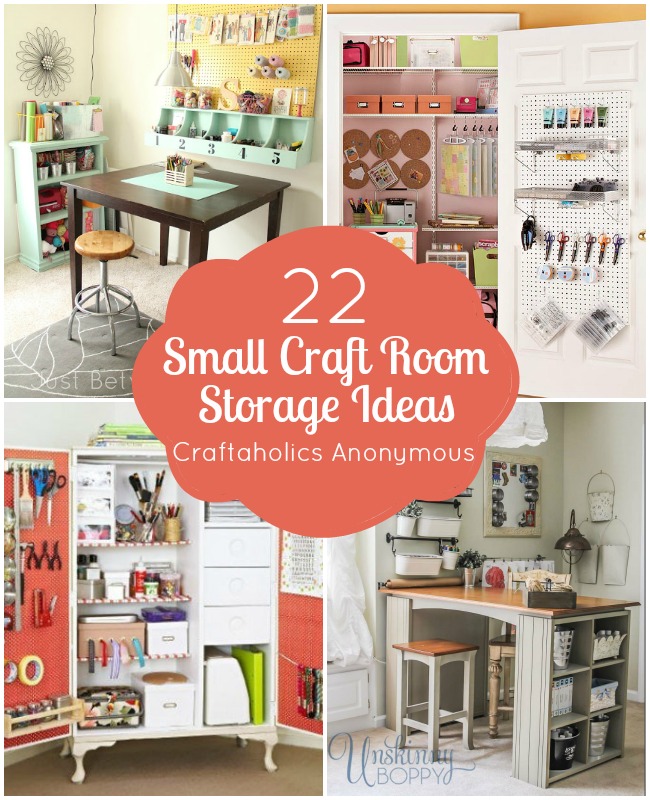 More Craft Supply Storage Ideas:
Latest posts by Craftaholics Anonymous (see all)