Hey there everyone! Where are my bookworms? Those of you who LOVE to read a good book? Well do I have a special treat for you today . . . I designed some special 'eye candy' for all of you in the form of these beautiful, hand-lettered, free printable bookmarks!
Free Printable Bookmarks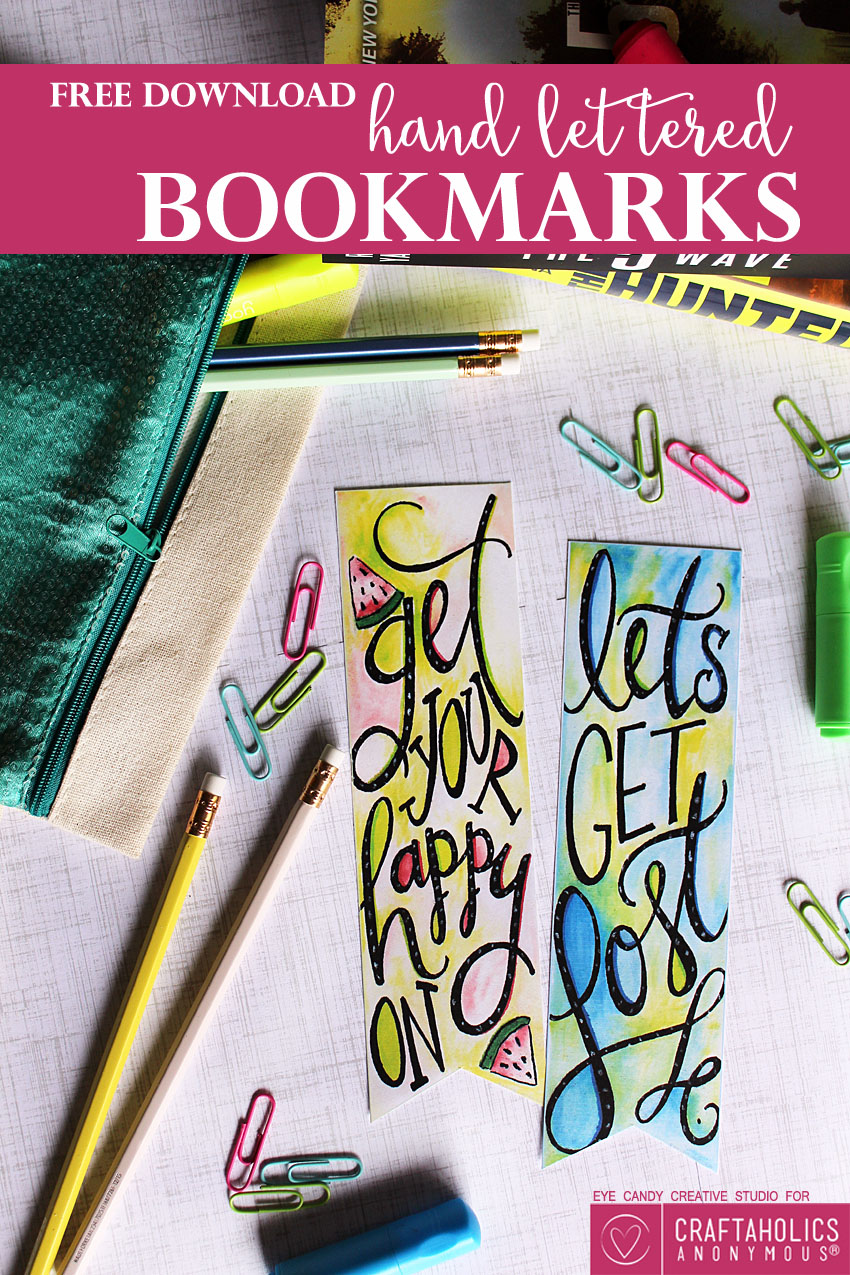 That's right, it's me,  Laura from Eye Candy Creative Studio back to share some fun hand lettered bookmarks that I designed and water-colored for you! I absolutely have a love/hate relationship with this time of year. I hate that my daughter has to go back to school because I so love having her home to hang out with. But, I do LOVE shopping for new school supplies, ahem, I mean OFFICE supplies during this season and stocking up on all kinds of goodies that I use in my studio throughout the year.
Typical artsy stuff like those awesome white erasers (that are my faves), new markers, sketch pads, and then maybe throw in some new paperclips, binders, scissors… ya know whatever catches MY eye! ;)
Oh yeah and OF COURSE my daughter gets what she needs for school too! lol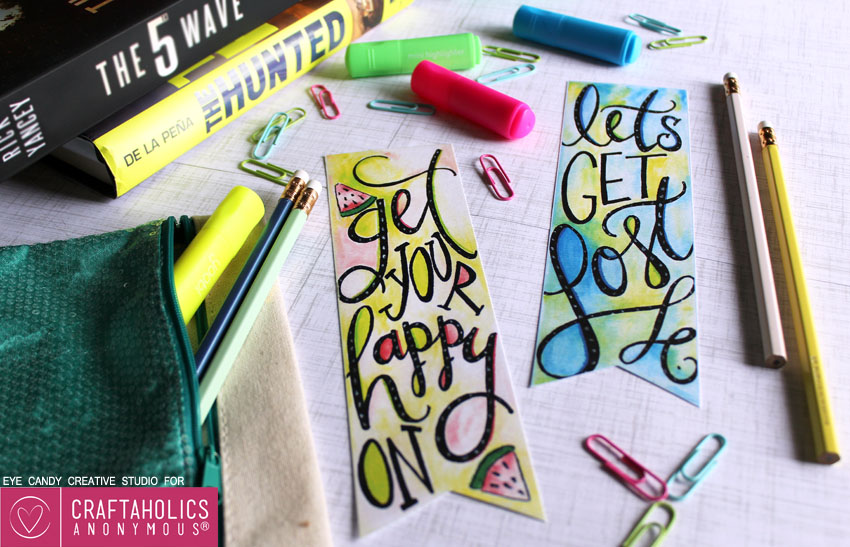 My daughter LOVES to read, as do I, when I get the chance, so I thought in honor of all the kiddos heading back to school, I would make some free printable bookmarks for you to enjoy and hopefully make going back to school just a little bit easier! I love the phrases that you see here as I think it puts you really in the mood to dive into a good book. 'Let's Get Lost' and then 'Get Your Happy On'!
Who's ready to get to READING!?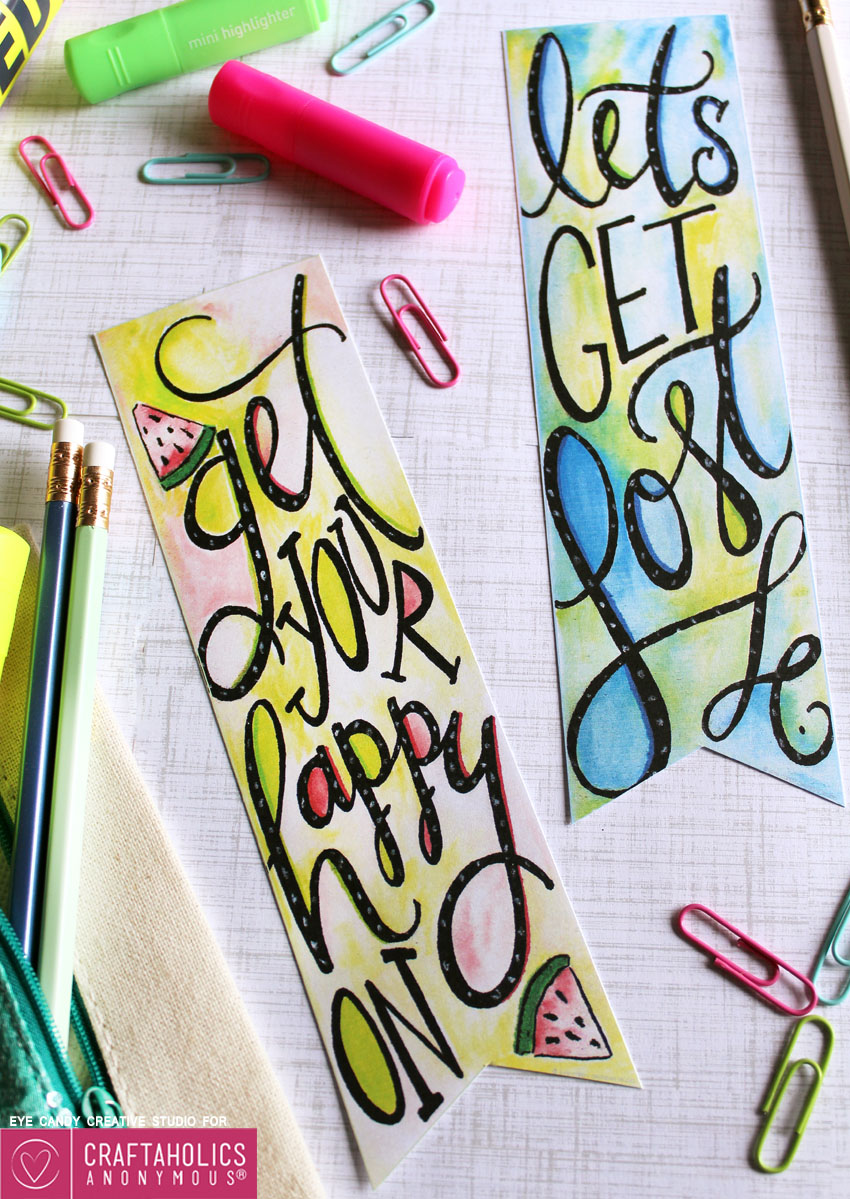 These free printable bookmarks are super easy to make as you only need a couple supplies: the printout of the Hand Lettered BOOKMARKS, a paper cutter and scissors!
Simply take your print (I would recommend printing them out on a heavier cardstock) and trim down the outside edges first. I have left very faint colored trim marks on the bookmarks for you, so you can get them as perfectly cut as possible.
Take a pair of scissors and cut out the notch bottom of the bookmark and you are DONE! ;)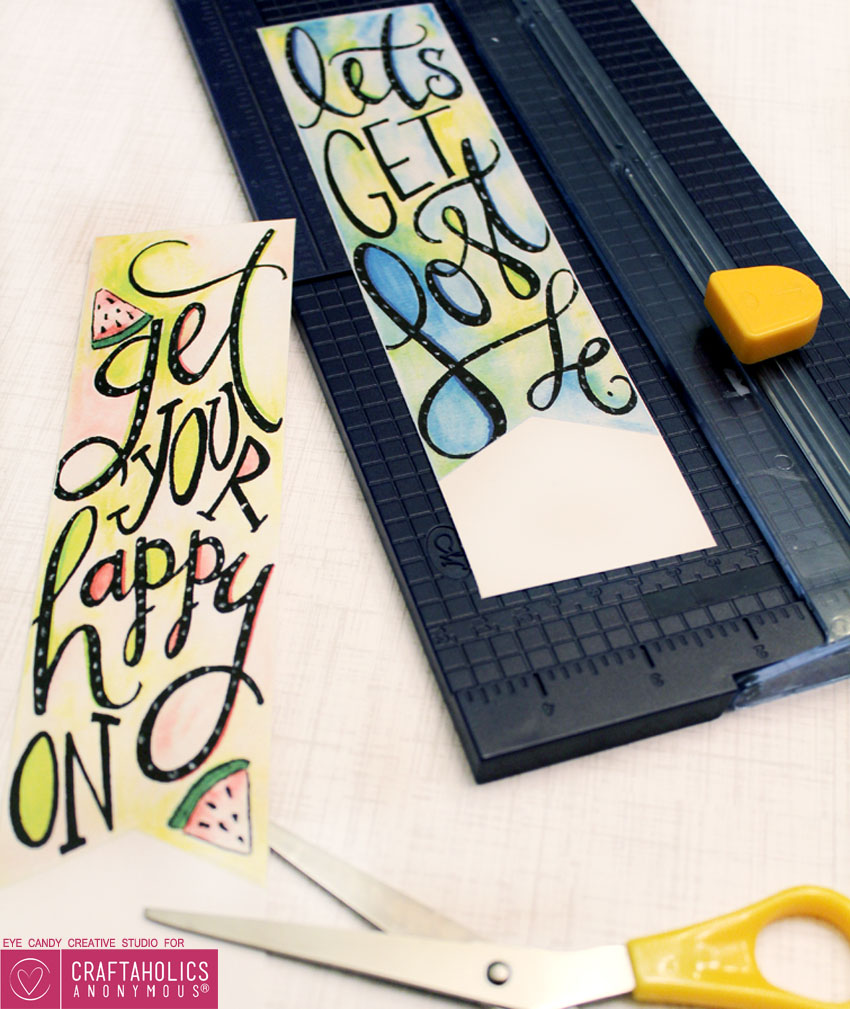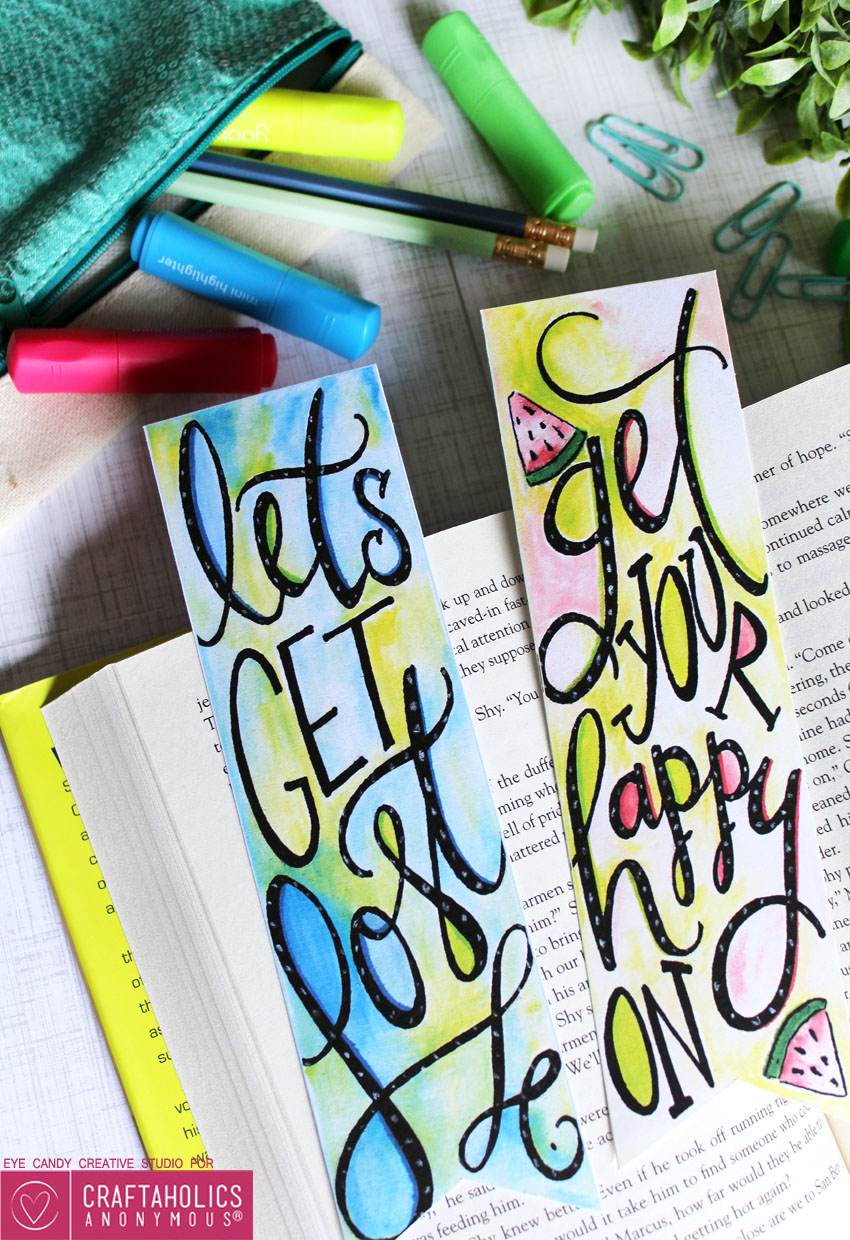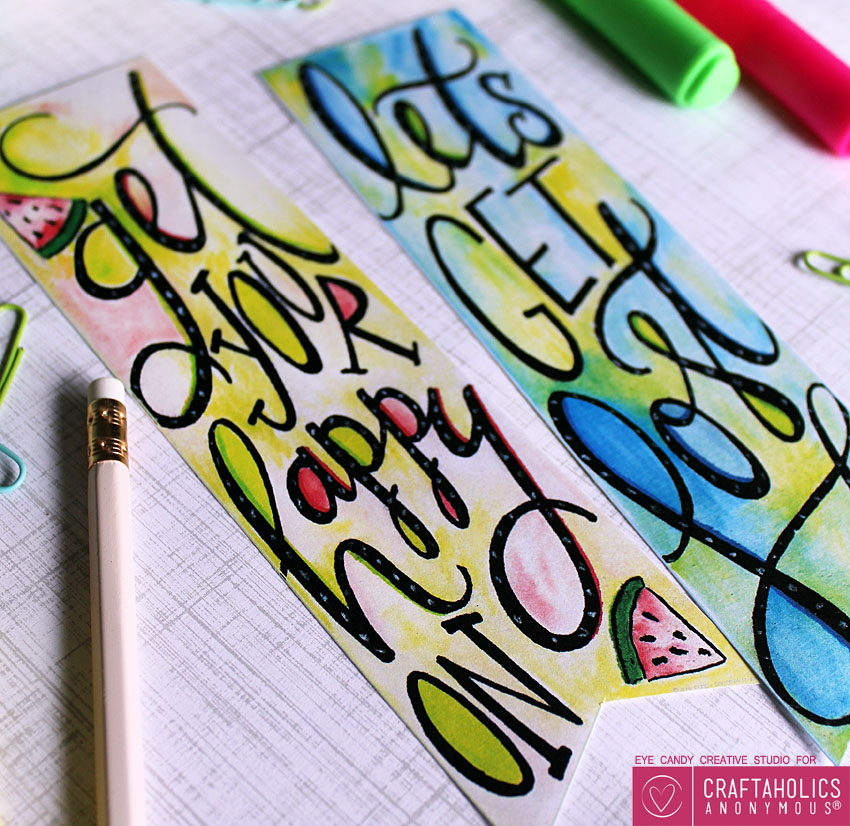 What I love about these free printable bookmarks too, is that ANYONE can enjoy them (not just the kids) as adults can have an inspirational bookmark to enjoy while reading their favorite books as well. I don't know about you, but I may or may not have been known to match my bookmarks with the covers of my book. Is that crazy or what? Maybe it's an artist thing I don't know, or it could just be me, but hopefully you like both of these color choices I have offered you here today and I really hope you can enjoy them soon when you make some time to read a new book and maybe enjoy a cup of coffee or your favorite drink while doing so. ;)
Think about including them in a gift basket to a teacher, neighbor and even your bestie as I am sure any one of them would enjoy a cute bookmark along with their new favorite book or even put it with a gift card for a super fun gift idea! But most importantly, make sure to print them out for YOU too. ;)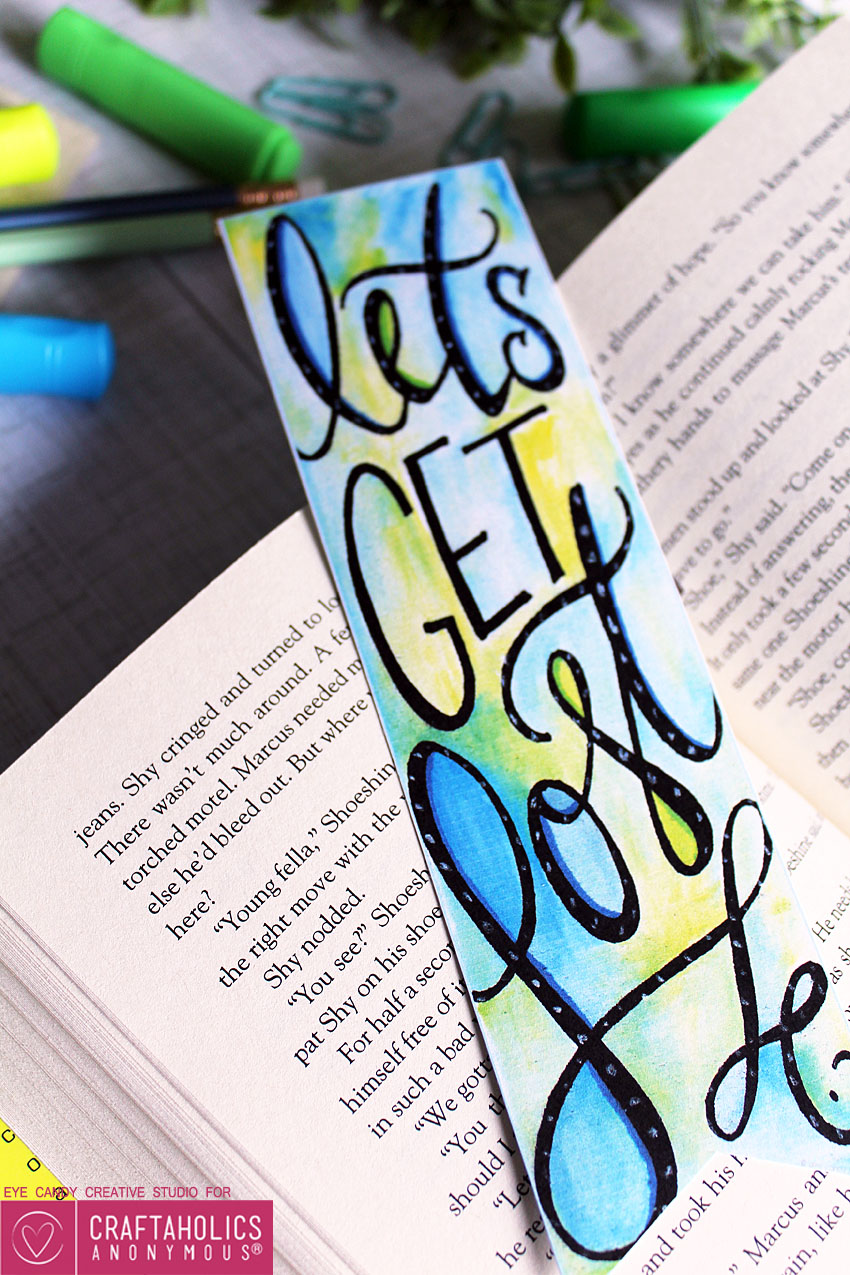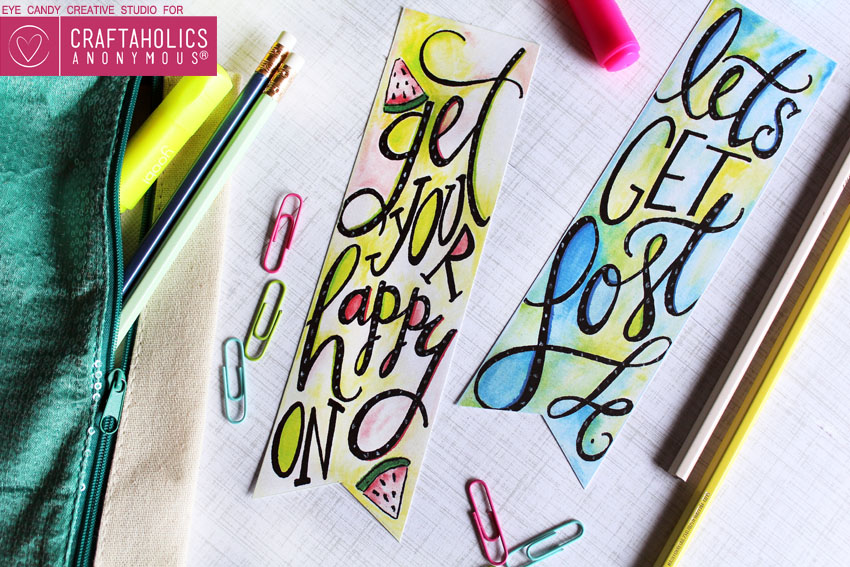 So who is going to print these bookmarks out? I would so love to know so please make sure to come back here and leave us a comment please. If you wouldn't mind, please tag Eye Candy Creative Studio and Craftaholics Anonymous® in your photos, and you never know, I may just share it with my readers!
DOWNLOAD
Enjoy these hand lettered bookmarks my friends, and don't forget to download them when you get a chance!
This FREE printable is for personal use ONLY and may not be sold or claimed to be your design. By printing, your are agreeing to these terms.
For more of my hand lettering, please come visit me over at Eye Candy Creative Studio.
So what great book are YOU reading these days? See ya next month! xo Laura

More Free Printables!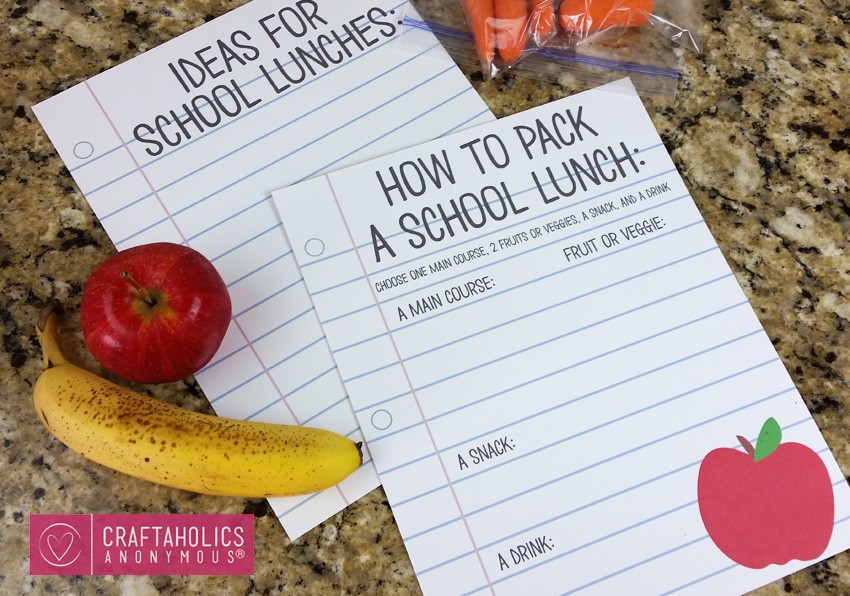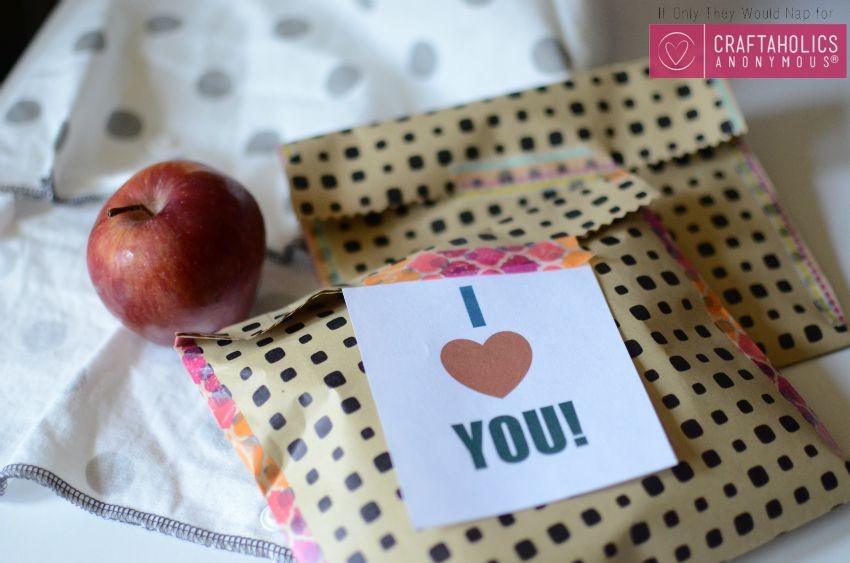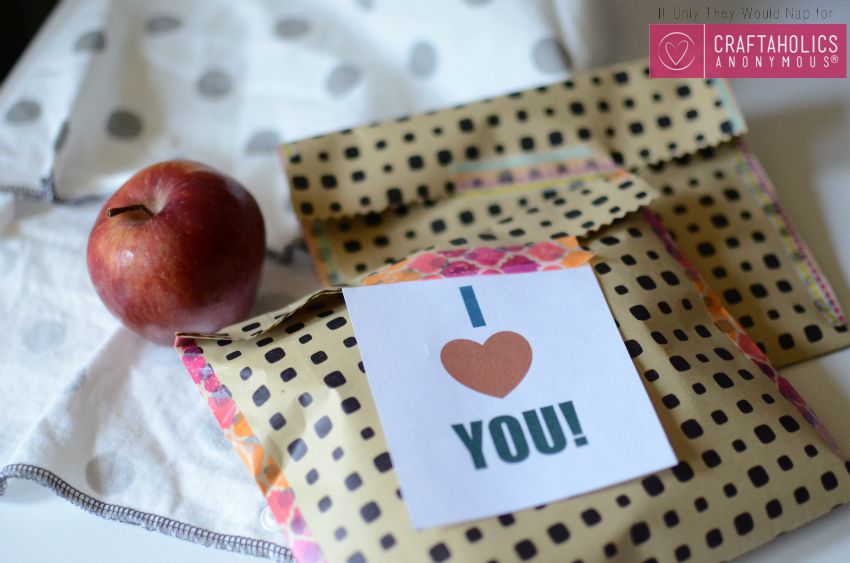 Save
Save
Save
Save