This free Holiday printable: 'A Little Holiday Cheer' bottle wrap is the perfect decor item to use for your gift giving this holiday season! Be sure to download the free file below and make your gifts look FAB!
Free Holiday Printable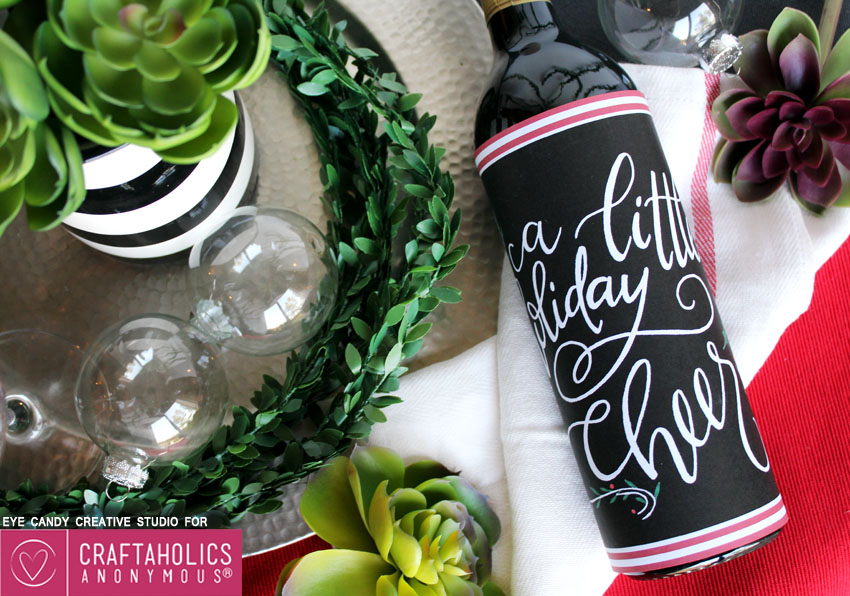 Hey there friends and Happy Holidays! It's Laura from Eye Candy Creative Studio. I am so excited to be here today because we are finally starting to talk all things Christmas!!! I mean, I think it IS the most wonderful time of year! ;)
Personally I have been counting down the days until I could start decorating, baking and making holiday crafts with my daughter – you know ALL of the exciting activities that we look forward to doing this time of year. For me it's all about making those memories and having fun at the same time. Our family especially loves to gather over the holidays – we have many family parties during Thanksgiving, Christmas week plus New Years as well, so I like to be prepared with a small gift to show my appreciation for the invitation, as I never like to show up empty handed. ;) Soooooo it may have you wondering WHAT you can bring to all of these amazing parties and gatherings that you will be soon be invited to? I have an idea. I felt inspired to design a holiday printable for you that can be used TWO different ways! A festive WRAP!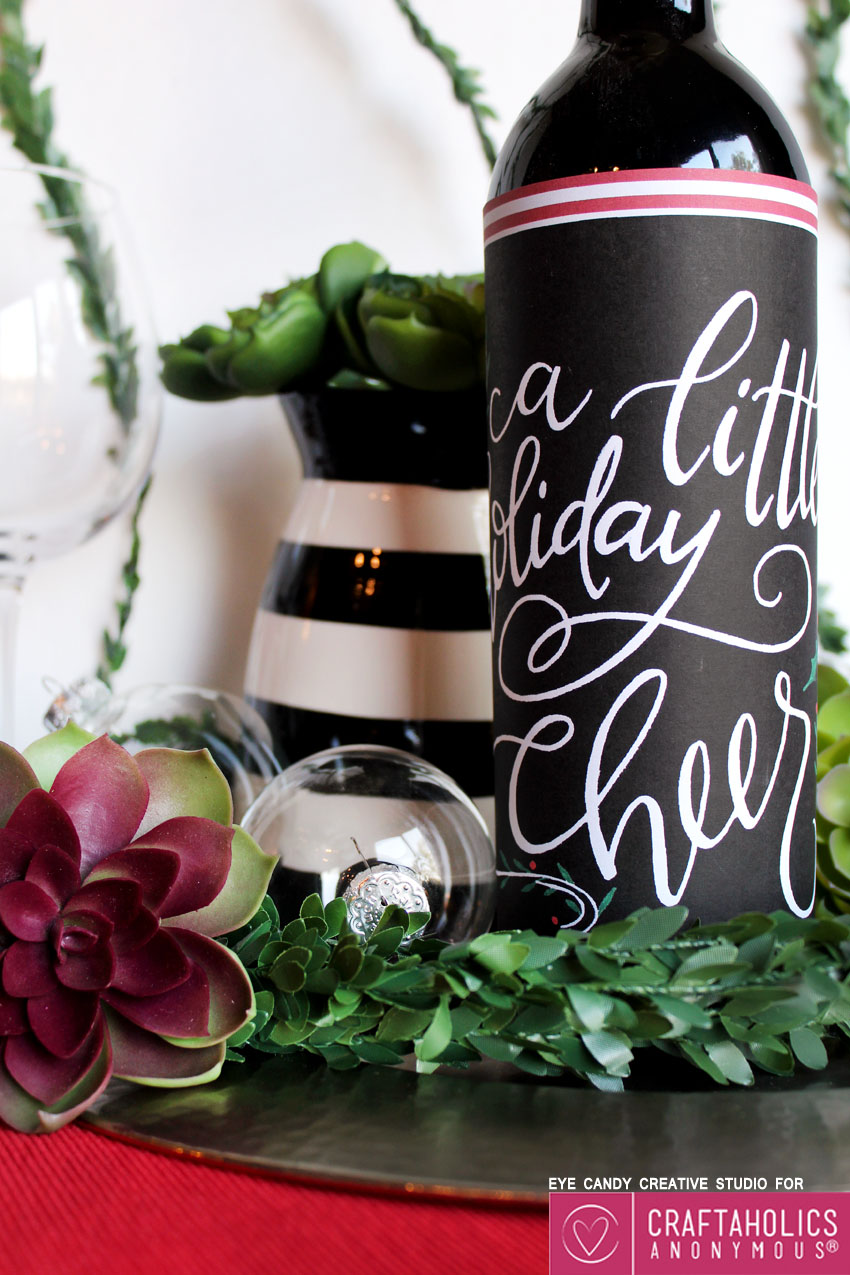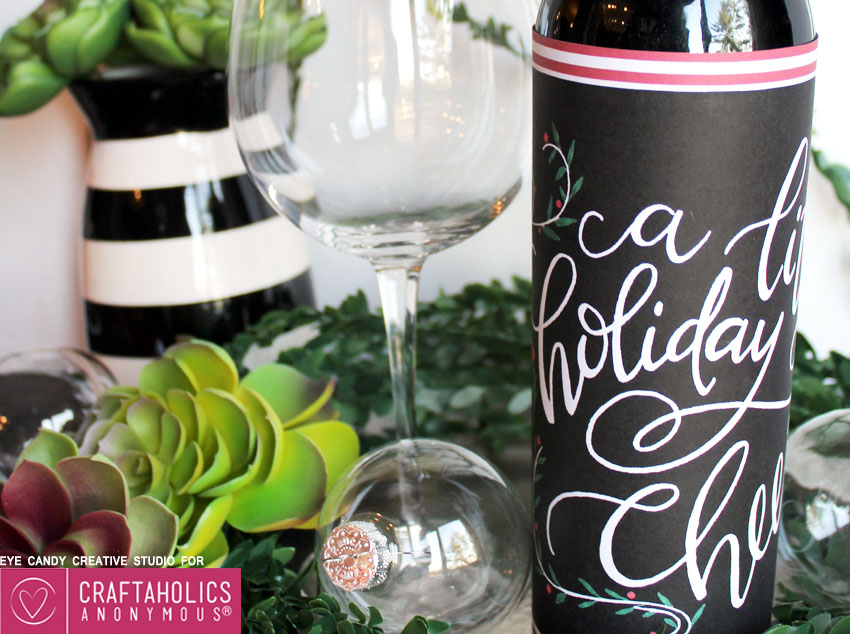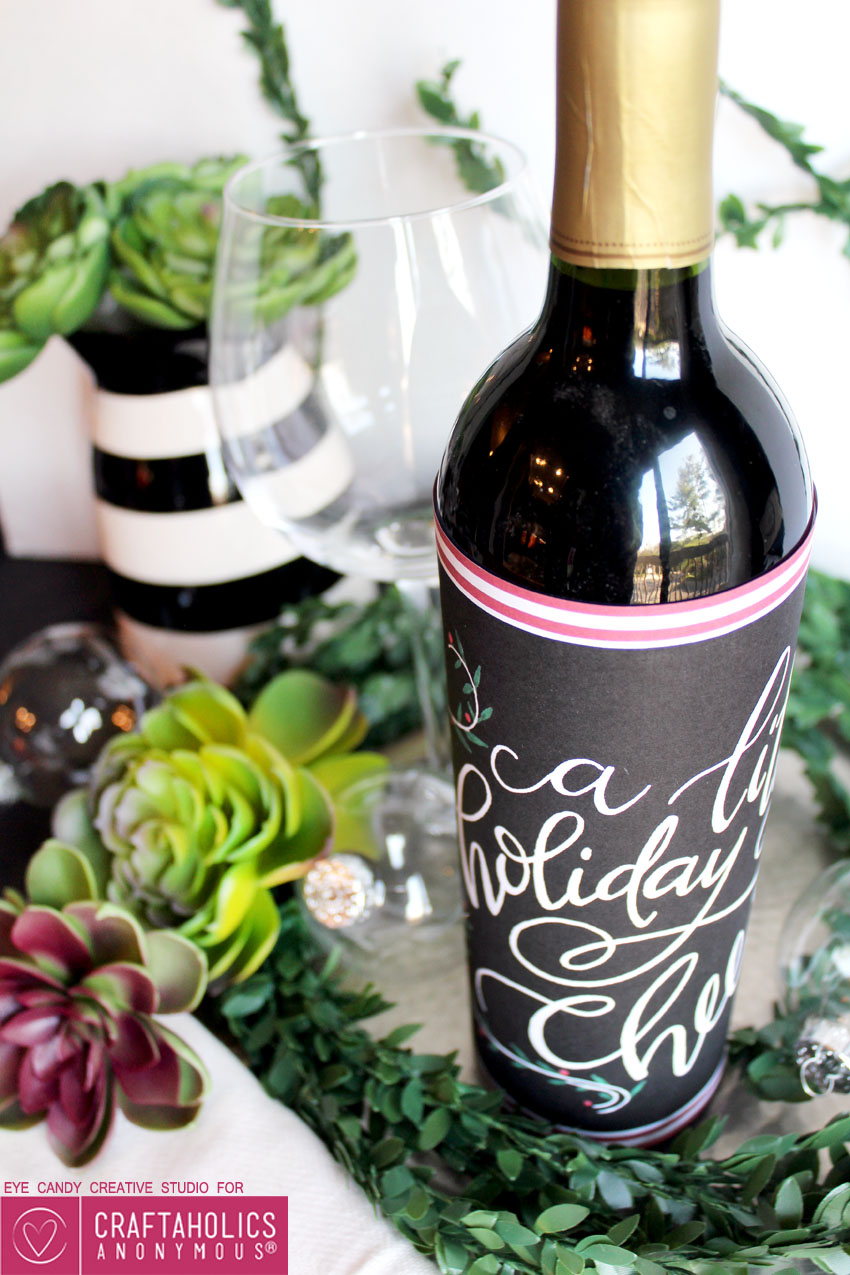 As you can see one of my favorite and most appreciated gift ideas I like to bring with me to someone's home is a bottle of something: whether that be a bottle of wine, sparkling cider, champagne or something else, having a fun bottle wrap that says "A Little Holiday CHEER" is a sure way to dress up those boring bottle labels and make it a little more festive! Plus the best way to spread holiday cheer is to bring and give holiday cheer, am I right? ;)
I really love the way it looks on this particular bottle as it covers the front, both sides and the back with the design. As you can see, I hand lettered the phrase plus included some ivy and holly leaves to give it a festive hand drawn look. To take advantage of this fun bottle wrap and use it this holiday season, simply print out your Free Holiday Printable 'A Little Holiday Cheer' bottle wrap and cut it to fit your bottle. You will also need a paper cutter or scissors and an adhesive.  Simply cut it out and wrap around the bottle and you are done. If you end up having a larger width bottle, you can just print out two labels to wrap around and anything smaller, just snip it off and you will be ready to go. I also designed it with a few stripes on the top and bottom so if you are gifting a taller bottle, you can easily cover all of the label. Again, if it's a shorter bottle, simply cut it on the black design edge, cutting the stripes off or print it out at a smaller percentage and you will be fine.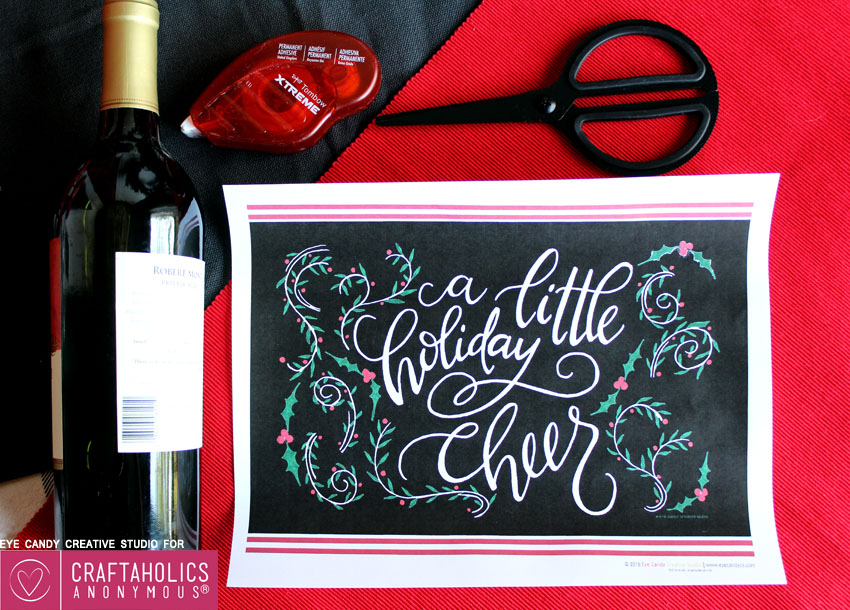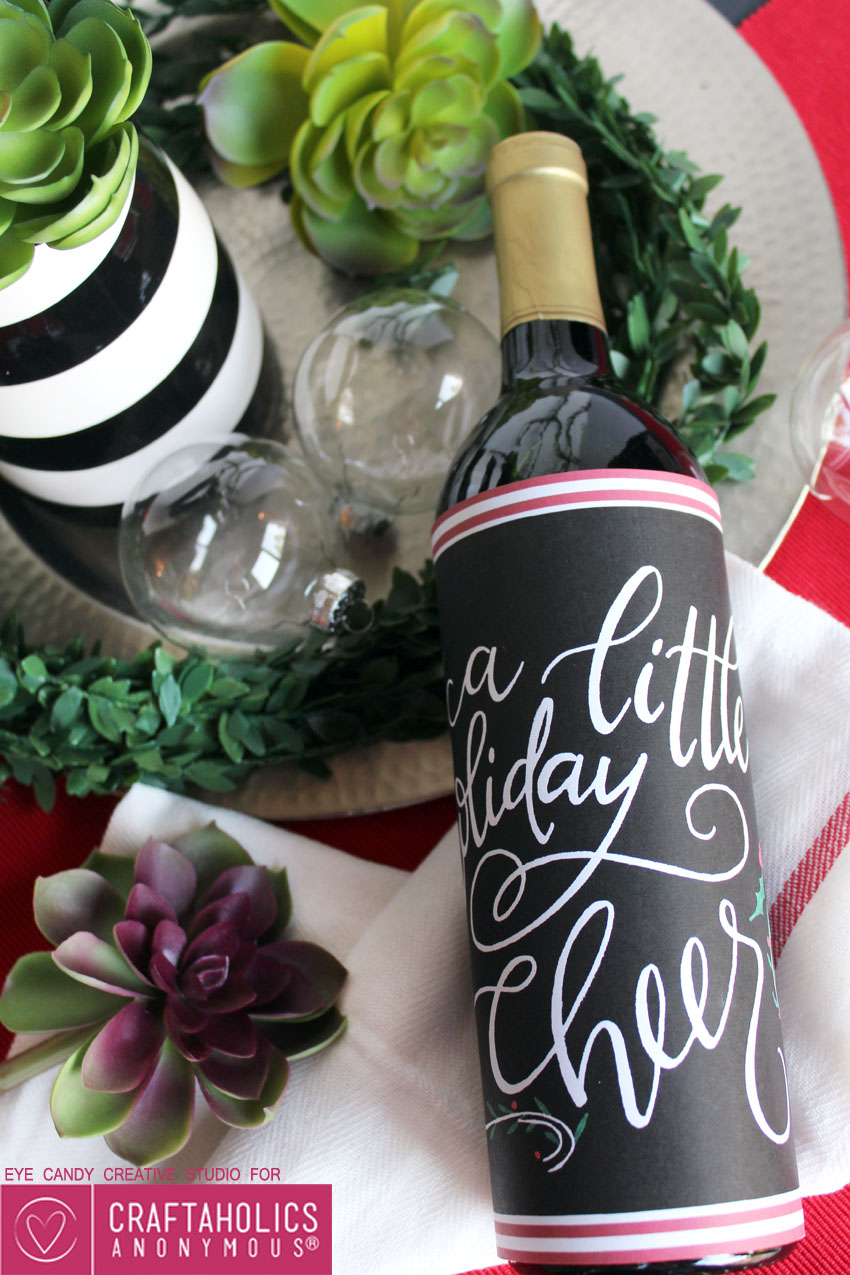 So what if bringing a bottle of something isn't your gift giving 'thing'? You are in luck as here is my second way you can use this: simply print this bottle wrap out and frame it = instant gift! Imagine how dynamic this would look in a black frame or a silver one, sooooo good right?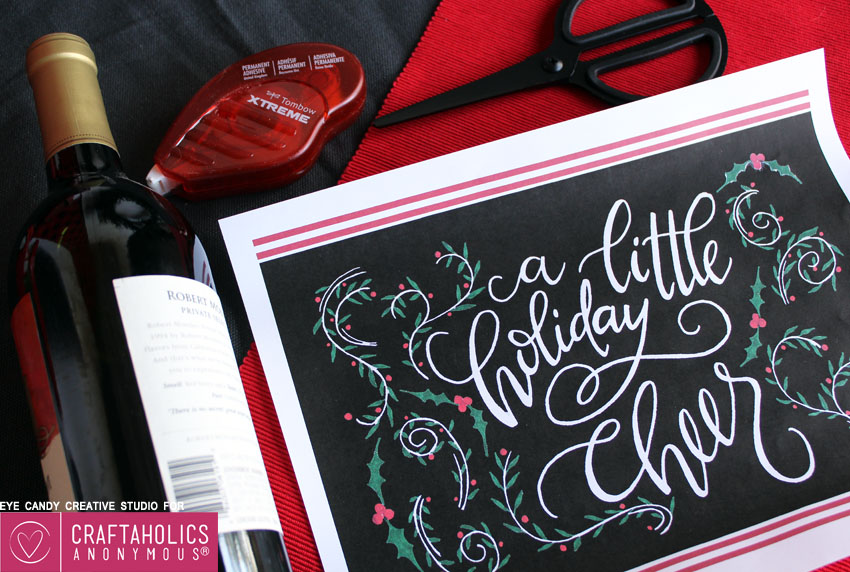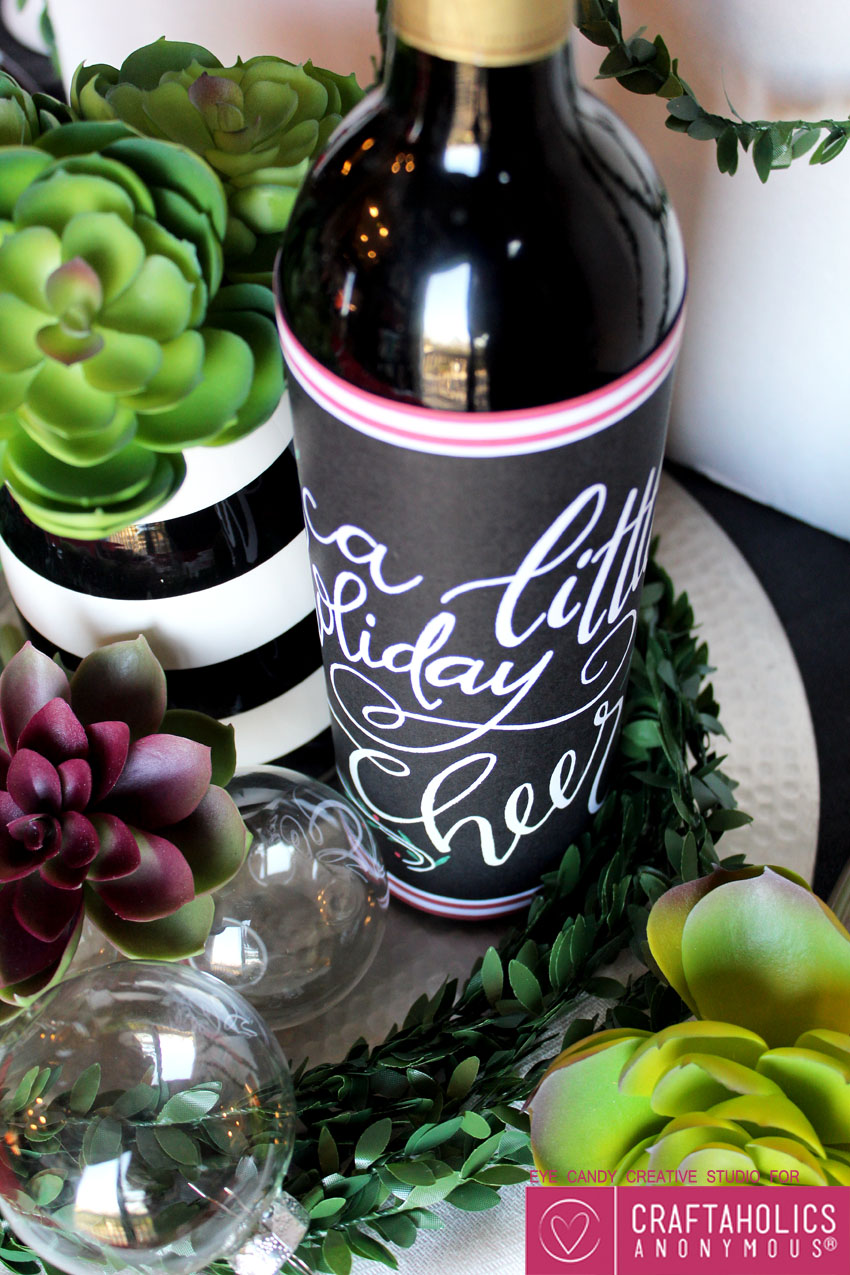 No matter which way you feel like using the "A Little Holiday Cheer" free holiday printable this season, would you please do me a favor? I would love to hear and see all of the great ideas on how you use this holiday freebie, so please tag Eye Candy Creative Studio and Craftaholics Anonymous in your photos, and you never know, I may just share it with my readers!
I hope you have an amazing CHRISTMAS and get to spend all of the time with the people that mean the most to you!!! Feel free to download your own Free 'A Little Holiday Cheer' bottle wrap printable and spread some CHEER yourself this holiday season!
This FREE holiday printable is for personal use ONLY and may not be sold or claimed to be your design. By printing you are agreeing to these terms.
For more of my custom hand lettering be sure to visit me at Eye Candy Creative Studio!
What is your favorite gift idea to bring to people's homes over the holidays? Let me know below!

Looking for Another Free Holiday Printable?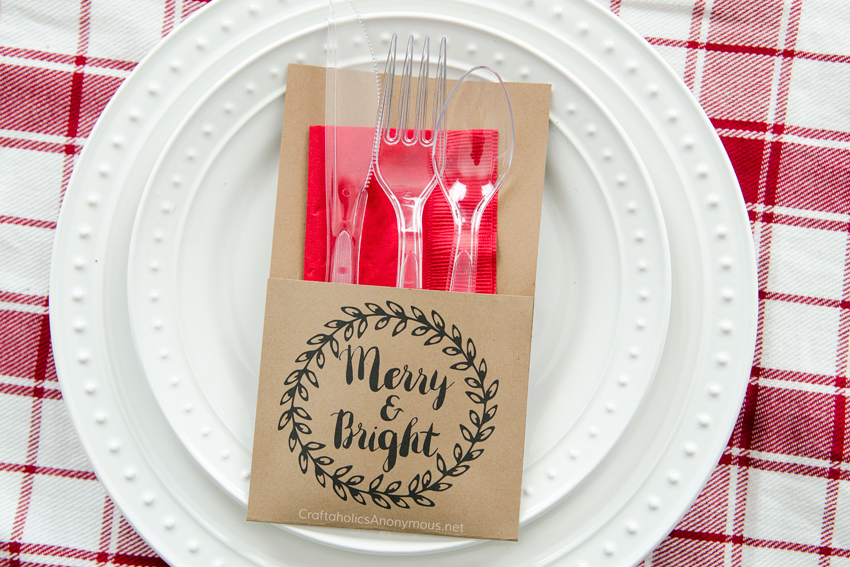 Holiday Utensil Holders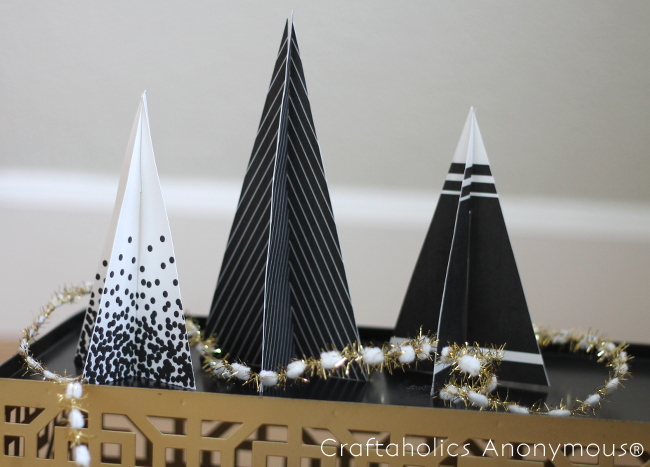 Printable 3D Christmas Trees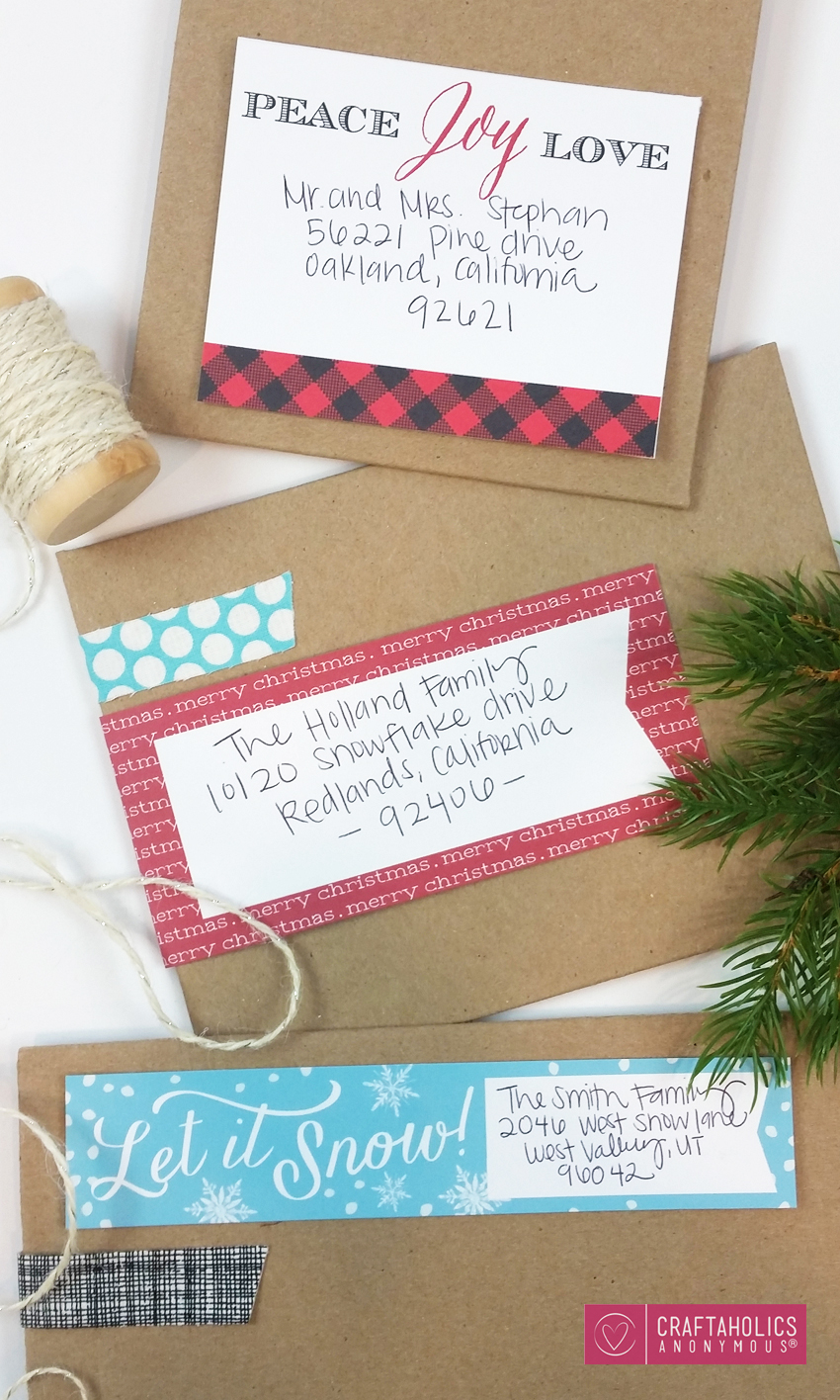 Printable Mailing Labels
Save