Looking for an Easy Crochet Baby Blanket tutorial? Check this one out! Fun pattern and fun to make!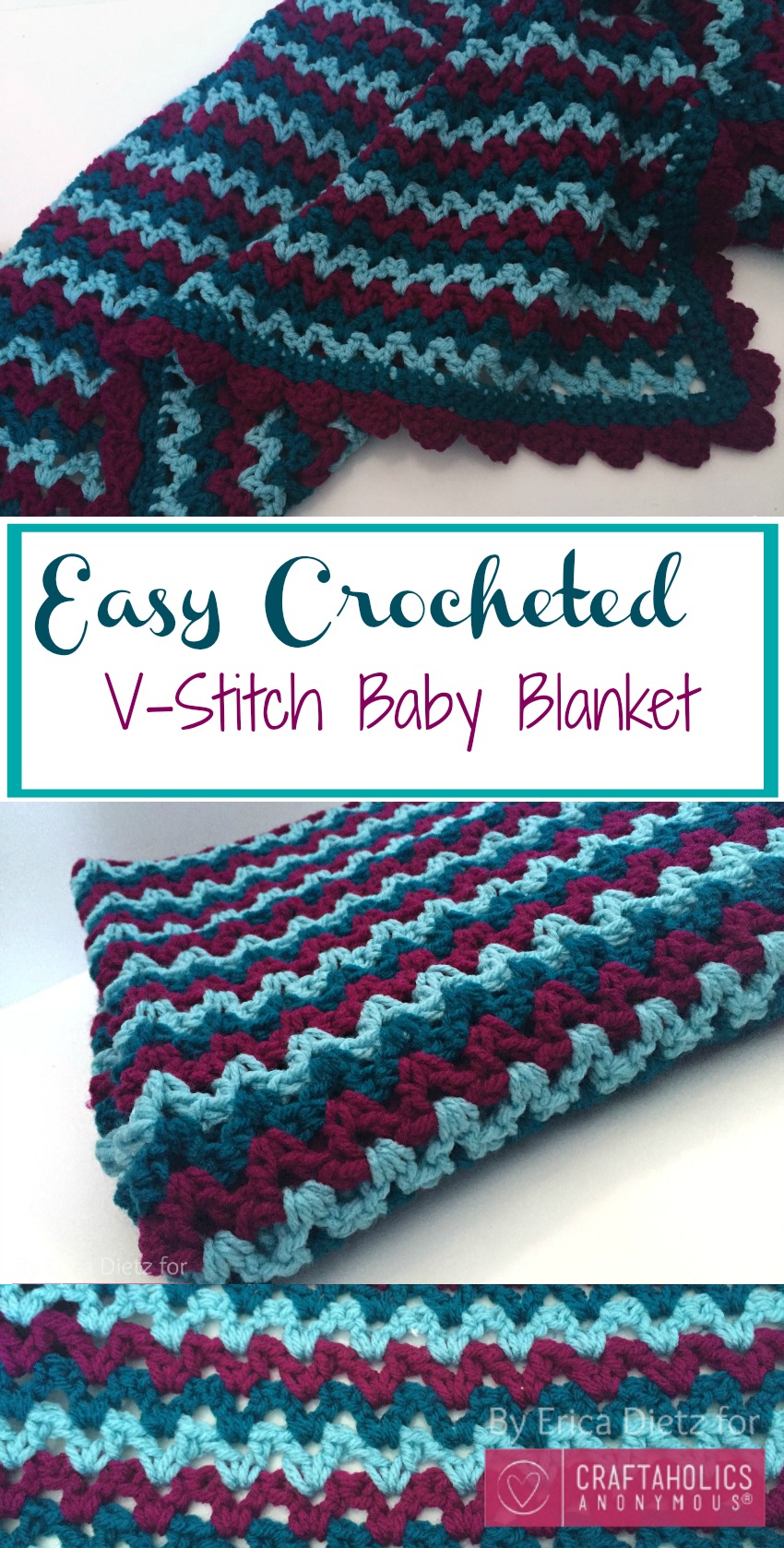 Easy Crochet Baby Blanket
Hi everyone, Erica here from 5 Little Monsters sharing another crochet pattern with you. Today I thought I would share one of my favorite patterns for a really quick and easy crochet baby blanket. This blanket is made using the v-stitch. It is a really common stitch and very easy to learn if you haven't used it before.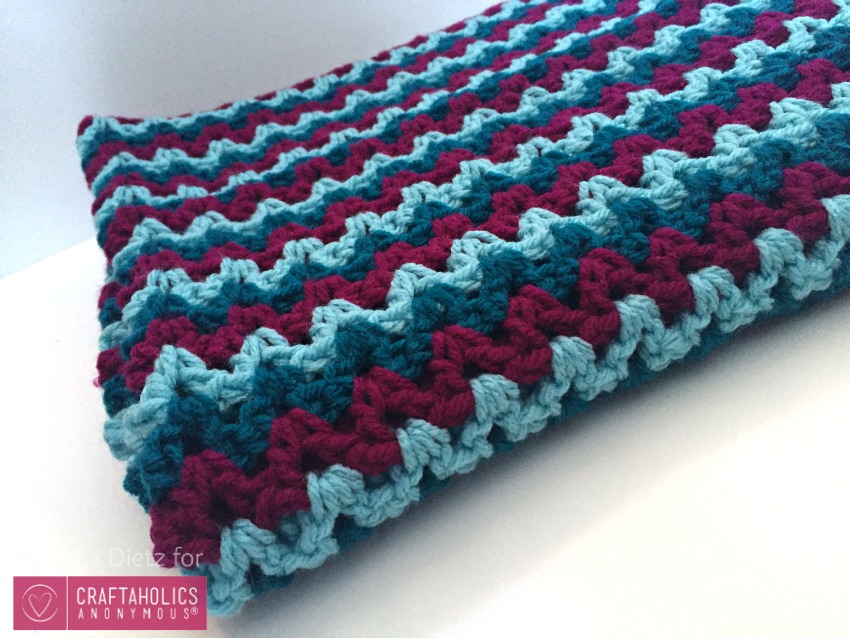 I really like the look of multicolored crocheted blankets but I don't really like making them because one of my least favorite things about crocheting is weaving in ends. If you have a blanket, even just baby size, that changes color every row or two you end up with so many ends that need to be woven in. The thing I love about this pattern is that if you use a three color repeat and add a border at the end you can just carry your colors up the side so that you don't have to cut your car after each row. Using a three color repeat makes it so that each color of yarn is always on the right side that you need it to be on when you are ready to use it again. I tried out a few different color variations, all of them were made using Red Heart With Love yarn.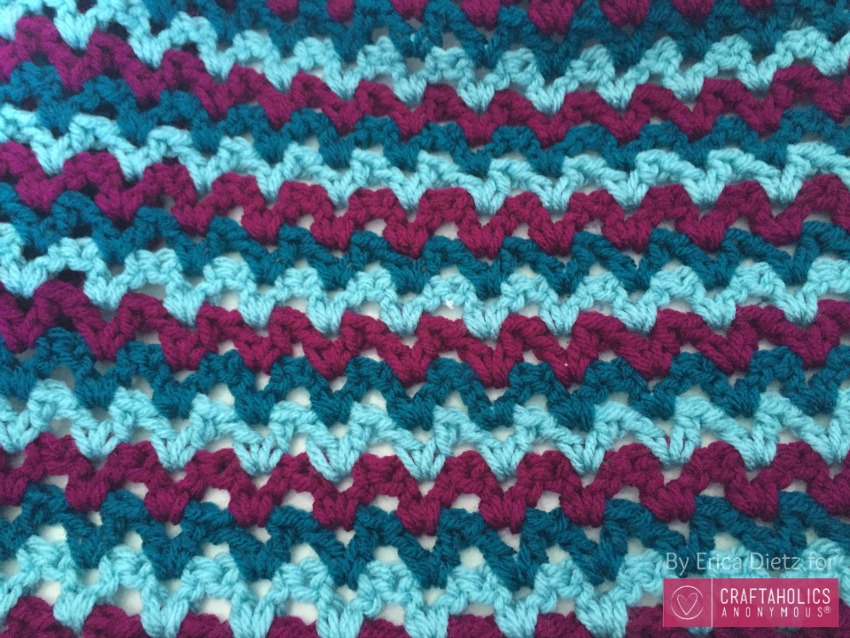 First is the color combo that I used for the blanket in the pictures, the other ones aren't quite finished yet. I went with a berry (Boysenberry), teal (Mallard) and aqua (Iced Aqua) combo. I thought it was something a little different than the normal colors you see for babies. I think it would be great for a baby girl born in the winter. As I was working on it I thought that it kind of reminds me of the colors of Elsa's coronation day dress in Frozen. My daughter is going through a Frozen phase and I think I may have seen that movie a few too many times recently.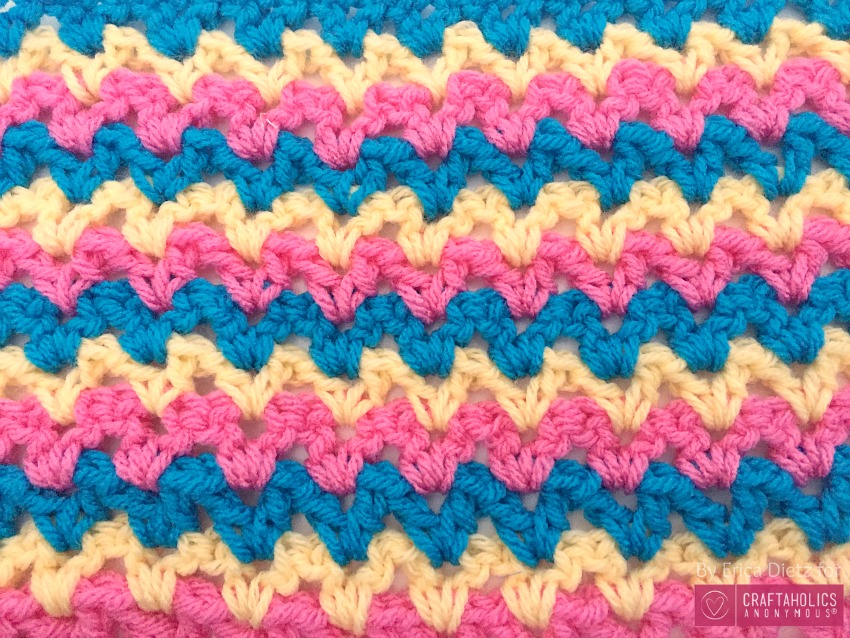 Next I did another girly color combination, it"s a little on the bright side and has a much more summery feel to me. I went with a bright pink (Bubblegum), blue (Blue Hawaii) and yellow (this one was actually a different brand that I happened to have already I think it is Lion Brand Pound of Love but I'm not 100% sure).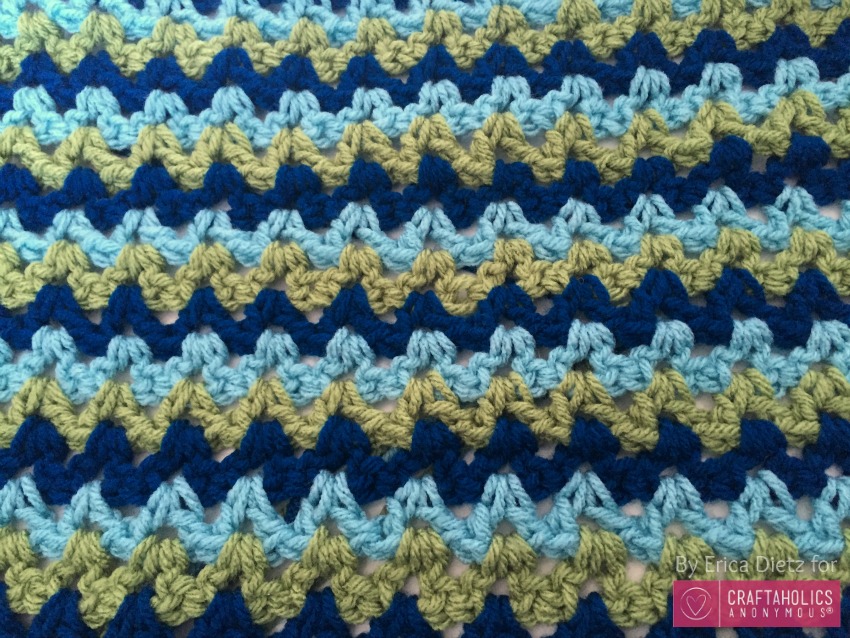 The last one is a lot more boyish. I used the same Iced Aqua color that I used in the first blanket and paired it with green (Lettuce) and a dark blue (Peacock).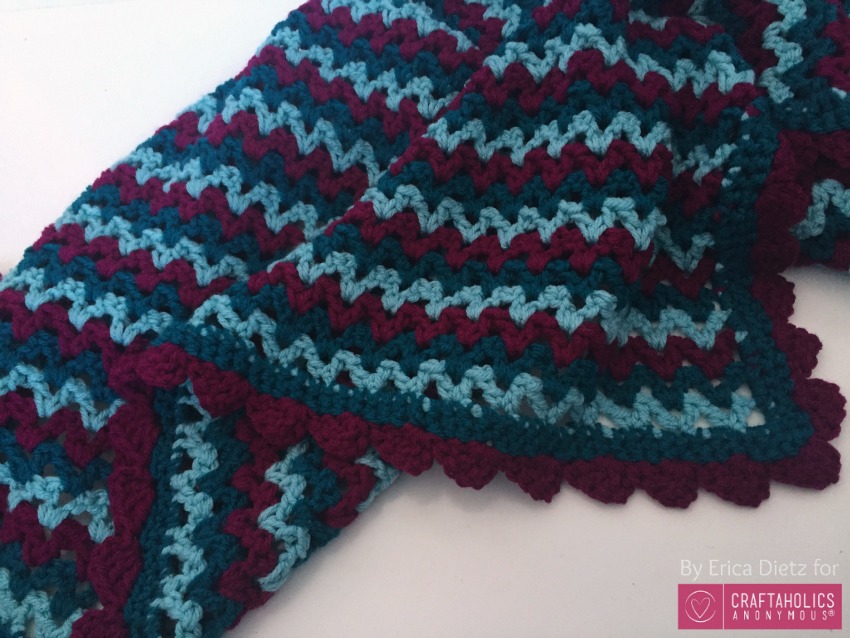 Easy Crochet Baby Blanket

You will need:
1 skein each of 3 colors (the skeins I bought were large skeins with 370 yards, I had some leftover but if you use smaller skeins you may need to buy more than one of each color)
J crochet hook
yarn needle
scissors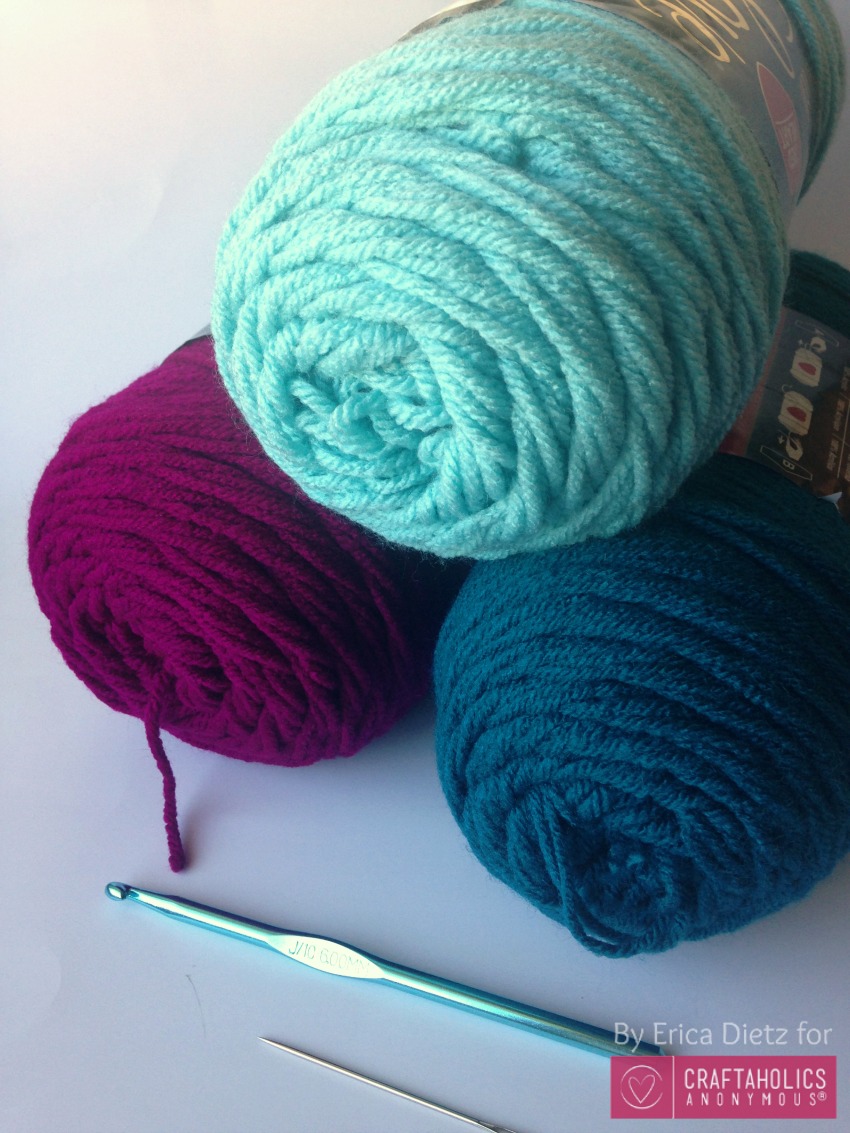 With your first color ch 100 (to make larger or smaller just start with a multiple of 3 plus 1)
Row 1: in 5th ch from hook (dc, ch 2, dc), [skip 2 ch, (dc, ch 2, dc) in next stitch] repeat until you have 2 stitches remaining, skip 1, dc in last stitch, change to second color but do not cut yarn, carry it up the side as you work
Row 2: ch 3 (counts as first dc), turn, (dc, ch 2, dc) in each ch space across, dc in last stitch, change to the third color, again do not cut your yarn but carry it up the side as you work
Row 3: (counts as first dc), turn, (dc, ch 2, dc) in each ch space across, dc in last stitch, when you reach the end of the row the first color of yarn that you left after row 1 should be there, change back to that color
Continue working Row 3, picking up the new color at the end of each row until you reach the desired length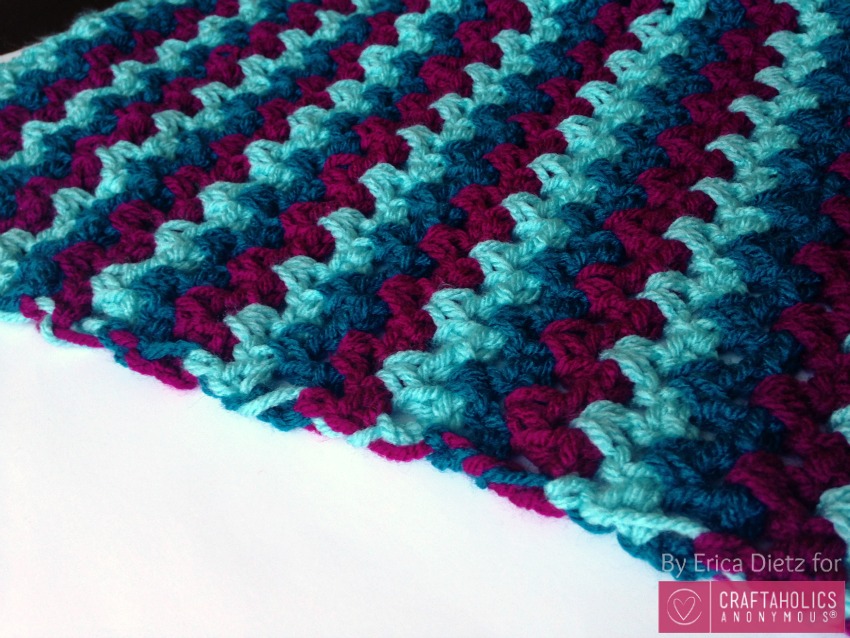 When you get to the size that you want you can cut and weave in the ends of each color. Then you will want to add a border to cover the pieces that you carried up the side. I added a couple rounds of single crochet followed by a pointed shell border.
Border:
Round 1: sc in each stitch across the top and bottom and evenly down the sides, working 3 sc in each corner
Round 2: sc in each stitch around, working 3 sc in each corner
Round 3: change to a different color if desired, starting in a corner, ch 3, 3 dc in same stitch, [skip 3 stitches, slip stitch in next stitch, ch 3, 3 dc in same stitch] repeat around, as you work the border you may have to mess with the stitch count a little bit to get it to reach the corners right, if you need to skip 2 stitches or 4 stitches instead of 3 as you near a corner it is fine, no one will be able to tell once the blanket is finished.
Finish off and weave in all ends.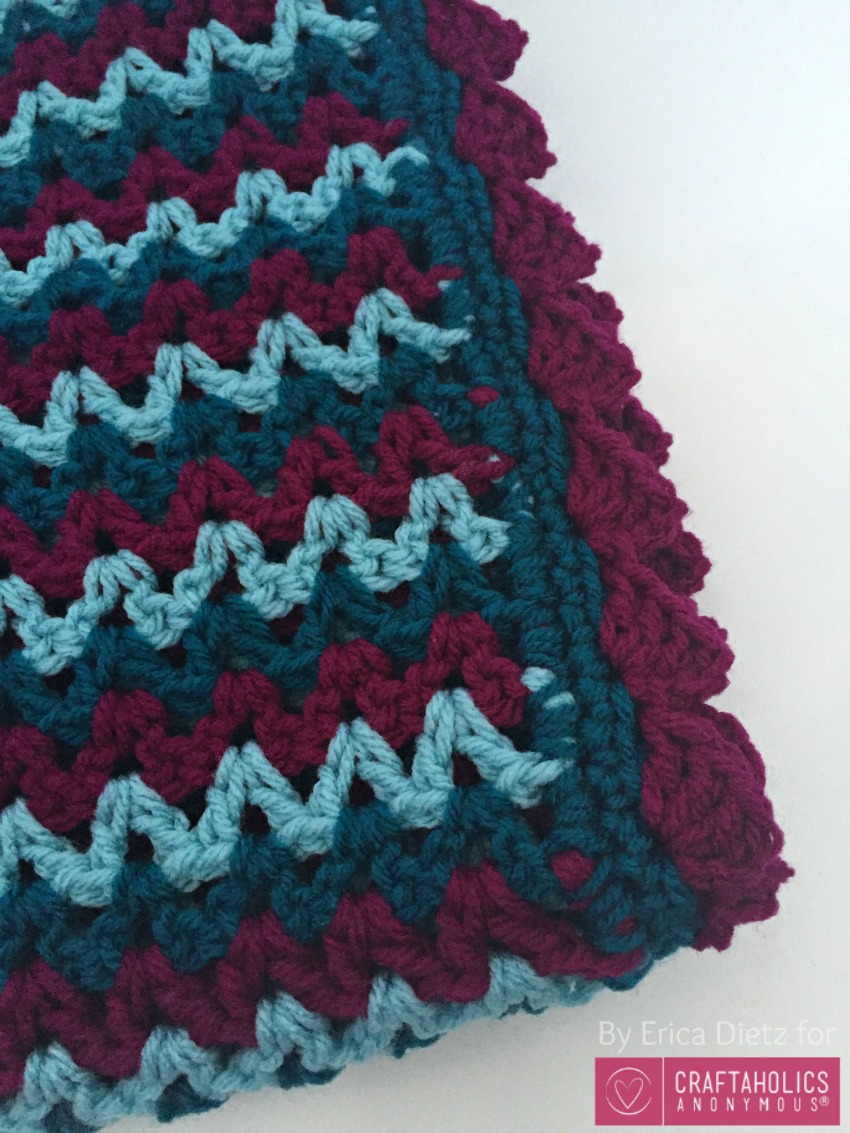 This is a great blanket if you are new to crocheting or if you just want an easy project to work on. Want to make it even easier, just use one color. It will still make a nice blanket, it isn't frilly or lacy so it works for a girl or a boy and it is super easy.
More Crochet Projects from Erica:
Crochet Jute Christmas Ornaments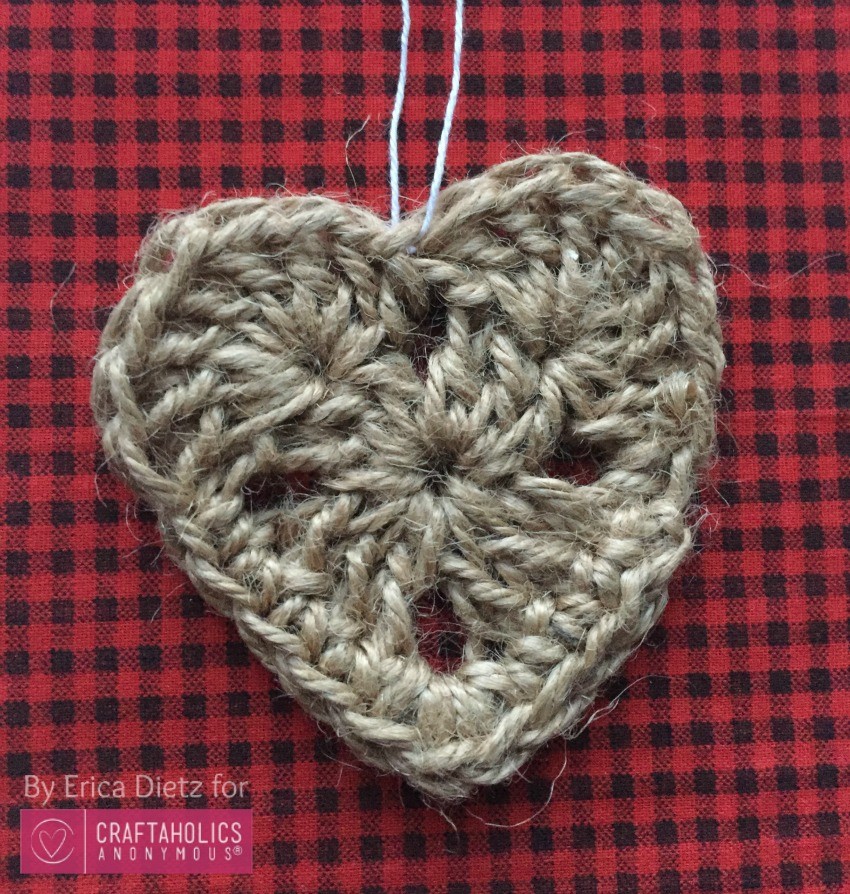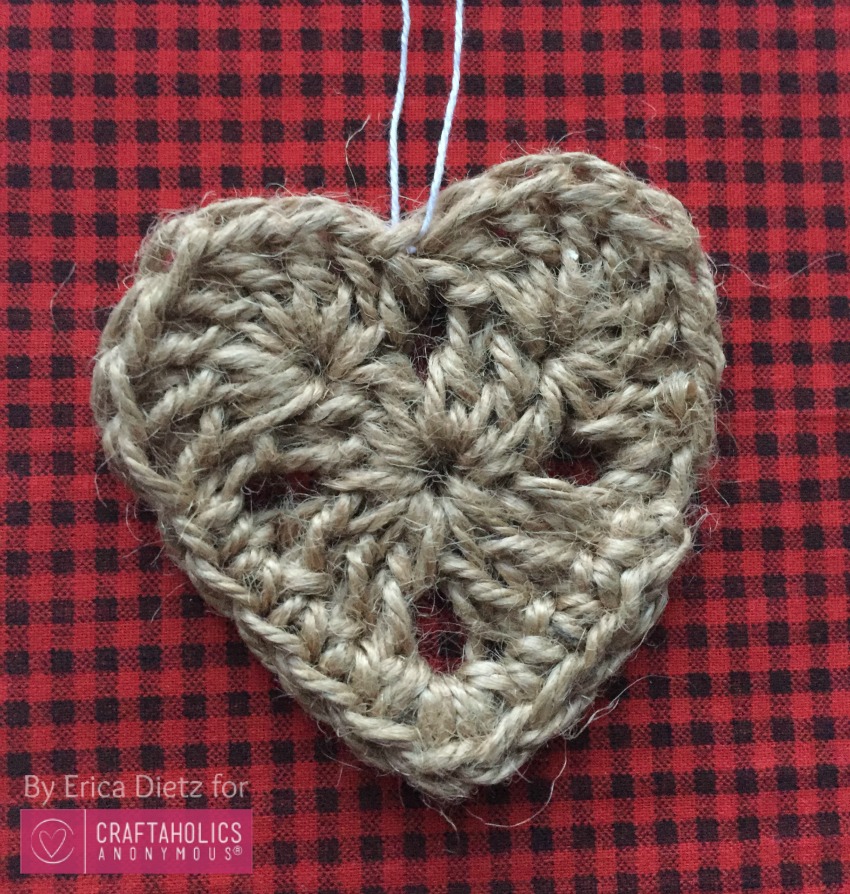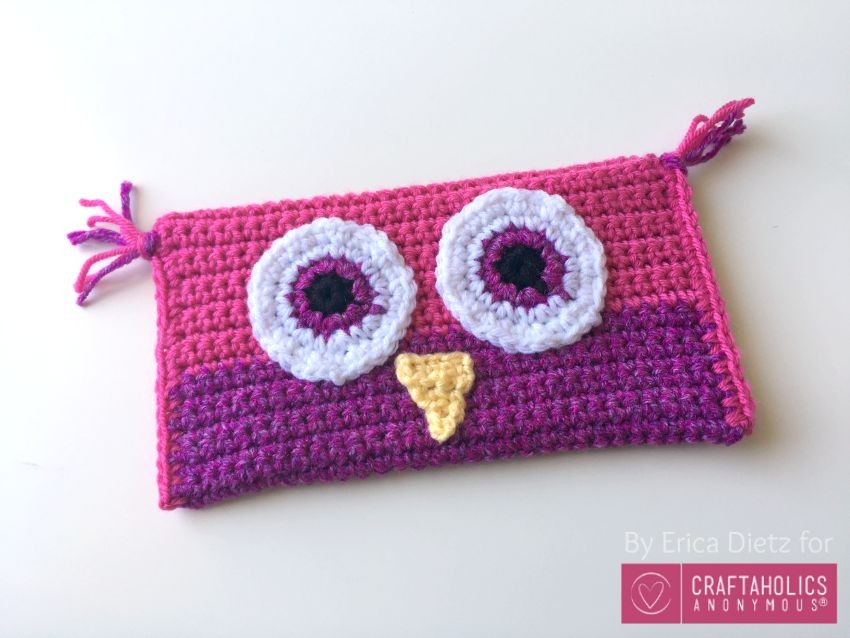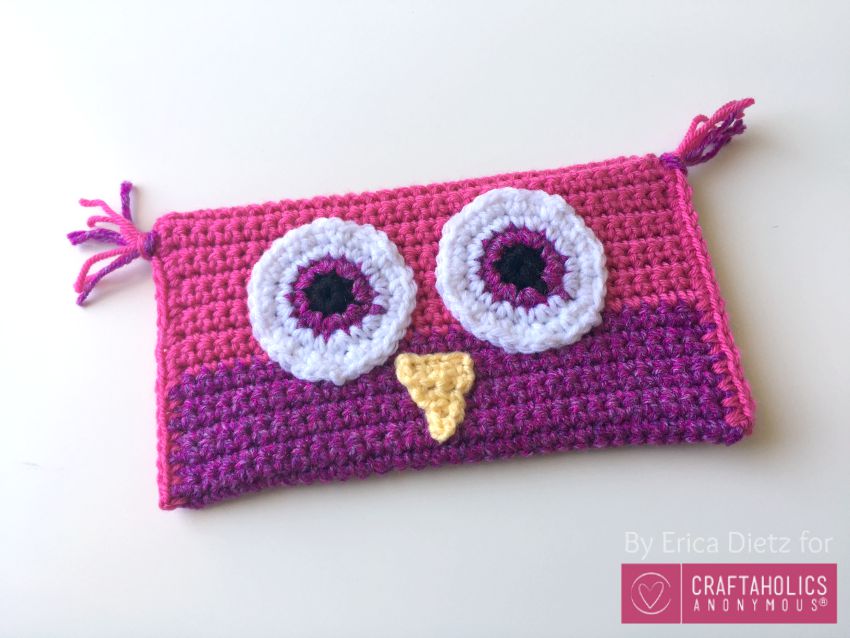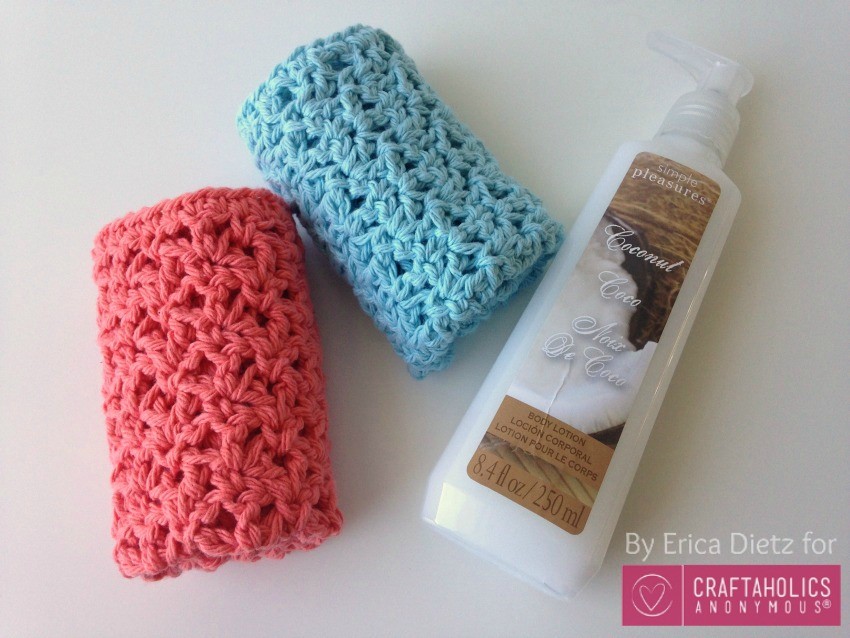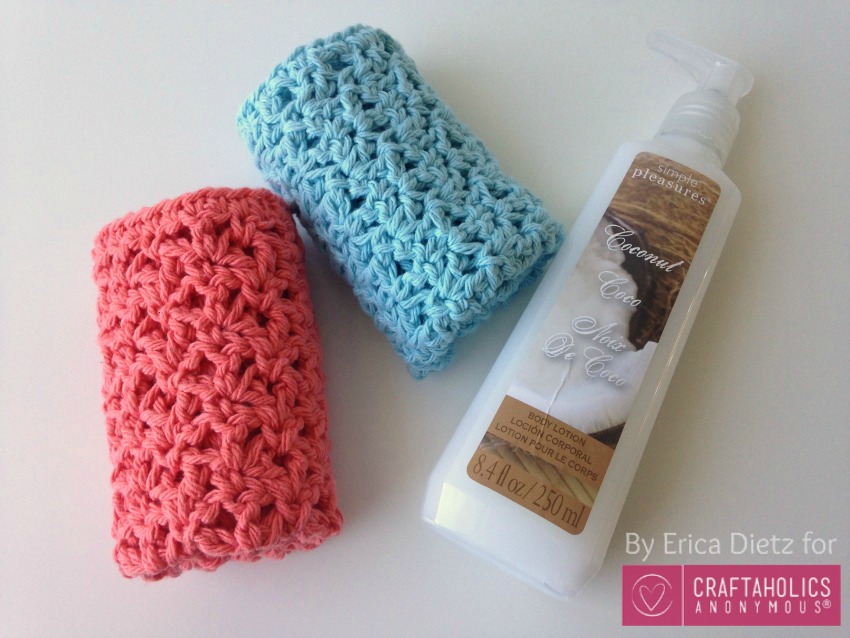 Hi, I'm Erica, and my blog is 5 Little Monsters. I live in Salt Lake City, Utah with my husband and our 5 kids. I really enjoy crafting of any kind, but I most frequently sew or crochet. On my blog you'll find a variety of free crochet and embroidery patterns, as well as some sewing tutorials.