Looking for a simple and USEFUL handmade Mother"s Day gift idea? Well, here is a great tutorial on how to Crochet Washcloths! Every mom can use more of these!

Hello again, Erica here from 5 Little Monsters. Today I am going to be sharing another crochet project with you. I thought with Mother"s Day just around the corner I thought I would share a little something you could use as a Mother"s Day gift idea.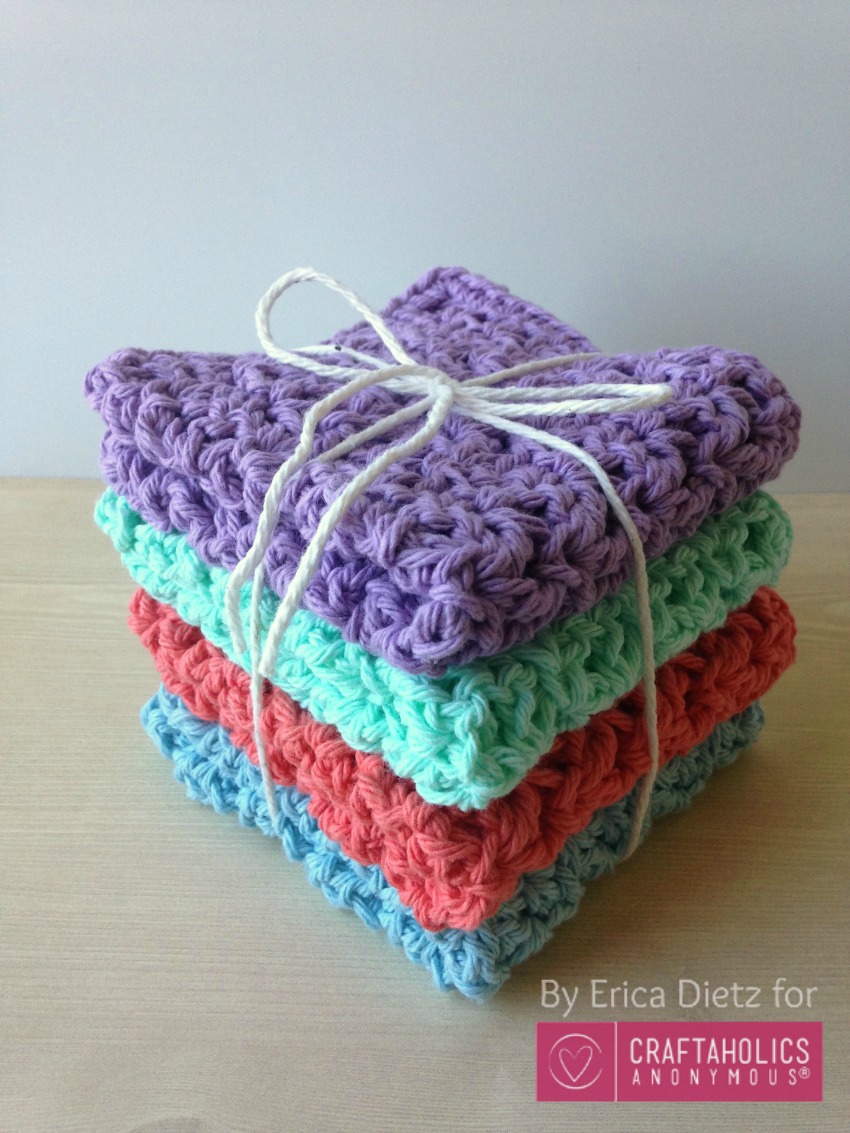 These crocheted washcloths are made with a stitch called the blossom stitch. It is slightly more open and lacy than the stitches I normally use for dishcloths or washcloths but still solid enough to work. I wanted something that was a little more delicate and feminine for Mothers"s Day.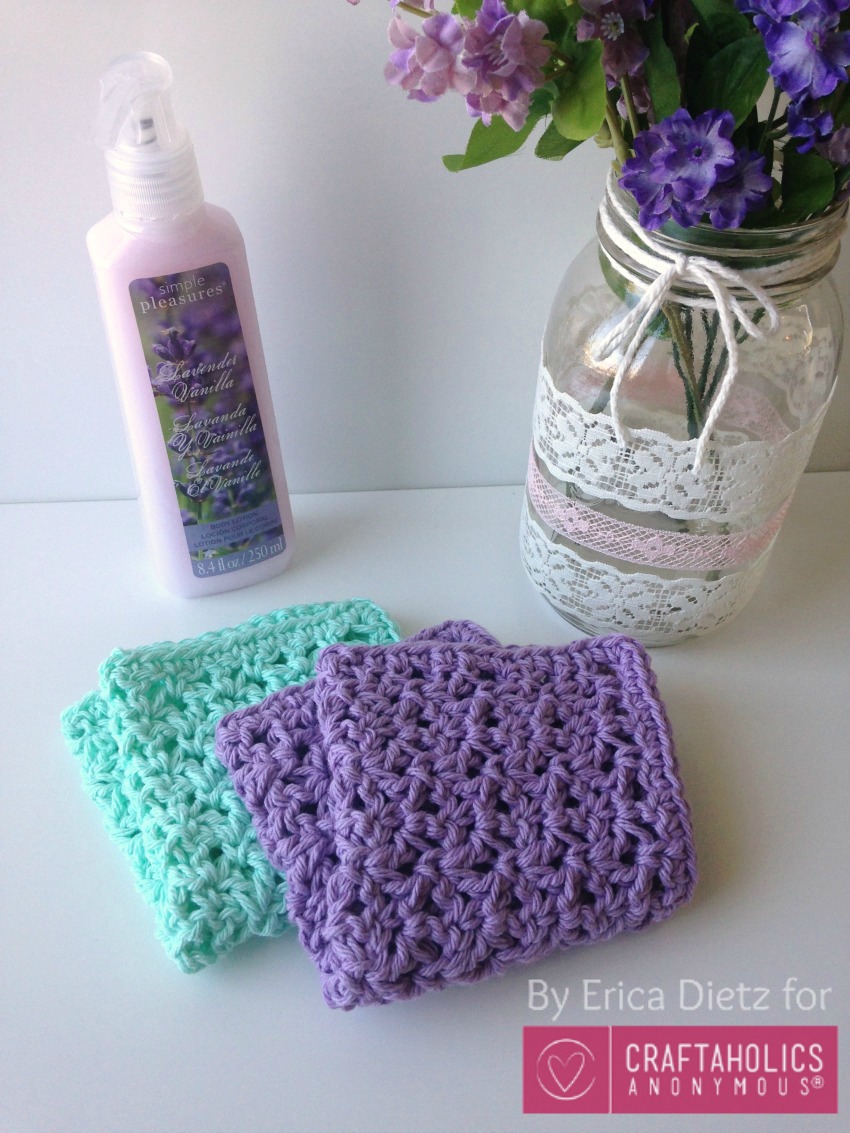 They are quick to make and paired with some pretty smelling soap or lotion make a lovely handmade Mother"s Day gift idea. If you want to go a little bigger, you could add them in a basket filled will all sorts of relaxing things for a spa type gift. Crocheted washcloths are nice anytime you need a little something for a mom, grandma, sister, friend, or any other women in your life. So make a few extra to keep on hand!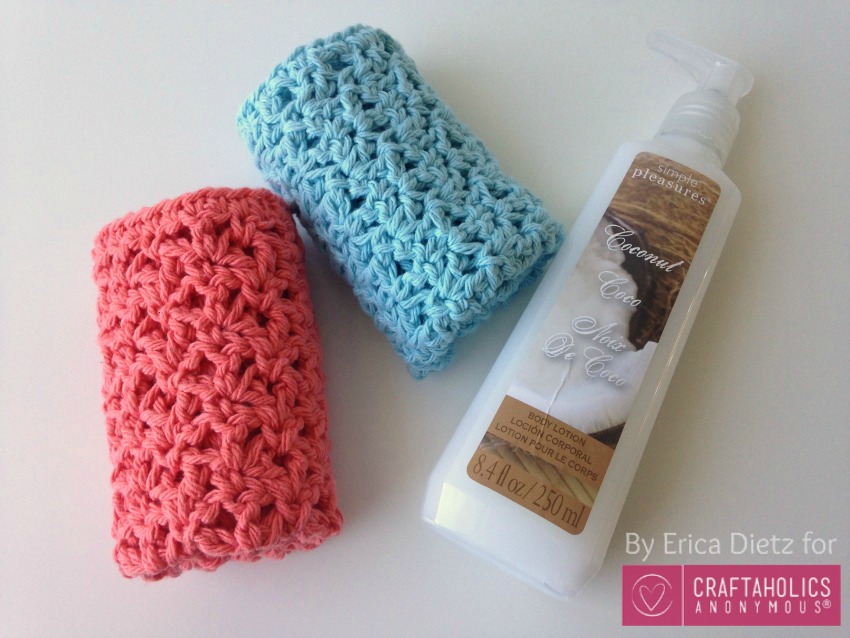 I always use cotton yarn any time I am making washcloths or dishcloths. For this particular project I used Peaches and Cream yarn but any worsted weight cotton yarn will work just fine. The colors I used were Aquamarine, Ocean Coral, Fresh Lilac and Mint. I used about half of a 2.5 oz ball for each washcloth so you can probably get 2 out of each ball if you make them the size that I did. The stitch pattern is made using a combination of single crochet, double crochet, and chain stitches.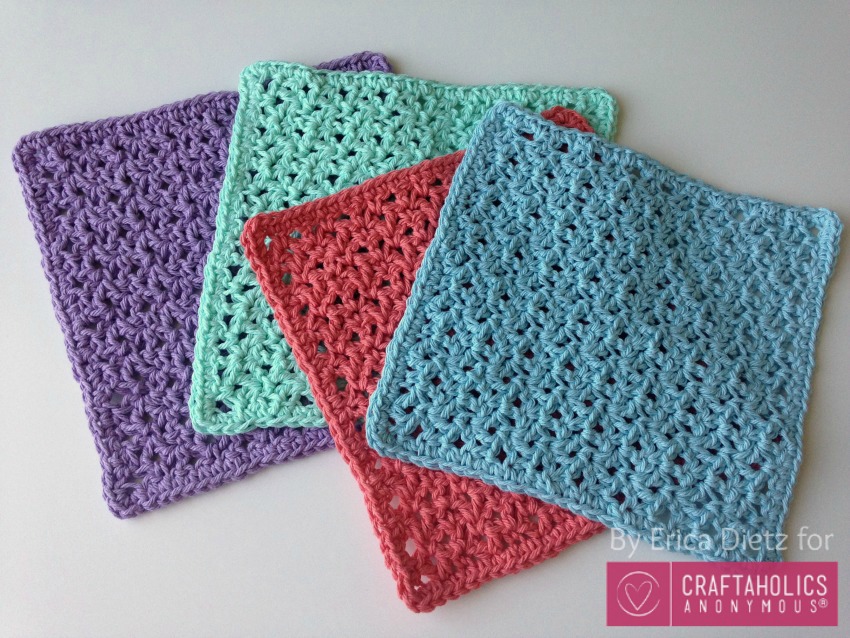 How to Crochet Washcloths (Great Mother"s Day gift!)
Finished size approximately 8 1/2 inches square.
Supplies:
60 yards of cotton yarn
H crochet hook
Begin by chaining 30 (if you want to make your washcloth bigger or smaller add or subtract a multiple of 4)
Row 1: sc in the 2nd ch from hook, (skip 1, [dc, ch 1, dc] in the next stitch, skip 1, sc in next stitch) repeat to the end of the row, turn
Row 2: ch 4, skip dc, sc in first ch space, ch 1, skip dc, dc in next sc, (ch 1, sc in next ch space, ch 1, dc in next sc) repeat to the end of the row ending with a dc in the first sc of row 1, turn
Row 3: ch 1, sc in first dc, ([dc, ch 1, dc] in next sc, sc in next dc) repeat to the end of the row ending with a sc in the 3rd chain of the starting ch 4 from the previous row, turn
Repeat rows 2 and 3 until desired length ending with row 2. I repeated both rows 7 more times and then row 2 one more time.
To finish sc evenly all around the outside edge working 3 sc in each corner, finish off and weave in ends.
*This stitch is called the blossom stitch crochet.*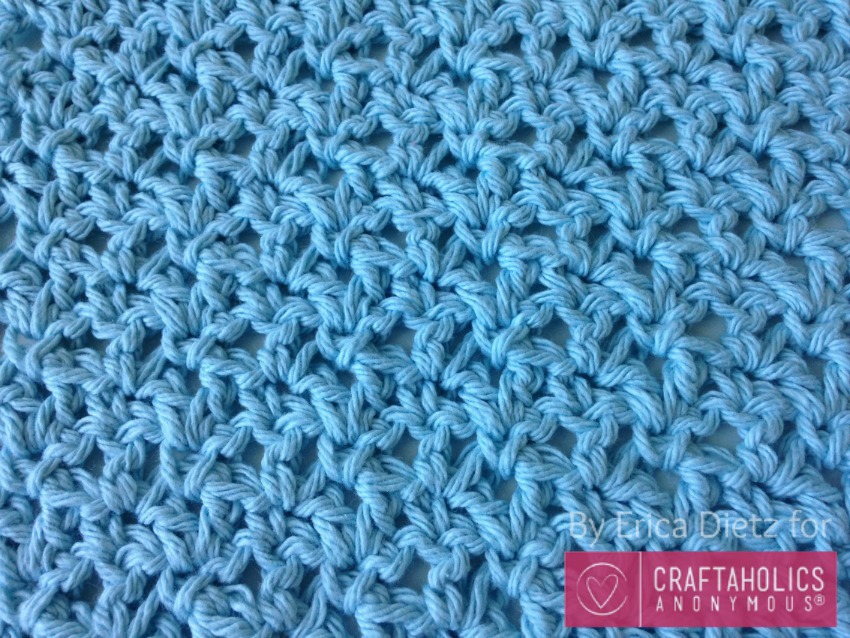 Now you just need to package it up pretty and you have a nice little gift for mom.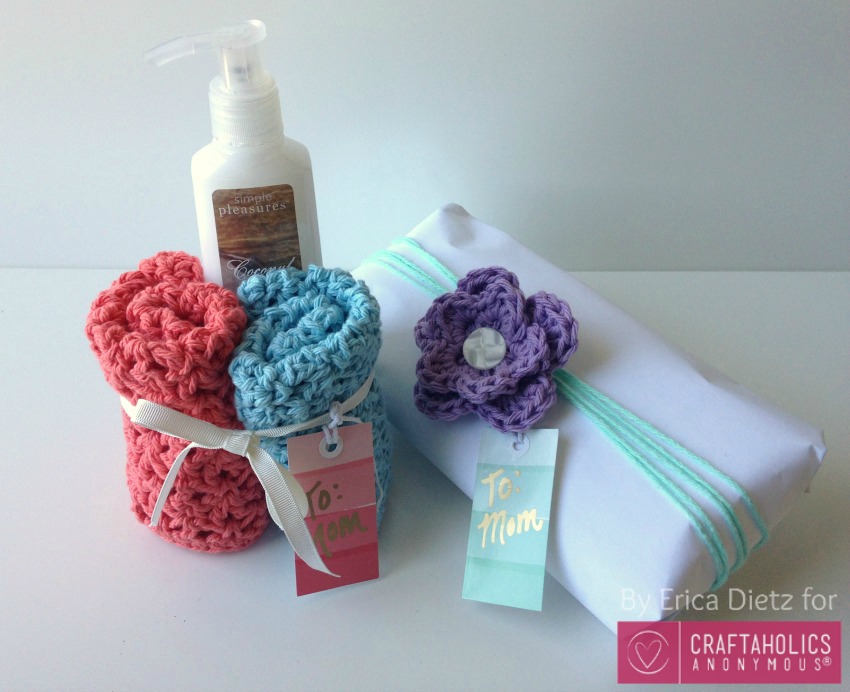 If you are looking for more crochet washcloth or dishcloth patterns you can find several more patterns on my blog, including some of my favorite old standbys and some fun new patterns.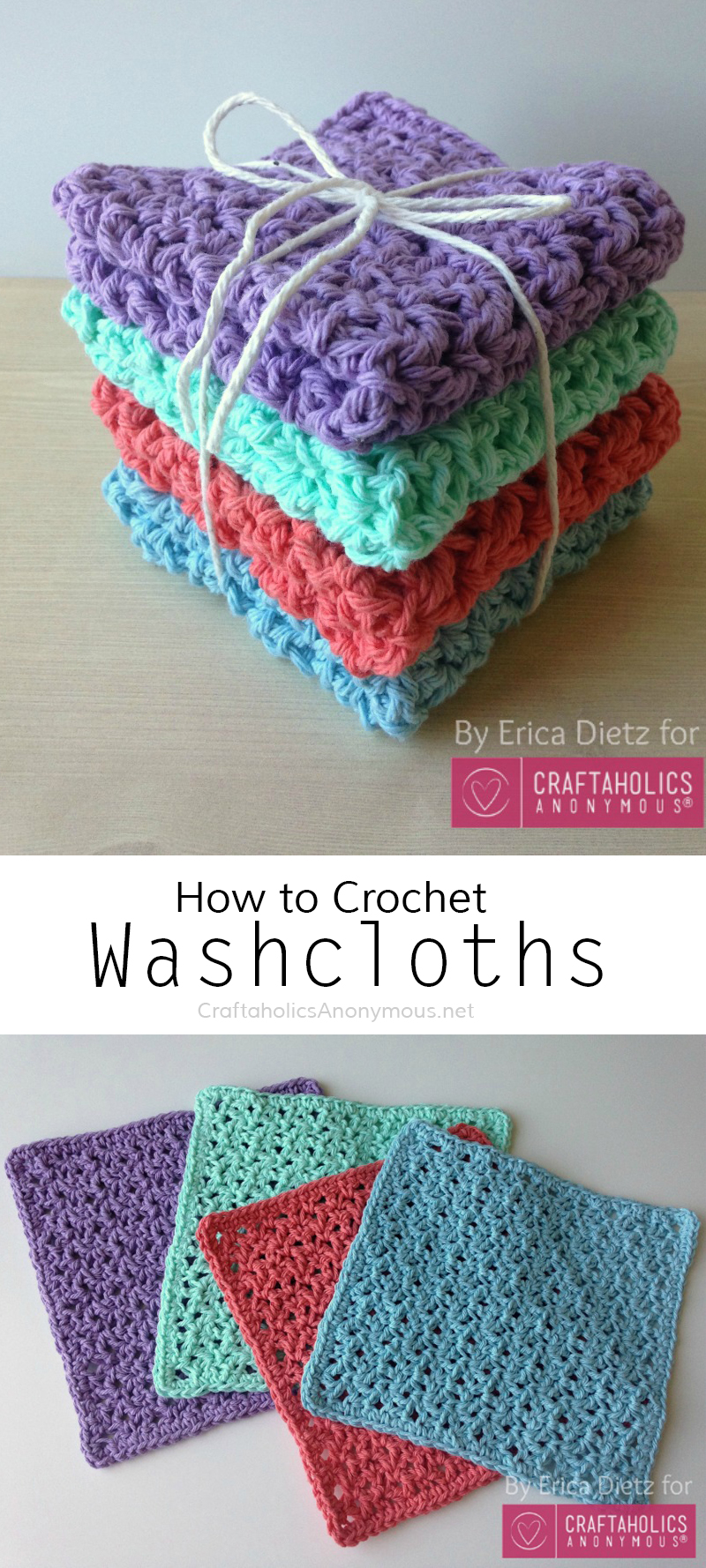 More Mother"s Day Gift ideas you"ll love: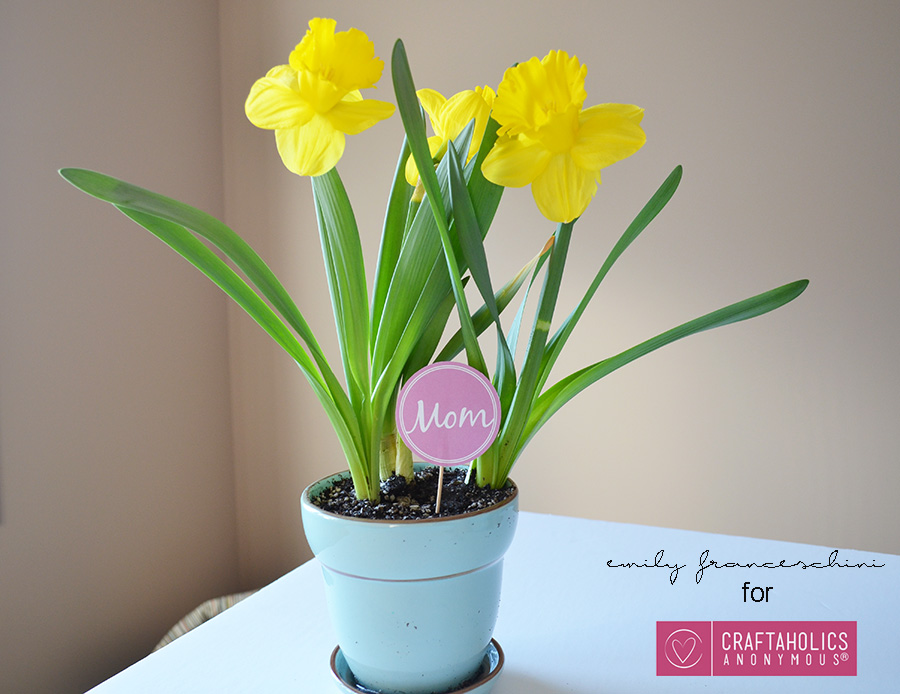 Free printable Mother"s Day Tags!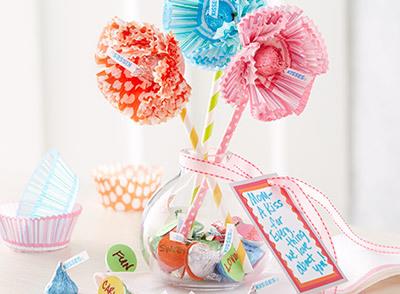 Kisses for Mom bouquet! Great project that kids can help with.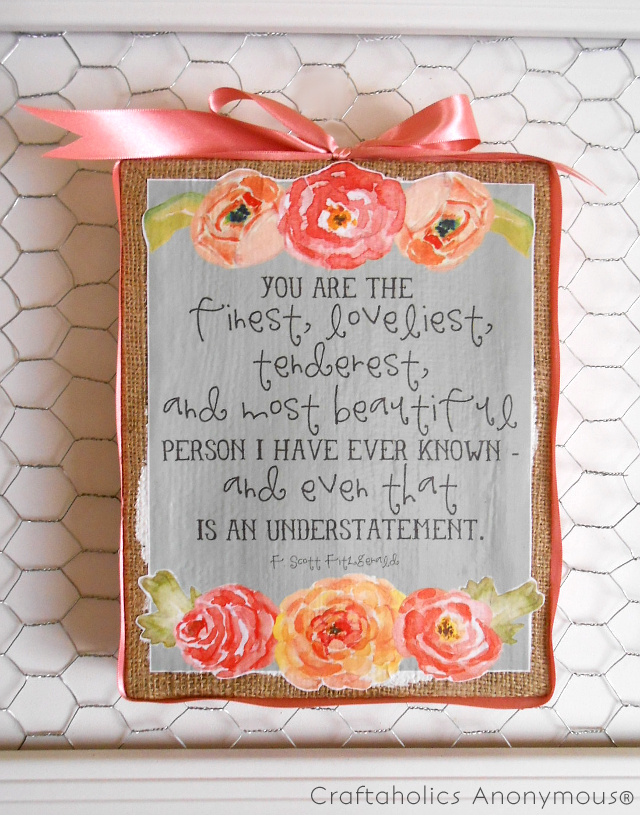 Handmade Mother"s Day gift idea Free Printable!
Have a Craft Question? Post it on the Craftaholics Anonymous® community Facebook page and get answers!
Hi, I'm Erica, and my blog is 5 Little Monsters. I live in Salt Lake City, Utah with my husband and our 5 kids. I really enjoy crafting of any kind, but I most frequently sew or crochet. On my blog you'll find a variety of free crochet and embroidery patterns, as well as some sewing tutorials.