Hi everyone, Erica here again from 5 Little Monsters. Last month I shared a simple embroidered Christmas ornament so this month I thought I would share another simple ornament idea but this time crocheted. Several months ago I had bought a ball of jute thinking that I wanted to try crocheting something with it. I had a project in mind, I even started working on it but it wasn"t turning out the way that I had imagined so I set it aside and never finished it. I have seen a lot of rustic type Christmas decorations and thought that the jute would go along well with that theme so I got it out and crocheted a simple heart and star.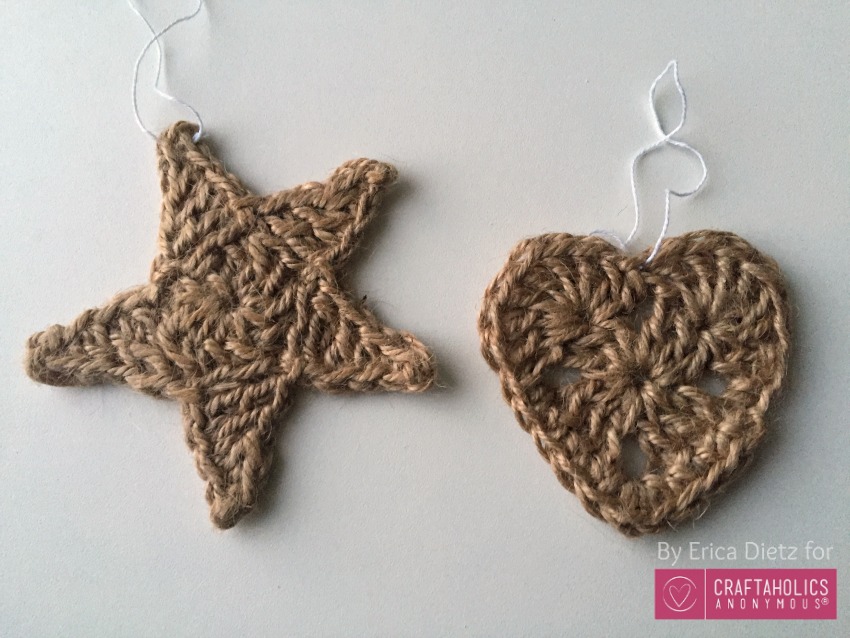 I decided on a heart and star because I really just wanted some simple flat shapes. I knew that the jute wouldn"t really crochet tight enough to make something that needed to be stuffed so a heart and star just seemed to make sense.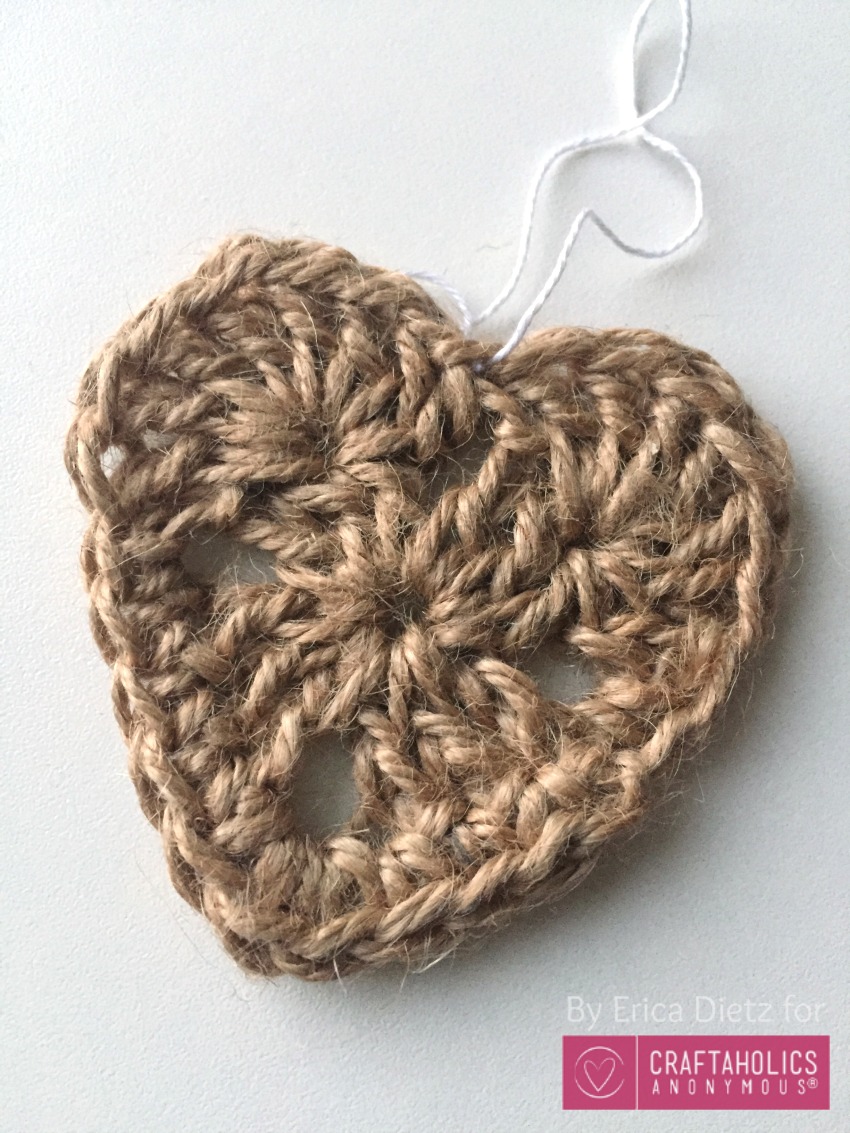 The heart is made by first making a small square and then basically just making a shell on two of the sides with double crochet. It is very simple to make, it really only took a few minutes so you could easily make several to hang on your tree.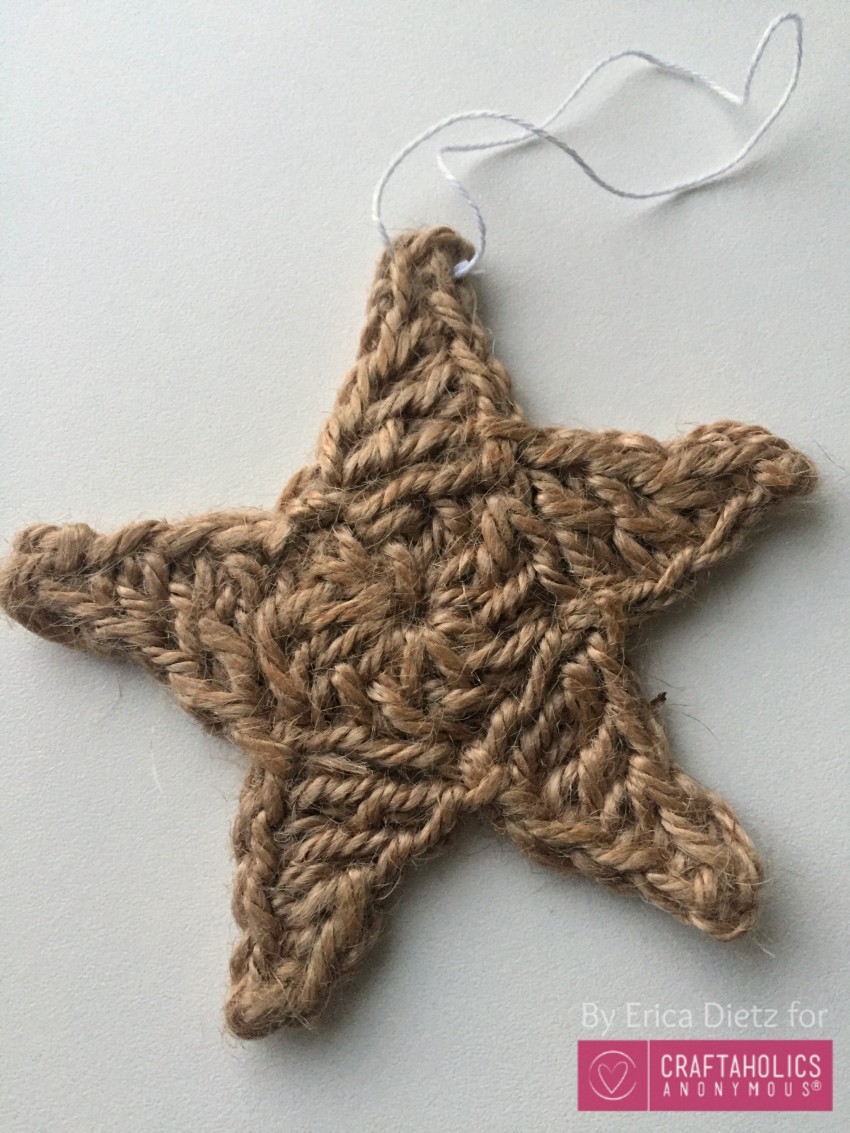 The star is also really quick and easy to make, it starts with a circle and then you make 5 points coming off of it. I did have issues with the points curling up but I just pressed it really fast with the iron and they stayed flat.
How to Make Jute Christmas Ornaments
You will need:a small ball of jute
G crochet hook
yarn needle
small piece of crochet thread (or ribbon, yarn, any kind of cord,  or you could just use the jute) for the hanger
Heart
Start with a magic ring, ch 5 (counts as first dc and ch 2), 3 dc, ch 2, 3 dc, ch 2, 3 dc, ch 2, 2 dc, join to 3rd ch of the starting ch
Now you will have a square shape, sc in the next ch space, skip 1 dc, 7 dc in next dc, skip 1 dc, sc in ch space, skip one dc, 7 dc in next dc, skip 1 dc, sc in ch space, sc in next 3 dc, 3 sc in ch space, sc in next 3 dc, join to first sc, finish off and weave in end
cut a piece of crochet thread, or whatever you want to use for a hanger and tie it to the top of the heart.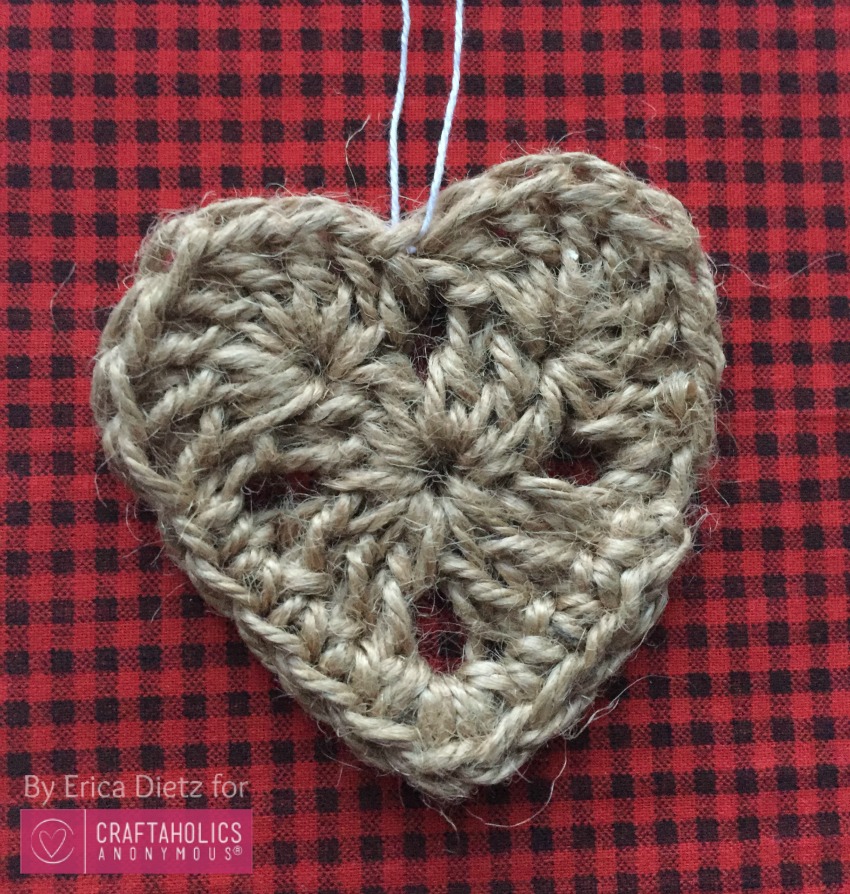 Star
Start with a magic ring, ch 2, 10 dc in mr, join to first dc
ch 5, sc in second stitch from hook, hdc in next ch, dc in next ch, tr in last ch, skip 1 dc, slip stitch to the next, repeat that 4 more times to make the 5 points of the star, finish off and weave in end
Tie a piece of crochet thread to the top of one point for a hanger.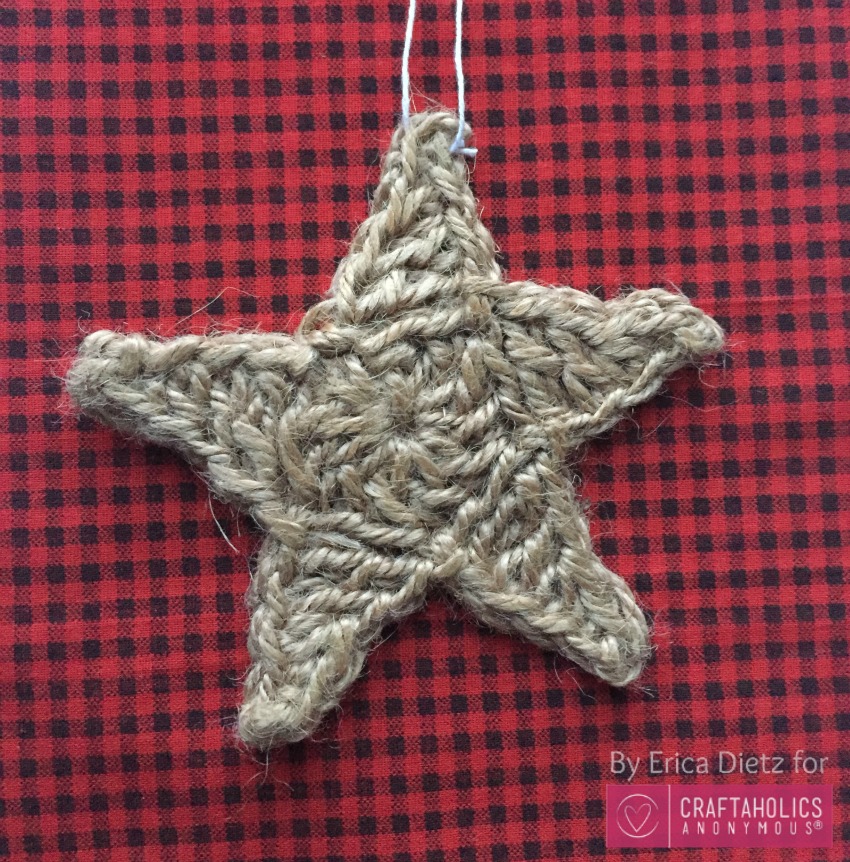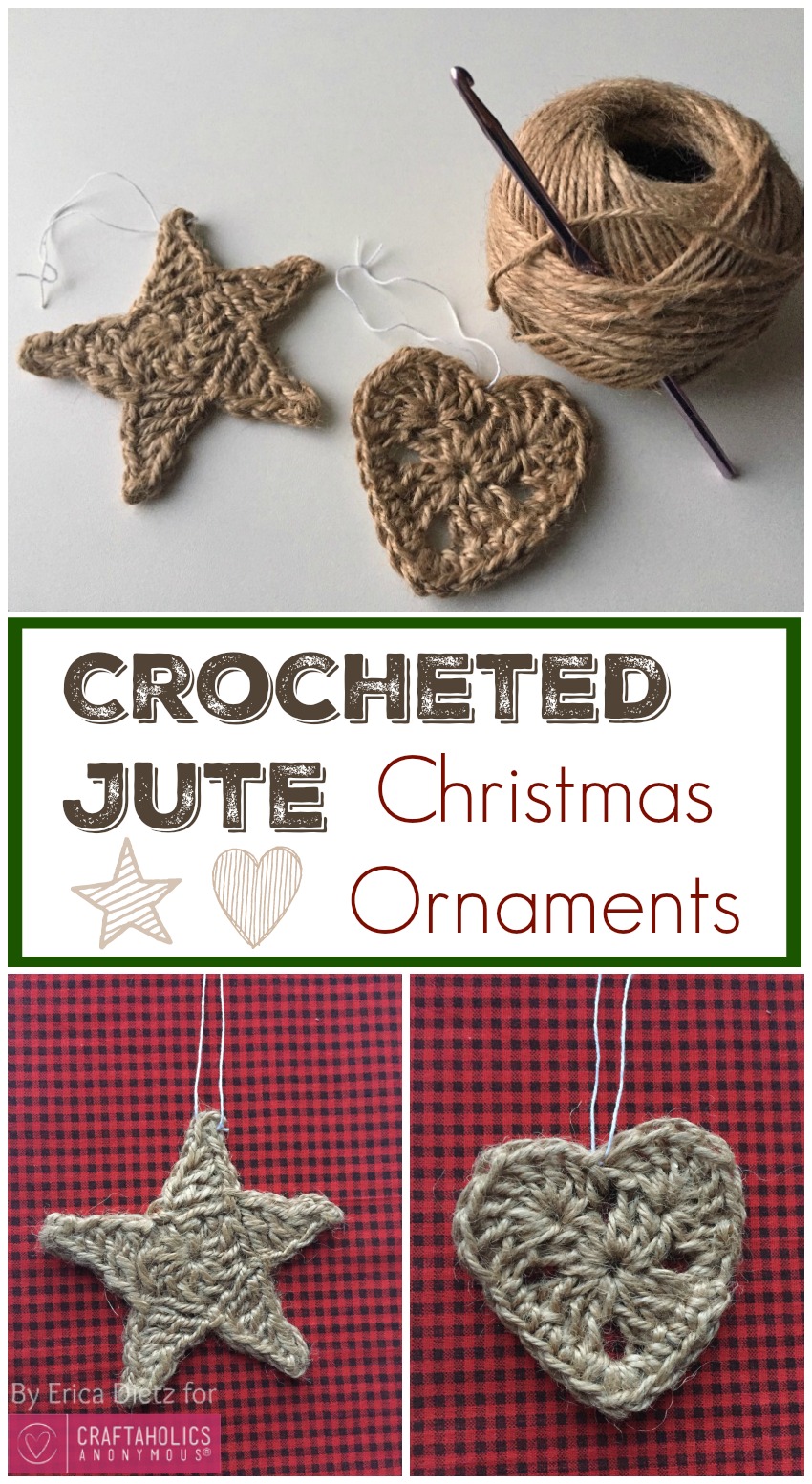 These ornaments are great if you want a really easy crocheted ornament. They take hardly any time to make so you can make a lot of them. And by simply using something other than jute you could easily change the look to match any Christmas decor style. You could use yarn in traditional reds and greens or I think they would look great with white yarn with a shimmery or metallic thread in it for more of a winter wonderland kind of look. Super simple and really versatile, a quick and easy project for a busy time of year.
More Crochet Projects!
Crochet Doily Trivets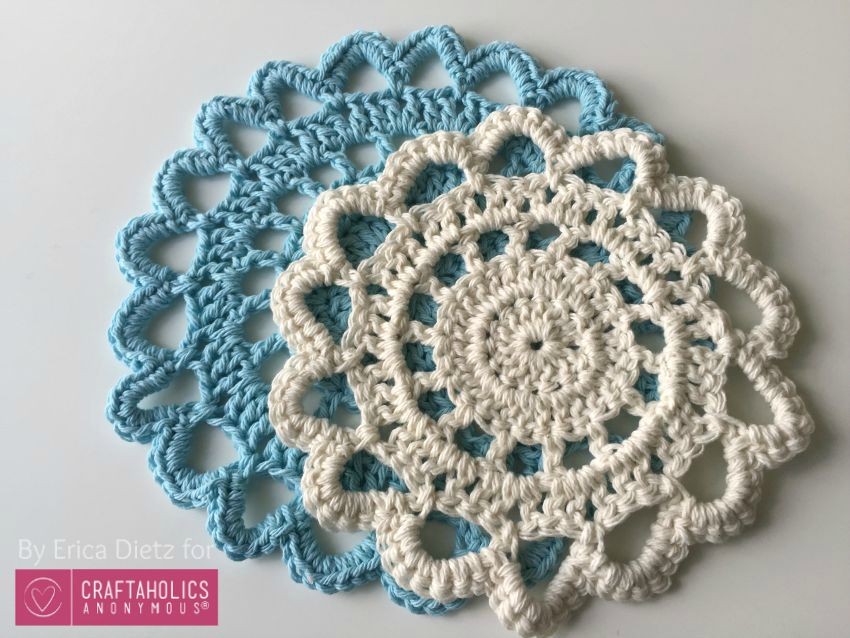 Modern Crochet Coasters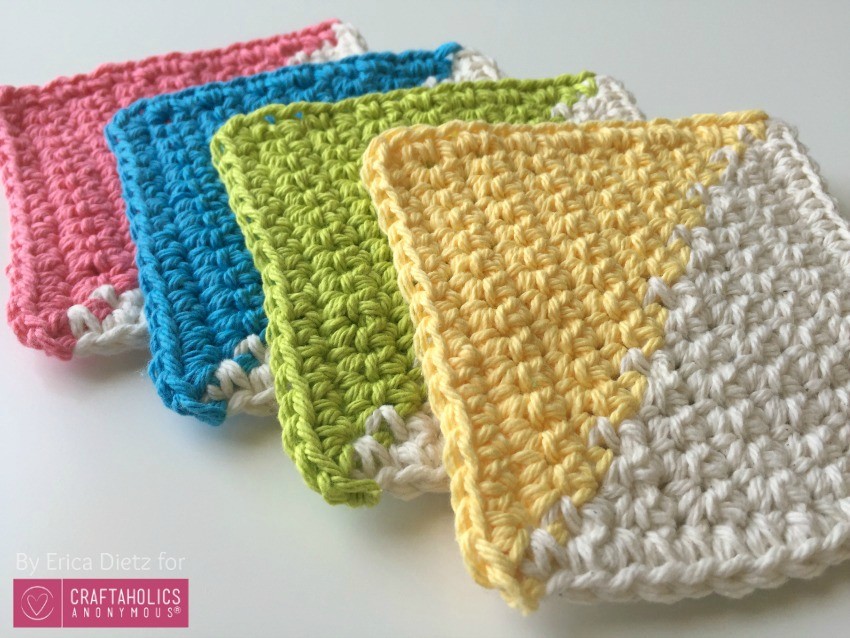 Crochet Face Scrubbies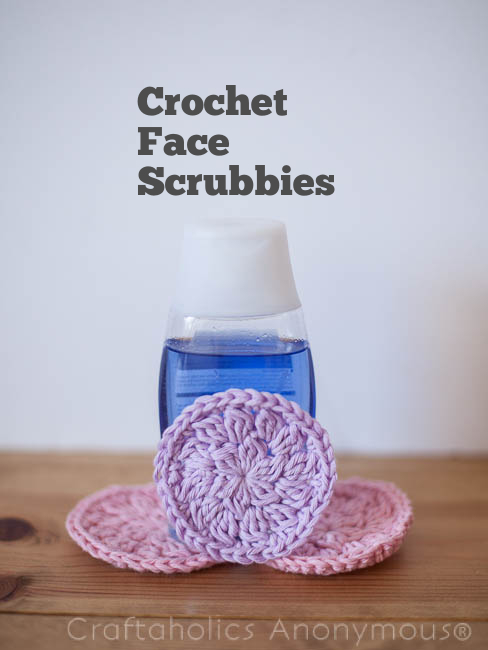 Hi, I'm Erica, and my blog is 5 Little Monsters. I live in Salt Lake City, Utah with my husband and our 5 kids. I really enjoy crafting of any kind, but I most frequently sew or crochet. On my blog you'll find a variety of free crochet and embroidery patterns, as well as some sewing tutorials.