Crochet Owl Pencil Bag
Hi, Erica here from 5 Little Monsters. It is crazy to think that it is already August, summer is almost over and school will be starting soon, if it hasn"t already. We are in the middle of getting 4 out of 5 kids ready to start school in a couple of weeks so I have had back to school stuff on my mind. I recently shared a pattern on my blog for a basic crocheted pencil bag with plans to share some variations on it. This owl pencil bag is one of them.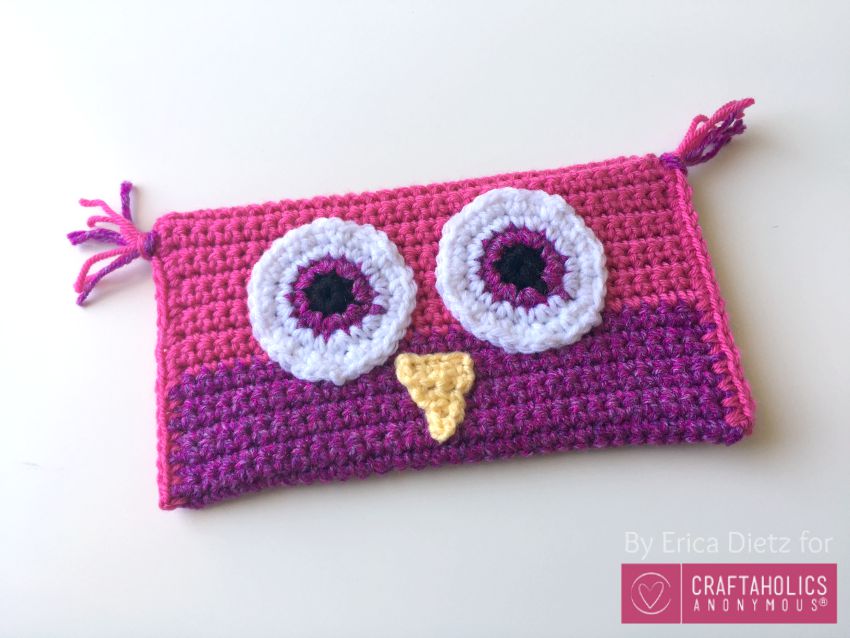 When I was thinking of different ideas for pencil bags an owl was one of the first ideas that popped into my head so I was excited to give it a try. I have a daughter who likes owls as well as pink and purple so she has already claimed this bag.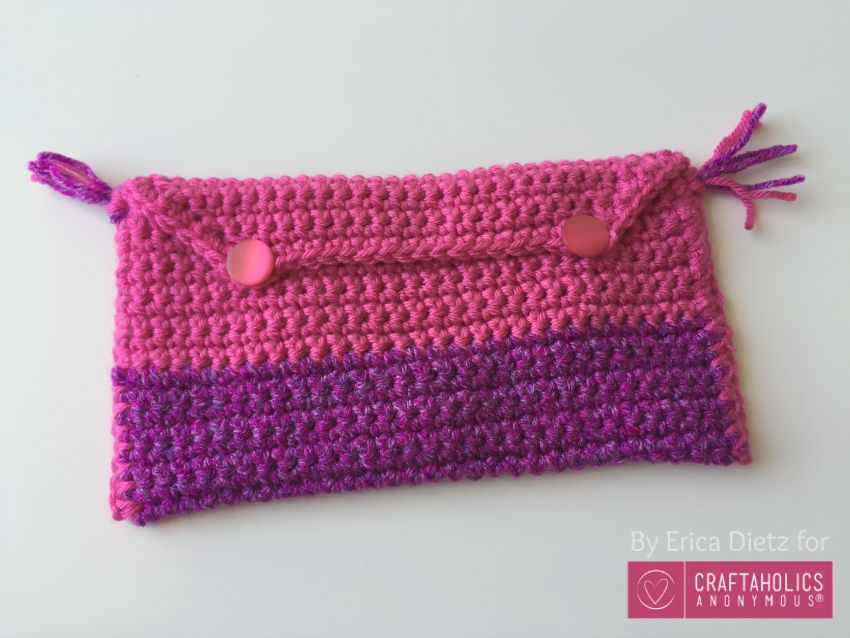 The bag is pretty easy to make. The bag itself is made exactly the same way as my basic bag except the you change color for one section in the middle. Then the eyes and beak are made and sewn on and the little ear tufts added. It has a flap that folds over the back and closes with 2 buttons.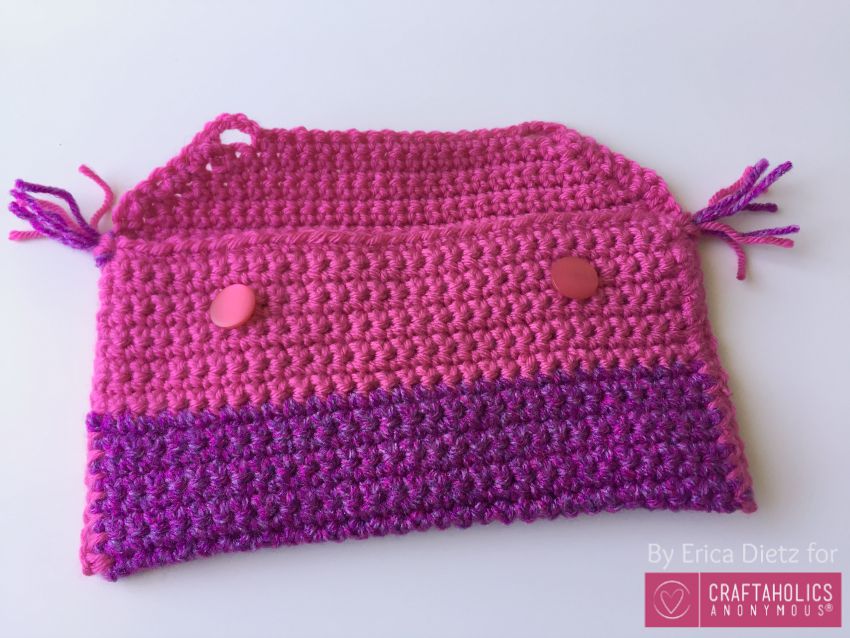 The finished bag measures about 9 x 5 inches. You can use any worsted weight yarn to make these bags. This bag is made with Red Heart Super Tweed (the purple section- Pinkberry) and Deborah Norville Everyday (the pink section- Grenadine). The eyes and beak are made with scraps of leftover yarn. I have also used Red Heart Super Saver and Vanna"s Choie yarns for these bags so anything similar in weight to those will work fine.
How to make Crocheted Owl Pencil Bag
You will need:
Worsted weight yarn in 2 colors for the bag
Small amount of worsted weight yarn in white, black, and yellow for the face
H crochet hook
2 buttons- 3/4″-1″
sewing thread and needle for attaching buttons
yarn needle
scissors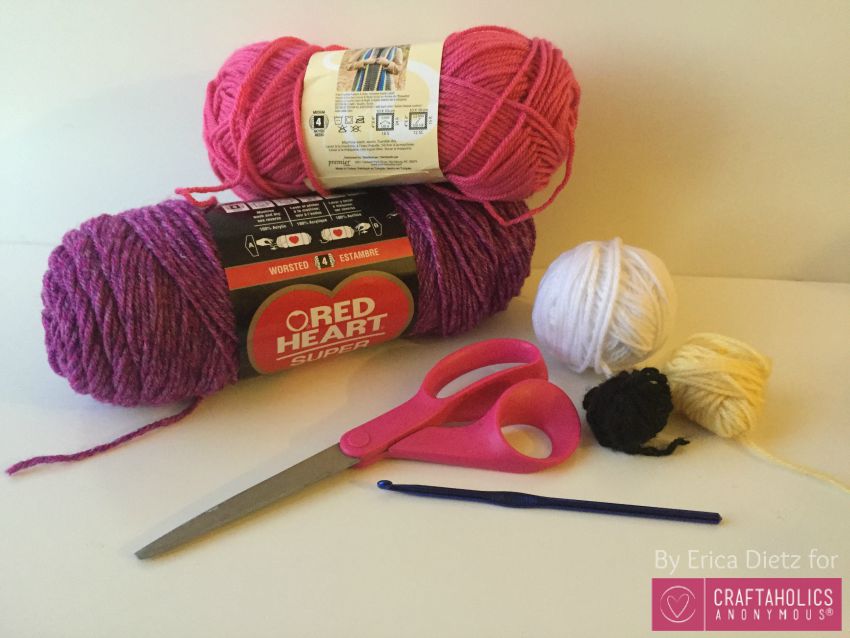 Bag:
Starting with color that will be the top half of the body (pink on my bag)
ch 31
Row 1: sc in 2nd ch from hook and each ch to the end (30 sc)
Row 2: ch 1, turn, sc in each stitch to end (30 sc)
Row 3-10: repeat row 2 (30 sc)
Change to second color (purple on my bag)
Row 11-26: repeat row 2 (30 sc)
Change back to first color (pink)
Row 27-38: repeat row 2 (30 sc)
Row 39: ch 1, turn, sc dec, sc in next 26, sc dec (28 sc)
Row 40: ch 1, turn, sc dec, sc in next 24, sc dec (26 sc)
Row 41: ch 1, turn, sc dec, sc in next 22, sc dec (24 sc)
Row 42: ch 1, turn, sc dec, sc in next 20, sc dec (22 sc)
Row 43: ch 1, turn, sc dec, sc in next 18, sc dec (20 sc)
Finish off
You should now have a piece that looks like this: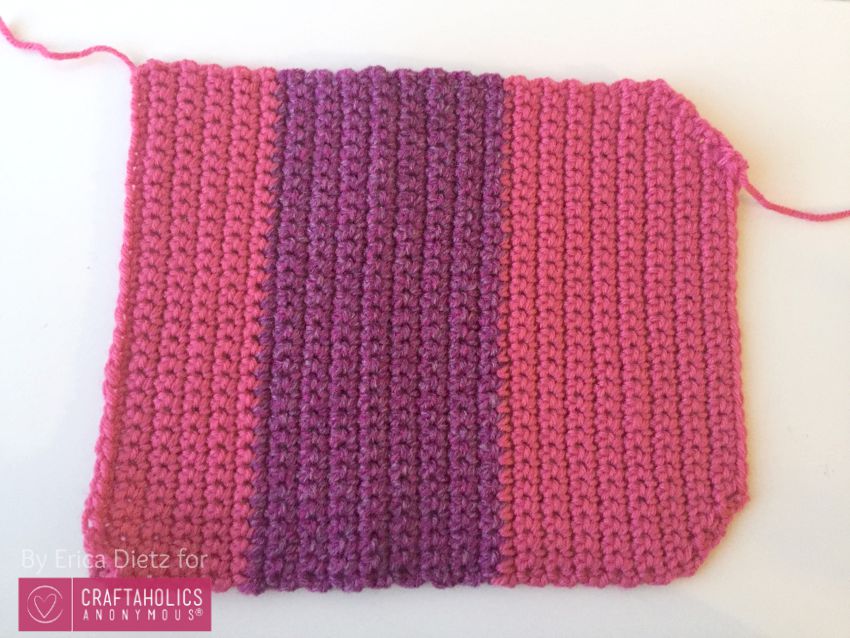 It will look like a big rectangle that is slightly angled in on one end
Rows 1-18 will be the back of your bag, rows 19-36 will be the front of your bag and rows 37-43 (the last two straight rows and the angled portion) make the flap.
Fold the bag wrong sides together so that the first 18 rows are on one side and match up with rows 19-36. The pink and purple sections should match up.
Starting in one corner, I always start so that I am working on the front of the bag, sc up the side of the bag through both layers, once you reach the end of the double layers sc in the next two rows and continue up the angled portion, sc in corner stitch, ch 4, skip 1, sc in next 14, ch 4, skip 1, sc in corner, sc down the side of the flap and bag making sure to go through both layers once you reach the bag portion, finish off and weave in ends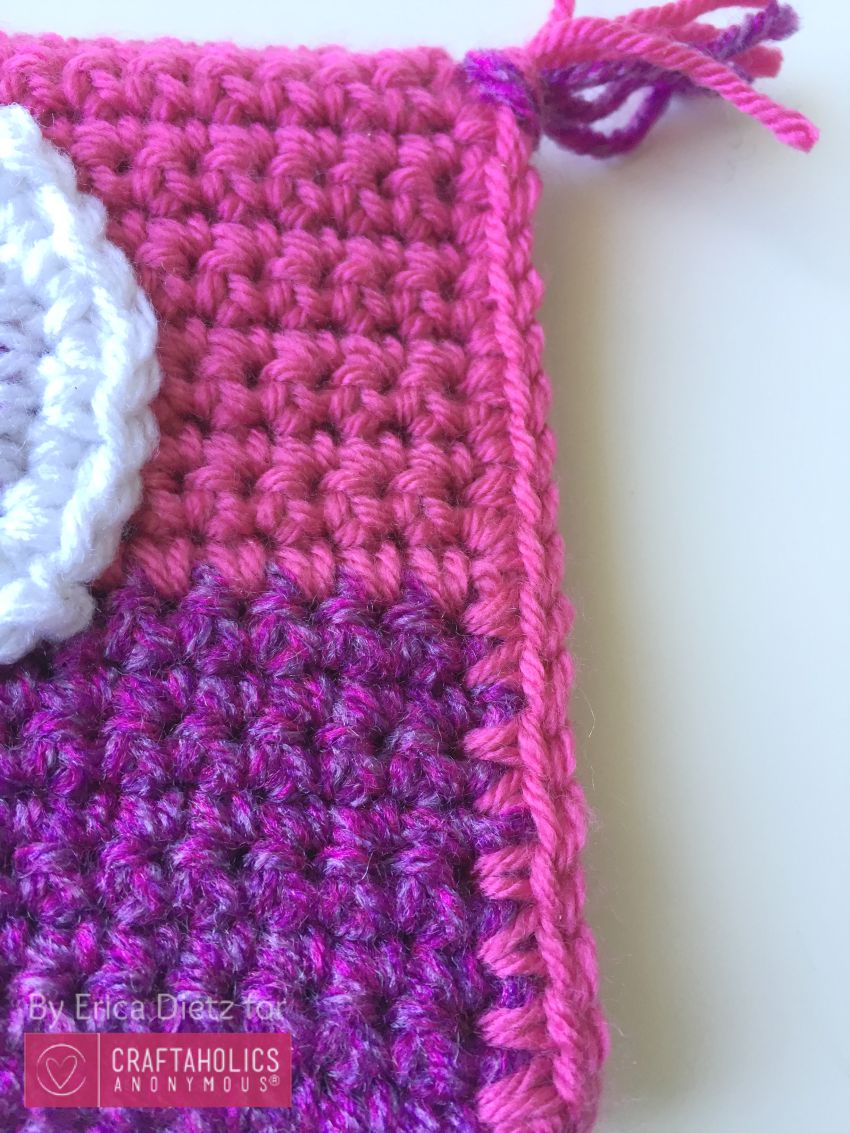 Now make the face
Eyes:
make 2
Round 1: with black yarn make a magic ring, ch 1, 8 sc in mr (8 sc)
Round 2: change to colored yarn, 2 sc in each stitch (16 sc)
Round 3: change to white yarn, (2 sc in first stitch, 1 sc in next) around (24 sc)
Round 4: (2 sc in first stitch, sc in next 2) around (32 sc)
finish off leaving long end for sewing
Beak:
with yellow yarn, ch 5
Row 1: sc in second ch from hook and each ch to the end (4 sc)
Row 2: ch 1, turn, sc dec, sc dec (2 sc)
Row 3: ch 1 turn, 2 sc (2 sc)
Row 4: ch 1 turn, sc dec (1 sc)
Row 5: ch 1, turn, sc (1 sc)
Finish off leaving long end for sewing
Sew eyes and beak to front of bag making sure to sew through only one layer.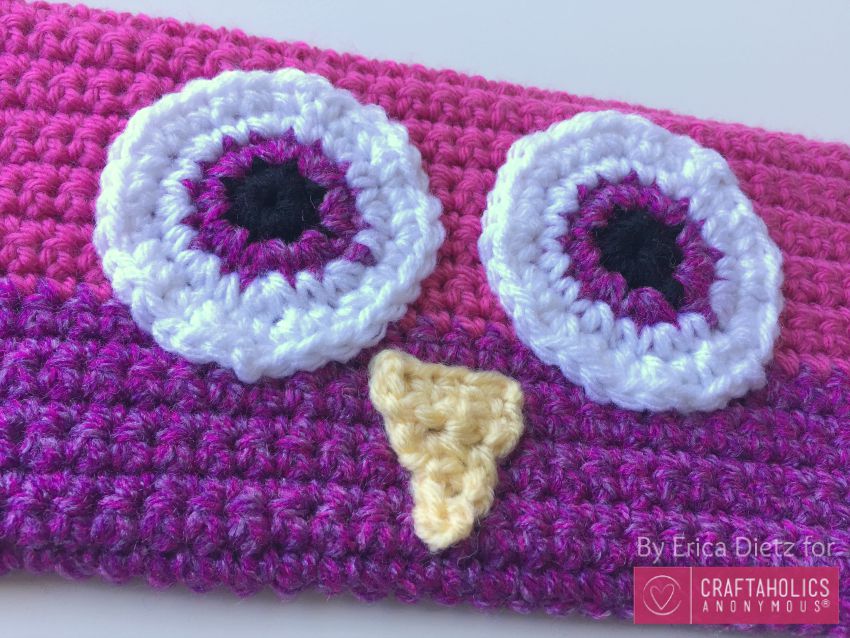 To make ear tufts:
Cut 4- 8 inch lengths of yarn from each of your 2 main colors
Using 2 of each color, hold in a bundle and fold in half, insert your hook from back to front at the point where the back edge of the bag ends, grab the loop of folded strands with your hook and pull through until you have a loop big enough to pull the end through, pull all of the loose ends through the loop to create a knot, pull to tighten and trim to the desired length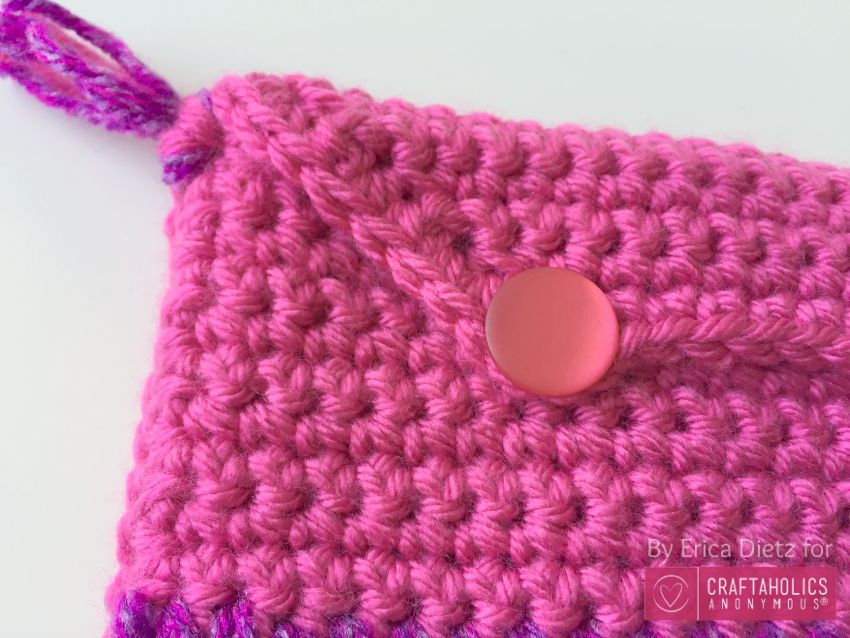 Fold flap down to determine button placement, sew on buttons. I find that it is usually best to use sewing thread and a sewing needle to be able to get through the small holes on the buttons.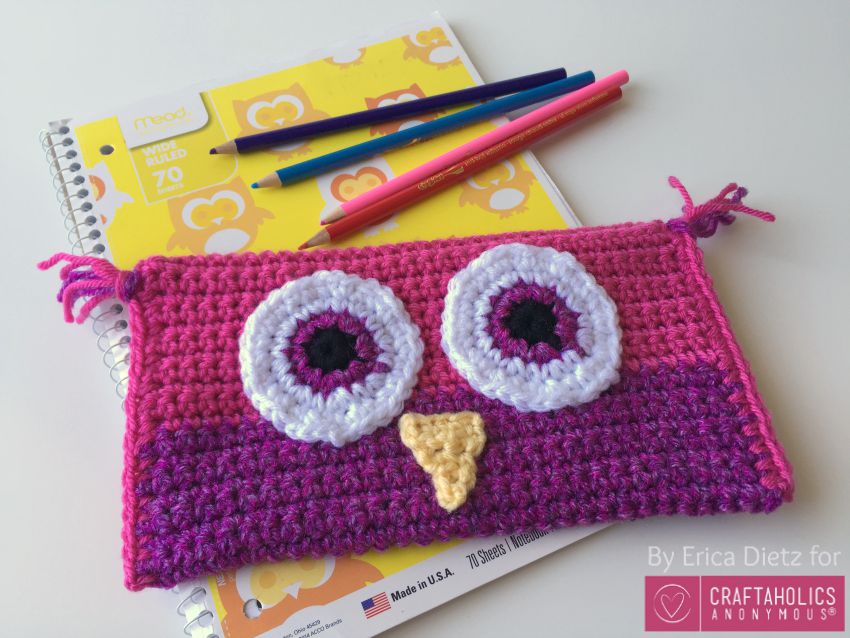 I hope you enjoy this owl pencil bag and be sure to keep an eye out for some other fun variations I will be posting on my blog this month.
More popular crochet projects: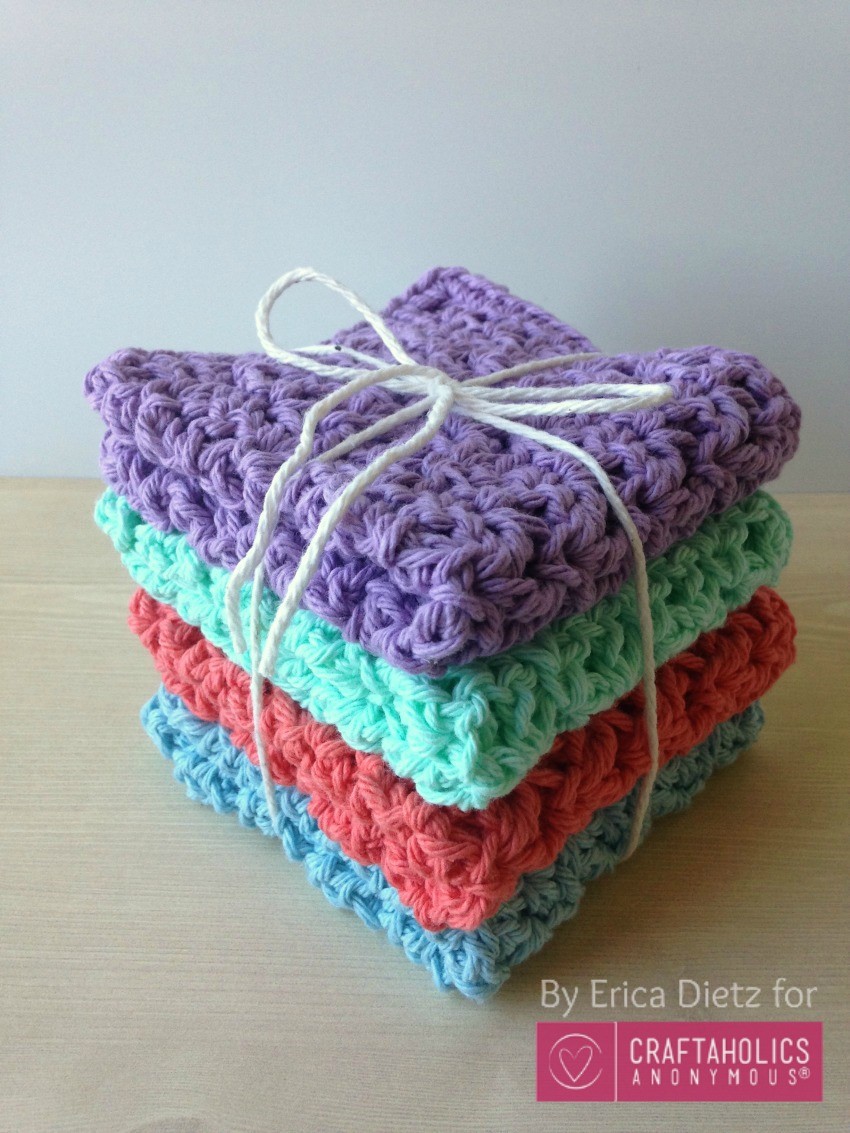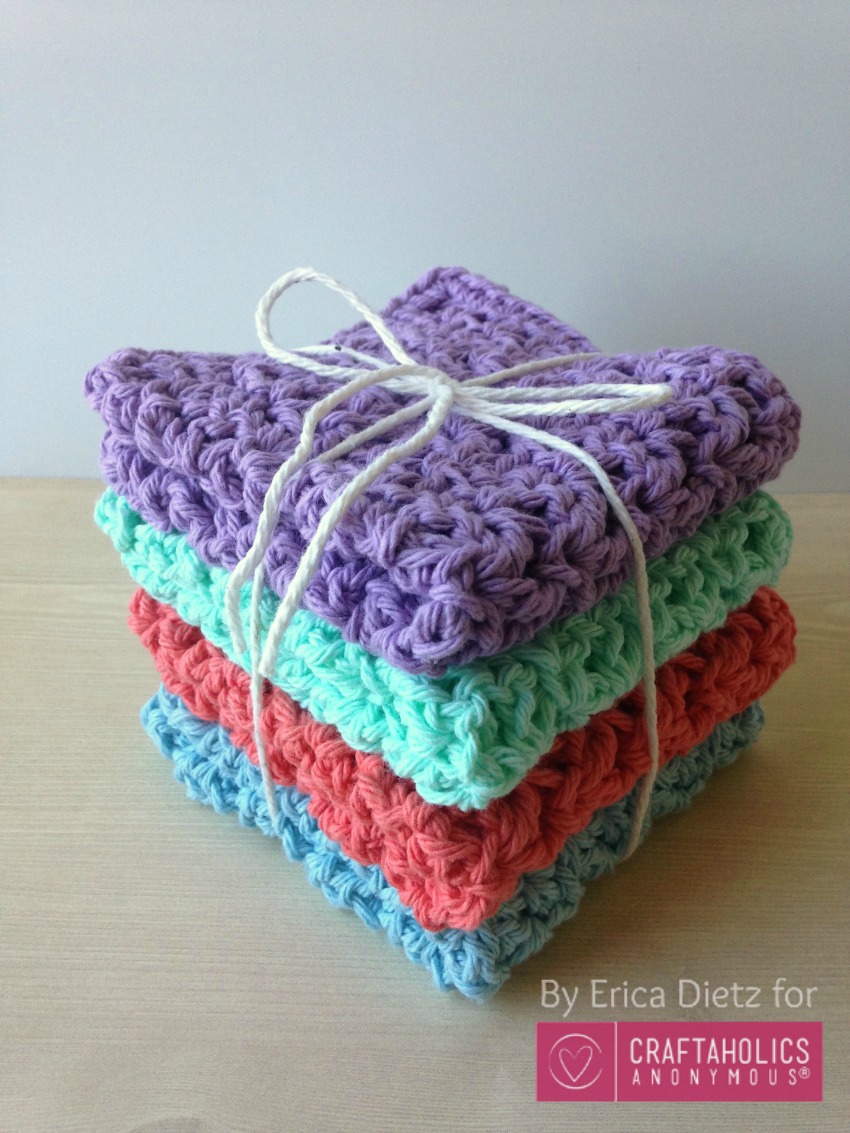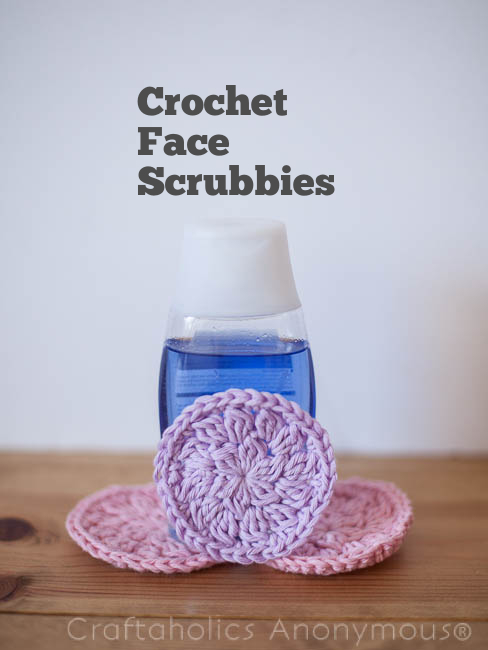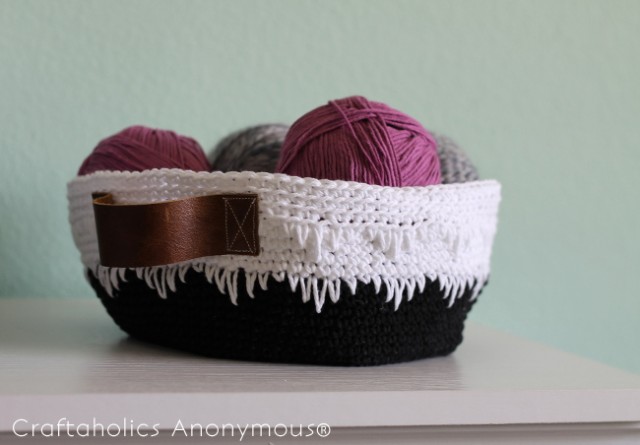 Hi, I'm Erica, and my blog is 5 Little Monsters. I live in Salt Lake City, Utah with my husband and our 5 kids. I really enjoy crafting of any kind, but I most frequently sew or crochet. On my blog you'll find a variety of free crochet and embroidery patterns, as well as some sewing tutorials.