Hey Craftaholics Anonymous® readers! Its Jessi here from Practically Functional. I'm really excited to share today's project with you; these homemade drawer sachets are quick and easy to make, totally functional, and super cute! And the best part is, you don't need to sew a single stitch to make them! All you need is an iron and hem tape and you can have your own colorful, fragrant drawer sachets to help keep your clothes from smelling musty.
DIY Drawer Sachets Tutorial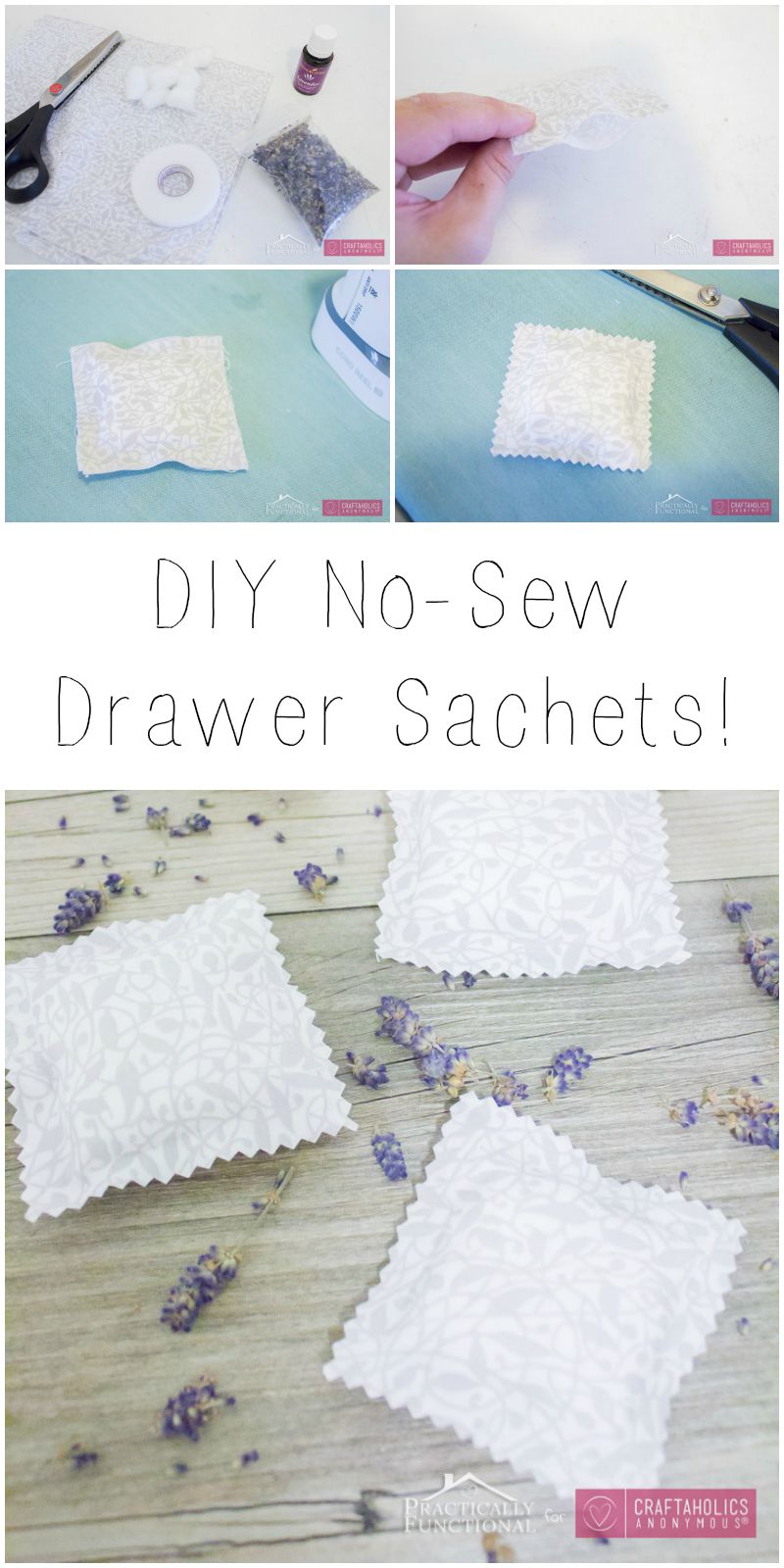 Here's what you need to make your own:
2 small squares of fabric per sachet (about 4″x4″)
fusible (iron-on) hem tape
scissors
pinking shears
dried lavender, or lavender essential oil and cotton balls (or whatever scent you'd prefer!)
an iron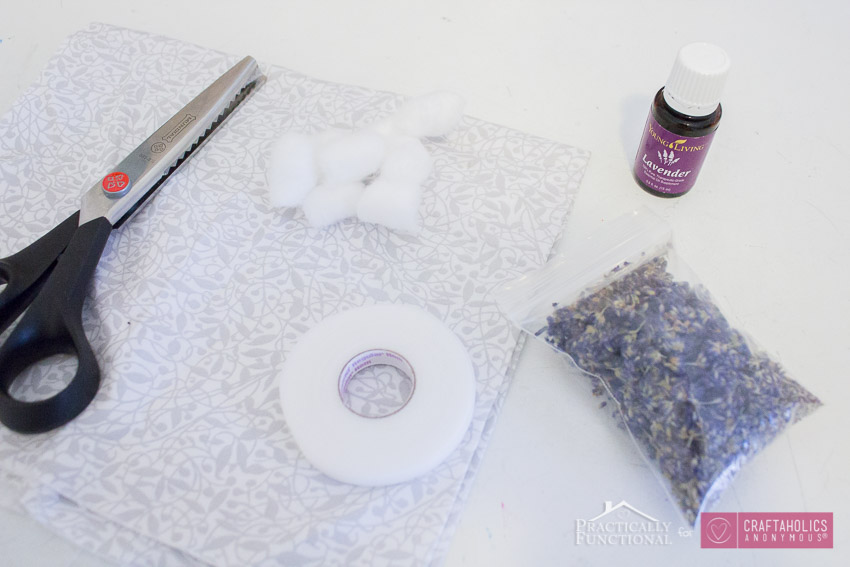 Start by cutting out small squares from your fabric. They can be whatever size you want, but don't make them too big or they will be hard to fill!
Turn your iron to whatever setting is recommended for the fabric you are using and make sure it is dry (no steam). I used a basic quilting cotton because the weave is dense enough that the lavender filling won't fall out through the fabric, but it's loose enough that you can still smell the awesome scent through the fabric. Just make sure you use something that you can iron without melting!
Next, cut 4 strips of fusible hem tape (one for each side of the square) and make sure they are the same length as each side of your fabric squares.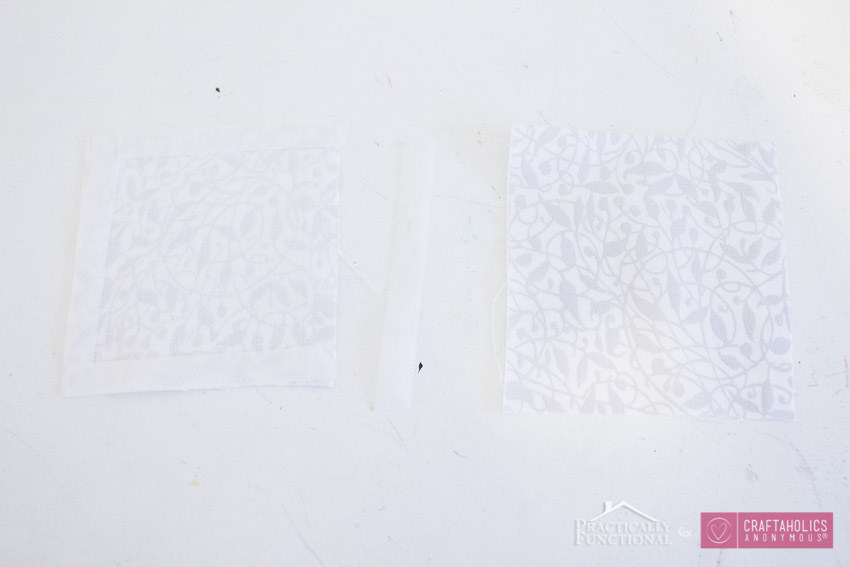 Turn one fabric square upside down so the wrong side of the fabric faces up, and place four strips of hem tape on top of the fabric, right up against all four edges. Then place the other fabric square, right side of the fabric facing up, on top of that.
Iron around three sides of the squares for about five seconds to melt the fusible hem tape. Iron the corners on the fourth side, but make sure not to iron the entire thing closed! You need to leave a small hole in one side in order to fill it with lavender.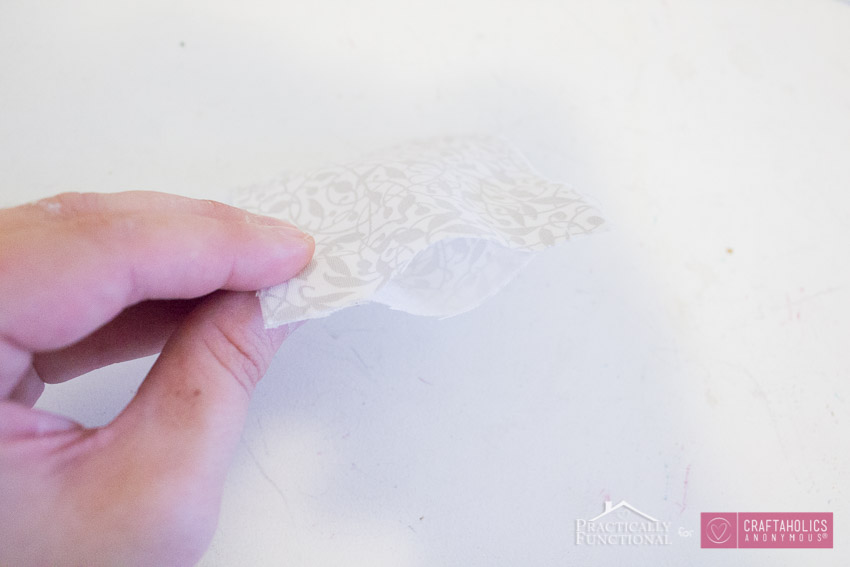 Fill your fabric pouch with dried lavender, or if you'd prefer, you can use essential oils and cotton balls. Add a drop of essential oil to each cotton ball, wait a minute for it to dry a bit, then stuff the fabric pouch full of cotton balls.
Once your pouch is filled, iron the hole for about five seconds to close it.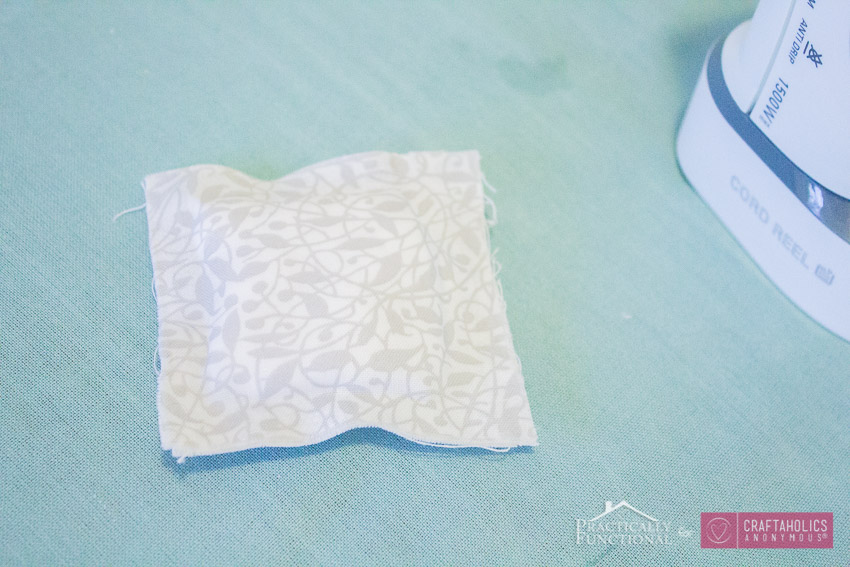 Clip the frayed edges off all four sides using pinking shears to give it a cute zig zag pattern and to prevent the edges from fraying any further, and you're done! Enjoy your DIY drawer sachets!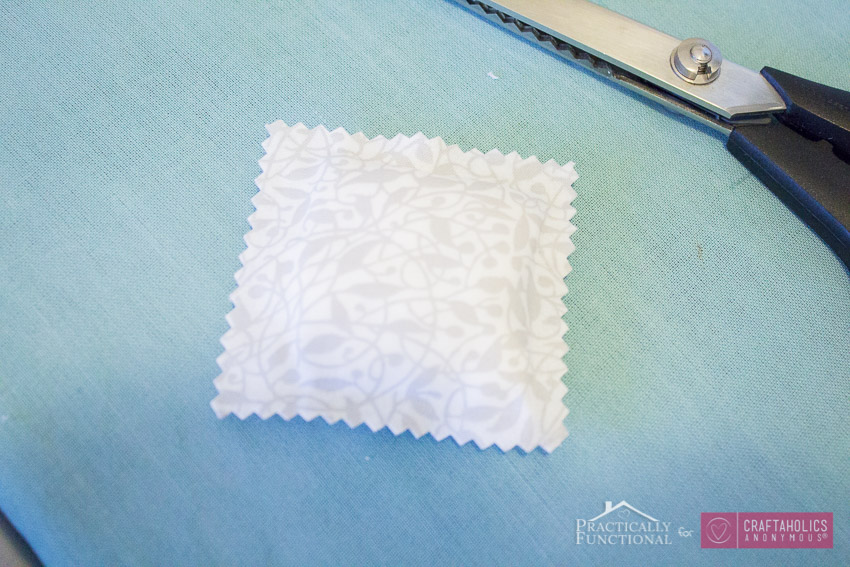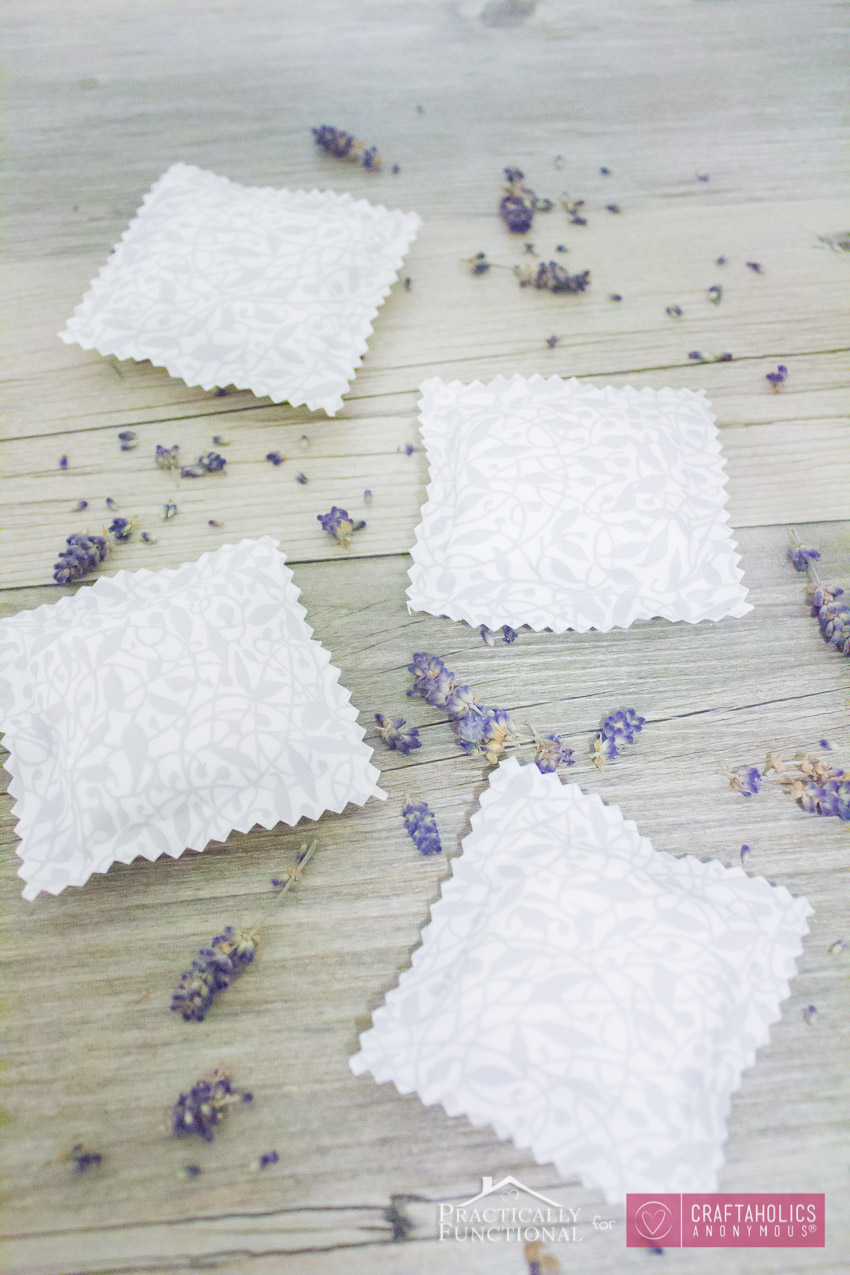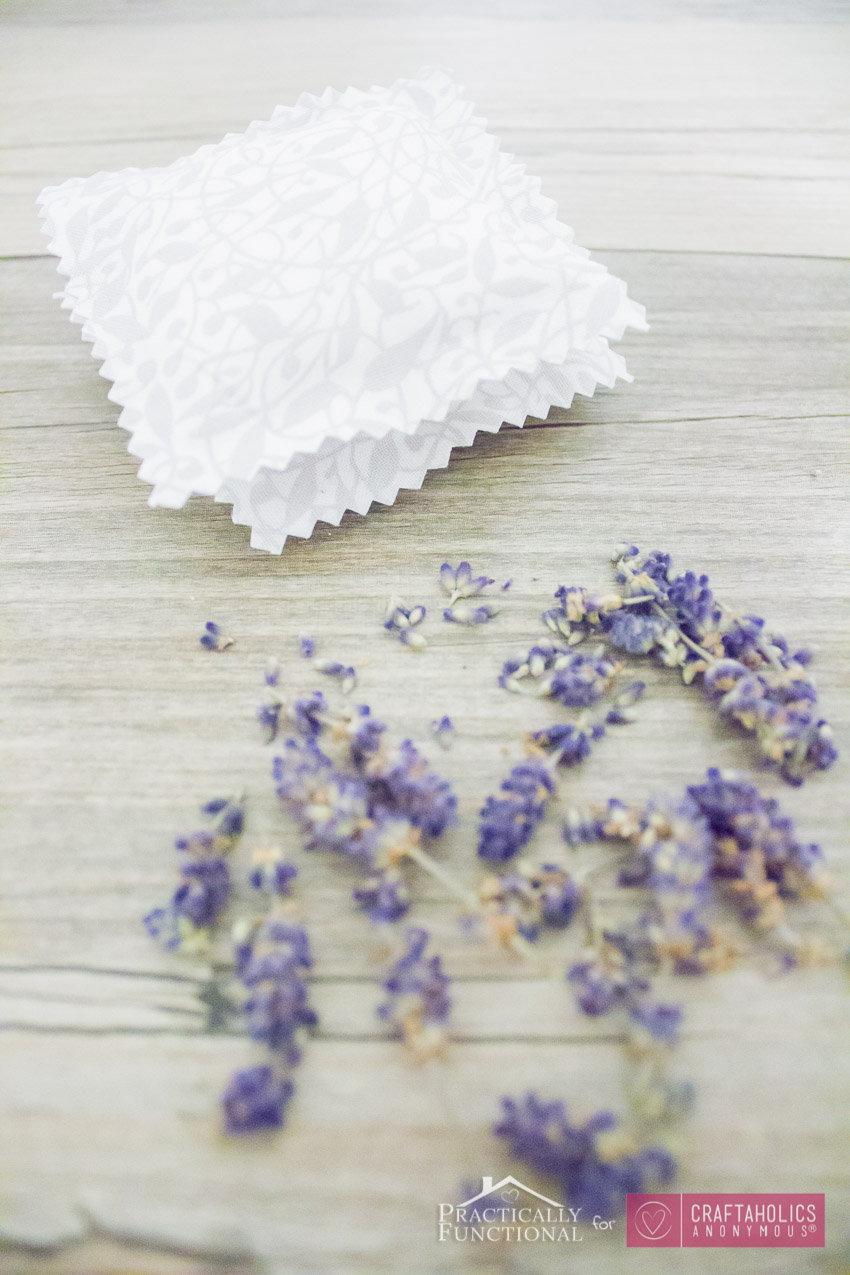 I did something similar a while back using lavender essential oil and dried rice grains to make a scented hot pad coaster for warm beverages! The heat from the beverage activates the scent in the dried rice and makes the whole room smell wonderful while you have your morning cup of coffee or tea!
If you love simple, realistic, acheivable projects, make sure you stop by Practically Functional for a visit anytime, or follow along through social media! I'd love to see you there!
Hi, I'm Jessi, and I blog at Practically Functional, a blog about real projects that real people can actually do! You don't have to be a pro in order to craft or do DIY projects; Practically Functional is full of projects for everyday life that anyone can do, regardless of skill or experience! Whether you're looking for fun crafts, DIY projects both big and small, gardening advice, cleaning tips, or quick and easy recipes, you'll find them here! Follow the step by step instructions in every tutorial, and don't hesitate to ask if you have any questions! Make sure you
subscribe to free weekly emails
so you don't miss a single tutorial!
Latest posts by Jessi @ Practically Functional (see all)