Hey Craftaholics Anonymous® readers! Its Jessi here from Practically Functional. Are you tired of the winter weather yet? I am! I really love winter; I like the snow, and going for walks in the cold, but I miss the fun colors of spring flowers. Since there aren't any real flowers around, I decided to make some fake tissue paper flowers tutorial to help brighten up our house!
Tissue Paper Flowers Tutorial
How to Make Tissue Paper Flowers Tutorial
These tissue paper flowers would be great Valentine's Day decor as well; just make them out of red, pink, and white tissue paper and put them up all over your house!
Here's what you need to make these tissue paper flowers:
colored tissue paper
floral wire or twist ties
floral stems or straws
scissors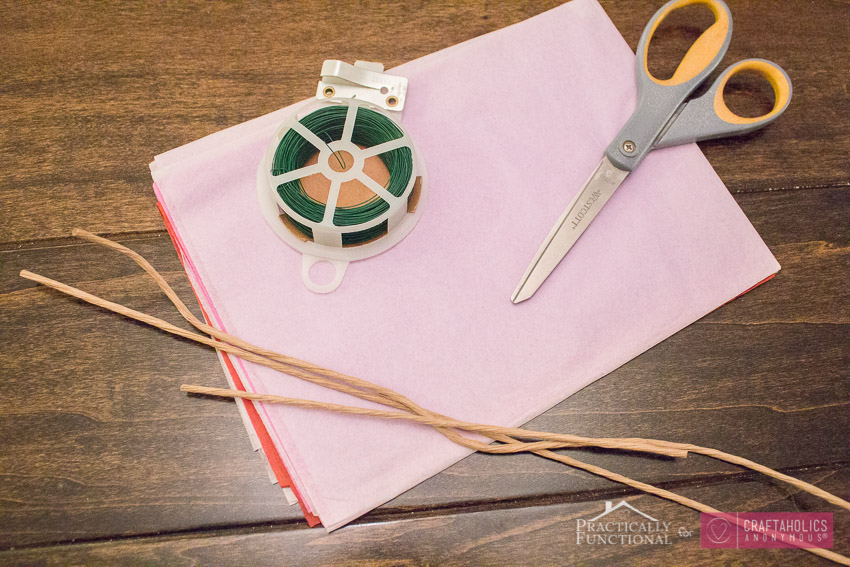 Step 1: Start by cutting your tissue paper into squares. You'll need about 8-10 squares of tissue paper per flower. The larger the squares, the larger the finished flower. My squares were about 8″.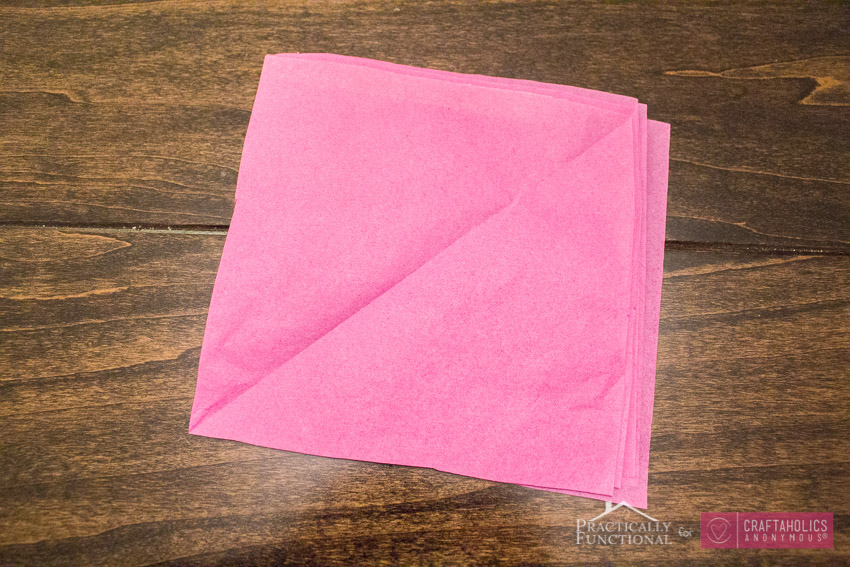 Step 2: Stack the squares of tissue paper on top of one another and then fold the whole stack into an accordion (make a fold about 3/4″ from one edge, then fold the next 3/4″ under, then fold the next 3/4″ over, and so on until the entire square is folded). Don't worry if your folds aren't perfectly straight or even; it won't show in the finished flower!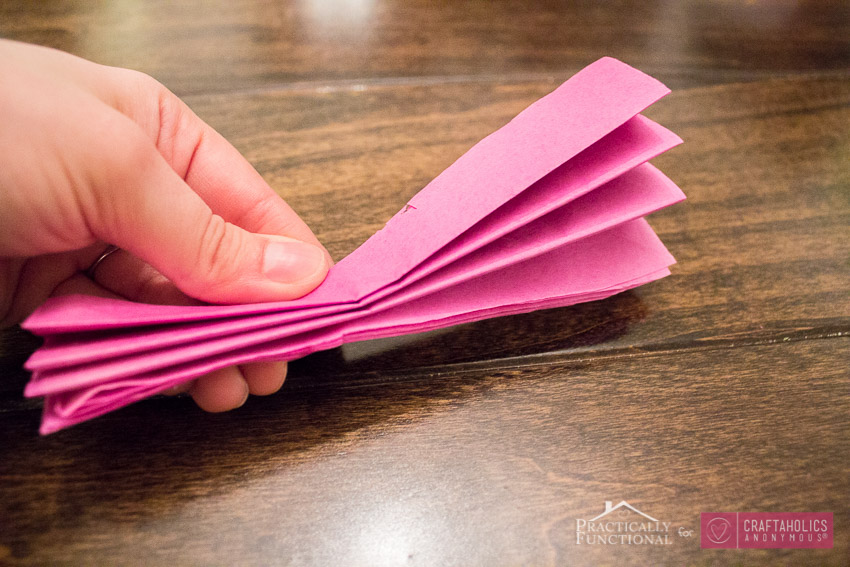 Step 3: Twist a length of floral wire around the center of the accordion to hold the tissue paper in place.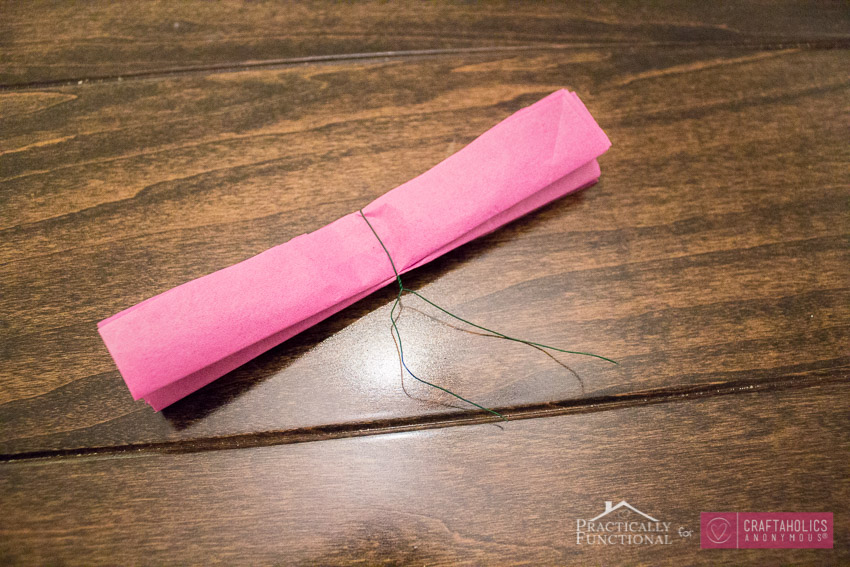 Step 4: Using your scissors, round the ends of the tissue paper. It's a little difficult to cut through this many layers of tissue paper, so be careful! But again, don't worry if your cuts aren't perfectly smooth, you won't notice in the finished flower.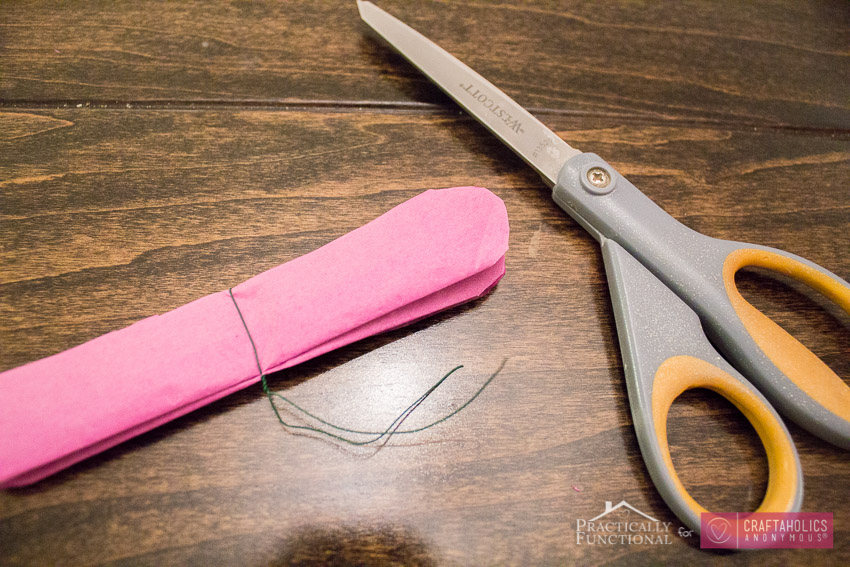 Step 5: Attach a floral stem or a straw using the ends of the floral wire that you wrapped around the middle of your accordion.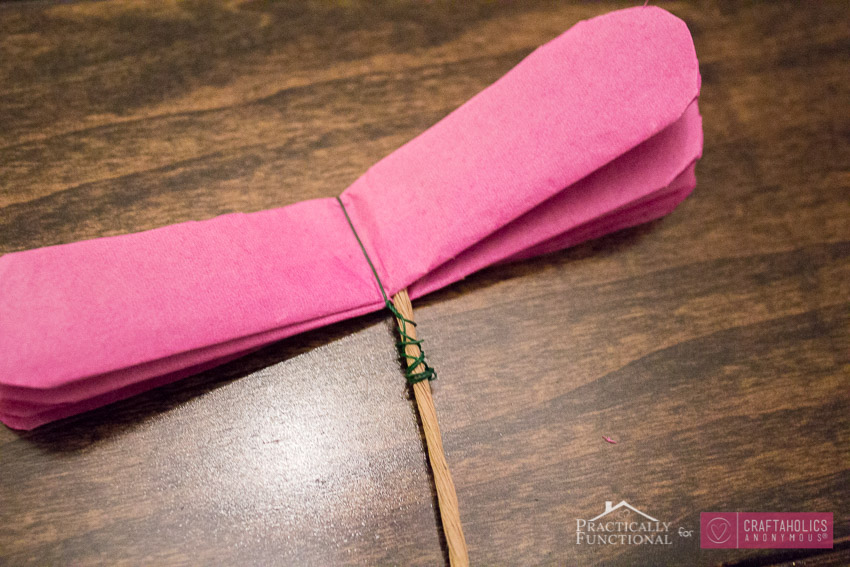 Step 6: Now comes the fun part! Carefully spread out one half of your accordion, and gently peel back each individual layer of tissue paper. Go slowly so you don't rip the paper.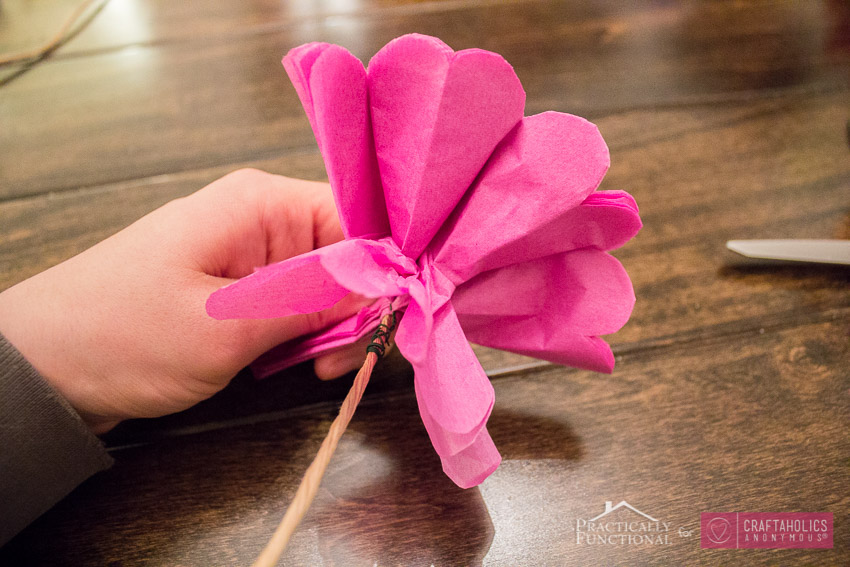 Step 7: When you're finished with all the layers on that half, carefully fluff them out so that they make a half dome.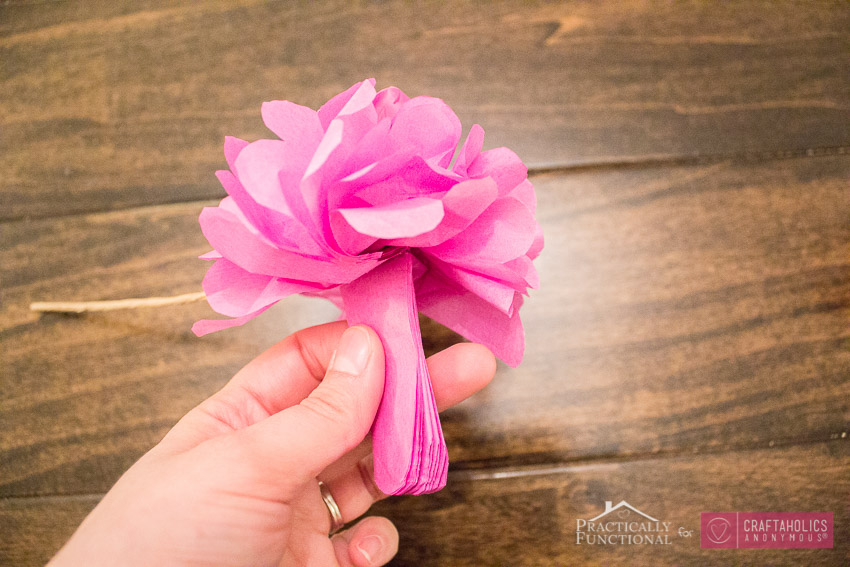 Step 8: Then spread out the other side of the accordion and separate those layers of tissue paper. Fluff the entire thing into a nice round shape, and you're done!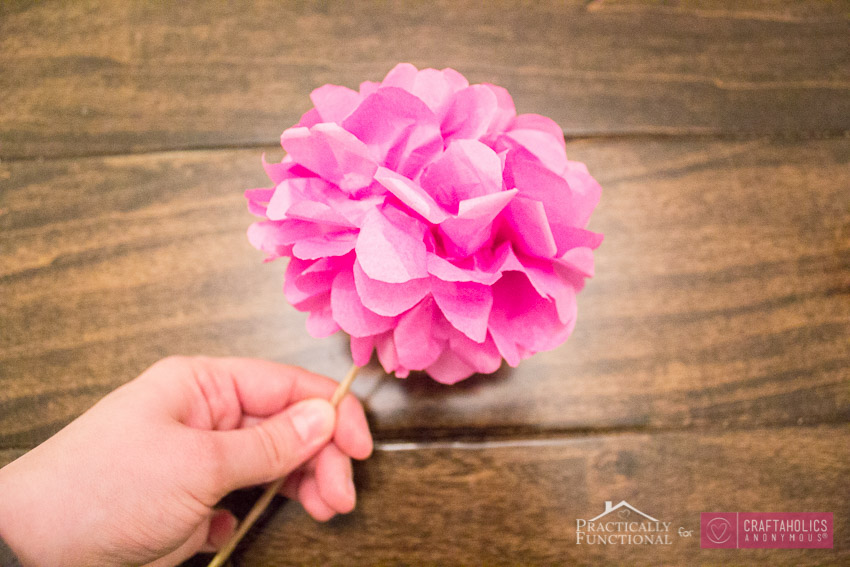 Stick them into a vase for adorable, colorful decor that lasts throughout the entire year!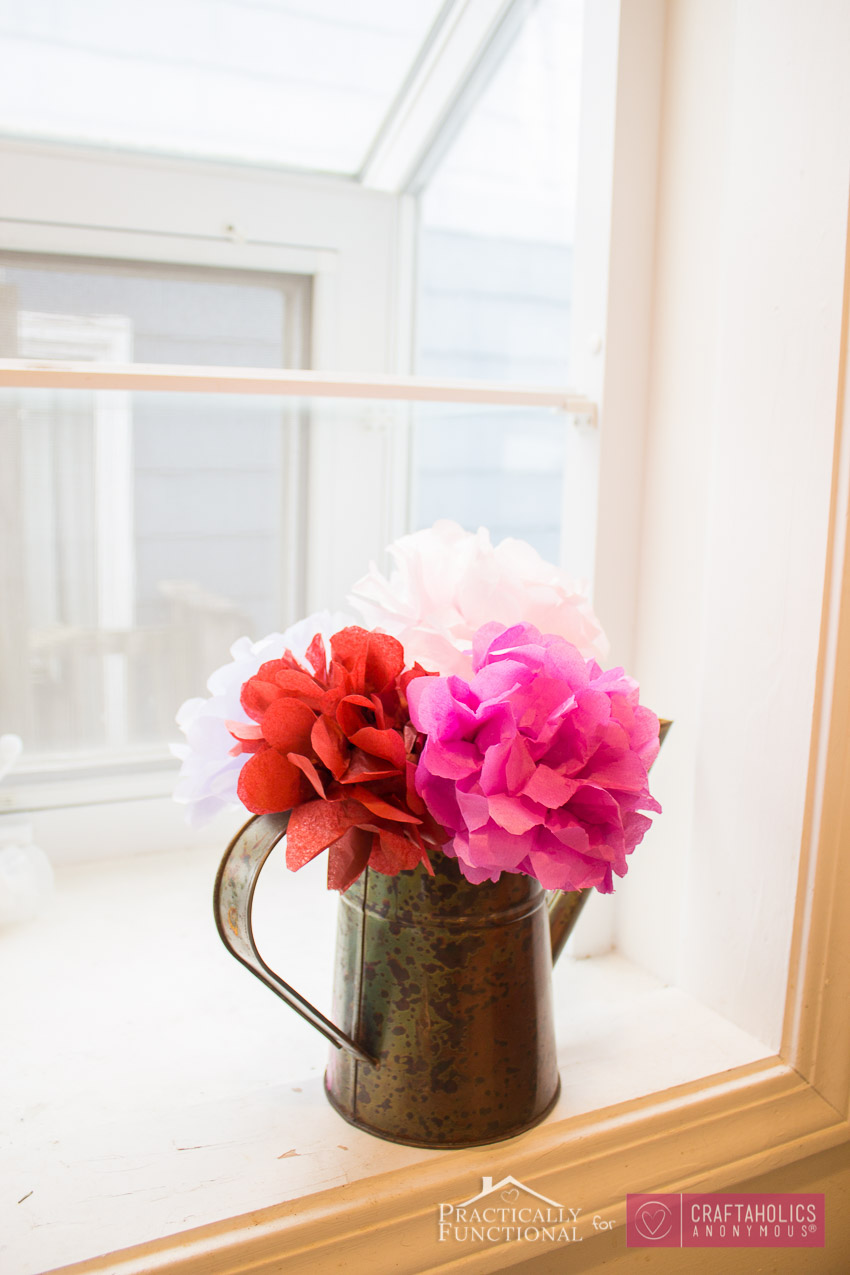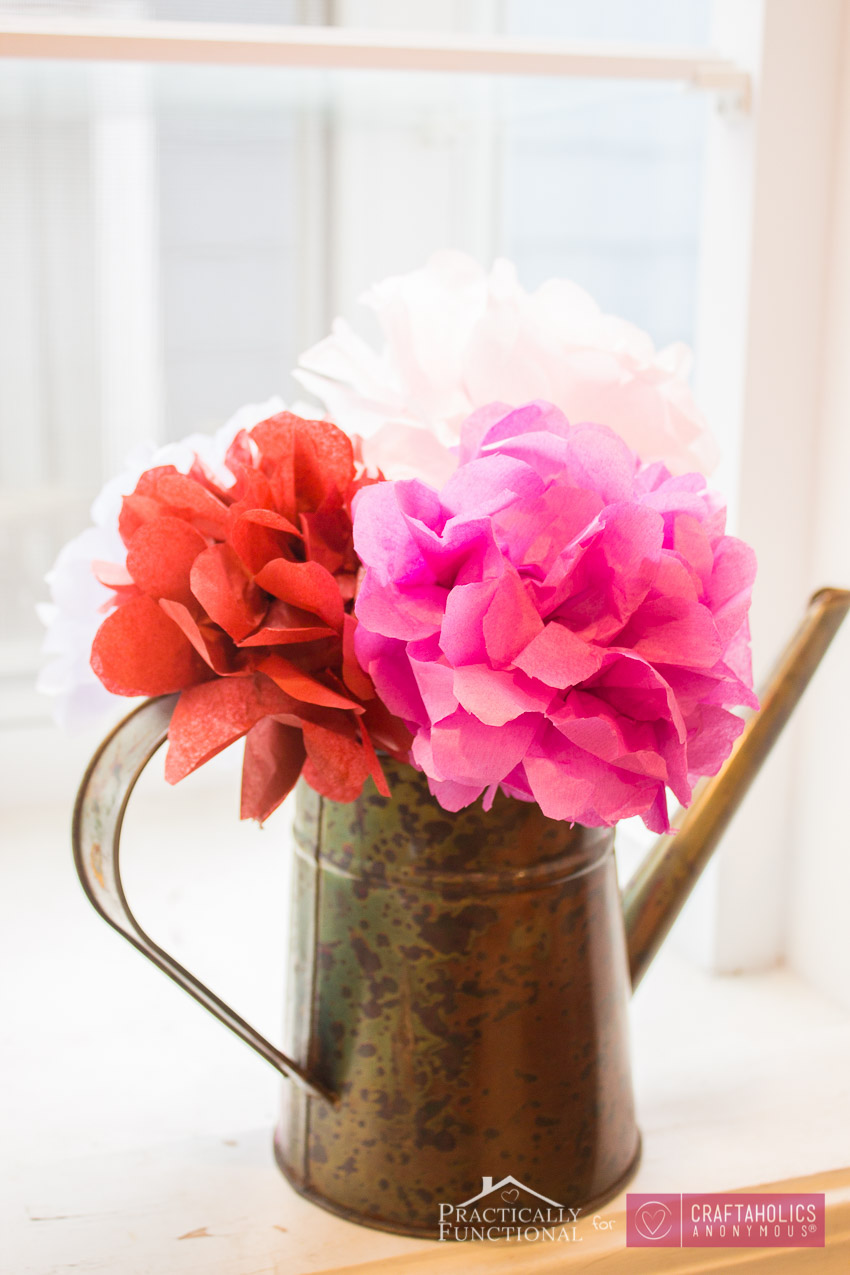 If you liked these paper flowers, check out these fun paper tulips I made last year!
If you love simple, realistic, achievable projects, make sure you stop by Practically Functional for a visit anytime, or follow along through social media! I'd love to see you there!
Hi, I'm Jessi, and I blog at Practically Functional, a blog about real projects that real people can actually do! You don't have to be a pro in order to craft or do DIY projects; Practically Functional is full of projects for everyday life that anyone can do, regardless of skill or experience! Whether you're looking for fun crafts, DIY projects both big and small, gardening advice, cleaning tips, or quick and easy recipes, you'll find them here! Follow the step by step instructions in every tutorial, and don't hesitate to ask if you have any questions! Make sure you
subscribe to free weekly emails
so you don't miss a single tutorial!
Latest posts by Jessi @ Practically Functional (see all)