Corn and Black Bean Salsa
Hi! It's Jenny from Honey and Birch again!  I hope everyone is enjoying April so far – I know I am!
It may be raining and overcast but flowers are going to be popping up soon and that knowledge puts me into a great mood every single day. I have begun planning for warm spring days and even warmer summer ones. What does this mean for you? Well, first of all, no baked goods. At least not for a little while. If you're in need of a baked good fix, check out the last two recipes I shared here!
This month, instead of baked goods, I'm sharing an easy, no-cook salsa dish that is perfect for those upcoming holiday bbqs, graduation parties and summer al fresco dinners.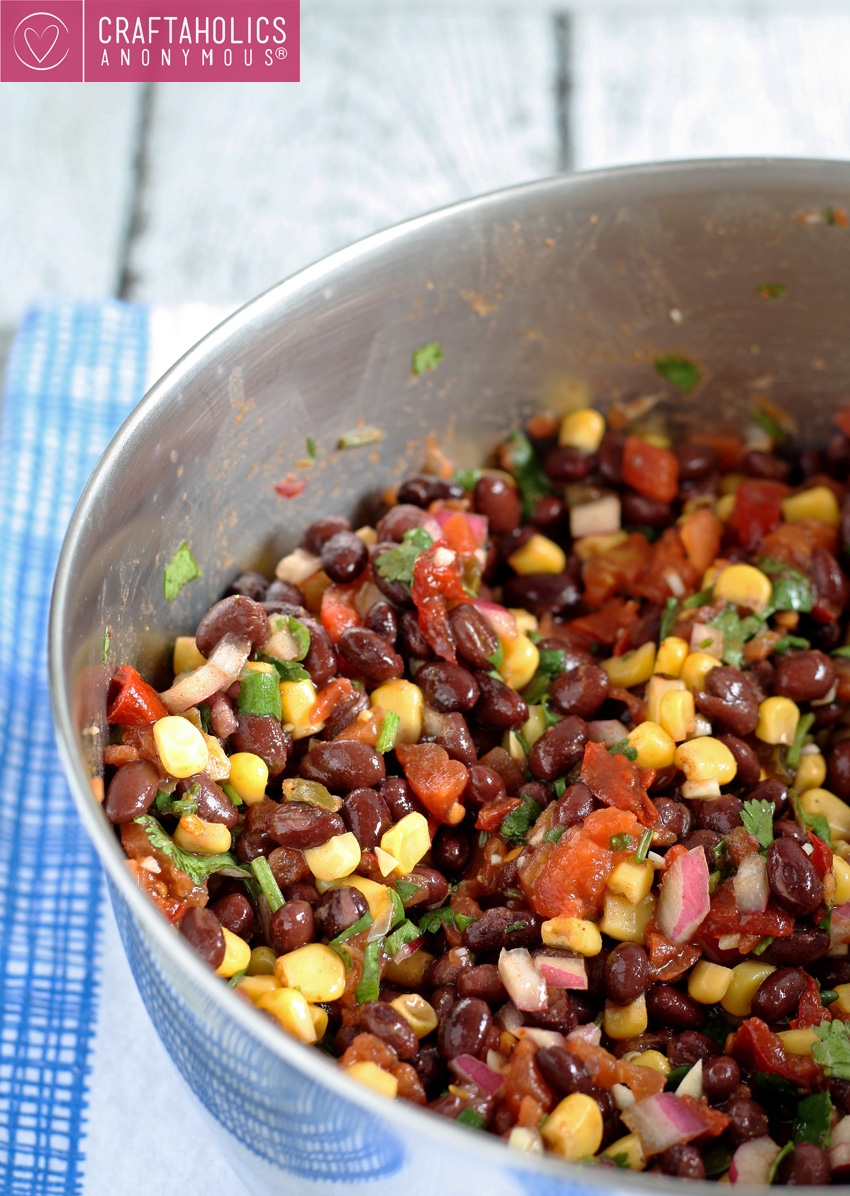 I've been experimenting with a variety of no-cook recipes the last month or so. When company is over I don't want my time to monopolized by the dish in the oven and the pots and pans on the stove. Sure, I don't mind hanging out in the kitchen for a little bit, but when company is over, I also want to socialize with my guests. To do that, you really need a few good no-cook recipes.
Today's recipe is just such a recipe – it requires zero cooking and very little prep. In fact, you don't even have to thaw out the corn!
Before you start chopping and dicing all of your ingredients, measure out the frozen corn and put it in a big bowl with the black beans. Then do all of the cutting – while you're doing that the corn will thaw out.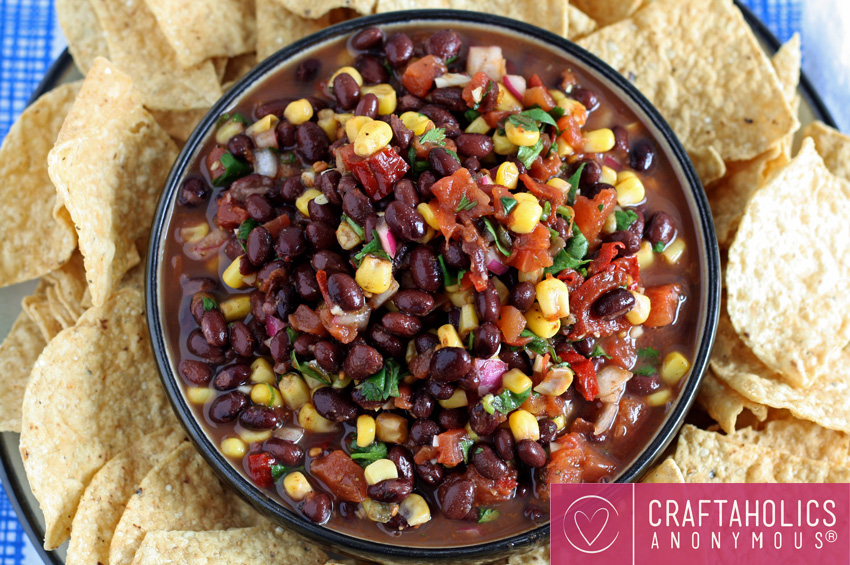 When you put everything into the bowl and stir it up, the corn and black beans will be cold enough that you can serve this dip right away without having to chill it first. I think that makes this recipe a double winner! The only "tip" I have for this recipe is to cut the onions the same size or smaller than the tomato. Also, if you don't want a spicy salsa, substitute the tomatoes for diced tomatoes without chiles.
Enjoy!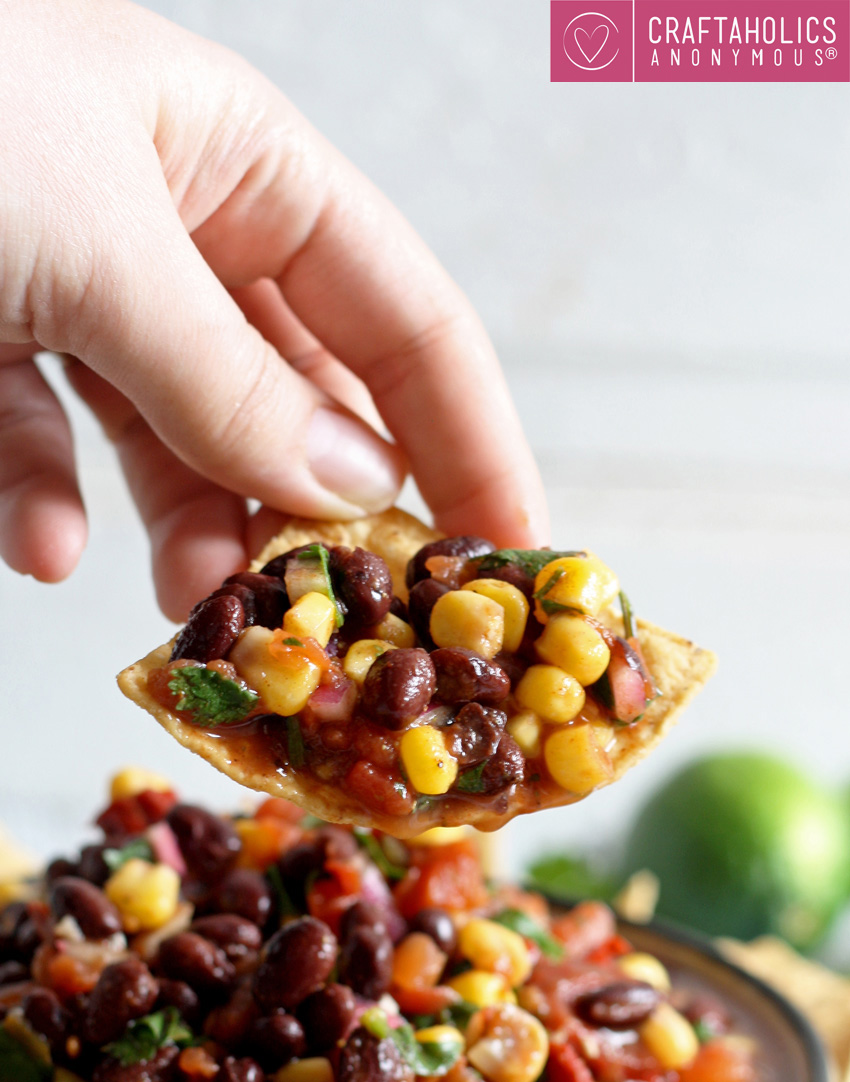 Corn and Black Bean Salsa
Prep Time: 15 minutes
Cook Time: none
Ingredients:
2 cups frozen corn
29 ounce can black beans, drained and rinsed
14.5 ounce can petite diced tomatoes with chiles
1/2 cup diced red onion
4 tablespoon diced chipotle chiles in adobo sauce
3 teaspoon finely minced garlic
3/4 cup chopped cilantro
1/8 cup cider vinegar
1/2 cup lime juice
1 tablespoon chile powder
1/2 tablespoon cumin
2 teaspoon kosher salt
1 teaspoon black pepper
Directions:
In a large bowl, combine the corn and black beans. Set aside. Cut up your onions, garlic and cilantro. Add everything remaining to the corn and black beans and stir well. Serve chilled.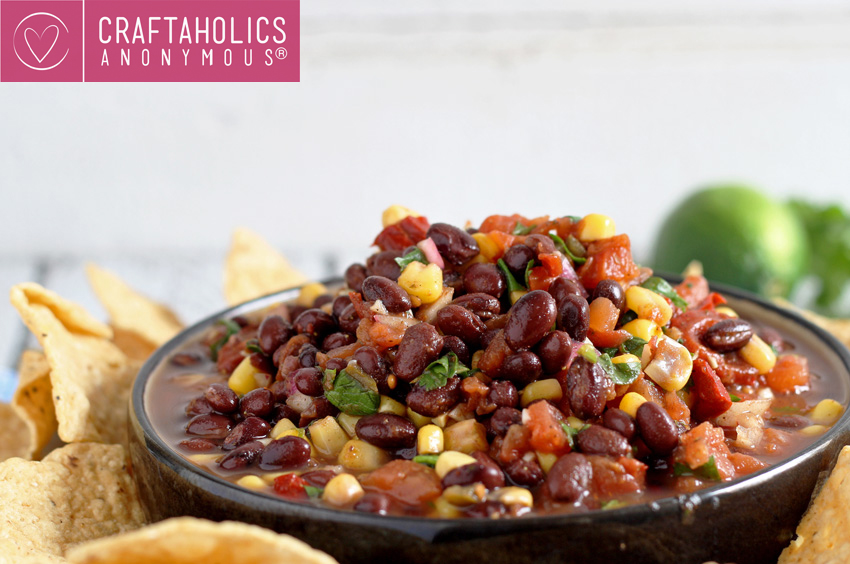 If you're looking for more dip recipes, check these out!