This easy grilled chicken apple gorgonzola salad full of juicy grilled chicken, vitamin-packed greens, tangy green apples, and a punch of flavor with homemade lemon vinagrette! This will become your new favorite go-to salad! Enjoy!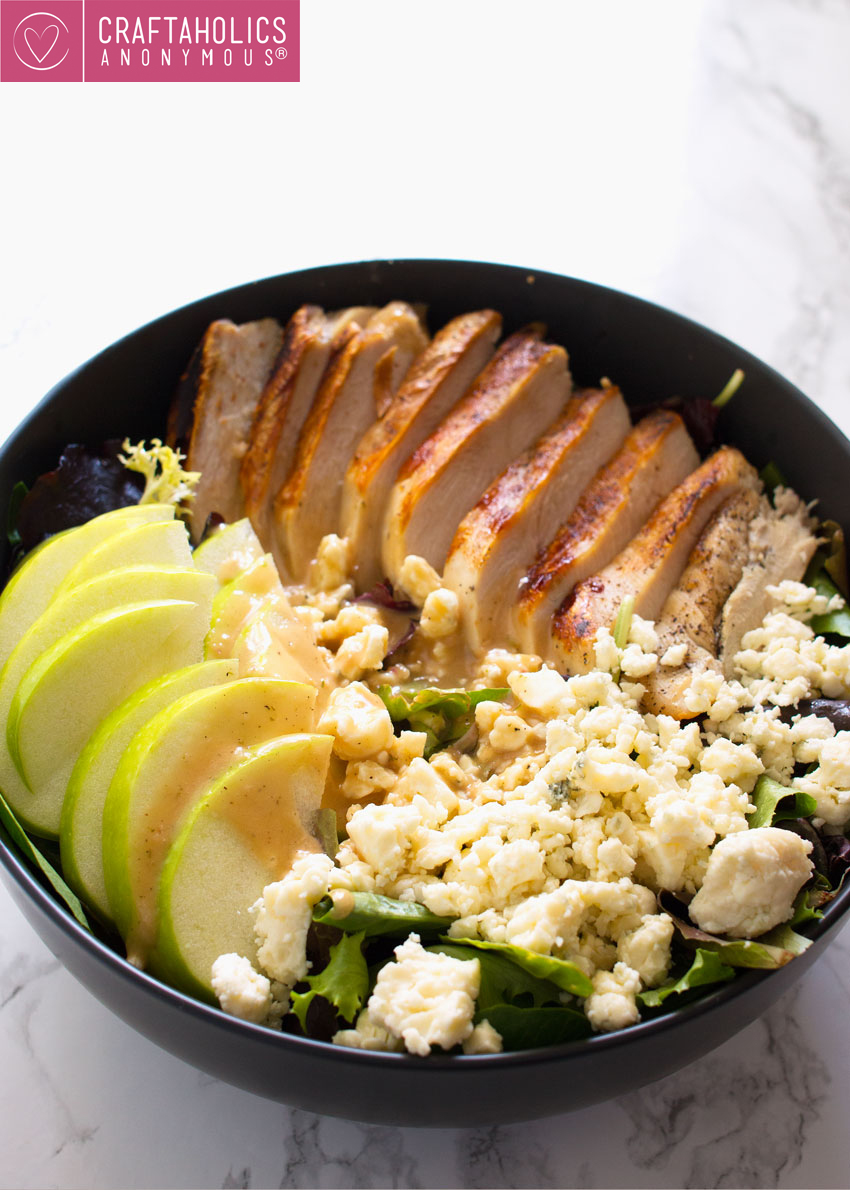 Grilled Chicken Apple Gorgonzola Salad
Hi everyone! It's Jenny from Honey and Birch and today I'm sharing a delicious and easy grilled chicken apple gorgonzola salad.
I'm in a salad mood once or twice a week and usually a traditional garden salad just doesn't cut it. I want a lot of flavor but I also want a recipe that's easy to make.
Enter this delicious salad.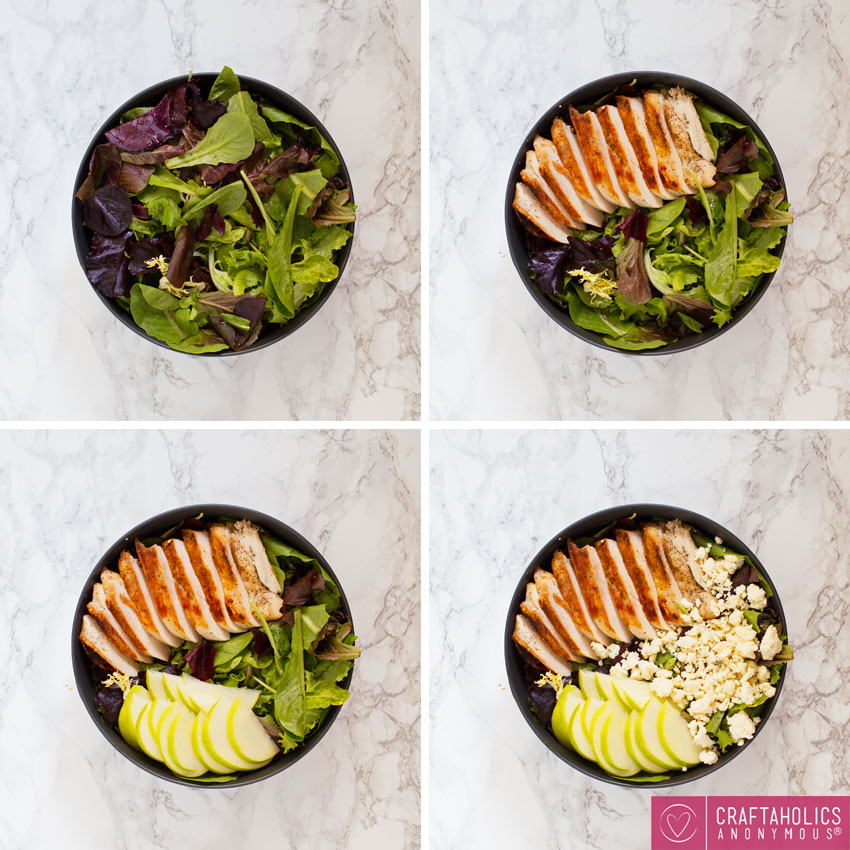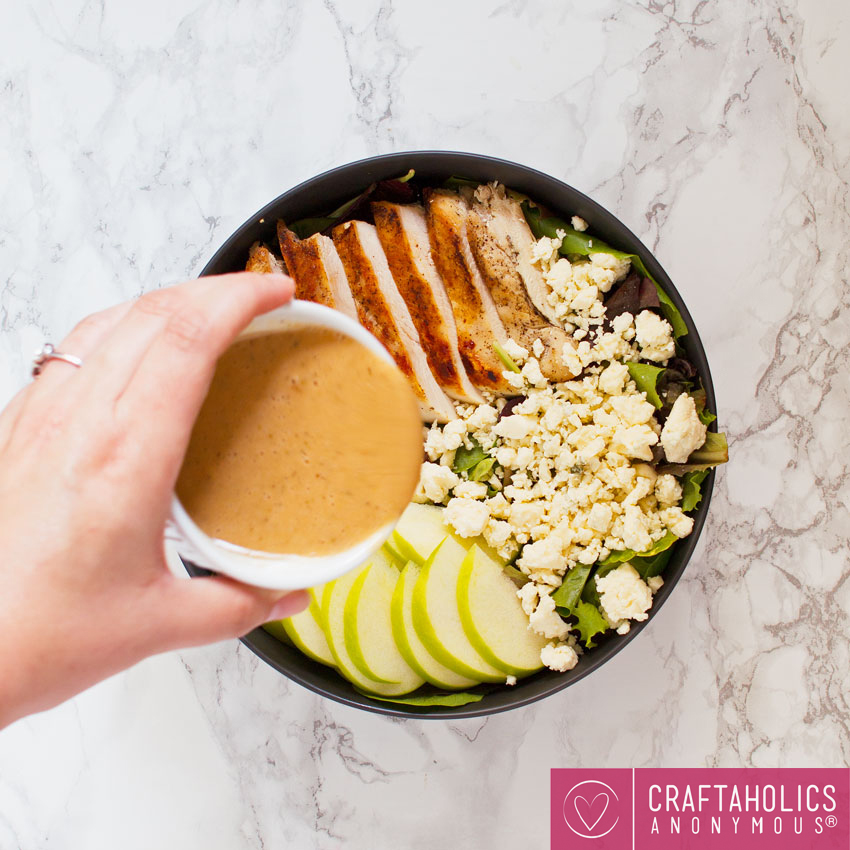 In the summer, I grill up some chicken breasts outside. In the winter, there is no way I'm taking the grill out of storage so I either cook the chicken using a grill pan or I use an indoor grill.
If I am feeling lazy (these things happen,) I have even substituted the grilled chicken for a grocery-store rotisserie chicken. There is no shame in saving time!
First, place some mixed greens in a bowl. I like to use mixed greens because I can get all the nutritional benefits of a bunch of different greens.
Next comes the chicken, the apples and the gorgonzola.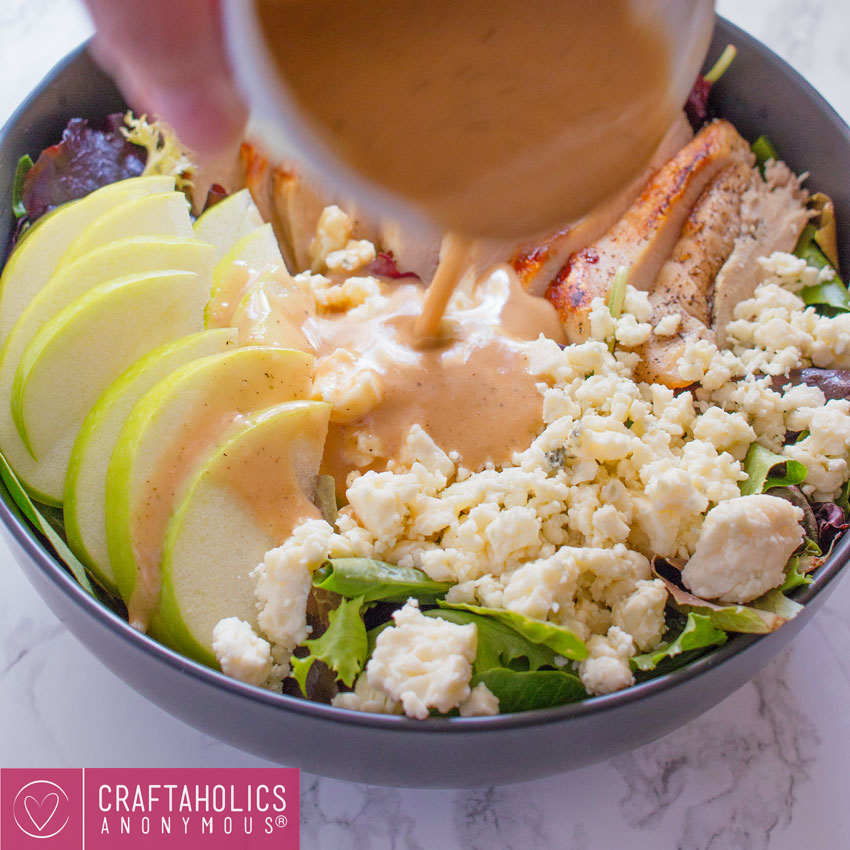 Top that with your favorite dressing. Or, make your own! I almost always add lemon vinaigrette dressing because it is easy to make and oh, so yummy.
And that's it. Sounds so easy, right?
This is perfect for a quick lunch but can also be dinner. Or, you can serve it as a dinner side!
If you are looking for a sweeter salad, consider this option. You can add dried cranberries and walnuts for some sweetness and crunch!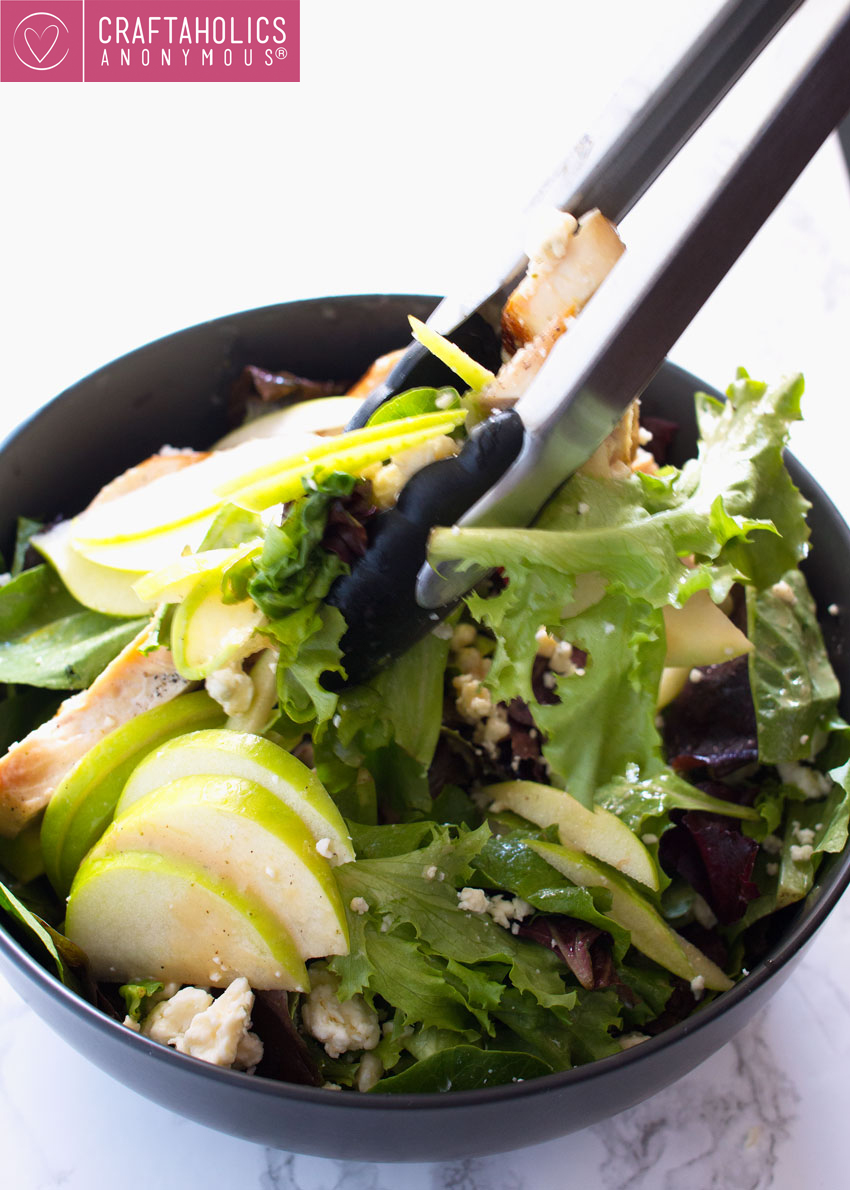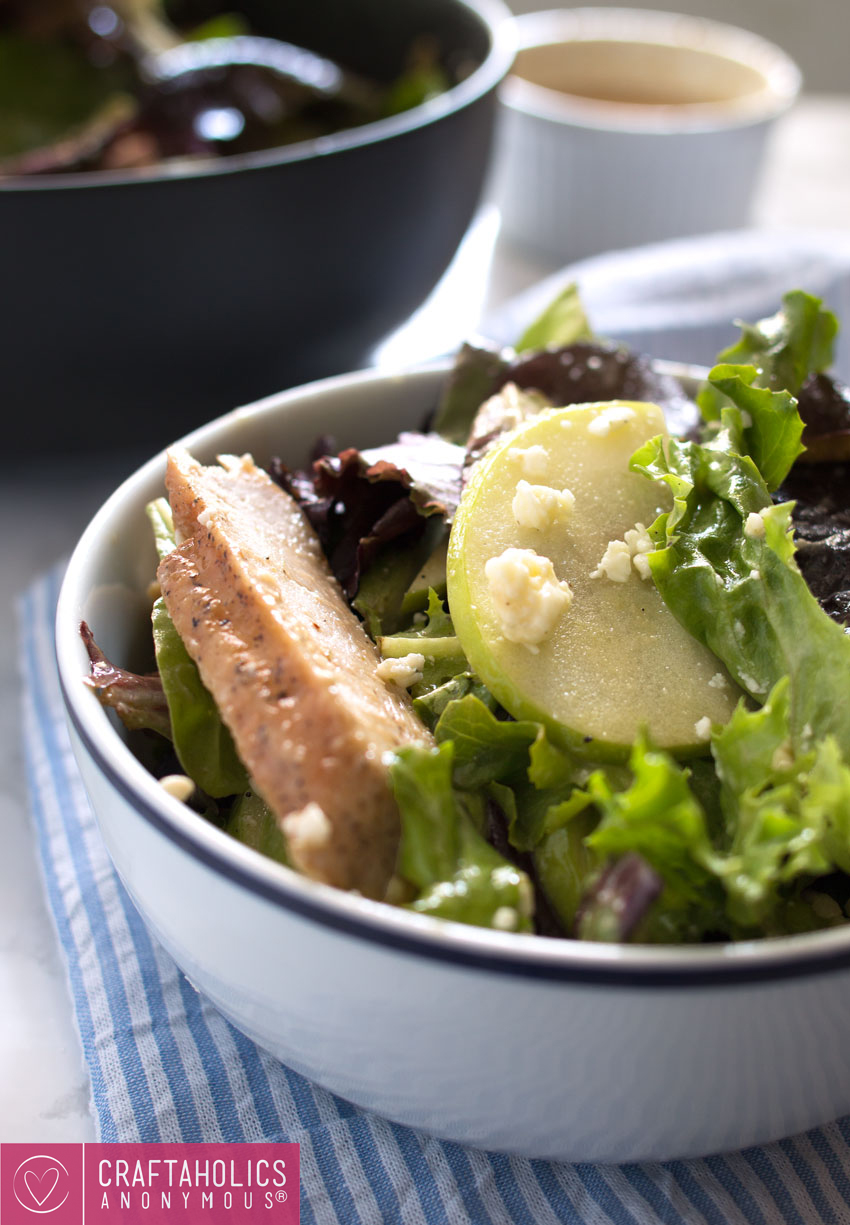 Download the Grilled Chicken Apple Gorgonzola Salad Here:
Grilled Chicken Apple Gorgonzola Salad
Ingredients
1 cup mixed greens
1 chicken breast, grilled and sliced
1 apple, cored and sliced into thin slices
1/4 cup crumbled gorgonzola cheese

Lemon Vinaigrette Dressing

1/4 cup red wine vinegar
1 teaspoon dry mustard
1 teaspoon dried oregano
1 clove garlic, minced
1 shallot, minced
1/2 teaspoon large grain salt (celtic, kosher)
1/4 teaspoon ground black pepper
1/2 cup sesame oil
2 tablespoons fresh lemon juice
2 teaspoons honey
Instructions
To prepare your salad, combine the mixed greens, chicken breast, apple slices and gorgonzola cheese in a medium bowl. Top with your desired salad dressing.

Lemon Vinaigrette Dressing

Combine all ingredients in a blender and pulse until well mixed.
Cover and refrigerate for 1 hour hour before serving.
https://www.craftaholicsanonymous.net/grilled-chicken-apple-gorgonzola-salad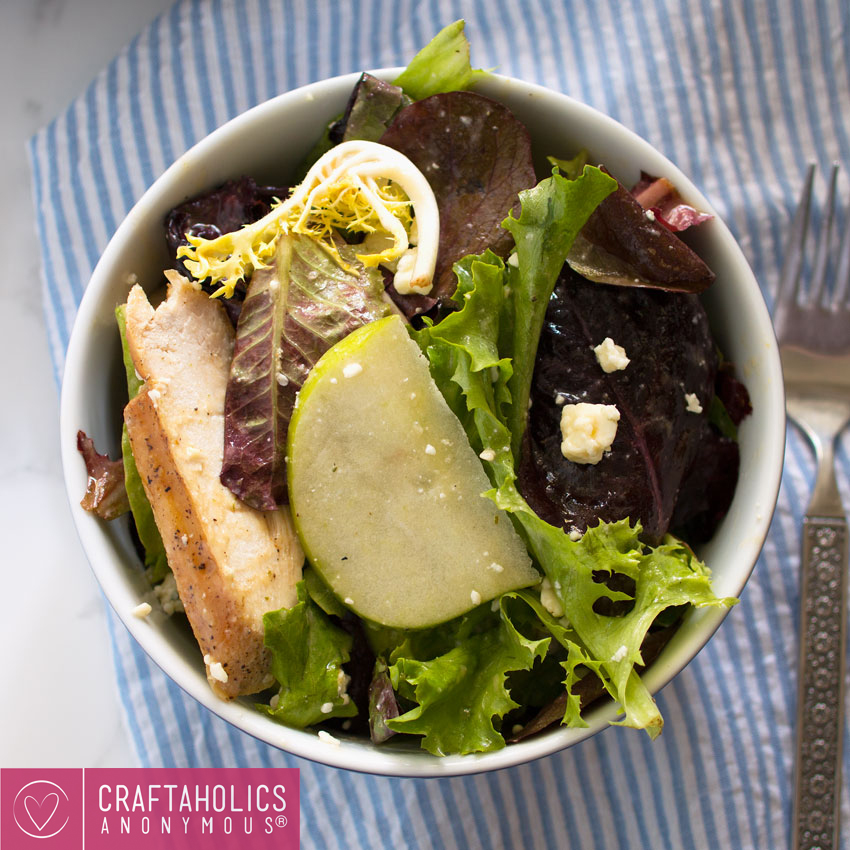 Looking for some more delicious lunch recipes?
Try my grilled chicken salad lettuce wraps or my 3 ingredient tomato tortellini soup recipes.

More delicious recipes!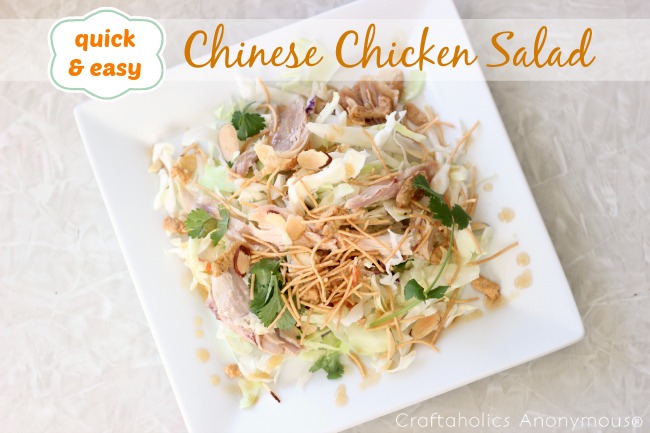 Chinese Chicken Salad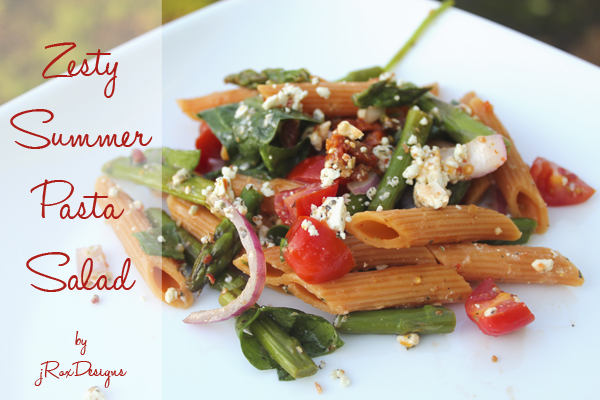 Zesty Summer Pasta Salad
Save
Save