Looking for practical, functional, and inexpensive flooring ideas for your beloved Crafting Space? Check out these ideas from seasoned crafters on what the best craft room flooring!
Laurie asked, "I'm just starting to plan a remodel of my craft room/home office and I would like to know thoughts about the best flooring to use. I plan to rip out the old carpet and replace it with something that will hold up to paint, glue, glitter etc. being spilled on it (quite often I might add….I'm clumsy!)"
The Best Craft Room Flooring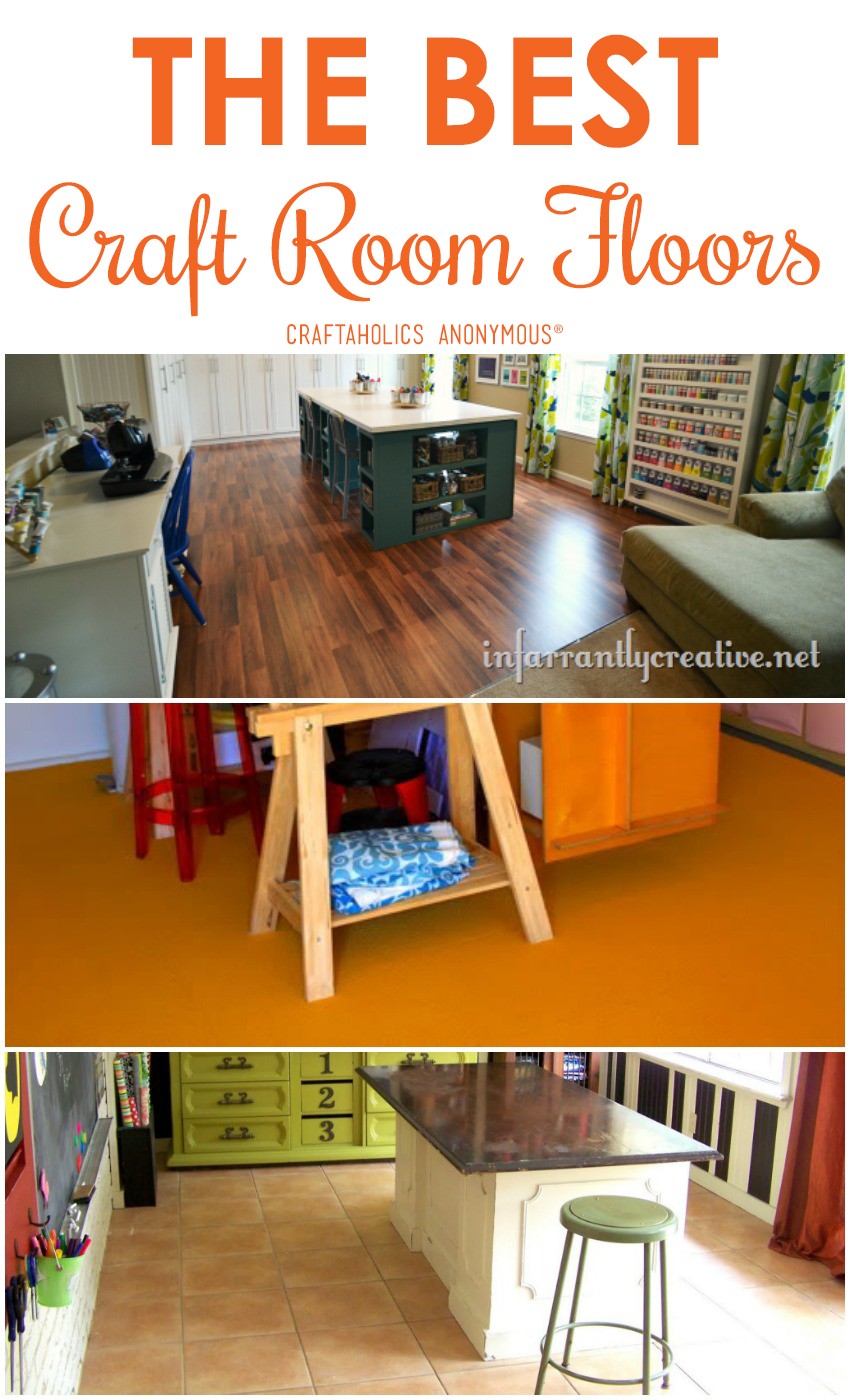 Suggestions within this post were compiled from this thread on our Craftaholics Anonymous® Facebook Page! If you have a crafting question be sure to post it there!
1. "I just did mine last week and we put in vinyl sheet that looks like wood flooring. I love it and I am not afraid to drop anything on it or move things around that might scratch. Also, we put it in in about and hour" – Denise R.

2. "Vinyl plank flooring. It looks like wood but is a floating floor so no nasty adhesives. I can get paint off with just my fingernail." – Melissa H.
3. "Laminate it's inexpensive easy to install, cleans up fast and easy, and looks great. I've had mine for 20 years looks like new." – Shelly B.
4. "We put in laminate (live on a concrete slab so leaving it bare just wasn't an option). I'm easily able to clean up paint spills (been painting walls). It's better to just let the paint dry before attempting to clean, though, then it pops up in one piece nicely." – Christina L.
5. "In my dream craft room I wanted a cement floor. I wanted to leave it unsealed for a year, then seal it with random ink, paint, etc, all over it." – Karen M.
6. "Home Depot and Lowe's have great sheets of vinyl flooring that look like wood and look great. You only have to tape on the edges too. Easy to install!" – Monica B.
7. "You could use a laminate hardwood floor….it will still look like a really nice flooring but the laminate will be great for easy clean up if you have paint or spills." – Kylie H.
8. "Leave it natural (cement). Splash paint on it etc. easy peesy!" – Bonnie R.
9. "Definitely vinyl. Easy to sweep and mop and no biggie if a disaster happens." – Meredith B.
10. "I'm thinking of using the carpet tiles in my craft room from Flor.com. You can pick one up and run water on it to clean it. We are putting these in our camper this summer. They come in all colors." – Christa H.
11. "When I redid mine, I ripped out the carpet and put in vinyl flooring (selfstick tiles.) Easy to sweep or mop and it was inexpensive so not so worried about paint, glue, etc." – Jodie E.
12. "Cork!!!! It will be great on your feet/knees." – Jill E.
13. "If you have concrete floors then just paint or strain the concrete!" – Kelli E.
14. "Tile… have it in mine and it works great." – Joyce J.
15. "I would do linoleum its single sheet & pretty much indestructable." – Laura S.
16. "Peel and stick carpet tiles! Easily replaced if a mess gets TOO bad, and you can do multi colored, patterned layouts! Such a great product!" – Linda P.
17. "The problem with vinyl is it cracks, peels and doesnt hold up. Tile once and never again. Pick a grout that is dark enough not to show dirt. At Lowe's they have rectangular tile that almost looks like hardwood. Different colors and very reasonably priced" – Tracy C.
More Ideas for the Best Craft Room Flooring
18. "I am suggesting cork or bamboo: they both are fairly cheap and DURABLE, trust me clumsy should have been my first and middle names, and we love them. Oh yeah we have teenagers in my house so yeah the floor sees it's full share and they clean up easy." – Sara E.
19. "We just did a craft studio and we purchased a laminate hardwood that is fabulous. Cleans well and is super sturdy. Lumber Liquidators." – Angela L.
20. "I just did that. Ripped out the carpet and replaced with wood laminate flooring. I sew more than paint and glue, but I'm thinking of the floor mats people use for rolling chairs with a desk that you get at an office supply. It will catch that glue and mess without ruining your floor." – Susie A.
21. "Remember whatever you pick needs to be good for your whole body, I have bad knees so I can't be on concrete for too long before I'm in pain. Think of your legs & knees before picking they will be thanking you." – Randy W.
22. "Before you decide think about the texture of the floor. Some suggested the vinyl planks. We have those in our rental property which is great for that use, but if you spill paint, it will be difficult to clean with the texture to get paint, fine glitter out of the crevices. Regular vinyl will split if you drop something heavy on it. Cement can be cold, especially if in a basement, but definitely durable and easy to clean if you seal. I have a wood laminate in my craft space and love it… easy to clean, very durable, easy install and still looks nice and fits into my homes aesthetic." – Gaynell W.
23. "Look into a product called Karndean. VERY durable, easy for anyone to lay down themselves, and much cheaper (and a better product) than things like laminate wood. It's mostly put into office buildings; my old boss put it in a couple of hair salons and it has held up GREAT for the last few years! I believe someone has to be a dealer for them, but it shouldn't be hard to find one." Christine
24. "What about the interlocking foam pieces like they use for a garage. That way if a spot gets badly defaced you only have to do one square to fix it." – Keri A.
25. "I'd go with vinyl, laminate, or even hardwood (sealed well). The vinyl and laminate would be really easy to clean. The wood would be as well and has the advantage of being able to be sanded and refinished several times (if you are using solid hardwood)." – Cynthia F.
What is your favorite craft room flooring? Be sure to let us know in the comments!
Looking for more craft room ideas?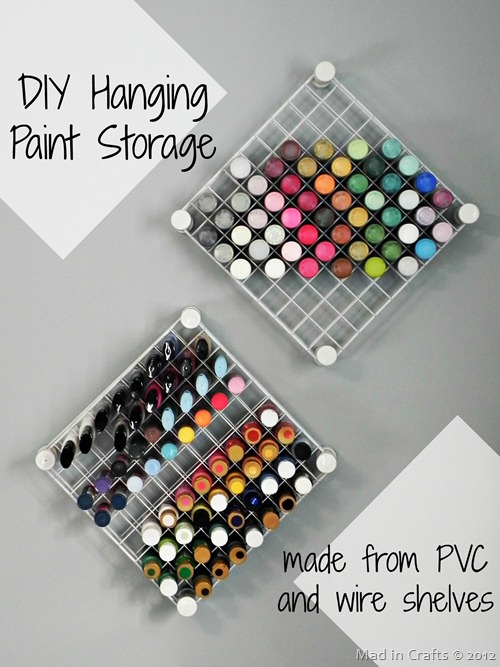 Paint Storage Ideas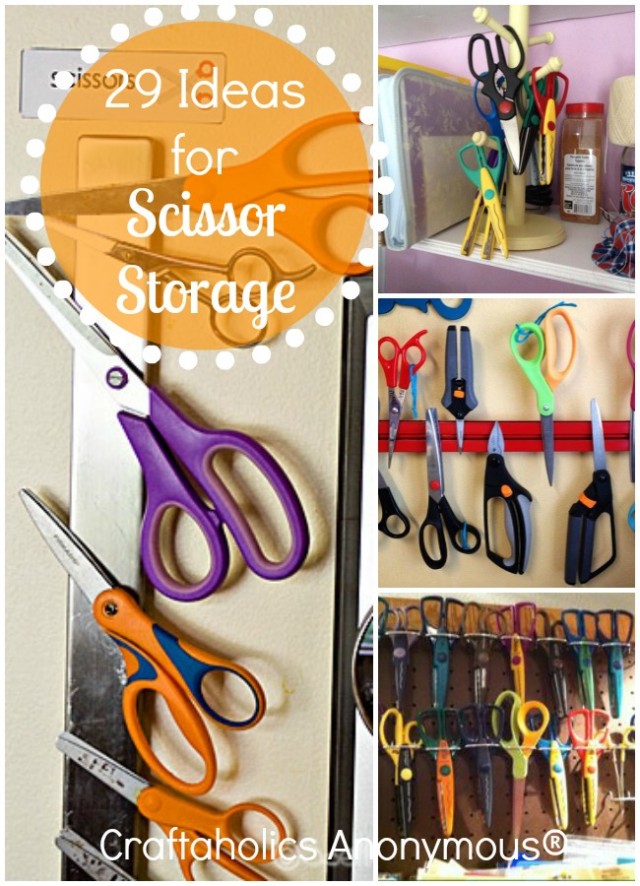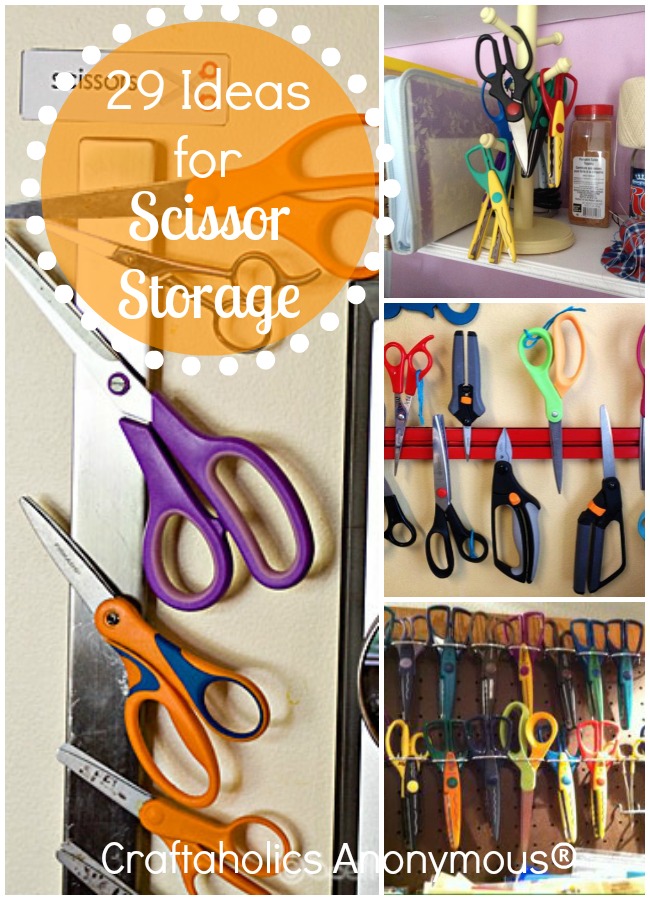 Ideas for Scissor Storage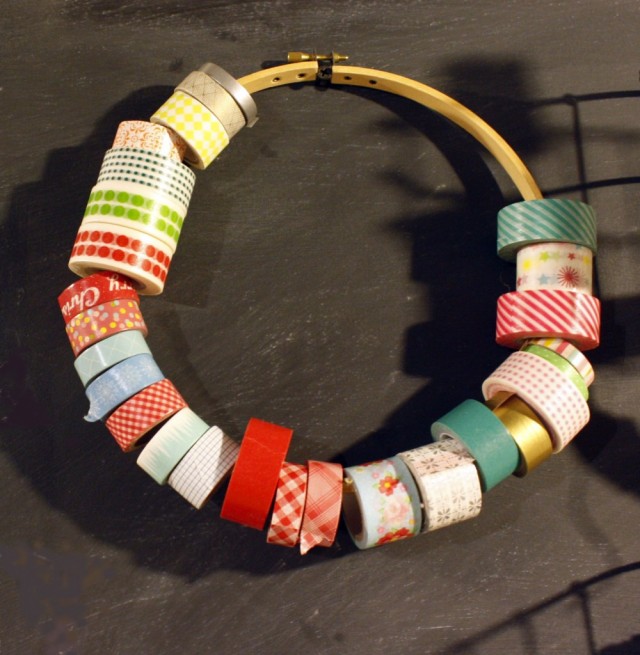 Washi Tape Storage
Have a Craft Question? Post it on the Craftaholics Anonymous® Facebook page and gets answers! 
Latest posts by Craftaholics Anonymous (see all)