April is here today to show off her amazing, and super organized, crafting space! Wouldn't you love to have all your crafting supplies this organized! Be sure to pin it for inspiration! Enjoy! – Linda
Craft Room Tour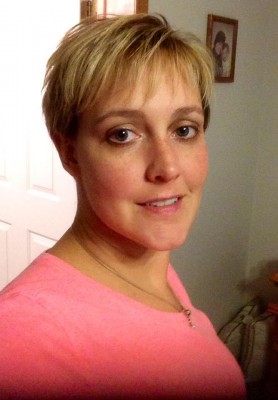 I am so honored to be featured on Craftaholics Anonymous! My craft room always seems to be a work in progress. I'm forever changing, moving and re-organizing. Oh, and it's always a mess!! It only looks clean below, because I just finished moving the room.
I have always loved creating and DIY projects. It all started not long after high school with Dream Catchers (way back when they were popular). Craft stores were few and far between and meant an hour drive to a big named store! The Dream Catchers that hang on your wall led to beaded Dream Catcher earrings and then other beaded jewelry and then the scrapbooking craze started and it was all over for me!!!
In 2005 I tragically lost my seven year old daughter in an ATV accident. Her room was empty and it was so painful to see it still like she never left. After wondering how to handle it, I had the idea of making it into a craft room. It would still have some of her items and furniture in there and it would be a place I could do something that I love and still feel close to her.
Since then, my son has gotten older and we decided to move him into the bigger room. Time to pack up, move stuff around and re-paint. Perfect time to purge and make all the changes I've been thinking about in my craft room. After spending HOURS on Pinterest looking at other rooms and gathering ideas, it was time for paint and a trip to Ikea! Soooooooo…….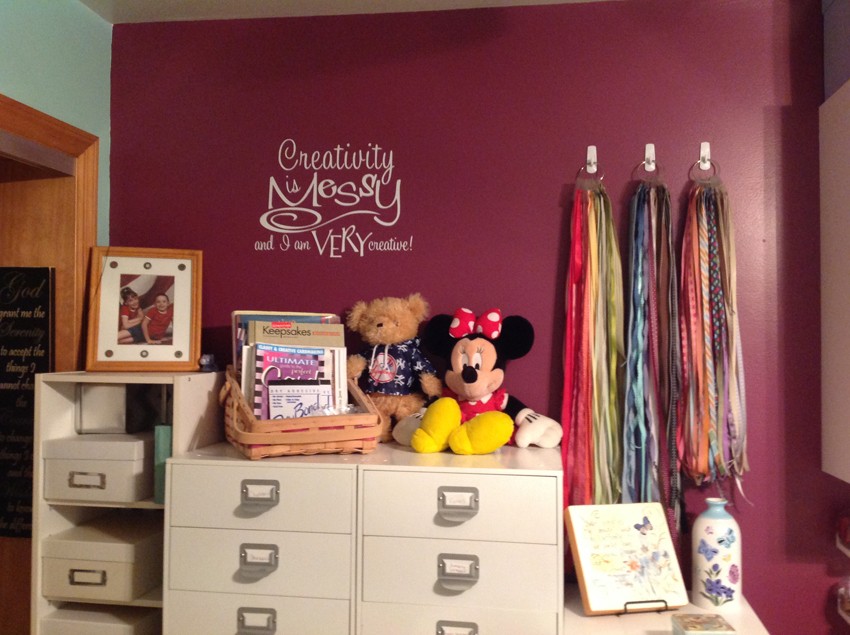 As you enter the room, my accent wall and a reminder that it's "ok" to not be so organized – the wall color is Stampin' Up! Rich Razzleberry. Oh, and I got wrapped up in the rubber stamping craze too! Lets just say there isn't much I haven't tried.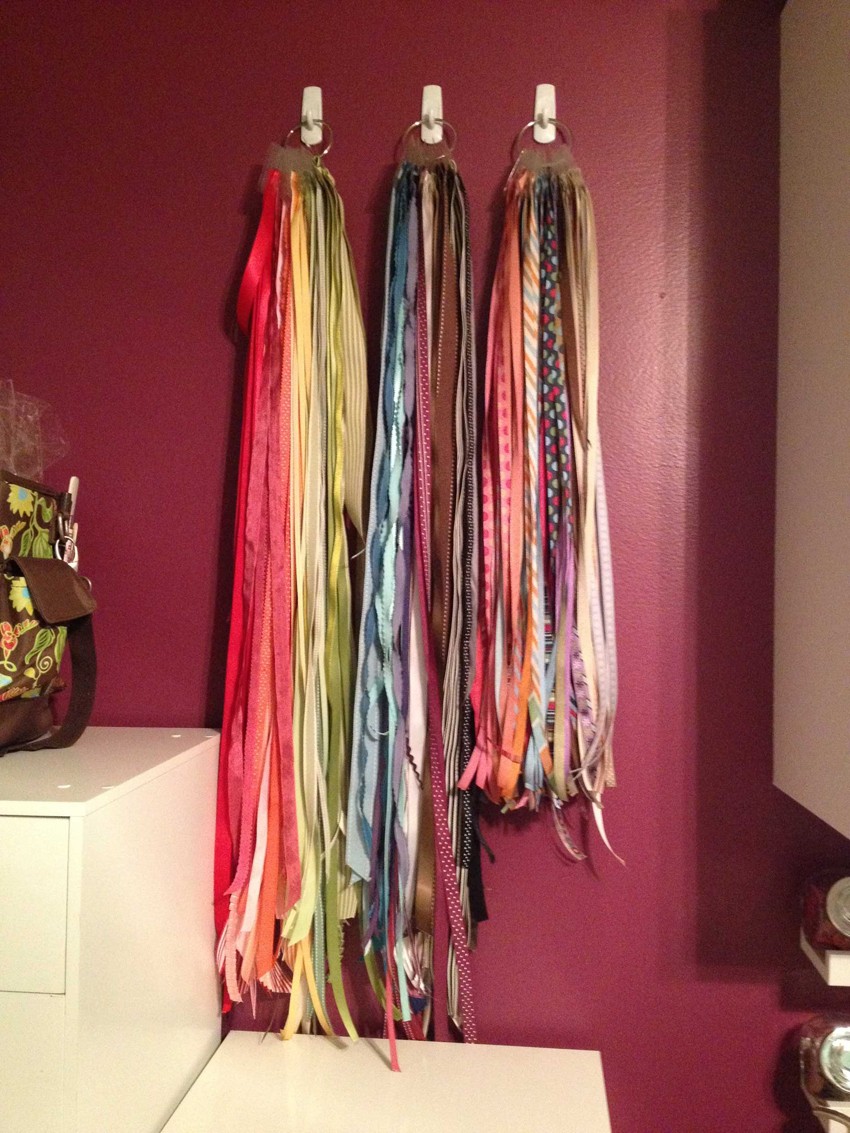 I have several of the cube storage that's available in so many stores. These drawers are filled with glitter, re-inkers, Simply Scrappin' Kits and items to alter. Below the drawer cubes are the vertical paper cubes that are filled with all my retired designer paper and I also have horizontal cubes that I keep all my 12X12 cardstock in by color family (one family per shelf). To the left of the cubes are stacking shelves that I keep my crafts that I just kind of dabble in stored in photo boxes – paracord, beading, bottle cap jewelry stuff. Below that are more photo boxes filled with "memories" to be scrapped. On the wall to the right is all my ribbon. I used products from ribbonring.com. I cut a length of ribbon from every spool that I had and arranged them by color. The remainder of the spool, it wrapped around a piece of chipboard and have it stored in a drawer. My logic is that if I see what I have and can find it quickly to match with a project, I would use more and stop buying so much. So far, so good. I always use what is in the drawer on the card first. Below all my ribbon is a set of Alex Drawers from Ikea. I use this to store non SU punches in the top drawer and all retired ink pads are in the bottom drawer. Everything in between is more stuff that I dabble in – Kumihimo, crochet, knitting, fat quarters for sewing.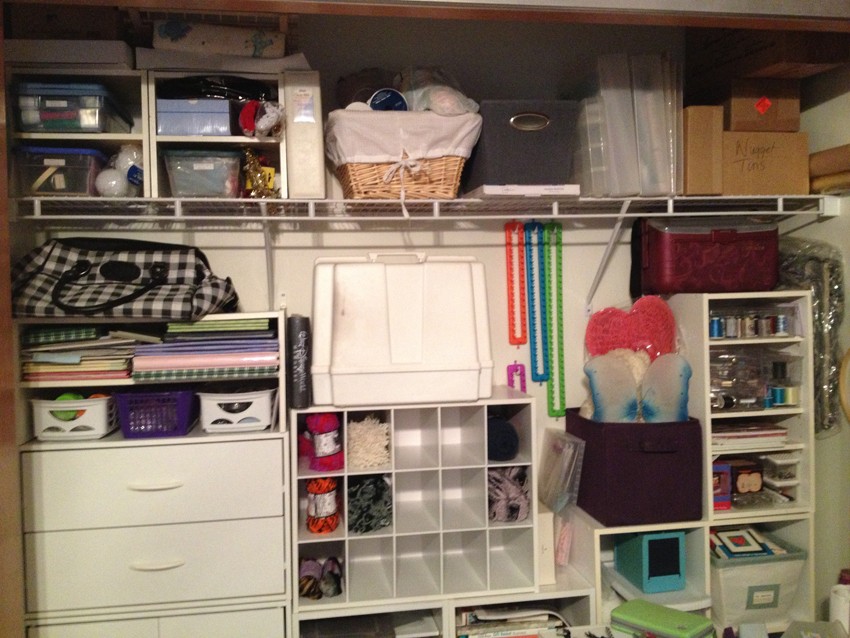 As you look to your left is the closet, which we took the doors off and I used a lot of closet storage units for more storage. My other room was bigger and I also had a very large 2-door cabinet that I had so much stuff just jammed in, so I had to downsize and make most of it fit into the organizers in the closet along with what I had in the closet of the other room (not easy).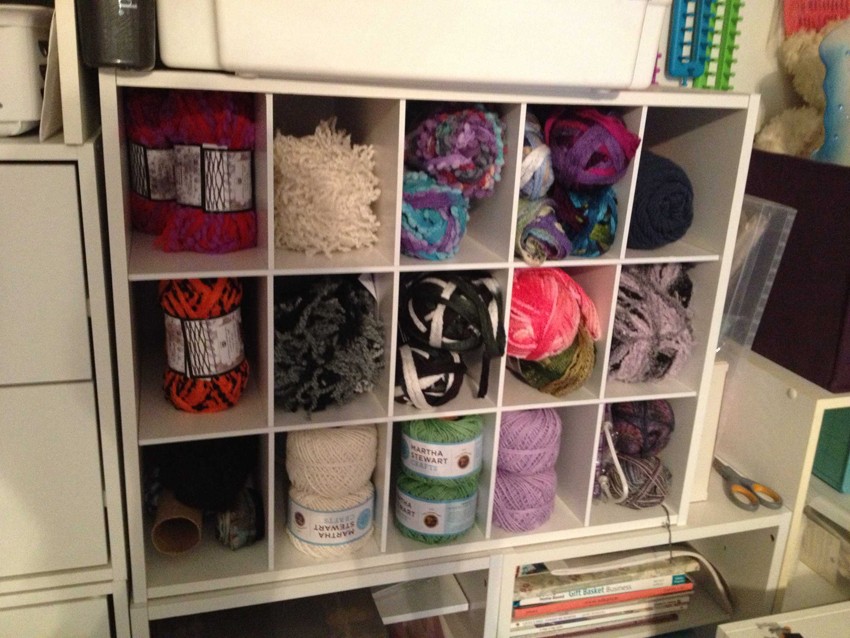 I tried to keep this related to sewing, yarn and the misc stuff you accumulate from other projects or all those cute little things you make so send into school for your childs class for Christmas, end of school year, that kind of stuff.
To the right of the cubes is my work space and cabinets. We still have to finish this off. I want to get a small two door cabinet for underneath the counter for my stamped jewelry supplies (yes, I do that too).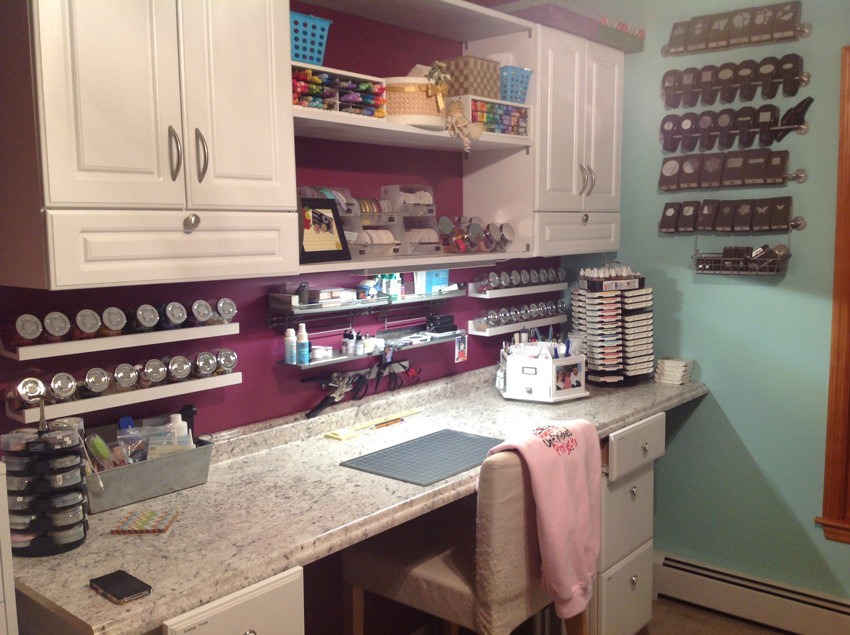 On my desk I keep the current SU accessories in the carousel so that I know they are current and I don't mix them up when I do classes and workshops. I also have the inkpad holder, which I keep all current colors and re-inkers in. Directly in front of my I have my rail storage system that I believe was from Becky Higgins (years ago) and has since retired and I keep my frequently used items there so they are within reach. Below that I have a magnetic bar (Ikea) that I keep all my scissors on for easy access. The shelves on either side are from Ikea as well and have the spice jars sitting on (yep, Ikea). In all the little jars on the left are retired SU buttons arranged by color type (reds, oranges…) on the left sorted the same way are brads and items like that. The cabinet and drawer on the lower left side is my embroidery/sewing machine with some additional sewing tools. In the drawers on the right, I have tools in the top drawer, card making and quilling supplies (yes, I even did that for a little while). Above my desk, on the first shelf I have current SU ribbon, washi tape in larger jars that matched the small spice jars and I keep my clear blocks in their case here too. On the second shelf, I have holders for my markers – SU on the left and Copic on the right. The upper left cabinet is retired SU catalogs and the Paper Pumpkin kits. The right hand cabinet is all my Cub Scout binders and my Thirty-One catalogs (yes, that too!). On the very top I keep all my Project Life kits. Did you see Stampin' Up! Will has partnered with Becky Higgins and will have exclusive PL kits available?? So excited!!! On the wall are all current SU punches on Bygel rails from IKEA. The remainder of my punches (retired SU) are on the same type of rails behind the door (I ran out of wall space).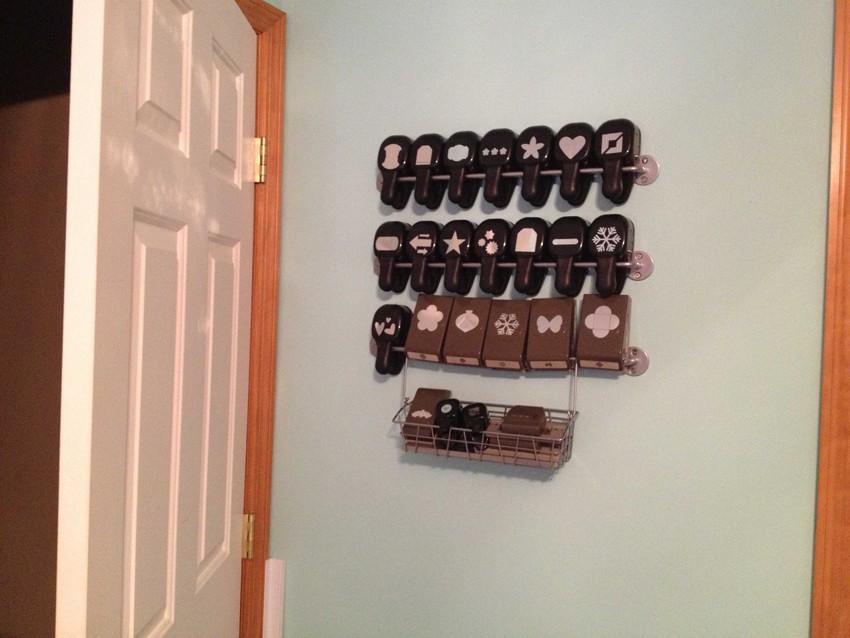 Behind my workspace – Is my cutting area. Remember that big cabinet that I said I had? Well, that also held all my stamp sets. So, I got two cheap bookcases and a two door cabinet from a big box store with an Ikea table top and made some additional storage and a nice size cutting area.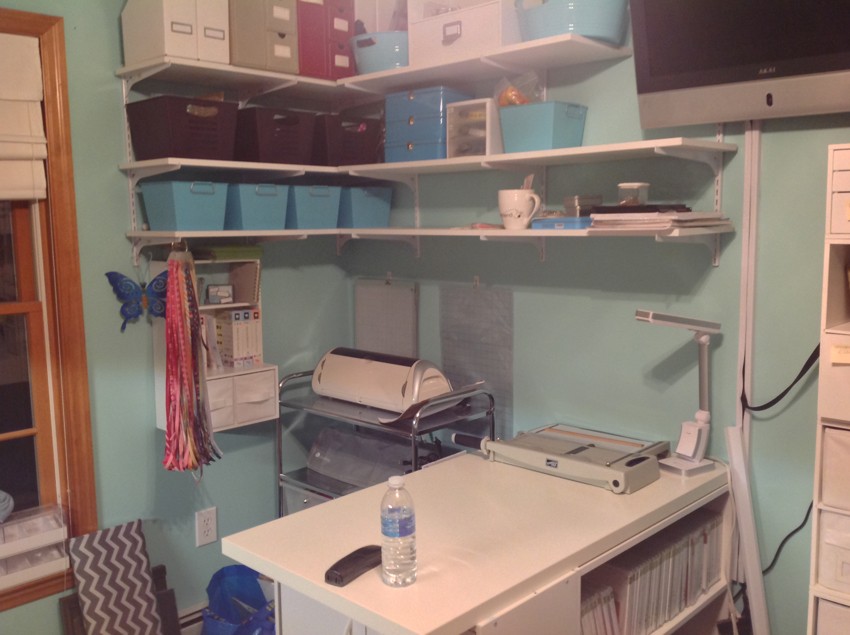 In the cabinet I have all current SU stamp sets and then on the shelves are all retired sets. On the other side of the book case I have my Big Shot and all the dies. The cart in the corner holds my Cricut and Silhouette Cameo. In the drawers below are all my rolls of vinyl. Behind the cart I used those command hooks to hang my cutting mats. Above on the shelves – I'm still not quite sure what is going there, I haven't finished organizing that yet. But, I found the colored bins at the dollar store and they matched my color scheme so I couldn't pass them up. In one bin is all types of glue, mod podge, things like that.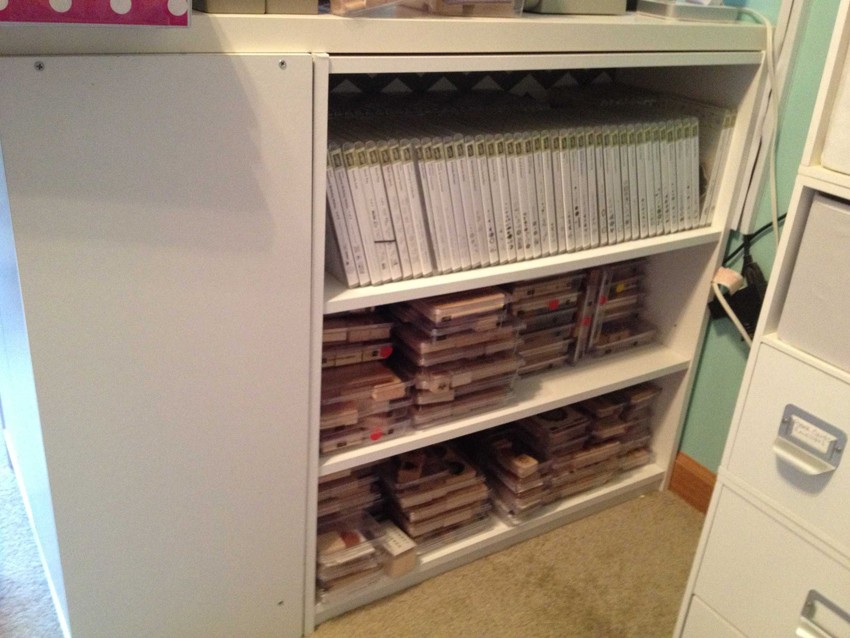 Another has Flower Soft products in it. On the top shelf are magazine holders with past issues of the SU magazines and other scrapbooking/card making magazines. I also have old kits that came from QVC that have yet to do anything with, but just can't part with them. On the other part of the top shelf are all my Stampin' Wheels and handles.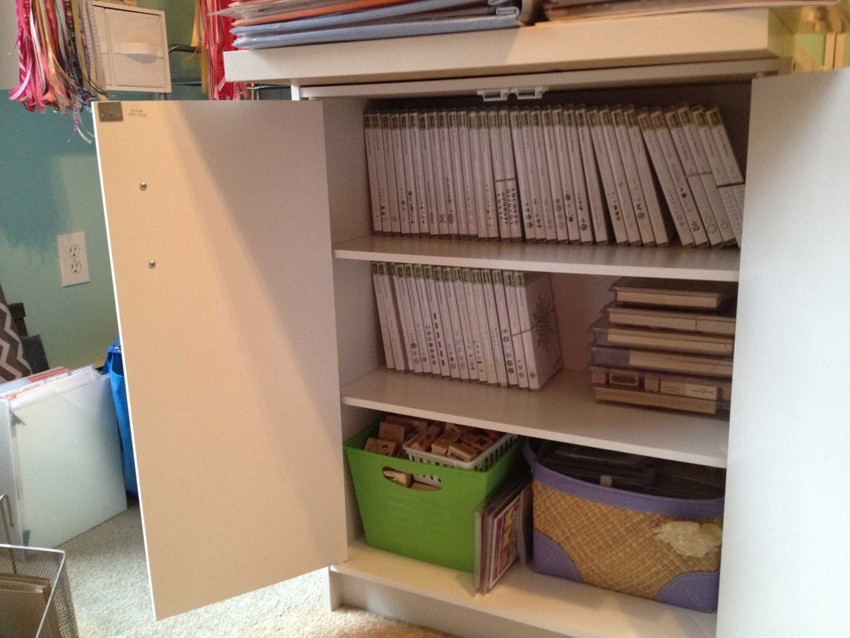 Just on the edge of the photo and below the TV (is a complete mess, so you can't see it), I have hanging file cubes that hold my current designer paper, drawers with envelops in, finished cards, my ribbon that's wrapped onto cards and LOTS of other supplies. Right next to that I have a tower of the clear Sterlite drawers that hold all of my 8 ½ X 11 card stock. Each drawer holds four colors and is labeled on the outside to find it easily.
As I leave my room –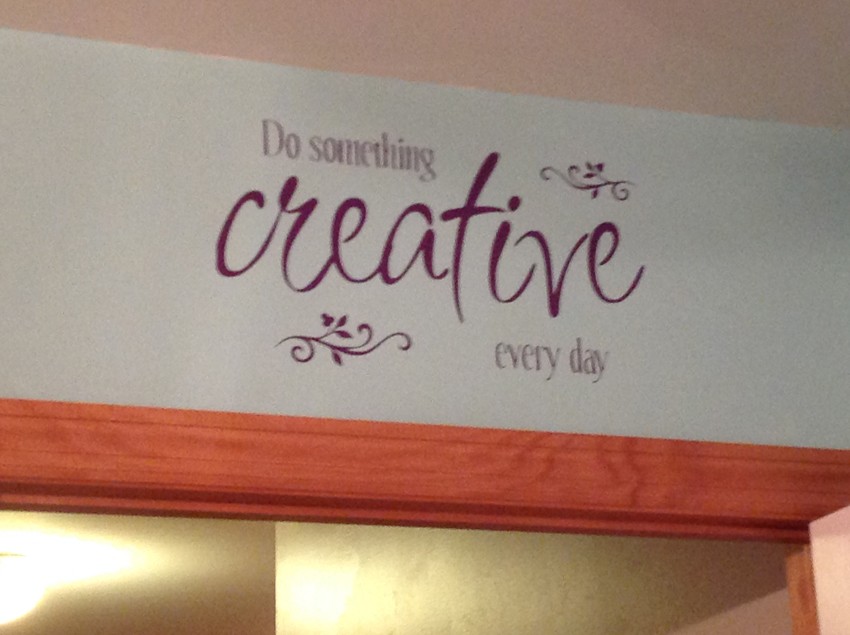 The other color of my walls is Pool Party. In the one photo, you can see a gray herringbone print fabric. That will be my curtains for the room and also for the closet area. It's still a work in progress and messy and probably will always be, but it's a place I can hide and work on everything that I dabble in. I still find myself spreading out throughout the house; on the dining room table if I have a class I need to prepare for or a big project I'm working on or in the living room when I'm beading and watching TV with the family.
I hope you enjoyed the tour and found some great ideas too! Follow along on Pinterest and Facebook and you can check out my Etsy shop where I sell my jewelry! Thanks for having me!
Latest posts by Craftaholics Anonymous (see all)