Do you have about a million bottles of craft paint? Need some ideas on Craft Paint Storage? Those little bottles seem to multiply faster than rabbits and get disorganized before you even start crafting, right? Or is it just me?! hah. Well, you know how much we like to talk about craft room organization around here, so let's talk craft paint today!
Lisa asked this question:
Anyone have any good ideas for storing craft paints? I have them in a storage container but would like to have them where I can see all the colors and not have to pull each one out to find the color I need. Thanks!" – Lisa
Answers for this post were compiled from this thread on the Craftaholics Anonymous® Facebook page.
Craft Paint Storage
1. "I have a friend who paints a ton. She painted a dresser to store her paints in!" – Jessica H.
2. "I saw a cute thing on pinterest where they just paint the top of the paint whatever color it is, then store in a container standing up, so you just see the top." – Allyson Z.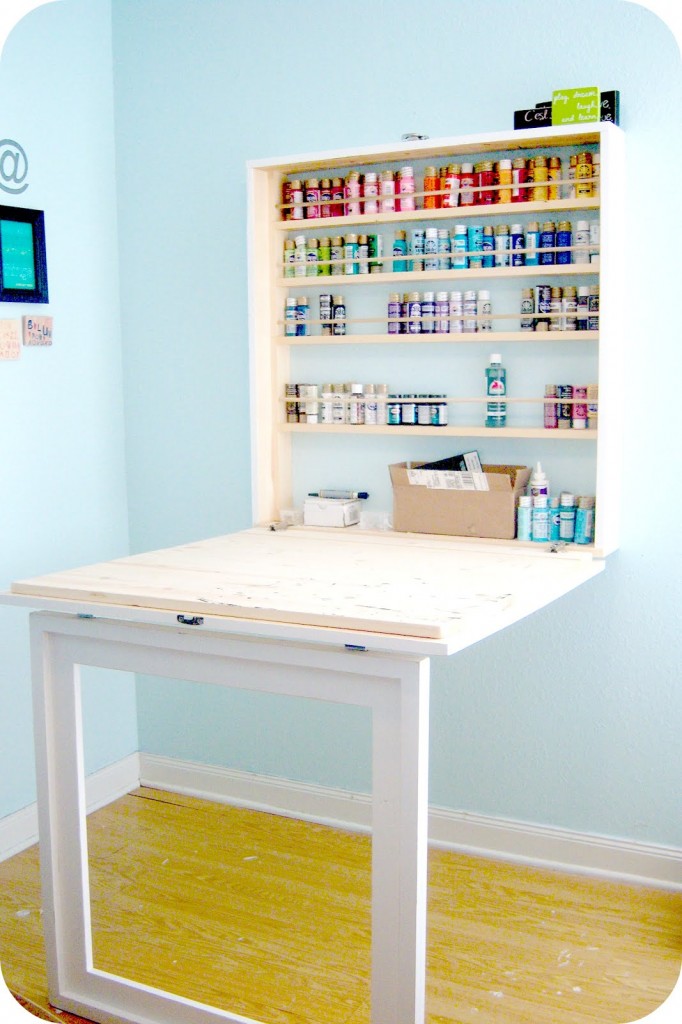 Craft Paint Storage from bubble wrapped.
3. "I just installed a peg board wall in my craft area and hung a wire spice rack on it for my paint! Love it so far!" – Lauren S.
4. "Not a super creative solution, but I store my paint in a bin upside down so I can see all the colors." – Krystal W.
5. "A dab of the color on the lid works." – Sherry K.
6. "I keep mine in a plastic box but painted the tops so I can see what colors I have." – Stephanie W.
7. "I keep mine in clear plastic boxes and write the name of it on the top. Sometimes put a dab of paint on the top so I know what color it is; but typically the color name is enough for me to know exactly what color it is." – Meg K.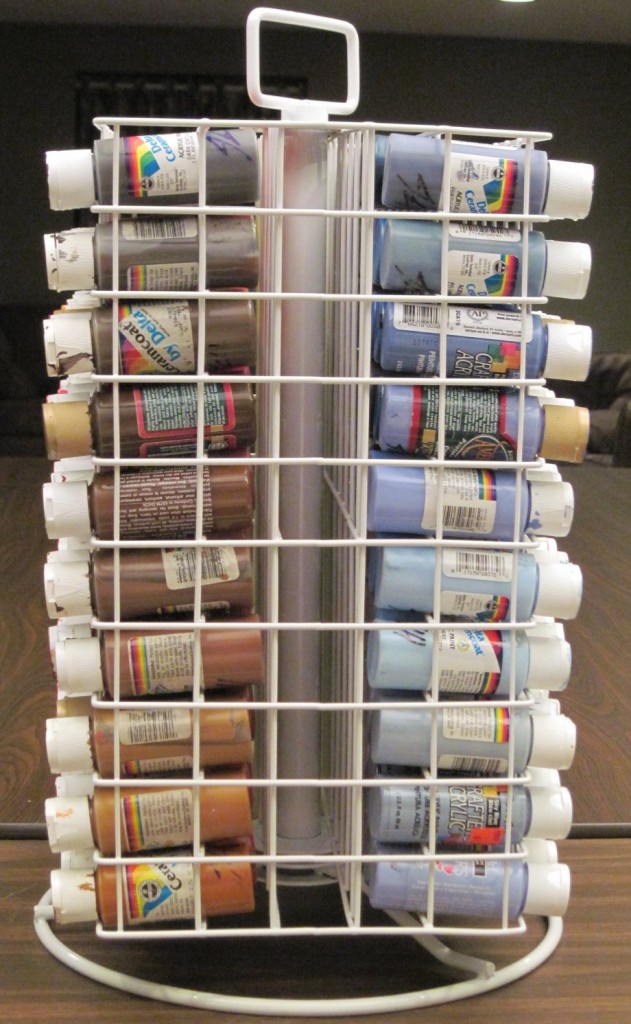 Provo Craft Spinner Paint Rack
8. "Here's what I have my paints stored in – works perfect!" – Cindy R.
9. "I got a tiered track at the dollar store to put mine on. I don't think it's going to work though. It's pretty wobbly and you can't see everything that well still and I think I will knock everything over getting out a new one. So tiered rack is a fail. Next try, I think I'll look at spice storage." – Danielle W.
10. "I have mine stored laying on their side, bottom facing out." – Erin B.
11. "For my small craft paint bottles, I have one of those small plastic set of drawers on wheels. It was intended for Christmas ornaments. I put all the whites and yellows in the top drawer, oranges and reds in the second, and so on. For pints, quarts and gallons I use a bookcase." – Karen M.
12. "I store mine standing on their "heads" (a.k.a. the bottle upside down) in a plastic shoe box type container. Paint comes out easily, it is cheap storage, and you can see the color of each easily." – Amanda F.
13. "I have all of mine stored in a Closetmaid rack on my craft room wall. It works really well for me." – Andi S.
14. "I do the paint on the lid thing but I created a table in MS word with each manufacturer and color and then when I dab the lid, I dab some on the page. I actually printed it off on transparency but paper would work. I then pull it out when I need to match a color which is where the transparency works great – can see thru it!" – Lisa C.
15. "My husband paints the lids of his and stores his in a small suitcase type thing they call a train case. It is an old train case and it does the trick for his bottles of paint." – Laura W.
16. "I have an old pop bottle crate standing on end. I lay the paints in the openings cap in first so I can see the ends/color. Each opening holds 4 regular small bottles. I love it!" – Renee G.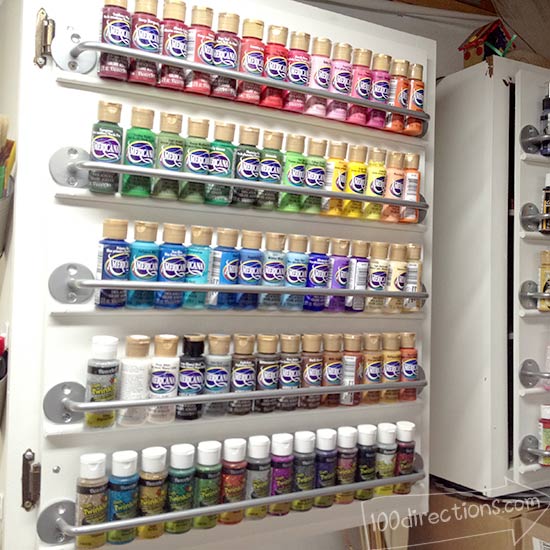 DIY Paint Storage by 100 Directions
17. "You can sort them into cardboard shoe boxes upside down and then fit all the boxes into a drawer or into an old suitcase (which is where I have mine). If the bottles are not transparent enough, paint a dab on them, but I find it takes too long to do that if I just bought them and want to store them. I do have them in "color families" too." – Bonnie R.
18. "I got some round labels from Office Depot and painted a label with the paint and put it on top of bottle, then stored in shoe boxes. Worked well for me." – Barb L.
19. "Use a spice rack. I have a few from the thrift store that I'm planning to repurpose." – Michelle M
20. "My sister in law just has them on a shelf in her craft room at eye level in rainbow order kind of in a zig zag with every other one against the wall and the others slightly forward. It's perfect because she knows exactly what she has and how full they are." – Alexis M.
21. "When I first bring home craft paint, I put a good goop on the lids and keep them in a drawer in a craft storage box with no lid." – Andi C.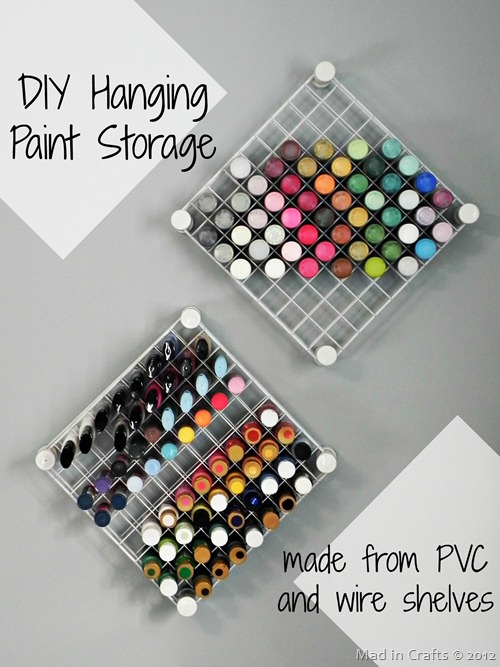 DIY Hanging Paint Storage – from Mad in Crafts
22. "When you have so many (I have well over 100 at a time) those racks don't cut it. I use boxes that are like double size shoe boxes that are clear. They stack easily and there just about perfect depth so no wasted space." – LuAnn M.
23. "I have all of mine in a drawer. I took those stickers and put them on the lid, painted the sticker that color, then wrote the name on them." – April M.
24. "Mom painted so much and had so many that she had racks built for the wall. Her friend jig sawed circles out and made shelving about 2 ft high and she stores them upside down because it eliminates the air at the lid which causes paint to harden in the cap and hole. Hang them in reach of the painter. She also saved milk and pop caps for diluting and mixing paint colors. Perfect size and disposable!" – Sandi C.
25. "I have mine in stacked wine crates all bought from goodwill. The crates are stacked on top of a desktop and sit against the wall for stability. It's cuter than it sounds." – Laura L.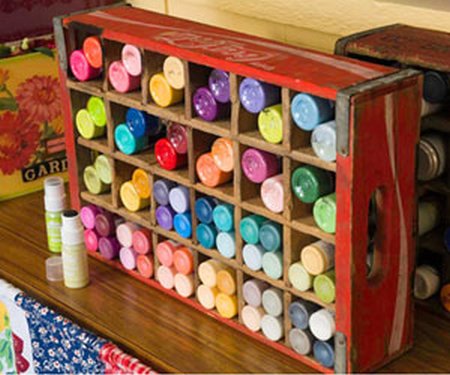 image: Everything Etsy
26. "You could do what I do for my Distress Pads and Liquid Distress Inks. I took a big piece of card stock and sprayed or wiped a bit of the color on it and wrote the name down next to it so I always have an actual sample of the color for comparison when I'm scrapbooking. Then my Distress Inks get a label on two sides with the color name and they're stored in a tower. My round ink bottles get a blob of the color on the top (if the lid is light-colored) or a round garage sale sticker with a blob of the color. Then I can store them in plastic crate that lives under my desk. Works awesome and since the piece of card stock gets used so much, I've had to do it more than once over the last few years." – Cindy D.
27. "I keep mine in one of those plastic drawers units – just pull open the drawer." – Debra V.
28. "Rain gutter applied to your wall." – Destiny L.
So many awesome ideas on craft paint storage! I know I'm going to give some of these awesome ideas a try because I won't lie, my craft paint is a mess! Thanks for stopping by today!
happy crafting,
Linda
Check out the Craftaholics Anonymous® Facebook page for lots of crafting tips! For more crafting inspiration, follow along on Pinterest.

Hi! I'm Linda, the craft addict behind Craftaholics Anonymous®, a craft blog. Crafting is cheaper than therapy, right? When I'm not DIYing something, I can be found taxiing around our 4 crazy kids or working out. Or shoe shopping... because you can never have too many shoes! Happy crafting! ♥