I am totally drooling over Creative Team member, Amber's Pumpkin Pie Cupcakes!! This is a must make fall recipe for sure! These look divine. Enjoy! -Linda
Pumpkin Pie Cupcakes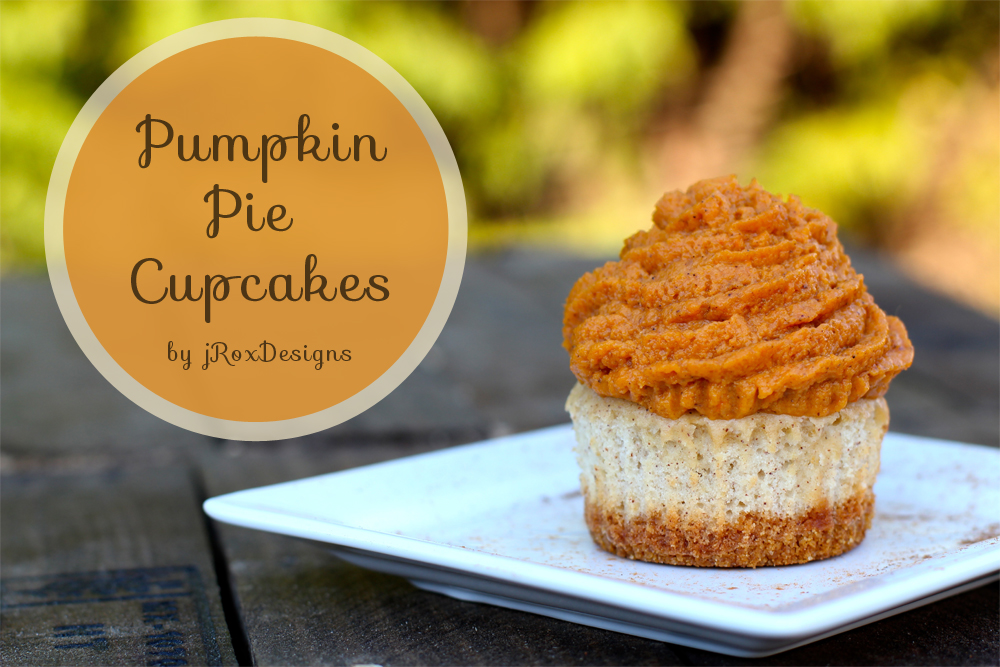 Who doesn't love cupcakes? I sure do and I absolutely LOVE this recipe! I made it for the first time last year and it became an instant favorite with our family.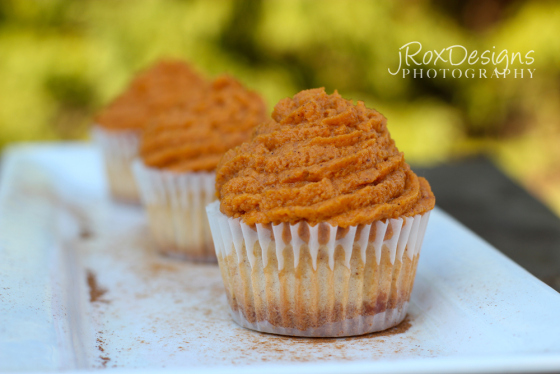 My Mom even asked me to bake them for her birthday instead of a cake last year (which I don't think we have ever had a birthday in our house without a cake!)
Pumpkin Pie Cupcakes Recipe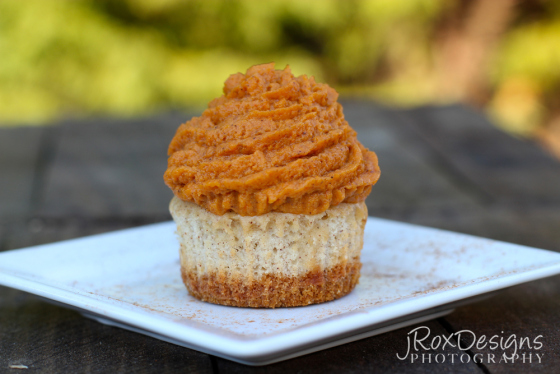 1 3/4 cups cake flour
1 cups sugar
1/2 tbsn. baking powder
1/4 tsp. salt
1/2 cup or 1 stick unsalted butter, diced, at room temperature
1/2 cup milk, divided
2 large eggs
1 large egg white
1 tsp. vanilla
1 tsp. cinnamon

3/4 cup graham cracker crumbs
2 tbsn. light brown sugar
2 1/2 tbsn. unsalted butter, melted

3/4 cup sugar
1/2 tsp. salt
1 tsp. ground cinnamon
1/2 tsp. ground ginger
1/4 tsp. ground cloves
2 large eggs
1 can (15 oz.) Libby's 100% Pure Pumpkin
1 can (12 fl. oz.) Carnation Evaporated Milk
Start off baking your pumpkin pie first because it will take over an hour to bake and it needs to cool completely before you can use it to pipe your cupcakes. Mix sugar, salt cinnamon, ginger and cloves* in a small bowl. Beat eggs in a large bowl. Stir in pumpkin and sugar-spice mixture. Gradually stir in evaporated milk. Pour into pie pan. Bake in preheated 425 F oven for 15 minutes. Reduce temperature to 350 F and bake for 40-50 minutes or until a knife is inserted near the center and comes out clean. Cool on wire rack for 2 hours.
* You can substitute 1 3/4 tsp. pumpkin pie spice for the cinnamon, ginger and cloves which is what I usually do since I don't usually have ginger or cloves!
To make the cupcakes, preheat the oven to 350 F. Line a cupcake pan with liners, set aside. Sift together the flour, sugar, baking powder, salt and cinnamon into the bowl of a stand mixer fitted with the whisk attachment. Add the butter and 1/4 cup of milk. Mix on medium speed until smooth, about 4 minutes, scraping down the sides of the bowl with a rubber spatula as needed. In another bowl, blend the eggs, egg white, remaining 1/4 cup milk and vanilla. Add to the batter in 3 additions, mixing for 2 minutes on medium speed after each addition. Scrape down the sides of the bowl in between additions. Set aside.To make the crust, combine the graham cracker crumbs, sugar and butter in a medium bowl and mix well. Add 1 tbsn. of the mixture into the bottom of each cupcake liner and bake for 5 minutes until the graham crackers are golden. Remove from the oven then fill about 1/2 full with the cake batter. Bake for 15 – 20 minutes or until an inserted toothpick comes out clean. Cool completely. To frost, scoop the pumpkin pie "frosting" into a piping bag and pipe onto the cupcakes.
**How to Make Cake Flour: I don't usually have cake flour so I wanted to share with you a cake flour substitution that I have found works well. Measure out 1 3/4 cups flour. Remove 3.5 tablespoons of flour and replace it with 3.5 tablespoons of cornstarch. Mix the flour and cornstarch together and use it in place of cake flour.
Cake Flour Substitution
Place two tablespoons of cornstarch in a one-cup measuring cup and simply fill the rest of the cup with all-purpose flour. One cup of the substitute is equal to one cup of cake flour in any recipe.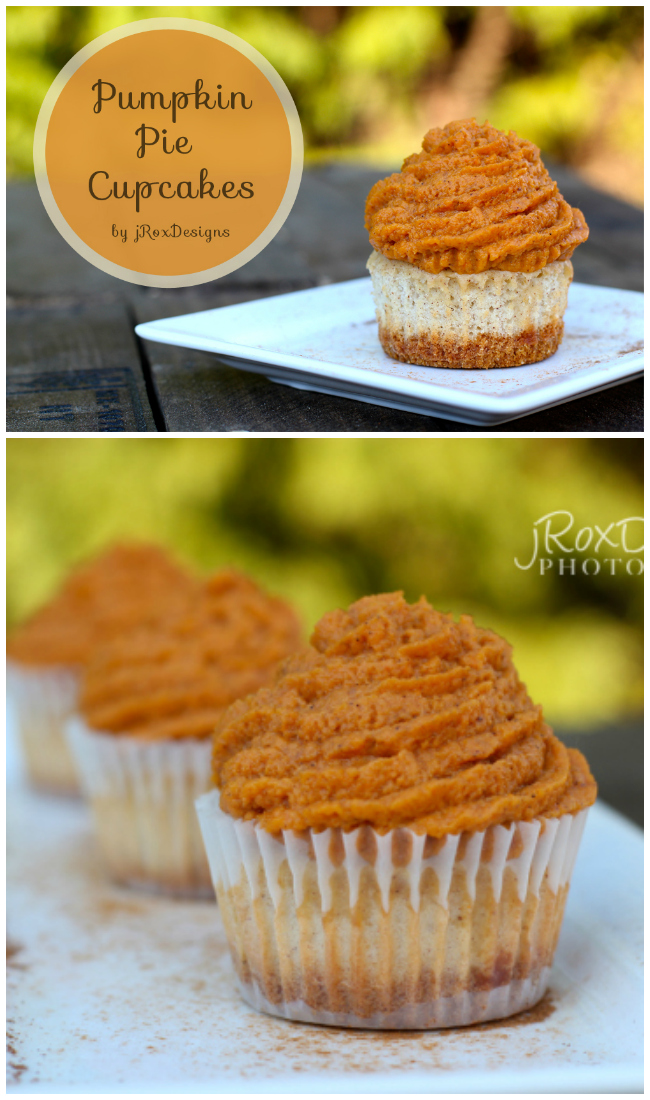 Enjoy!
Amber
Make sure to follow Craftaholics Anonymous® on Bloglovin for new crafts and on Pinterest for crafting inspiration from around the web!