Will there be kids at your Thanksgiving feast this year? Check out this cute Thanksgiving Table for kids styled by Amber! Colorful and fun, for sure! -Linda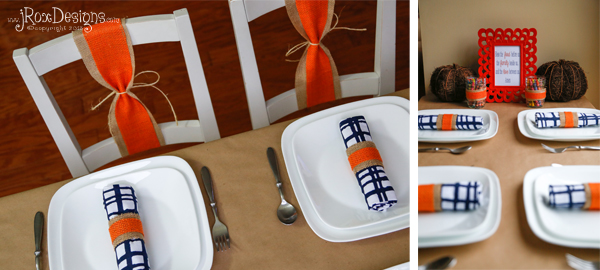 Thanksgiving Table for Kids
Growing up my sister and I never had the pleasure of sitting at the kiddy table but now that the two of us "kids" have our own kiddos we have run out of room.  Enter…the Kiddy Table!  Decorating your kids' Thanksgiving table doesn't have to be difficult, just keep it fun and involve your kids, if possible.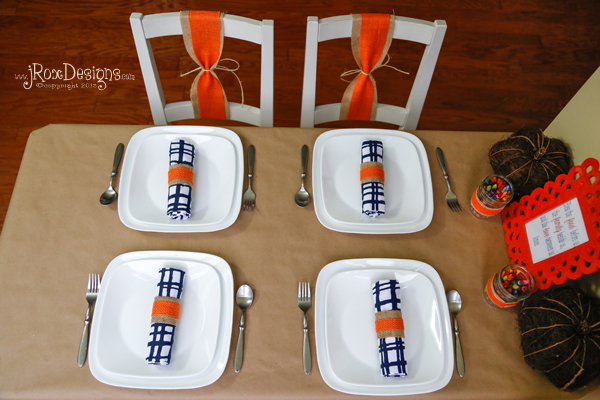 This year I wanted to stick with the same rustic neutral pallet as the adult table and bring in a youthful pop of color with orange and navy.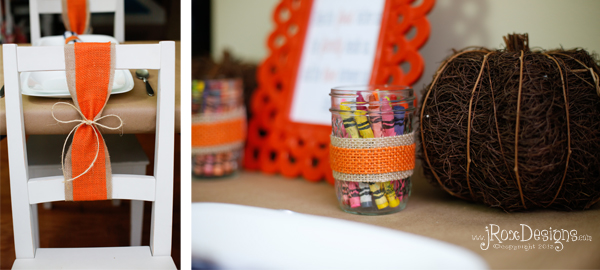 The most essential part of the kids table is making sure it's kid friendly.  These cute square plates are actually our family's everyday plates.  They are break and chip resistant, making them an excellent choice for a kids.  The napkin rings were a quick craft my son and I did together.  All we did was cut up a paper towel roll, wrap them in burlap and give it a quick dab of hot glue on the back.  The napkins are a washable cotton fabric are not only easy to wash, but the geometric print adds fun and class to the setting.
Thanksgiving Table Setting for Kids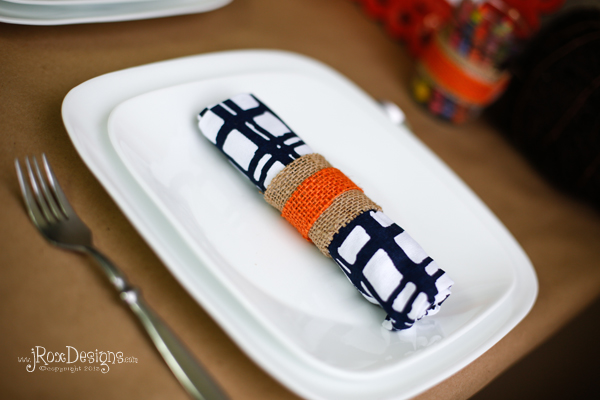 One of my favorite things about this table, is that I used craft paper for the "tablecloth". This provides a blank canvas to entertain the kids and draw pictures for things they are thankful for. I picked up the craft paper in a 30″ x 15 ft roll at the dollar store. Easy peasy and cheap!
I created two crayon holders out of mason jars and embellished with burlap. Burlap has the perfect texture for fall!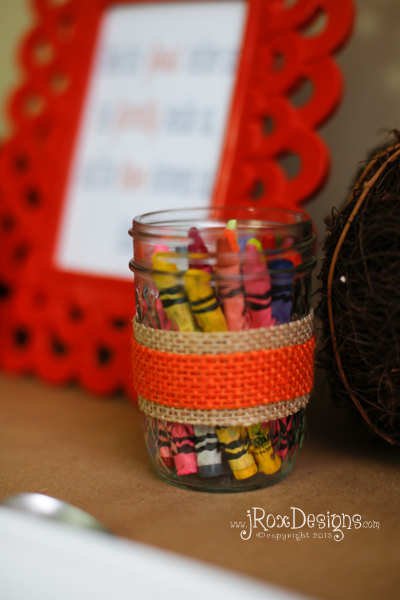 I decorated the head of the table with a framed Thanksgiving prayer that is easy enough for all of the kids to say. Add in some rustic, non-breakable pumpkins and its ready to go.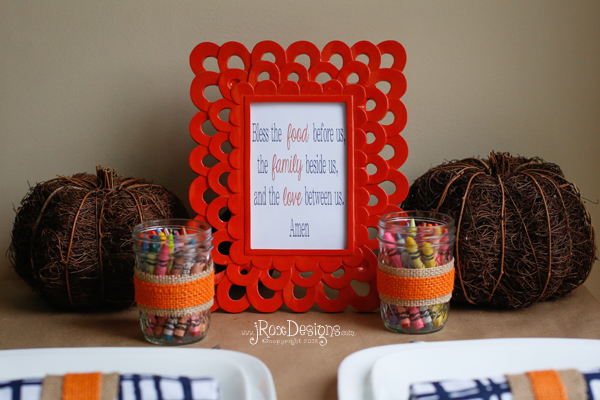 You can download the Thanksgiving prayer printable here in a 4×6, 5×7 or 8×10 version!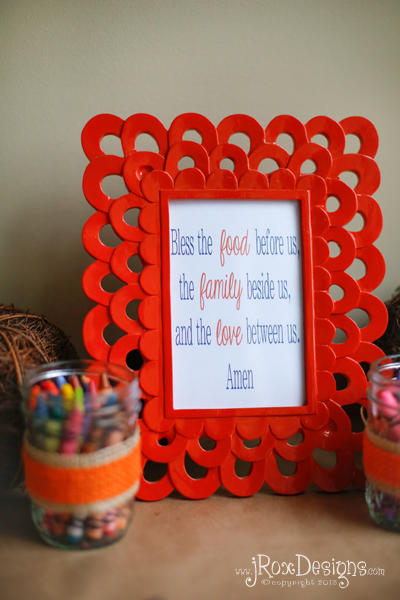 Again the most important part of a stress free kids'  table is that everything is kid friendly!  So in the un-likely case (or maybe VERY-likely case in your home!) that the pumpkins go flying or the plastic, glass-free frame drops, you can be comfortable knowing there is nothing to worry about.  The mason jars I used are glass. But I have dropped them quite a few times around here and they are still in one piece.  If the glass is a concern, simply swap them out for a cute plastic cup.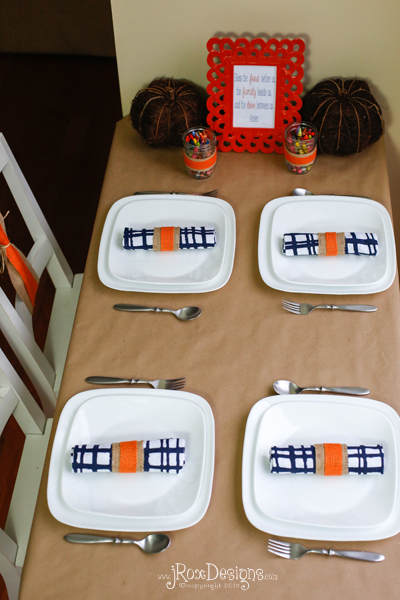 So there you go!  Pretty cute, easy and painless right?!  Just remember keep it simple, keep it fun, keep them entertained for a stress-free Thanksgiving kids' table!
Are you going to have a kids table at Thanksgiving? How will you decorate it? I'd love to hear your fun ideas!
Happy Crafting!
Amber
Don't forget to enter these giveaways!