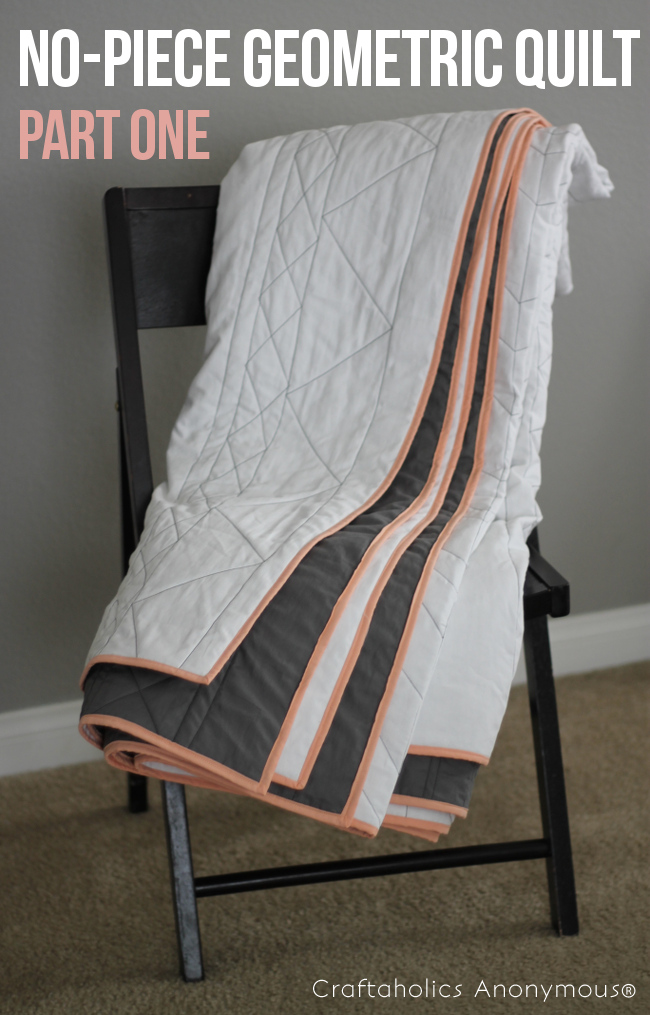 Hey there! It's Alexis from Persia Lou and today I'm sharing my latest quilting project with you all. This quilt is king-size, but it took less time to make than you might think because this quilt is made without any piecing at all! Piecing together a quilt-top can be fun, but it is definitely time-consuming as well. Rather than using piecing to create the quilt's pattern and design, this quilt relies on contrasting geometric quilting. Here's how to make one for yourself!
How to Sew a No-Piece Geometric Quilt Tutorial (Part 1)
Materials
Two flat sheets (queen-size for king-size quilt)
1 yard cotton fabric for binding
Thread (2 spools for quilting, 1 for binding)
Safety Pins
The trick to keeping this quilt absolutely no-piece is using flat sheets for the quilt top and backing. Originally, I thought I would have to buy king-size sheets, but when I was looking at flat sheets, I noticed that the queen sheets' dimensions were 102″x94″, which was just a few inches off of the 106″x94″ size of a king-size quilt. Buying the queen-size sheets saved me a few dollars and some time trimming off excess fabric. Score!
I chose a white sheet for the quilt top and a gray sheet for the quilt backing.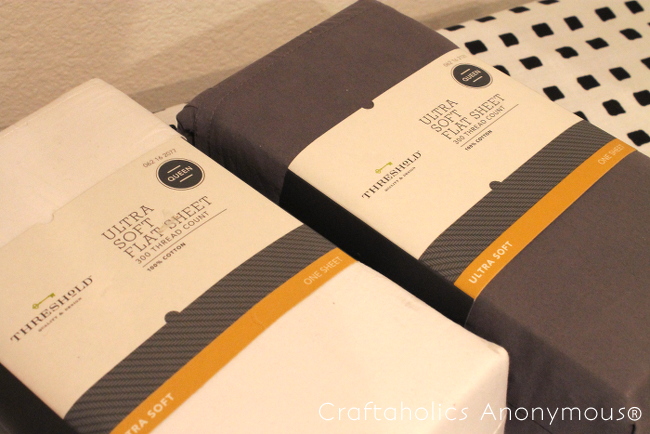 To get the sheets all ready to be quilted, you will need to do just a few things. First, cut off the small hems from three sides of the sheets.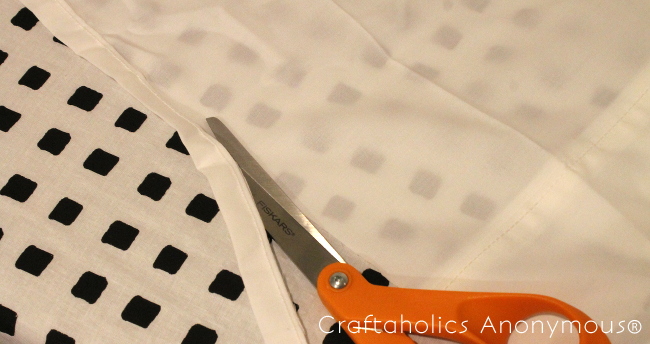 To get a few more inches of length, use a seam ripper to undo the wider hem on the last side of the sheet. This should give you about five more inches of length.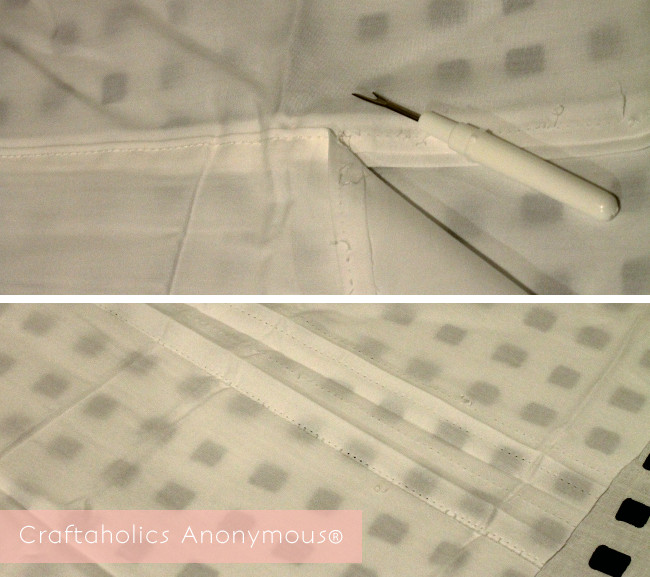 When your sheets are all trimmed and pressed, it is time to stack up a quilt sandwich. Spread out the backing sheet first (mine is gray), then the cotton batting, and top it off with the other sheet (white for me).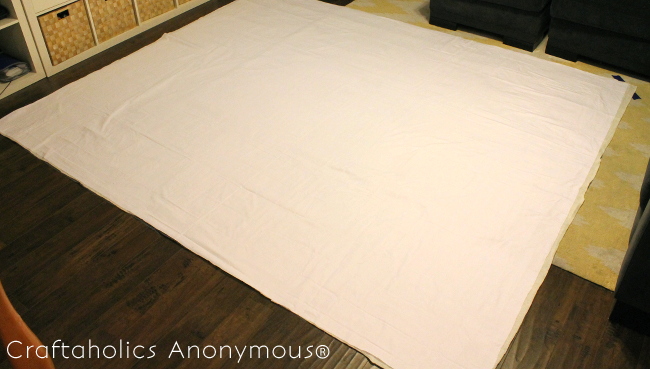 You will need to spread everything out smoothly to avoid any lumps or folds. I had to move some furniture around to find a space large enough to accommodate the quilt. Trim the excess batting so that everything is about the same size (it doesn't have to be perfect at this point).
To keep everything in place, baste the quilt together with large safety pins. I spaced the pins about 6-8 inches apart.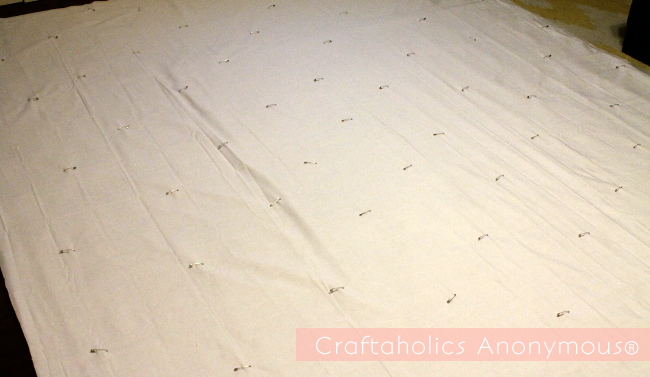 After the quilt sandwich is basted, it's time to get quilting! To make the large quilt easier to work, I recommend rolling both sides of the quilt up.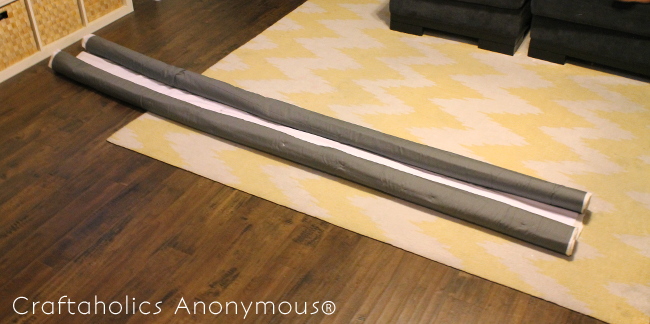 This will make it much easier to get to the middle of the quilt with your sewing machine. (And, yes, you can absolutely quilt a King size quilt on a regular ol' sewing machine! It can get a bit cramped, but it is completely doable. Rolling up the quilt's sides makes it much easier.)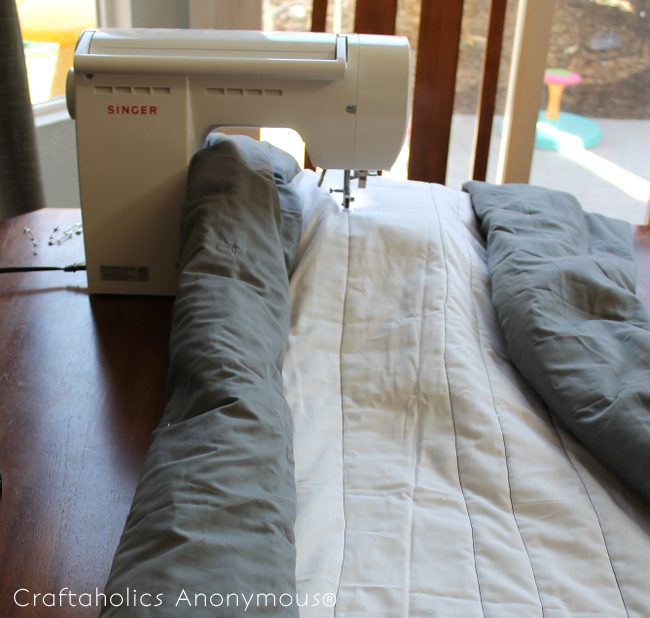 I used contrasting black thread since the quilting was the quilt's main design element. If you want your quilting to be more subtle and textural, try a matching thread.
Start off by quilting horizontal lines across the quilt at various intervals starting in the middle of the quilt. I tried to keep the line as straight as possible, but since I don't mind imperfections, I didn't stress about it. If you are more of a perfectionist, you can use a ruler and chalk or an erasable fabric marker to mark the line first.
After stitching the first line, stitch the rest of the lines working out towards the edges of the quilt and keeping all the lines parallel. The lines in my quilt are spaced from one to six inches apart. I just varied the width as I went, and then went back and filled in any particularly empty looking spots later. Remove the safety pins as you come to them. Pretty soon the entire quilt will be filled up with parallel lines of stitching.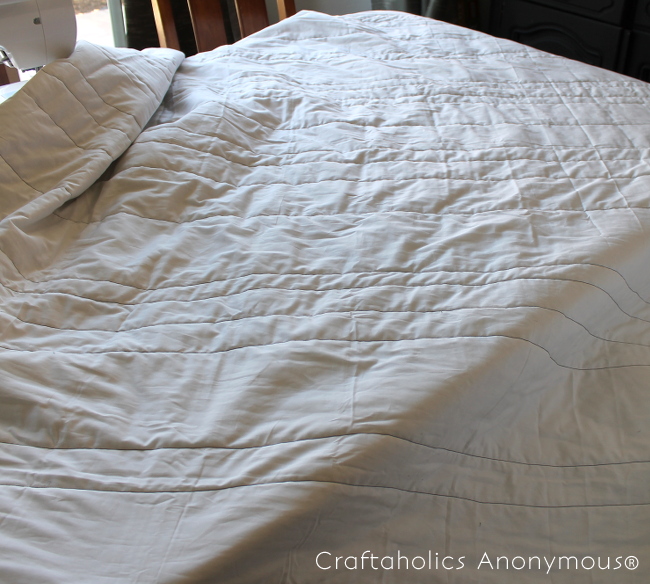 Next, it's time to go back in and fill in all those lines with triangles, crosses, diamonds, and other geometric shapes. This gives the quilt a lot of texture and interest.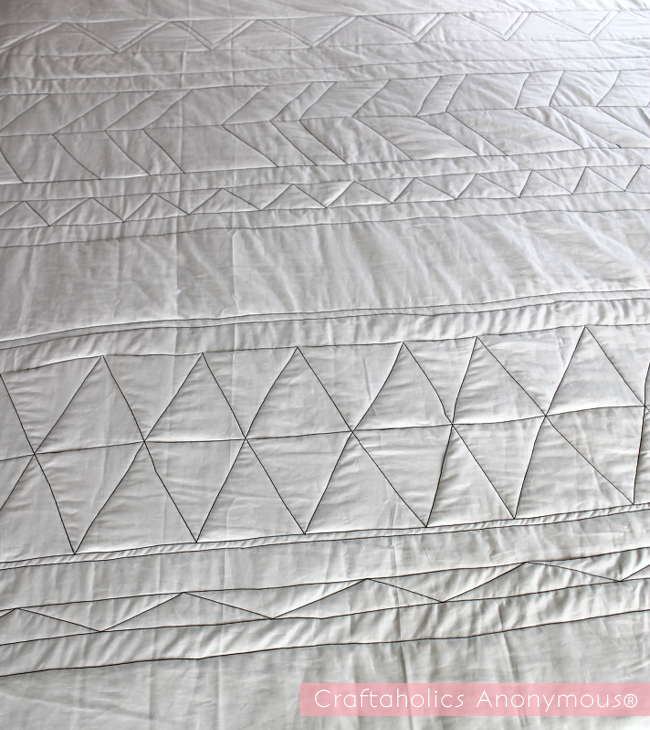 All of these varieties of shapes and patterns are made using the same basic technique of a zig-zag stitch between the horizontal quilting.
Starting at one of the lines of horizontal stitching, stitch at an angle to the next line of stitching.

When you come to the next line of stitching, stop with the needle down in the quilt.
With the needle still down, lift up the foot and turn the quilt so the foot is facing back in the direction you came from.
Continue on to the other line of stitching and repeat.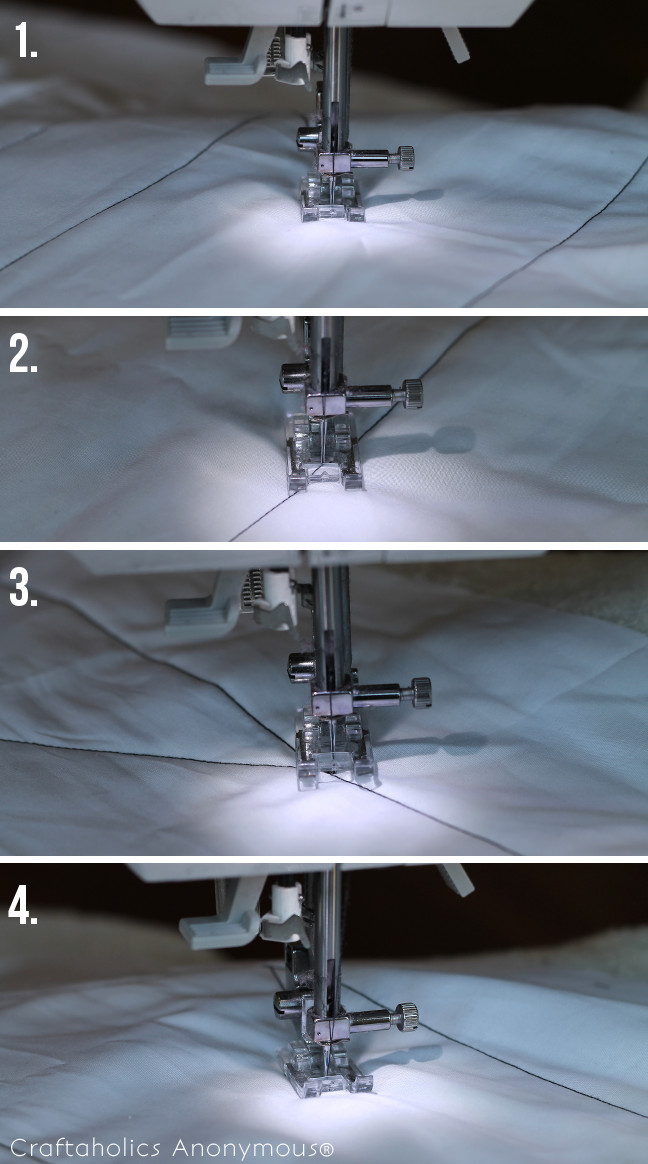 To make the rows of triangles, I repeated this technique twice in opposite directions across three lines of stitching.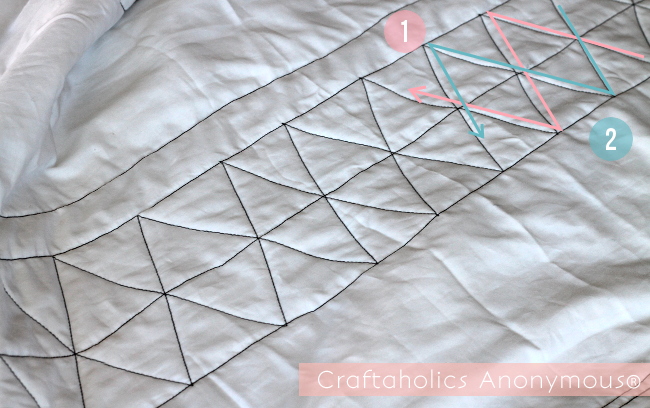 It took some time to finish the quilting, but I am really happy with the way it came out!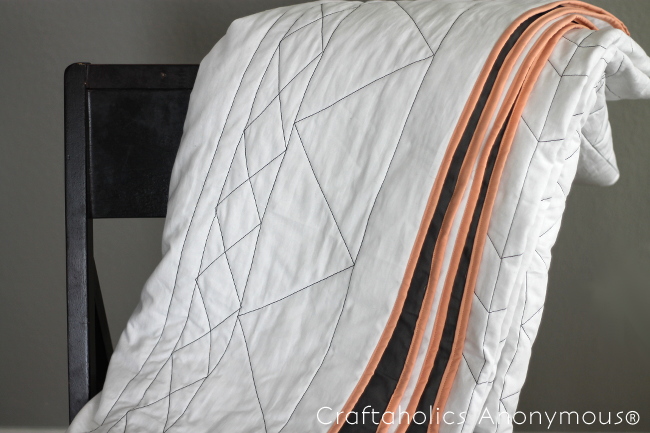 When the quilting is all done, there are only a few more steps to finish off the quilt. I will be back soon with the tutorial for completing your quilt with a pretty contrasting binding!