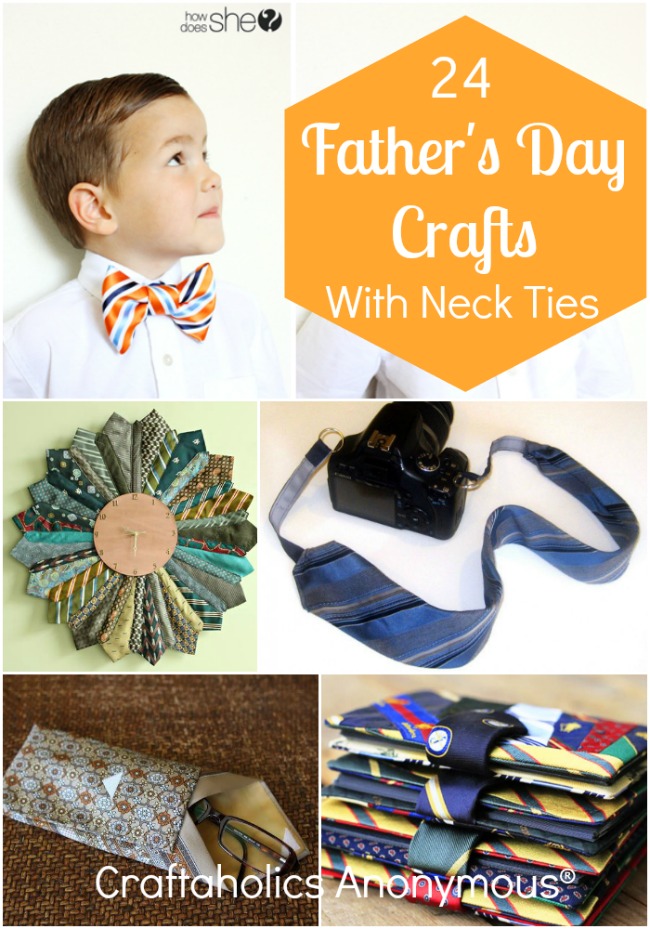 Have old ties? We have some fab necktie crafts ideas for you! With Father Day's coming up in a few weeks, we thought this would be a great time for some Necktie crafts.
Craft ideas for this post were complied from the comments on these two threads on the Craftaholics Anonymous® Facebook Page.
"I have 50-75 neckties of my father's, he passed away several years ago and I couldn't bear getting rid of them. I am looking for a way to use them in some kind of project to honor him." & Cindy asked… "Does anyone have any ideas of what to make out of neckties?" -Carlene
Necktie Crafts for Father's Day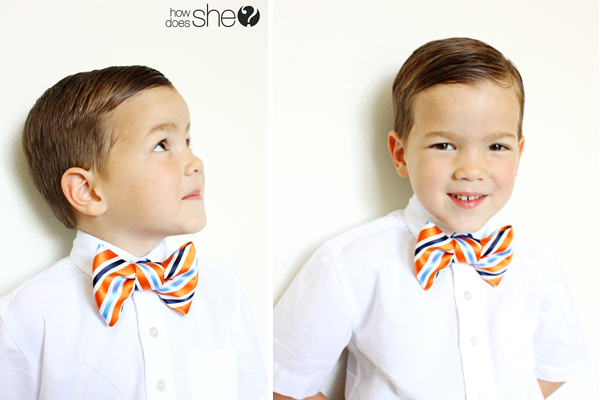 Image from How Does She
1. "I saw a Christmas tree skirt made out of them." – Heather F.
2. "These would be lovely in a quilt and a very lasting keepsake of your father that would be passed down through the years. Free patterns are available on line." – Dremeda C.
3. "Save one. Donate the rest, there are organizations that take business clothes for people who are down on their luck and are trying to get a job. There are a lot of ways to honor someone, you can try to make a craft, which could be nice for you, but frankly destroys some perfectly good stuff – or you can KNOW that because of him you could help a whole lot of people." – Joe C.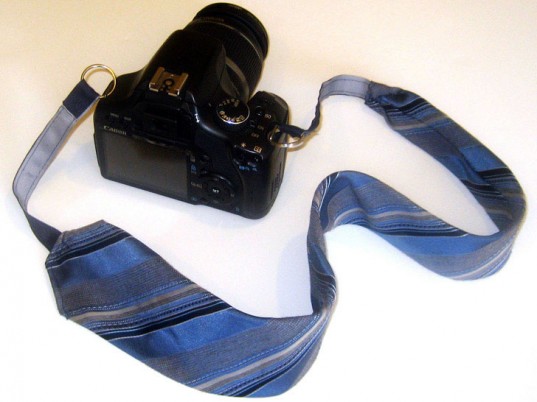 Image from Ecouterre
4. "Arrange them in a pattern or in the order you want and have it framed and hang as you would an art painting." – Janeth H.
5. "Stretch them side by side over a canvas to make a custom wall hanging." – Nancy C.
6. "My sister took our Dad's ties, sewed them together, and made pillows for all 7 of us kids. She made a big button for the middle with a family picture on it!!" – Shari B.
7. "My aunt made Christmas ornaments with my grandpa's ties,they are really nice to see on the tree at Christmas." – Deidre W.
Neck tie Crafts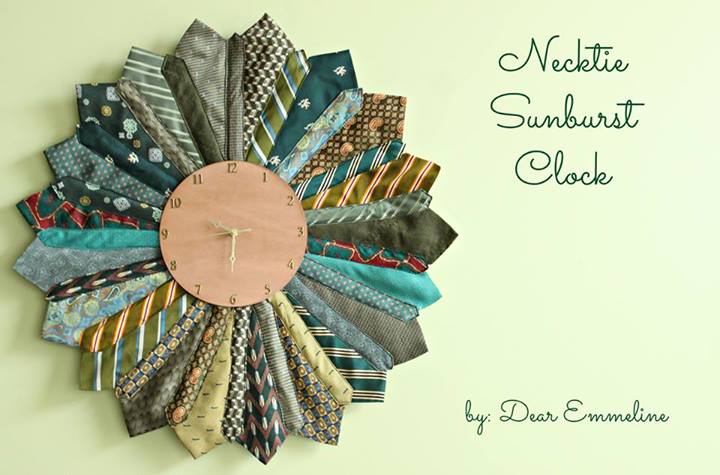 Image from Dear Emmeline
8. "I used several of my dad's ties to cover a lamp shade for an antigue lamp. It turned out great! I gave it to my brother for Christmas." – Penny W.
9. "Make them into a background in a picture frame and put his picture in the middle." – Sherry H.
10. "You could craft them to cover a scrap book or photo book. If there are brother, sisters, grand kids or siblings, they can be made and passed around as a special gift in memory of your dad." – Jenny E.
11. "My mother in law made a chair. She used an antique chair that had a damaged seat. She removed the seat and tight weaved the ties over and under. It was amazing!" – Trina H.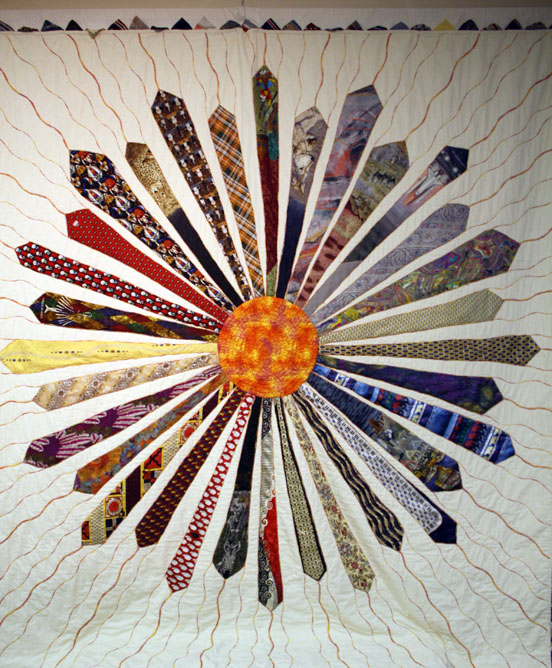 Image from Tumblr
12. "You could use a cork board, weave the ties together on them, then use as a decorative wall hanging." – Jamie G.
13. "My friend made necklaces (roses/with felt backing) for all the granddaughters and and roses for the grandsons to wear to the service. They looked wonderful and it was a special keepsake." – Alaina S.
14. "Make a wreath of them and place them on his grave at special occasions I.e. His birthday, Memorial Day etc we did this with ribbons of my mothers. In between you could put his picture in the middle of the wreath and display it somewhere in your home." – Lisa J.
15. "I used my dads to make stuffed elephants for myself and 7 siblings. My mother was involved in politics for years before we lost her and she collected elephants so I made these to honor both of them." – Ruth S.
16. "Make miniature silk teddy bears for your family. My uncle passed away, and we made them from his old button up shirts. They're no bigger than a beenie baby, I'm sure you could make them from the ties." – Jessica G.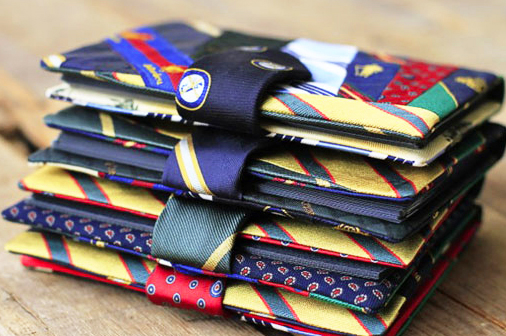 Image from Little Blue Boo
17. "I would hand them down to family members, that you know will appreciate them or make something small for them to cherish and keep enough to make something for yourself!" – Christine G.
18. "I saw a vest made with neckties and it was really cute." – Jane B.
19. "I've seen a family tree done with pieces if neckties and then framed. Very cool!" – Cristina W.
20. "Make a table runner and then on top the table a nice framed pic of him with a couple of really nice candles, one on each side!!" – Sis B.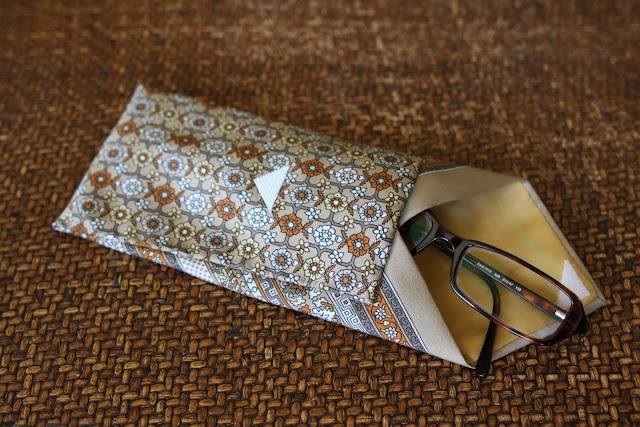 21. "We used to teach our 4th graders how to sew and make pet stuffed snakes out of them. Might sound strange, but they turned out pretty awesome!" – Courtney K.
22. "Sew together and recover a chair and use left overs on matching pillow." – Gayle M.
23. "Google instructions on how to turn them into bow ties that are so popular now!" – Connie H.
24. "Quilt, curtains, kids patchwork (or other pattern) chair cover/cushion cover, decorate lampshade (take the backing off the tie so it's just the pretty part and attach to lampshade). There is tons you can do with neckties oh! Baby doll or small child skirt – if for a small child make to include a Cotton slip so the child doesn't get scratched by any parts of the ties!" – Amber S.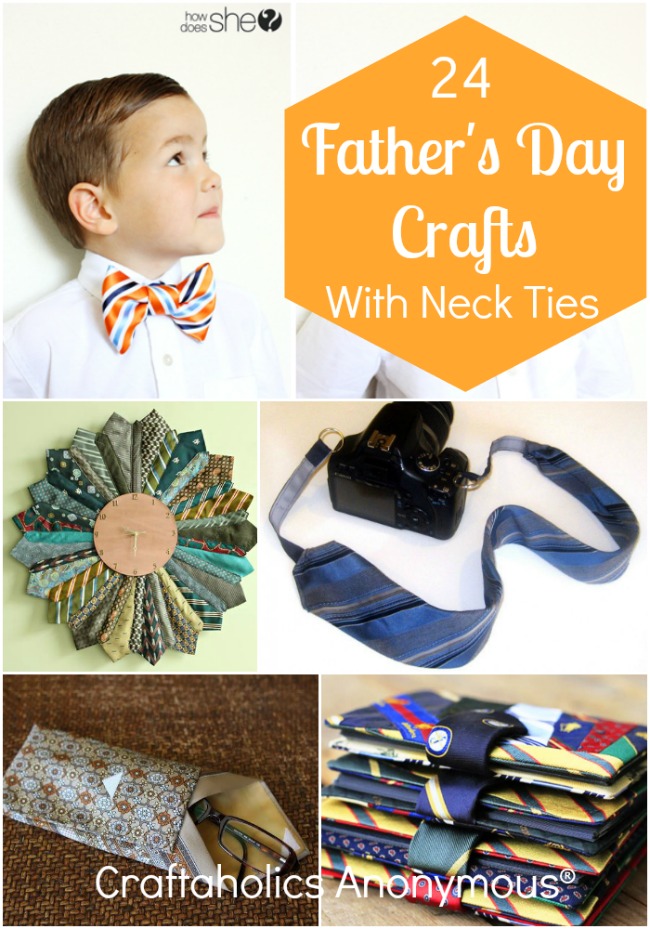 So many clever crafts for old neckties! Thinking I'm going to have to raid the hubster's tie stash….ha!
Looking for more Father's Day craft and gift ideas?

Hi! I'm Linda, the craft addict behind Craftaholics Anonymous®, a craft blog. Crafting is cheaper than therapy, right? When I'm not DIYing something, I can be found taxiing around our 4 crazy kids or working out. Or shoe shopping... because you can never have too many shoes! Happy crafting! ♥