Ever wondered how to make a printable? Its a lot easier than you'd think! Kori, from the Creative Team, is here to share how to create a printable using Photoshop. PLUS she's sharing 2 free printables exclusively for Craftaholics Anonymous® readers. Enjoy! -Linda
I am so excited to share this how-to with you all today, AND the free download that comes with it!!
For the past 12 years, I have illustrating my own graphics to use for party printables, stationery, logos and more. Recently, I opened an online shop to sell my graphics and illustrations – koriclark.com , which led me to think of this post to show you how easy it is to use fun graphics to create your own designs! If you find a few cute graphics and some fun fonts, you can create a number of designs using your regular art program! I usually use Adobe Illustrator for my graphics and illustrations, but I wanted to show you how to use graphics and create items in Adobe Photoshop, as it seems to be a more widely used program.
How to Make a Printable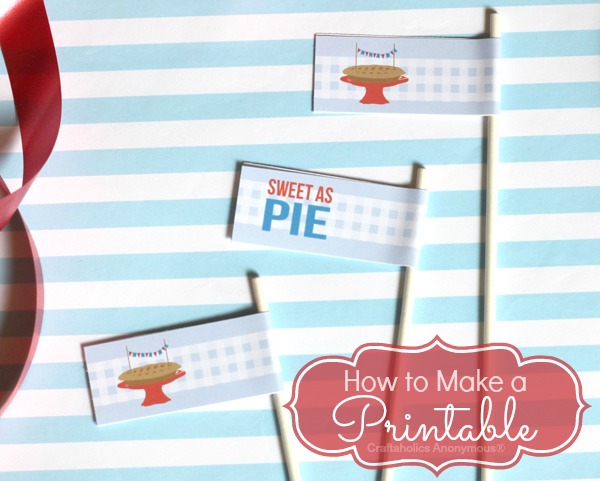 To begin, you will need to download the two graphics we are using (both are free for personal use only for my CA friends!) DOWNLOAD HERE for the "Apple Pie" and DOWNLOAD HERE for the strip of gingham pattern.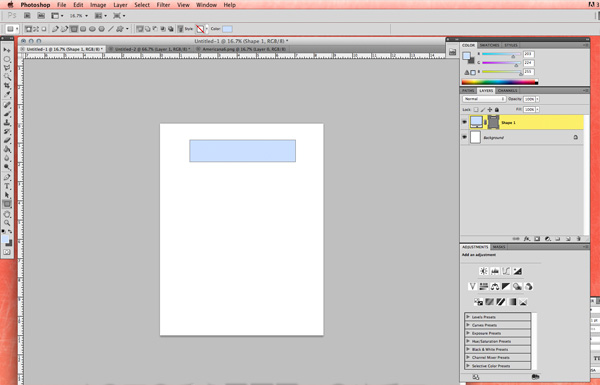 Start by opening a new file and make it 8.5″ x 11″ (set to 300 dpi for print quality) so you can work on the whole page! I used the rectangle tool in the tool pallet and drew one out as you see above.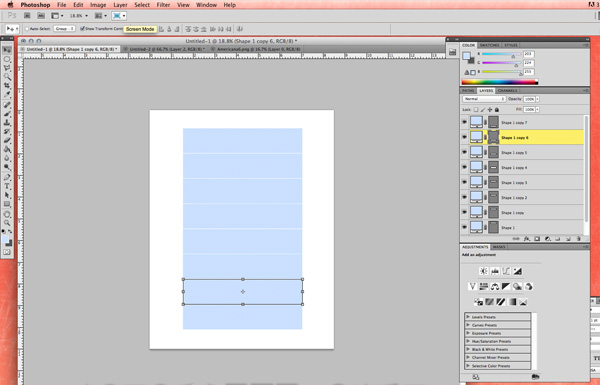 I copied and pasted the same rectangle all the way down the page to create the backgrounds for my flags!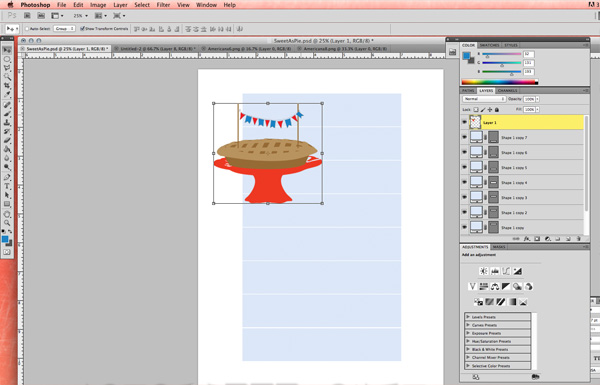 Next, I opened my PNG file of the pie (which has a clear background) and copied and pasted it onto my page. It came across very large, so I grabbed the corner and held the shift key (so it wouldn't loose it's shape) and shrunk the design to fit on one side of my flag.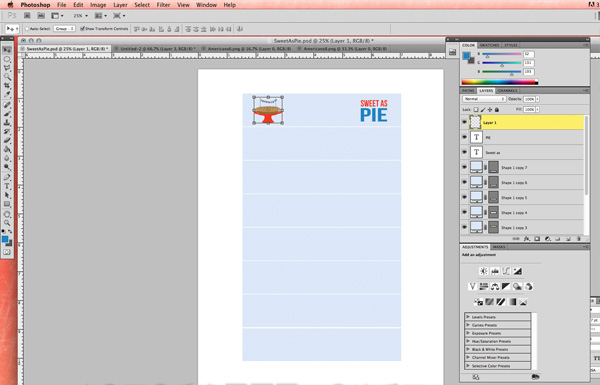 Once I had it the correct size, I added text using the text tool! Play with your fonts to get the look you want!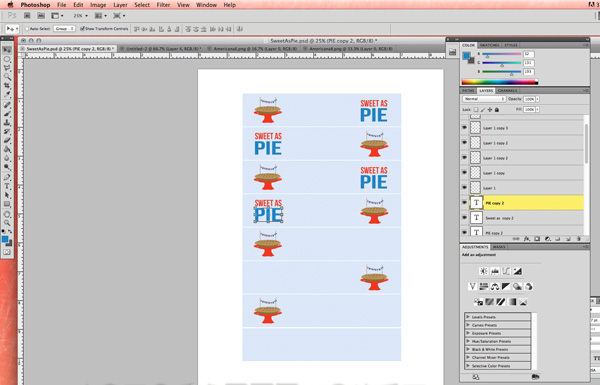 Next, I continued to copy and paste the pie and text onto the other flags as well!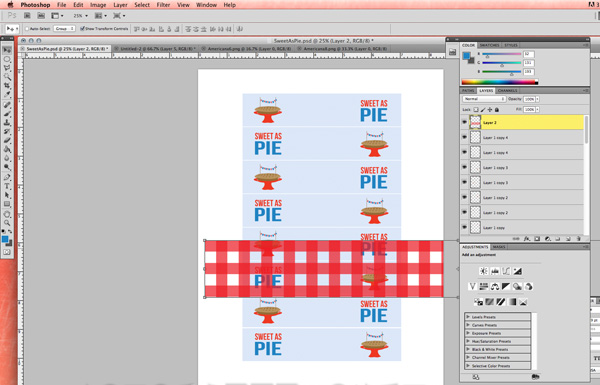 Wanting to add a little more flair, I opened the gingham pattern and copied it to my design.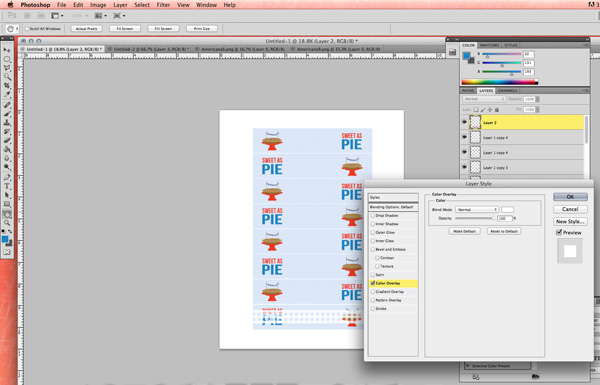 I shrunk it down, and double clicked on the layer to bring up my Layer Style Box so I could change the color to white!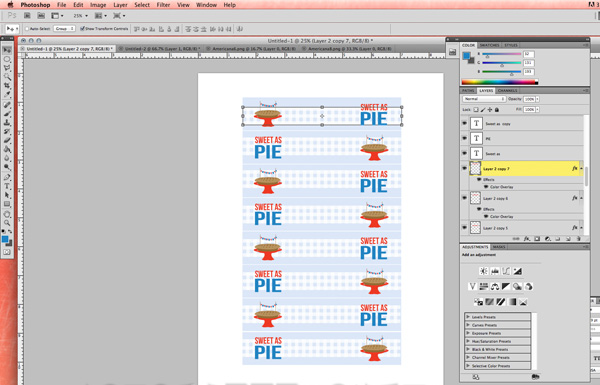 Using the layers, I moved the now white gingham to the back and copied it and pasted it behind each flag design….now we can print!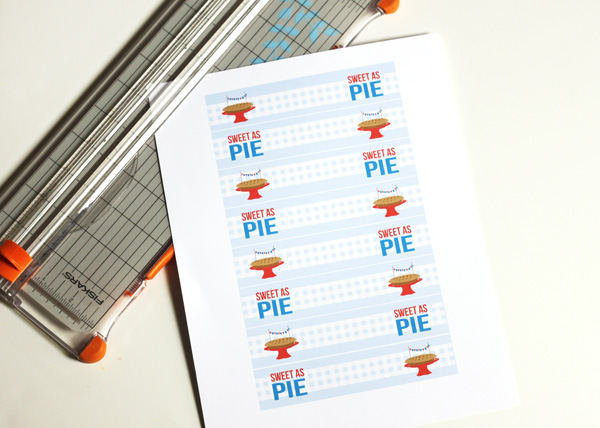 Once I printed the file (on #110 white card stock), I cut each flag out with a straight edge.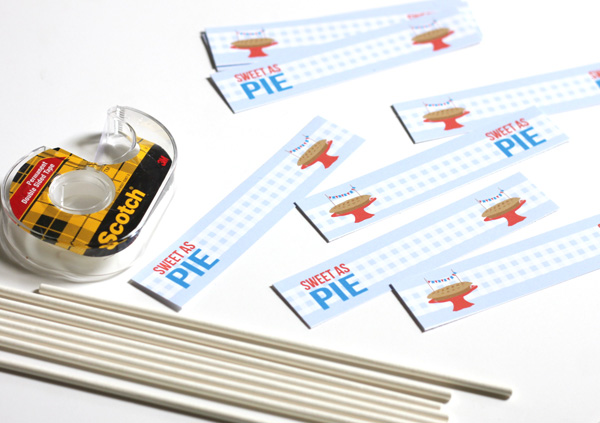 I used lollipop sticks, double sided tape, and my printable flags to create the final product! Just put tape along the back and fold the flag in half around the lollipop stick!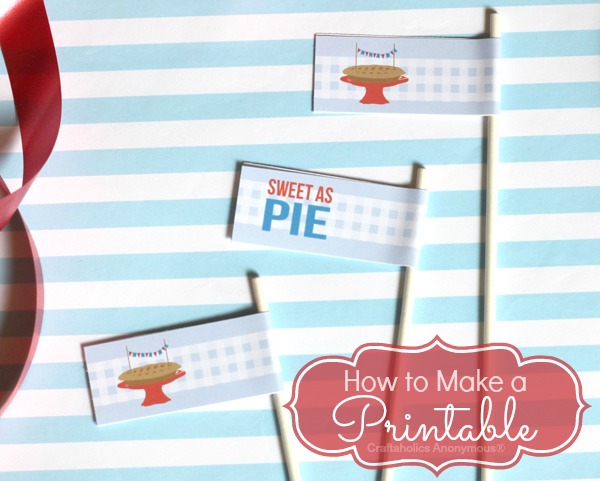 And done! You can use these cuties to stick in that pie (or mini pies), specialty drinks, or even as favor tags!
If you would like the completed cupcake flag design, please just DOWNLOAD HERE!
****Free Printables are for personal use only and may not be sold or claimed as your own design.****
Happy crafting!
Kori
 For more crafty inspiration, follow along on Pinterest! 
Share and Enjoy