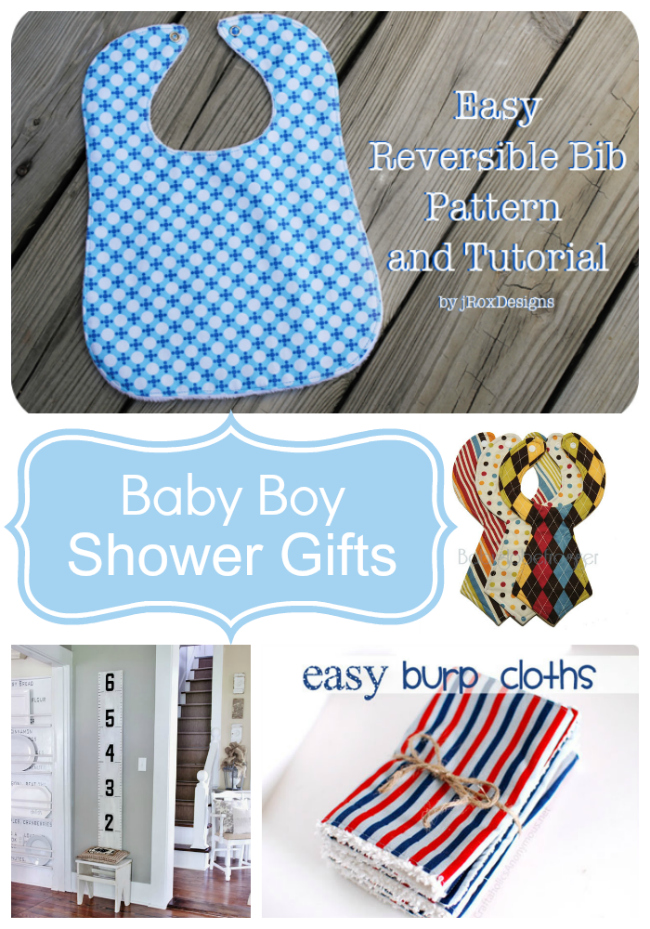 Handmade Baby Boy Shower Gifts
Spring is just around the corner! Its time to start thinking about handmade baby shower gift ideas so you can stock up before the "Baby Shower Rush" starts! Here are some awesome handmade baby boy shower gifts.
Janice has a Q: "I have a baby shower to attend for a new mom who will be having a boy – of course my specialty is little girls in the crafting area. They will be getting everything imaginable and I wanted something really unique I could make for her. Plus my budget won't allow me to buy half the items she is registered for. Any suggestions? Help! TIA!"
Answers taken from this thread on the Craftaholics Anonymous® Facebook Page.
1. "A set of 12 onesies with a number on each one so the mom to be can take a picture of the baby on the same day each month for a year and make a nice collage (just make sure to get the right size onesies – I made that mistake once!) The numbers can be painted or sewn… Very cute!! Maybe you could include a photo frame with 12 slots to put the pictures in or offer to put it together for the first birth gift (I've seen some people use the onesies after that first year and create a block quilt of sorts for the baby – depending on how big you are into sewing – maybe mom to be can even do that part) very cute and it grows with the baby!!" – Renee M.
2. "My favorite gifts when I had a shower for my son were a onesie with a tie and vest sewn on and a burp cloth with his name on it (done in a cute pattern)." – Kelsey S.
3. "Well, you did say boy and unique, so sew, knit or crochet a pee-pee teepee (more than one will be needed). Google it or go to Ravelry.com to see what I'm talking about." – Maureen M.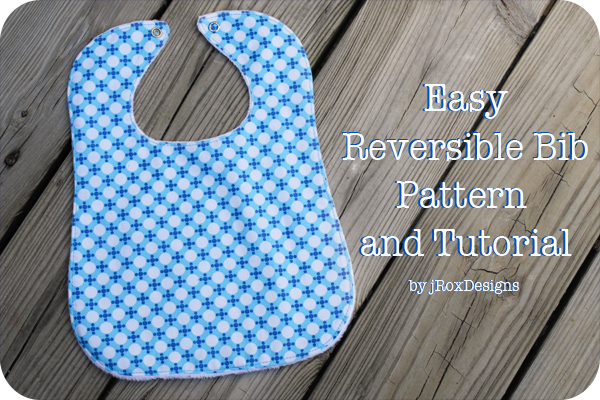 Click here for Reversible Bib Pattern.
4. "As a mom who has had a recent shower GET HER WHAT SHE REGISTERED FOR! make a little something to go with the inexpensive item that you buy. It is sooooo appreciated and so much more useful." – Tiffany C.
5. "Michaels or JoAnn's has great 40-50% off coupons online or in your Sunday newspaper. Use one of those coupons and purchase a shadow-box. Max $15-20. Every time I have gifted one they were the hit of the party. Well after the baby is born return to help Mom create and hang it up. Insert hospital cap, wrist bracelet, crib tag, binky, outfit, photo, lock of hair, etc." – Jennifer C.
6. "Soft stacking blocks, fabric rattle ball. There are lots of patterns available these days for really cute soft toys – elephants, giraffes, dogs. Embellished onsies are always cute too." – Skye P.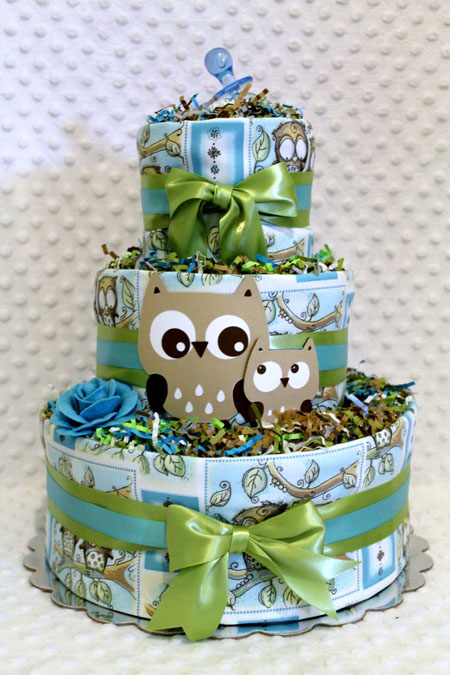 image from Diana's Diaper Cakes
7. "Onesie with a little neck tie sewn on. They have white onesies at walmart and You can use scrap material for the tie. They're so cute!!" – Ann R.
8. "I made custom mod podged wooden blocks with pics of mom & dad, etc on them for a baby shower before." – Megan H.
9. "Diaper Cakes are really cute but not inexpensive to make. I like the idea of sewing up receiving blankets with 2 yards of flannel. They are bigger than the ones you buy in the store. You can one side with a theme and the other solid or whatever you like. JoAnns has a great variety and you can always find a coupon." – Gweny D.
10. "What about a scrapbook where the new mom can add her pictures as the baby grows? You can have all the embellishments and areas where she can write in information about the baby. Tired moms don't have time to scrapbook but would love a memory book of the child. Along that same line, you could give her a handmade gift certificate saying that she can send you a batch of pictures and you will make an album for her using the pictures. Cool gift!" – Pat D.
11. "Better than a diaper cake do the diaper MOTORCYCLE! You can put a stuffed animal on there as the rider!" – Lynda L.
12. "I love the look of clustered embroidery hoops with different fabric in each one. Maybe if you find out her nursery colors or theme you can make a few of those." – Kendra H.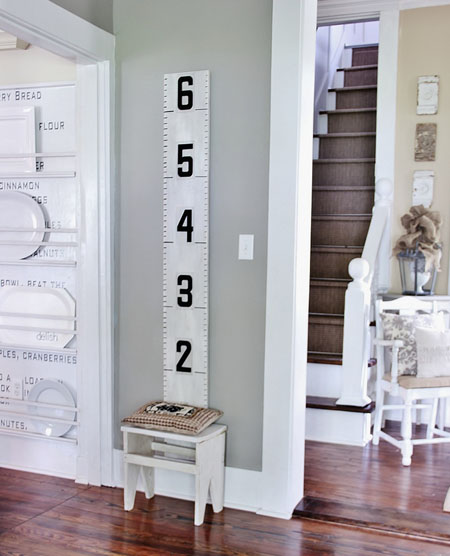 image from Thistlewood Farms
13. "Make a ruler growth chart." – Chacoy A.
14. "Someone earlier was talking about ideas for a shadowbox. You could do that. Find scrapbook paper in a matching theme and mount the invitation in front of it. Then add small gifts or shower treats and then tell her she can use it for her announcement, hospital bracelet, etc." – Jeanine B.
15. "I made subway art using words to describe a baby, the baby's name, and clip art corresponding with the nursery theme for a friend. I printed on iridescent cardstock and spray painted a frame to match. Cost maybe $10 when all was said and done. She said it was her favorite gift of all. She loved it! Inexpensive cost wise and something she loved." – Jenny R.
16. "I made a feeding and changing schedule with a Large Picture Frame. Using my cricut I cut out the letters to his name, used baby paper to match the room's theme and put the page in the picture frame. I bought a dry erase marker and connected it with a ribbon to the frame. Use your creativity and it will turn our adorable!" – Melissa F.
17. "A diaper cake is always a winner. Most of the toys and things can be purchased at the dollar store making it less expensive. You can also go on Pinterest and search for crafted baby boy gifts. Good Luck!" – Becky J.
18. "Blankets are always easy and affordable and you can sew up some burp cloths to match! You also can't go wrong with a pack of diapers!!" – Shauna S.
19. "Target has these pink or blue buckets. It's in the furniture/room aisle. I usually get those and fill it with all the necessities. Diapers, rash cream, body wash, lotion, q-tips, wipes, thermometer, infant ibuprofen, bottles, teethers, teething tablets, diaper bags (dollar store), toy, onesies, everything a first time mom needs. It's a thoughtful gift." Sally C.
20. "Homemade burp cloths." – Laurie M.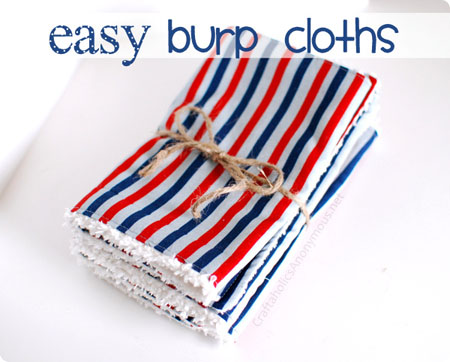 Click here for an Easy Burp Cloth Tutorial.
21. "Decorate some blank 6 or 12 month tees using freezer paper stencils. It's nice to get some bigger clothes too. Or a soft ball or cube made by you and some remnant fleece." – Danielle W.
22. "A diaper cake! They are amazing and useful plus you can layer and use clothes or towels and wash cloths for decorations!" – Amber P.
23. "My friend just had a boy. I did embellished burp clothes, pacifier leash, towel, and taggies blanket. I did it in fabrics to match decor. Then I did small items from registry to compliment like books, wash cloths, etc." – Kelly D.
24. "Baby bow ties (easy to make!), or a birthday set. I like to give birthday sets that can be reused every year, personalized plate, cup, banner, hat/pin, chair cover. Something that makes the birthday little one feel special!" – Leen S.
25. "I really like fabric banners that can be used for pictures or to decorate the bassinet in the hospital. Also a swaddle blanket (1 yard of cotton muslin) you can dye to whatever color her other stuff is or a sewn blanket with and initial if they have a name picked out. Diapers are always a good choice." – Jessica M.
26. "A scrap book kit that you can put together for her. Then all she has to do is add the pictures! I had this for my first born as a gift and it was a very cute and thoughtful idea!" – Mindy W.
27. Crocheted Converse booties. They are adorable. I got some pre-made off Etsy but you can buy the PDF pattern and make yourself if you can crochet." – Kellie G.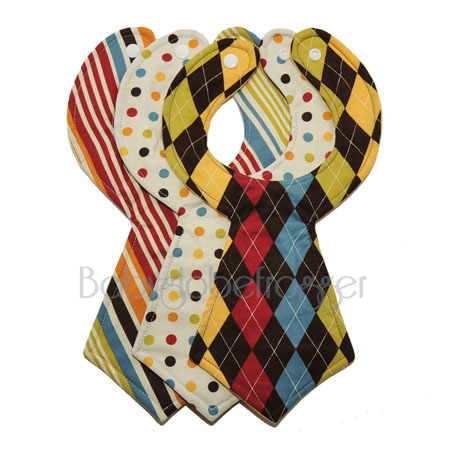 image from Baby Globe Frogger
28. "A 3-tiered cake made out of burp cloths decorated with a stuffed animal cake topper and rattles or something coming up from the tiers? My cousin made me something similar for my bridal shower with bath towels, a loofa cake topper and body brushes. It was by far the most creative gift I received and I remember it vividly over a year later." – Aly C.
29. "A banner with his name on individual "flags" or a baby name board for after his birth…. "On a sunny morning in May John Doe was born weighing 8 lbs 2 oz"….you get the idea. I've seen these done both painted or computer generated and framed with the nursery colors and fun fonts and angels." – Sylvia C.
30. "If you are close to the mom-to-be, make her a coupon book for a dinner, babysitting, doing her laundry, etc. I'm sure she'd appreciate the help!" – Patti M.
31. "Baby sign language flash cards on a key ring and carabiner. You could color code the words; one color for people, another for things, another color for verbs. It boosts the IQ and makes life less frustrating for everybody, plus I haven't found anything like it on the market. Oh, definitely laminate." – Leanne N.
32. "I just made my nephew a hooded towel and had a friend embroider his initial onto it. cute, simple, easy, cheap, and useful!" – Annie C.
33. "I just made this for my grandson and nephew's wife. I got a picture frame and with scrapbook paper made the boys birth information on it – their name, date, time, pounds, inches. I used safari animals for my grandson and teddy bears for great nephew." – Pam B.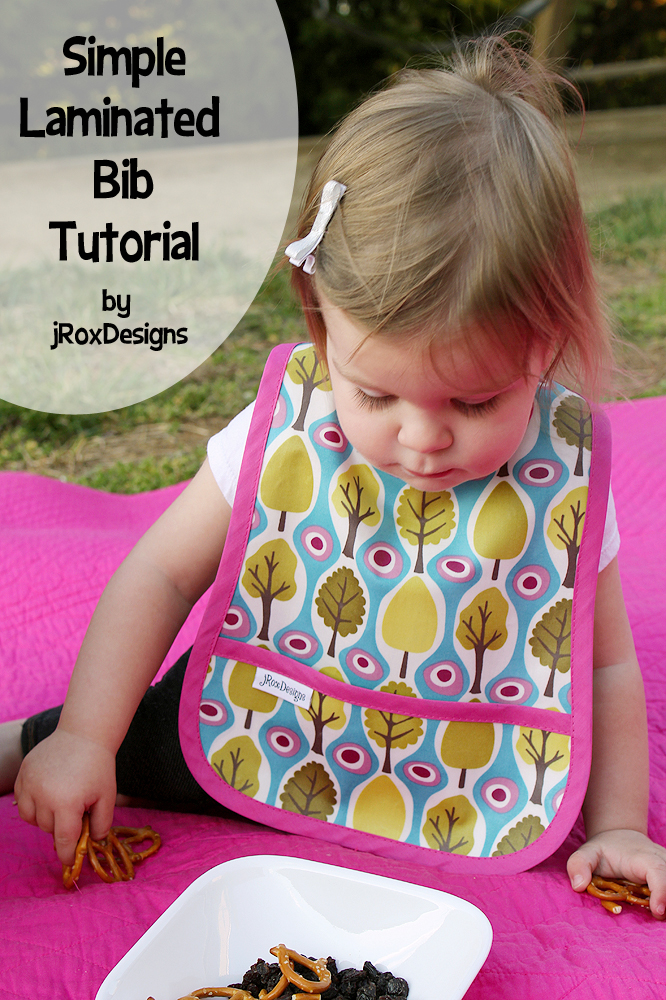 Click here for Laminate bib tutorial.
34. "If you sew, how about a hooded towel with pictures sewn on the back (train, car, trucks etc.) for a boy. Another idea is a cute frame with a gift cert for a photo place (JC Penny, Picture People, Sears, etc). Maybe a mod podge box, bucket, bin, basket, etc to fit near the changing table, put power, diaper rash cream, a small toy to keep the baby busy while changing the diapers." – Ann Z.
35. "I like to make decor for the babies room. I buy white wooden letters at Michaels to spell out the babies name. Then I buy scrapbook paper to match the nursery. Mod podge the paper to the letters, use sandpaper to get rid of excess paper and then mod podge over top to seal." – Kendra P.
36. "Onesies, make a hat either crochet, knit or fleece and put super hero or sports logo on front, burp cloths, handmade washcloths with baby shampoo and lotion, or lollipop washcloths." – Jennifer M.
37. "A premade scrapbook with premade labels to put in for all the firsts." – Barb M.
Lots of fantastic handmade baby shower gift ideas! Happy baby crafting!
What handmade gifts do you make for Baby Showers? Handmade baby boy gift ideas?
New here? Follow on along on social media to get daily craft inspiration and tutorials! Oh, and lots of awesome giveaways :)
Pinterest // Facebook // Twitter // Instagram
Disclosure: Affiliate links are used in this post.
Latest posts by Craftaholics Anonymous (see all)