If you need a good bib pattern, you are going to love this one! Amber, from the Creative Team, shares how to make her simple, yet very effective laminated bibs in both Toddler AND Infant sizes. Don't miss this fantastic tutorial! I need to make these for baby #3! -Linda
Bib Pattern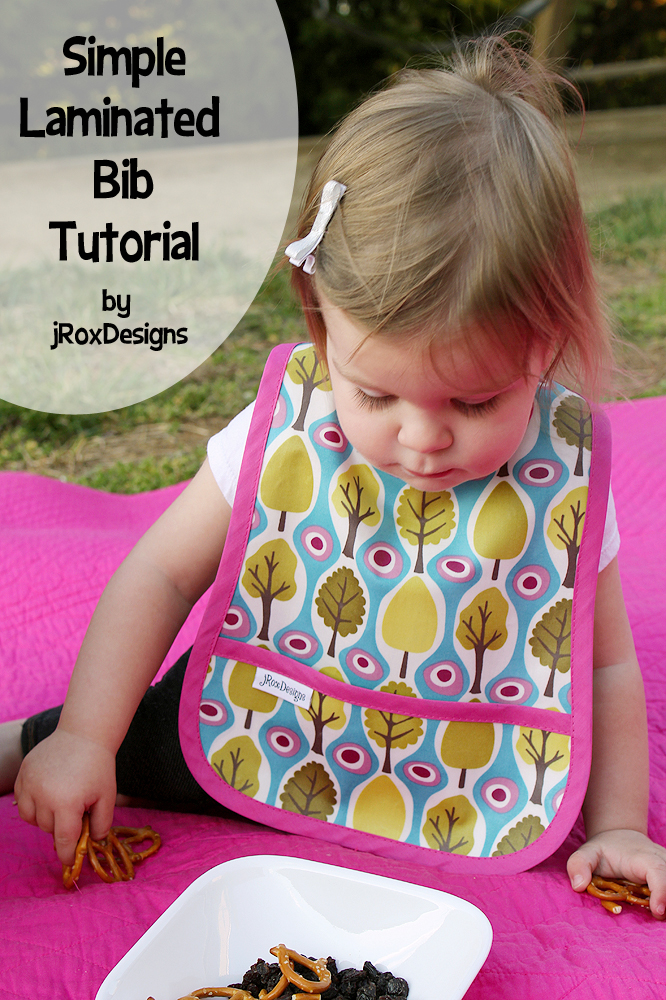 Hey y'all Amber here! I don't know about you but I seem to have so many new babies to go shopping for right now!  Instead of going the traditional route and picking something off of a registry why don't you try your hand at making a simple laminated pocket bib that you know will be appreciated and used over and over!  Or if you are a first time mommy-to-be, Congratulations!  Coming from a mom of two beautiful children I know if I have used my laminated bibs more than any other gift I received!  Think about it by the time your little one has graduated to solid foods we are talking three meals a day and snacks in-between.  Phew!  Life can get messy!  Trust me these guys can be a life saver not only by keeping all those adorable clothes nice and clean but that means less laundry for you!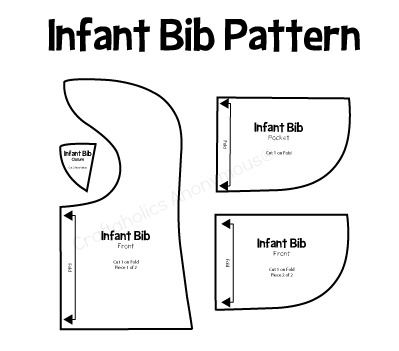 Download Infant Bib Pattern here.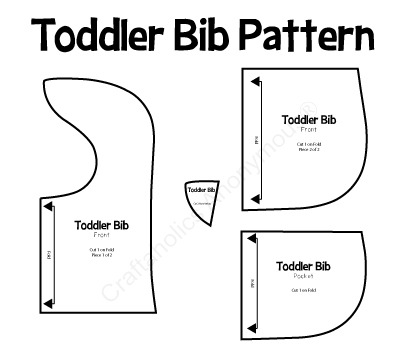 Download Toddler Bib Pattern here.
Supplies
18″x 11″ cut of Laminated or Oilcloth Fabric (You can make two bibs with a 18″x22″ Fat Quarter!)
2″ x 1.5″ Velcro
2 yards of .25″ wide Double Fold Bias Tape (or .5″ wide Double Wide Fold Bias Tape)
Coordinating All Purpose Thread for Top Stitching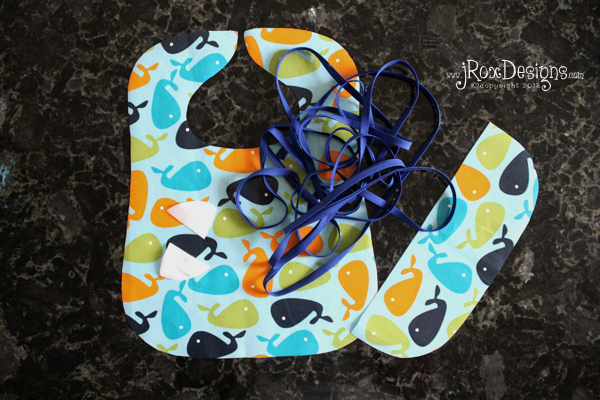 After you have cut our your pocket bib pattern you will need to cut out your bib font and pocket from your fabric.  For this project I chose to use a laminated cotton because they are so easy to wipe right up after messy eaters!  You can also use this pattern with super soft cotton for a droller bib without the pocket if you would like too!  One of the only drawbacks of using laminated fabrics is they tend to crease easily.  So you will notice in the pattern that it indicates to place your pattern on a fold to cut.  Rather than folding my laminated cotton I trace the first side around all the sides except the fold line.  Instead of tracing the fold line I make to small vertical tick marks on the top and bottom of the center line and then flip the pattern over onto the back to complete the pattern.  Or if you would like you can print off two of each pattern and tape the pieces together to make full size pattern pieces of the front and pocket pieces!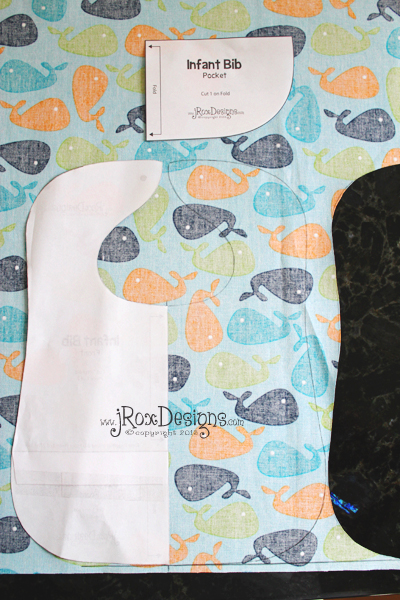 With this pattern you can choose from any type of top closure that you would like.  You can make a Velcro closure, like I will show you here, or you can use a snap or even extend your bias tape at the ends to make a tie closure.  It's up to you!  I love options!
If you are choosing a Velcro closure I would suggest cutting and gluing your Velcro first.  Then while you are working on the pocket it will give you time for the glue to dry.  Since you are only sewing around two out of the three sides of the Velcro I would highly suggest permanently adhearing the velcro to the fabric.  Velcro actually makes an adheasive glue specifically for their products that you can find at almost any local craft store.  Remember, you want to say away from using anything that requires heat for bonding because it can melt the laminate coating of your fabric.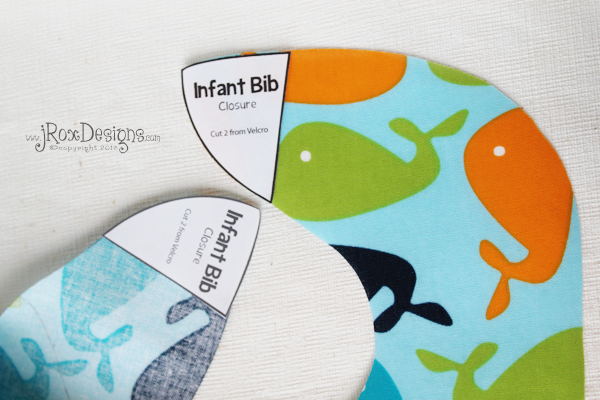 When you are cutting your Velcro remember that one side will go on the top of the fabric while the other side goes on the bottom of the fabric.  How you would like to do it is again completely up to your preference.  I personally like to put the loop side on the top of the right side and the hooks on the bottom of the left side.  This means that when I close the bib the left side will be on the top.  Again feel free to do whichever you like best!  (I'm also a firm believer of "Use what you have!" so if you notice I actually only had thin long strips of Velcro on hand so I just cut two pieces and placed them side-by-side to create my closures!)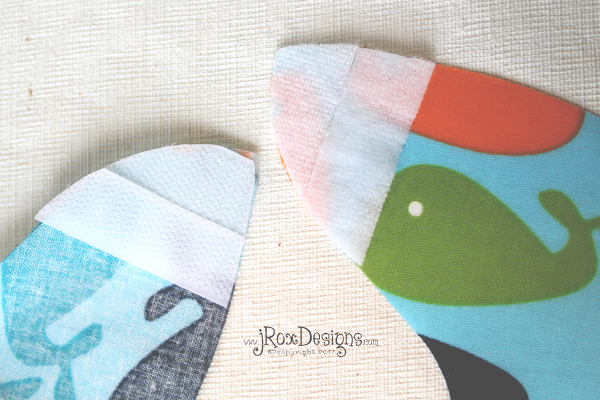 We will start off by sewing the pocket by placing the bias tape across the top flat edge of your pocket.  Leave a small amount at the starting edge of your pocket sew straight across with a long top stitich.  When you come to the end of your pocket don't forget to back stitich and then trip any excess off of each end.  With laminate and oilcloth the fabric is a bit thicker and I have found over time that when I use pins to hold the tape in place it tends to bunch up the fabric so that it doesn't sit flat.  Then one day after looking around on my desk it hit me….binder clips!  They clip your fabric right in place nice and tight, they don't bunch up or leave holes behind.  They are quick to take on and quick to take off!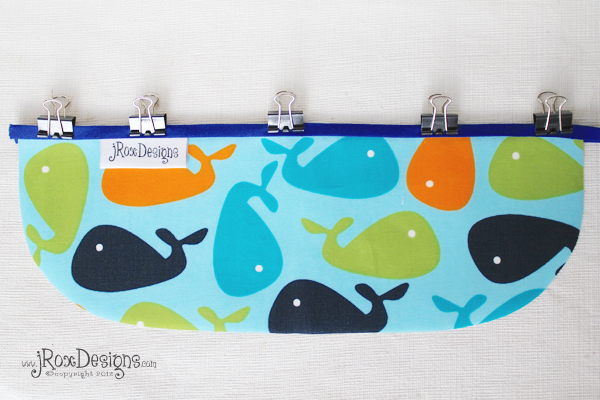 Just like regular pins make sure to slowly take them out one by one as you sew along.  One quick line of top stitching and your pocket is done!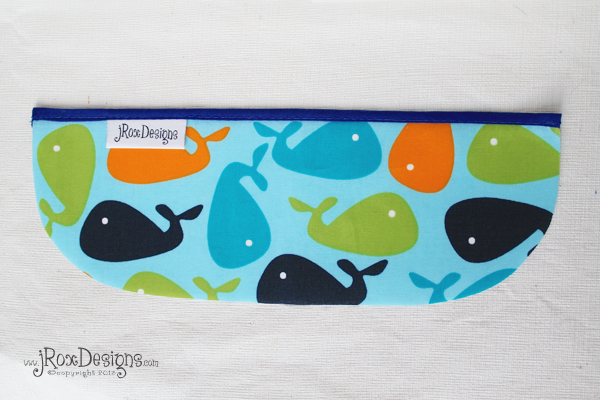 So far so easy right?  Next line up your pocket with the main bib piece and clip in place.  I like to start and stop by bias tape on the bottom of the pocket.  If you would like to hide it in a better place start your bias tape on top of the loop side of your closure and then it will be covered when the bib is closed.  I like to do it on the bottom of the bib because it can get a bit tricky to start and stop around sharp corners.  If you take a couple extra minutes you can fold your tape over on top of itself without having to sew the ends together and it can still look really nice.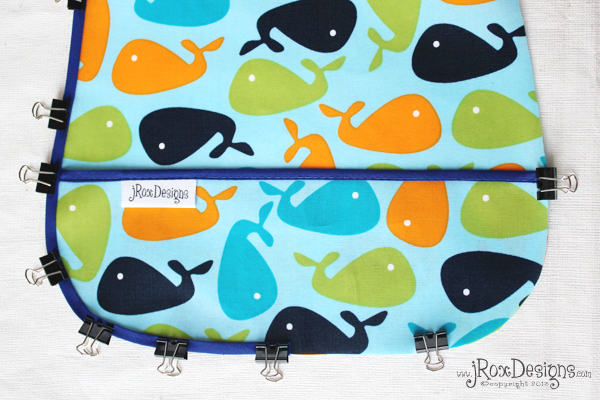 When you are top stitching make sure to reinforce the edge where the pocket meets the bib front by backstitching.  This will insure that it can stand up to lots of use over the years!  The trickiest part of this entire project is sewing around the inside of the neck because the curves are so tight.  I like a bib that is a bit snugger around the neck so that it saves any dribbles from going behind the bib and getting all over your little ones cute clothes.  Again just slow down and take your time and it will pay off.  When I make my bibs I usually do one stitch at a time and slowly turn in between each stitch to make sure I'm staying as close to the edge of the tape as possible.  If you don't get it right the first time…it's okay!  Just go back and try again!  You can do it!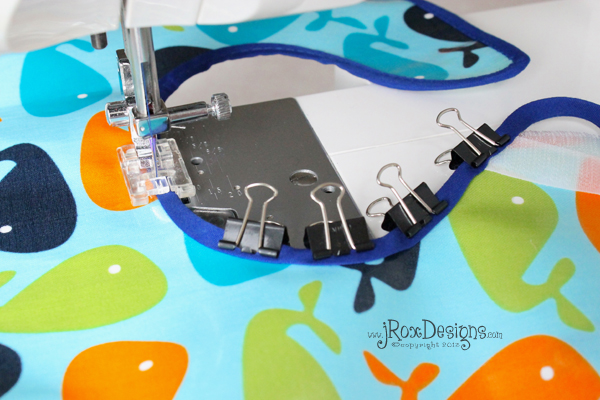 Once you get to where you started the bias tape simply fold it over and make sure to backstitch!  Now you are DONE!  Yeah!!  Remember how I was saying that this pattern is great because you can customize it however you would like?  Well think about it.  You can do it
Without a Pocket
Simply add your Velcro and go straight to sewing on your bias tape!
Snap Button Closure
Forget about cutting those Velcro pieces and use the dot at the top of your pattern as a guide as to where to place your snap!
Double Sided
Print off the original patterns for this project and add in your preferred seam allowance around the outside of the entire main front piece.  Cut out two pieces of fabric one for the front and one for the back.  Place the two fronts together and begin sewing them together using the seam allowance you chose at the bottom center of your bib.  Sew all the way around your piece leaving a small hole to turn your fabric right side out.  Turn and press.  Topstitch around the entire bib.  Then choose your closure to finish it off!
Free Bib Pattern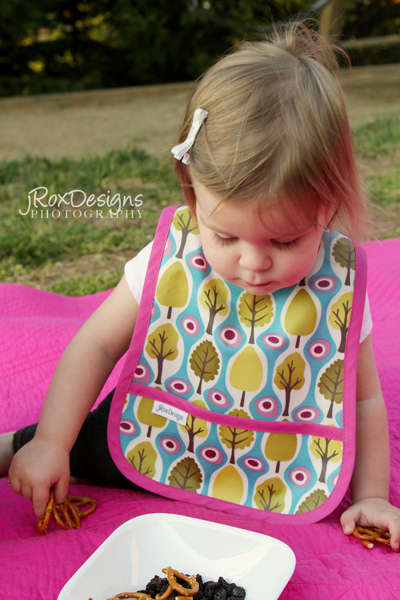 Don't have time to sew?  Check out finished custom bibs in my Etsy shop here!
 Happy crafting!
Amber
 Looking for a fun way to announce a pregnancy? Click here for a free pregnancy reveal printable!