Looking for an awesome Bib Pattern? Amber, from the Creative Team is sharing her EASY and REVERSIBLE bib pattern today! This pattern comes in both toddler and infant sizes. Amber does an awesome job explaining every step. Enjoy! -Linda
Bib Pattern: Easy and Reversible!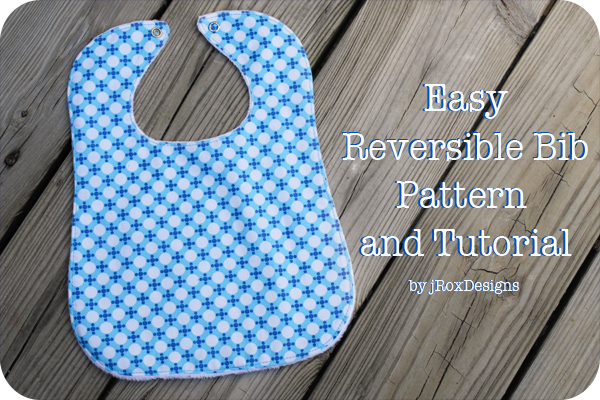 Hey everyone!  I hope you guys all enjoyed the pocket bib tutorial last month because I'm back with a new pattern today for you to try out!  Last time I showed you how to sew a laminated cotton bib with a pocket and today I'm going to show you how to sew a reversible bib.  The shape is still the same as the last pattern but I've added on a seam allowance so even if you downloaded the infant and toddler pocket bib patterns from last time you will want to download the new patterns as well!  
Bib Pattern Downloads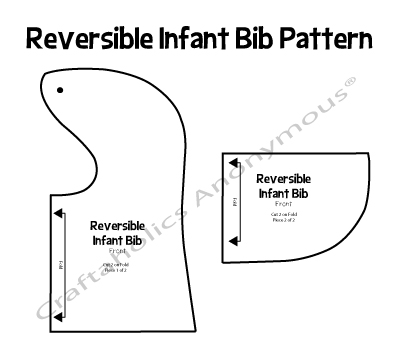 Download Infant Reversible Bib Pattern Here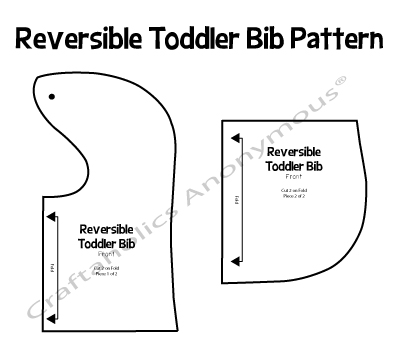 Download Toddler Reversible Bib Pattern Here
Baby Bib Tutorial
Supplies:
(2) 18″x 11″ cuts of your favorite fabrics
(1) Snap Fastener (For this tutorial I used a size 15 which is 3/8″ or 9mm)
All Purpose Thread
Coordinating All Purpose Thread for Top Stitching
Prep Your Pattern and Fabric
First things first, you will want to pick out the fabrics you would like to use for this project.  When I sew infant bibs I tend to use a fun print on the front and then either an absorbent terry cloth or a super soft minky on the reverse side.  For my toddler bibs they aren't usually as messy so I can get away with doubling up the fun with prints on both sides!  It is all up to you!
After you have downloaded the the pattern of your choice be sure to cut each piece out and tape together where it is noted on the pattern.  Then trace out your bib pattern onto your fabric and cut it out.  Place your face (front) sides together so the backside of your fabrics are what you see on the outside.  Because we are working on what is going to be the inside of the bib we need to leave a gap where we can turn the fabrics right side out.  I usually like to find the straightest stretch of my fabric staying far away from any curves and start there.  By having the opening on a straight edge it makes it is less noticeable when you top stitch the opening closed and makes a smoother seam.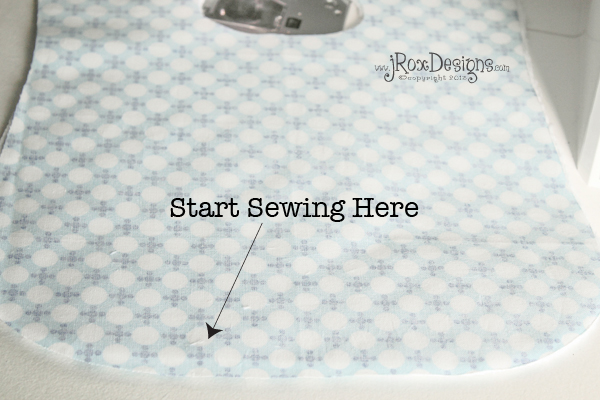 The pattern we are using has a 1/2″ seam allowance.  I have always hated trying to follow the measuring guides on my sewing machine so I actually adjust my  needle left so that the space between the needle and the edge of my presser foot is 1/2″ which is my seam allowance!  This will not work for everyone since not all sewing machines have a feature where you can slightly adjust your needle position but if yours does it is very helpful!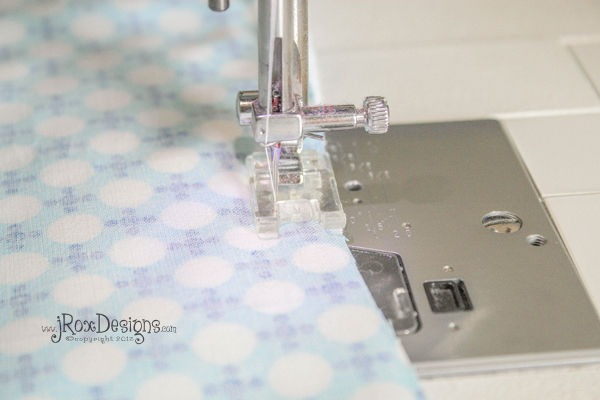 Sew Your Seam
Once you shave sewn almost all the way around stop before you get to your starting point and make sure to backstitch.  For this pattern you can give yourself a 1-2″ gap.  This gap is where you will turn your fabric right side out.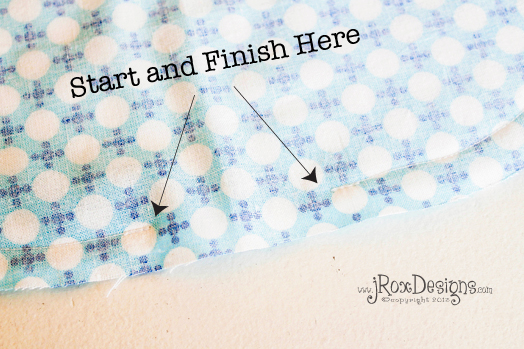 Trim and Clip Seam Allowance
Before you turn your fabric you will want to remove some of the excess bulk from around your seams.  By doing this your seams will be smooth and lay flat once you have turned your bib right side out.
If you have inner curves, like the neckline in this case, they should be cliped into the seam allowance at even intervals ending about 1/8″ from the stitching.  If your curve is shallow you can clip farther apart while if your curve is deeper you should make your clips closer together.
On this pattern we also have outer curves (mainly the bottom edges) that also need to be clipped.  To clip outer curved seams you will need to cut small "v" like shapes.  Again just like your inner curves they should end about 1/8″  from the stitching and should be clipped farther apart for shallow curves and closer together for deeper curves.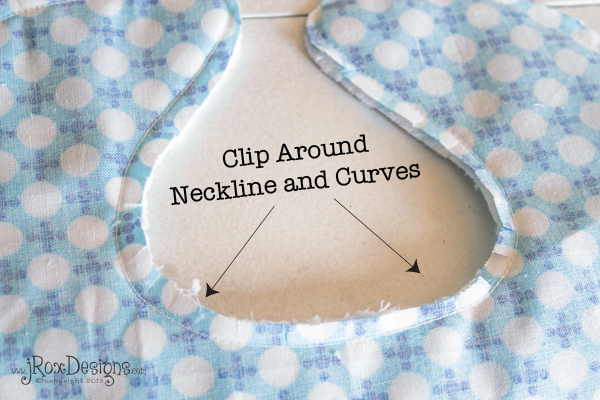 Turn Bib Right Side Out
Now its time to turn your bib right side out!  Remember that little gap at the bottom you left?  You want to reach inside and pinch one of the layers of fabric and pull it out through your opening.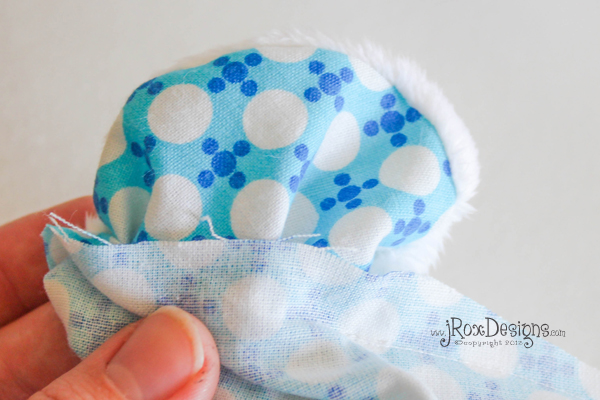 Don't forget while you are pulling everything right side out that you can also reach in and push against your seams to get help them to lay flat.  Now your bib should be all closed up except for the one small opening.  Looking good so far right?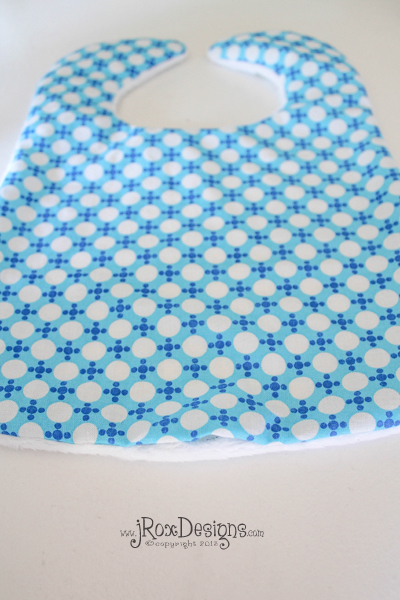 Iron
Now grab your iron to press out your seams.  I like to start in the middle of the bib and slowly push my way out toward the edges.  This will push the seams out so they are nice and flat.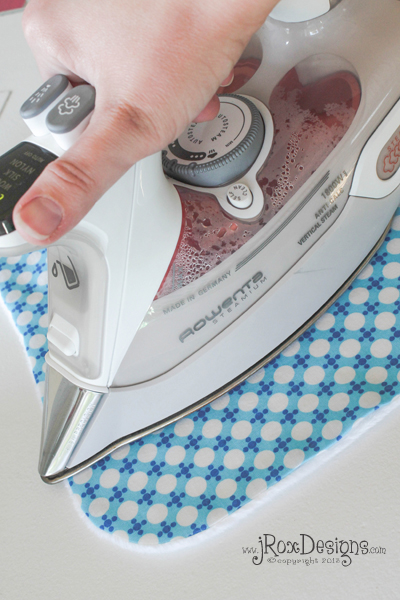 Topstitch
Once your bib is pressed its time to topstitch!  A topstitch is a stitch that is sewn parallel to the edge of your fabric.  Depending on your project a topstitch can either be decorative or functional.  In our case it is actually both.  We are functionally closing off the opening at the bottom we used to turn the bib right side out as well as stitching over top of our seam allowance so that the seams don't "sink" back in when the bib is washed.  Our topstitch is also decorative because it gives your bib a nice polished look!
Set your machine stitch length to a slightly longer length than normal and try to find a nice coordinating color thread to blend in with your fabric.  I actually like to sew with a length slightly less than your longest length setting on your machine.  By doing this I've found you have more control over your fabric because the longer your stitch length the more the fabric has to move forward with each stitch.  Because the fabric moves very quickly while you sew it can tend to "jump" if your presser foot does not have the proper tension.  A stitch length that is too long can also make it hard to have smooth stitching around sharp corners.  Try practicing with different stitch lengths on a scrap piece of fabric before you topstitch to see what length you like the best!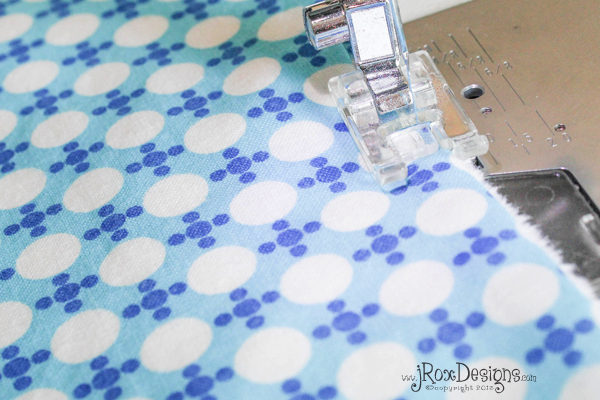 Apply A Snap Closure
Now all you have to do is apply a quick snap and you are done!  I used a standard size 15 snap fastner which is 3/8″ or 9mm for this bib but you can use whatever size you like best.  I bought a kit at my local fabric store that came with a easy attacher tool and two different sizes of snaps for about $6.  No matter what type of snap you end up deciding to use just make sure to read and follow the directions that are included.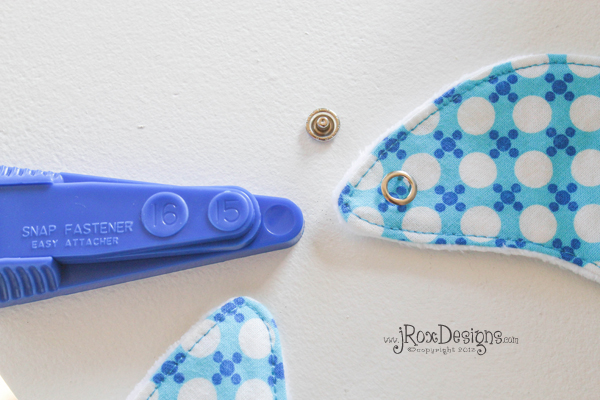 With the tool that I have all you have do do is push the prong side of the snap through the fabric,then turn the fabric over and place the snap side overtop of the prongs that is sticking through the fabric.  After you have them in the proper position place them inside of the easy attacher tool, close the top to secure the snap and hammer the top of the tool.  Hammering will crimp the two pieces together to secure them.  I love this style of snap because they are quick, easy and don't require any extra sewing.  There is a little bit of a learning curve to make sure you get everything aligned right so don't get frustrated if you don't get it right the first time.  Again make sure to refer to the directions included with the snaps you purchase!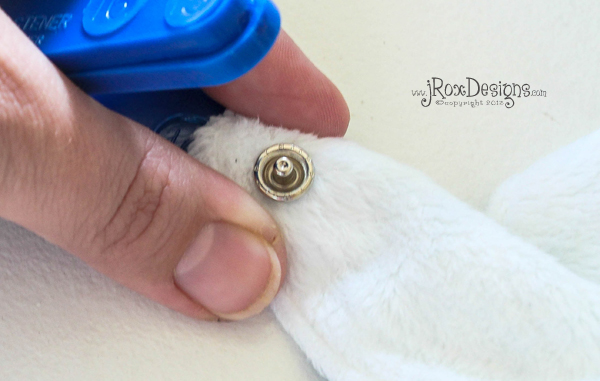 Once you finish the first side of the snap repeat the process for the second side.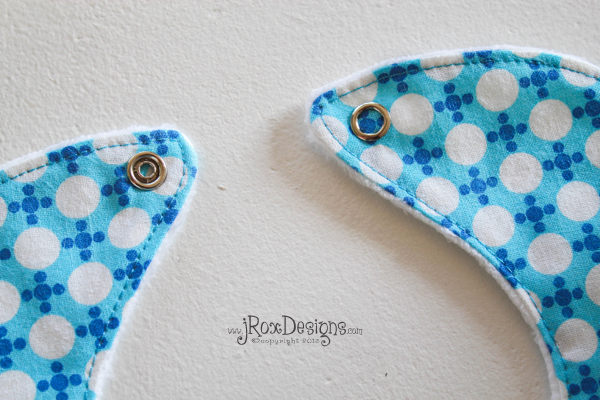 Then give them a good 'ol snap to make sure they work okay.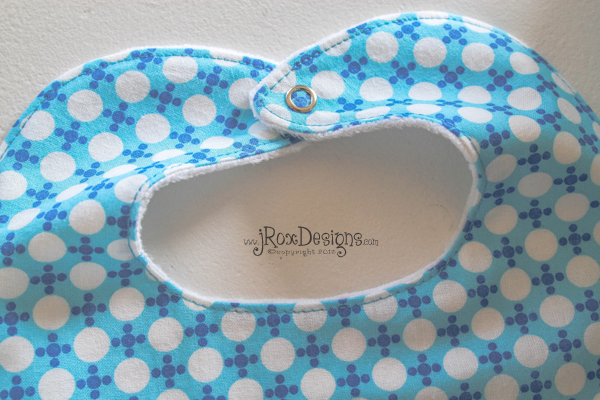 And your done!!!  If you are new to sewing I know that this is a lot to take in but slow down and take your time.  You will be surprised to see that after you finish your first one the second one should be a breeze.  I've had so many babies to give gifts for lately that I can whip these bibs out in no time!  If you run into trouble or have any questions just feel free to leave a comment and I'm here to help!  Be sure to share photos of your finished bibs with us too, we want to see your all your hard work!
Don't have time to sew?  Check out finished reversible and laminated bibs in my Etsy shop here!
Happy Crafting!
Amber
Save
Share and Enjoy