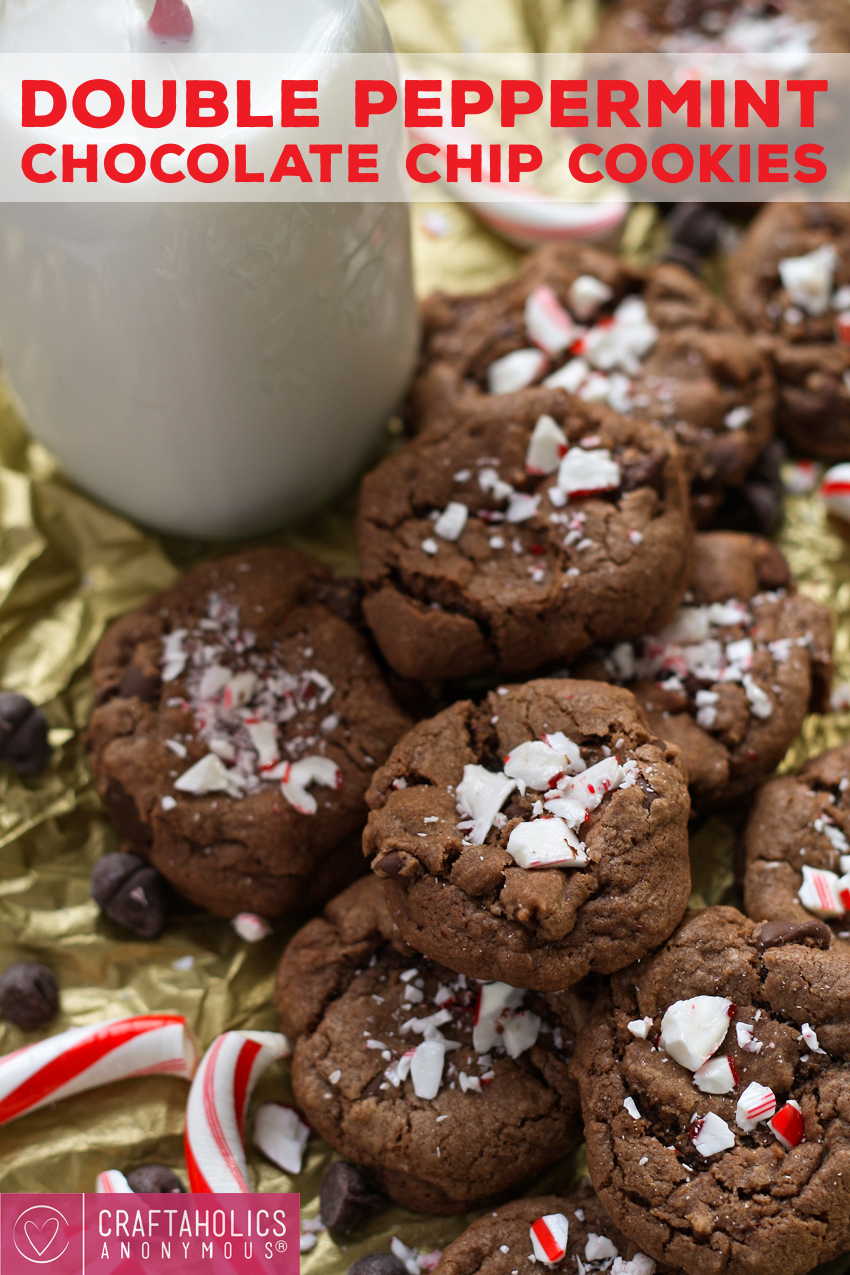 Double Peppermint Chocolate Chip Cookies
We are smack dab in the middle of the holiday season and with that comes cookies. Lots and lots of cookies. That's why this month, I am sharing with you one of my favorite Christmas dessert recipes – double peppermint chocolate chip cookies.
Over on my blog, Honey and Birch, I have begun sharing lots of holiday recipes and I saved this Christmas cookie recipe just for the Craftaholics Anonymous website.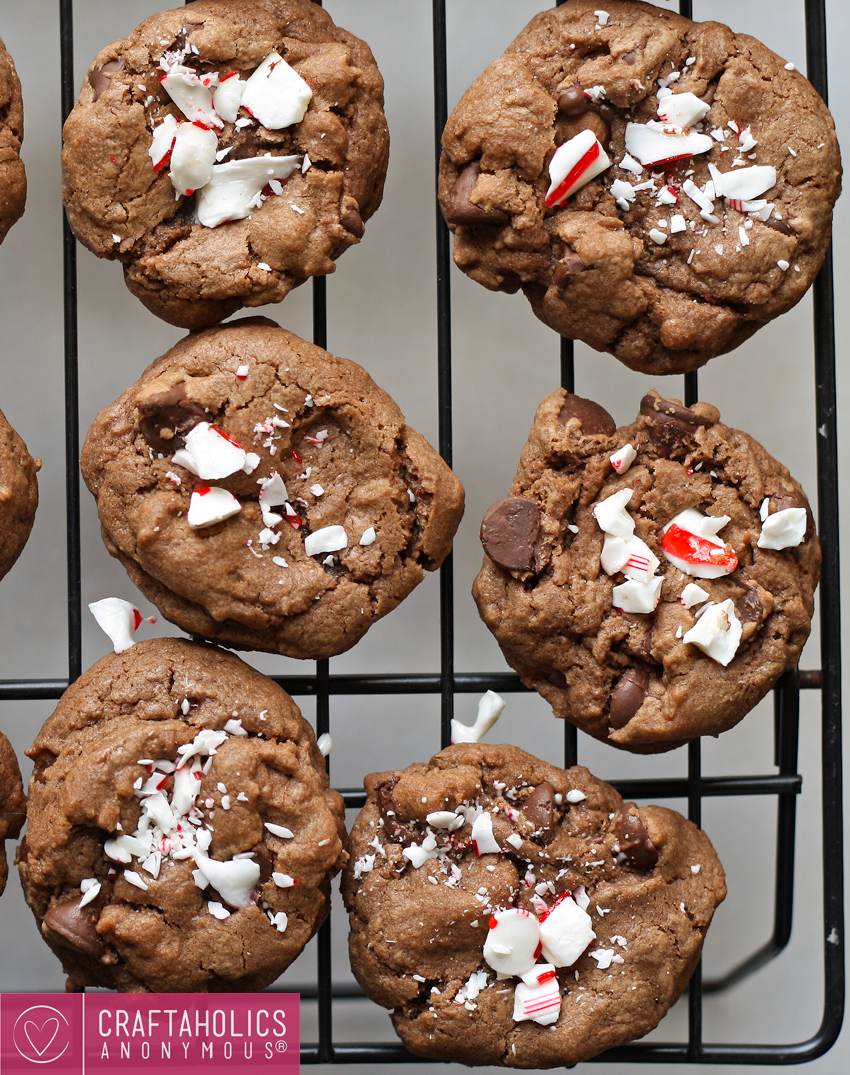 These easy cookies have twice the peppermint and twice the chocolate flavor for a double dose of Christmas goodness. The peppermint flavors come from peppermint extract and crushed up candy canes and the chocolate flavors come from cocoa powder and chocolate chips. I began stocking up on all four ingredients last Christmas so that I can make these cookies on a whim.
Mix up a couple dozen for your next cookie swap or just because – we store some in a cookie tin next to the tea pot because you never know when you will want one. Or three.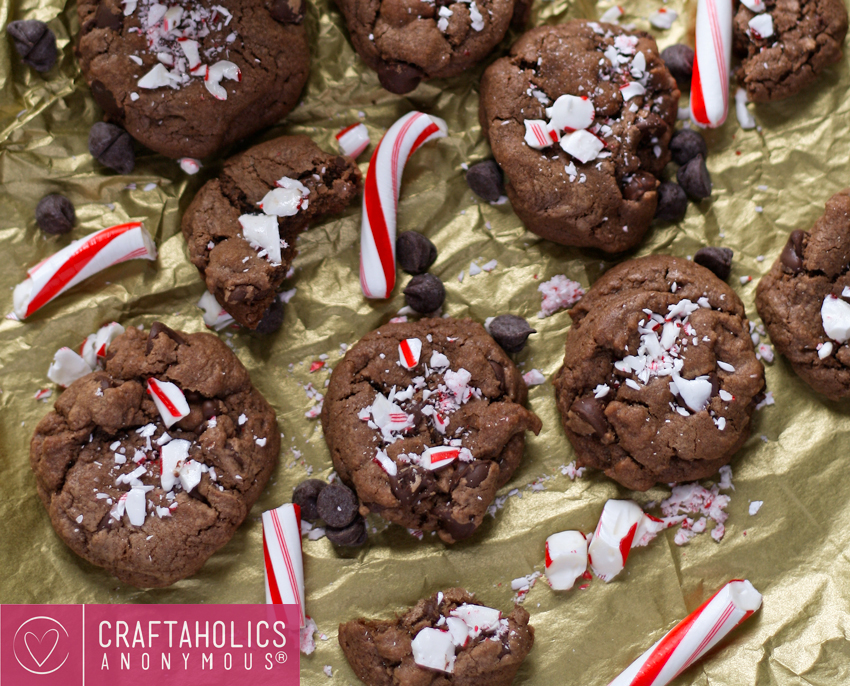 Double Peppermint Chocolate Chip Cookies
Makes 2 1/2 dozen cookies
Prep time: 15 minutes
Baking time: 30 minutes
Ingredients
1¼ cup all-purpose flour
¼ cup dutch cocoa powder
½ teaspoon baking soda
½ teaspoon salt
½ cup white sugar
½ cup brown sugar
½ cup unsalted butter, melted
1 large egg
1/2 teaspoon vanilla extract
1/2 teaspoon peppermint extract
1 cup semi-sweet chocolate chips
crushed candy canes for sprinkling
Directions
Pre-heat oven to 375 degrees. Line 3 baking sheets with parchment paper or silicone baking sheets.
In a medium bowl, combine the flour, cocoa powder, baking soda and salt with a whisk. Set aside.
In the bowl of a stand mixer, cream together the white sugar, brown sugar and melted butter on high. When that is well-mixed, reduce the speed to low and add the egg, vanilla extract and peppermint extract. When this is well combined, slowly add the set-aside flour mixture until just combined. Then fold in the chocolate chips using a spatula.
Using a tablespoon measuring spoon, measure out the dough. Place the cookie dough one inch apart on the prepared baking sheets.
Bake for 9-10 minutes, or until the cookie edges look browner than the dough. Remove from the oven. Immediately press the top of each cookie with a spoon or the flat side of a knife to flatten the cookie, just a little, and sprinkle the top of each cookie with a little bit of crushed candy cane. Let cool on baking sheet for 5 minutes, then let them finish cooling on a baking rack.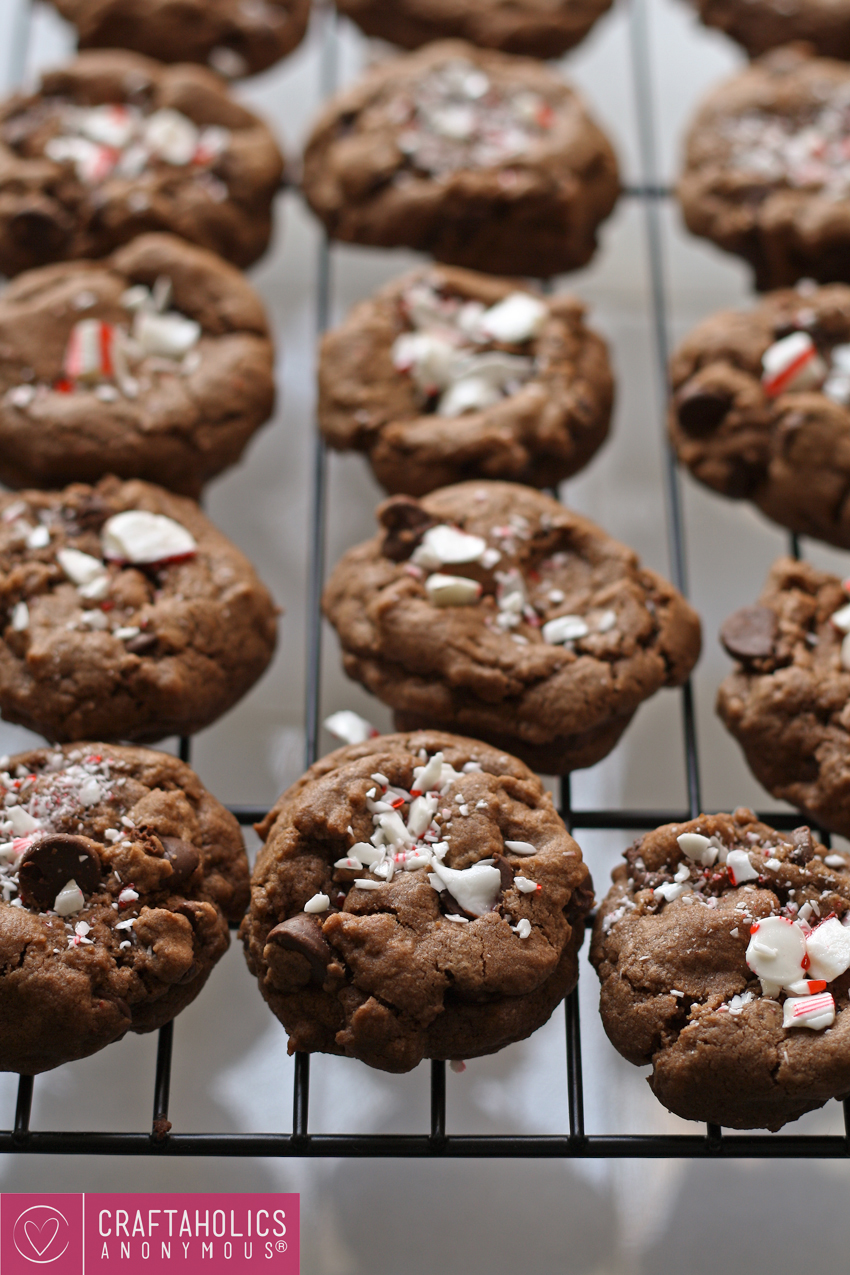 Looking for more cookie recipes? Try my sea salt double chocolate cookies or my butterscotch spice cookies.