Hey everyone! It's Kara from A Kailo Chic Life, and I am so excited to share this minimalist DIY test tube bud vase with you today. You may not know that I have a fond love of science and being able to incorporate a few elements, like these test tubes, from my science background makes this former chemical engineer smile. But this simple bud vase is perfect for everyone (science lover or not) and can easily be customized to your favorite colors.
DIY Test Tube Bud Vase
Although it may look complicated, it really only takes a few craft essentials and a drill to bring these DIY test tube bud vases to life.
The Supplies:
Plastic or glass test tubes
Painters tape
Multi surface acrylic craft paint in your choice of colors
Paint brush
White primed wood trim from the hardware store (I used a 3″ by 1/2″ primed MDF board cut down to two 12″ pieces)
Drill with 5/8″ paddle bit
Wood glue and clamps (or heavy books)
White spray paint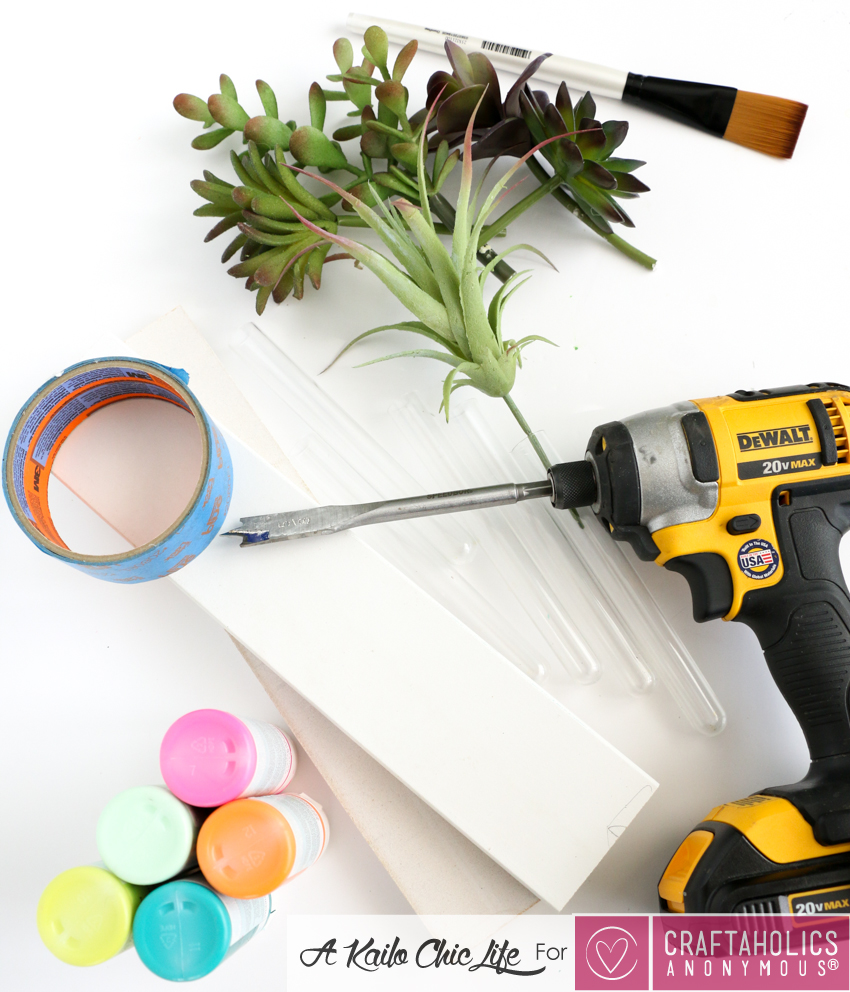 Begin by prepping your bud vase base. I used 5 test tubes for my vase, so I began by marking my 12″ pieces of wood down the center 2″ apart using a ruler so that I had the marks for where my 5 holes would go.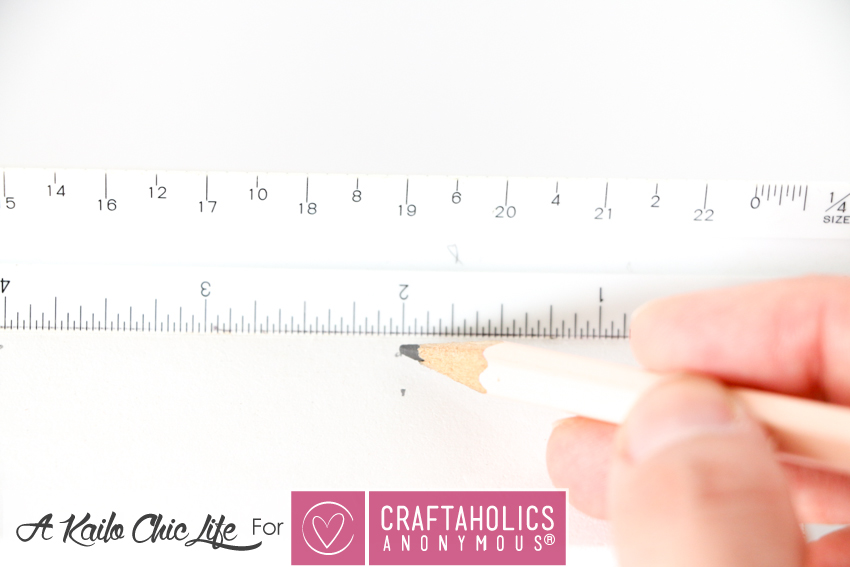 Once I had my drill locations marked, I stacked my two pieces of wood and began to drill my holes. I made sure to completely drill through the top piece of wood, but only half way through the bottom piece of wood in order to make a little compartment for the test tubes to fit in.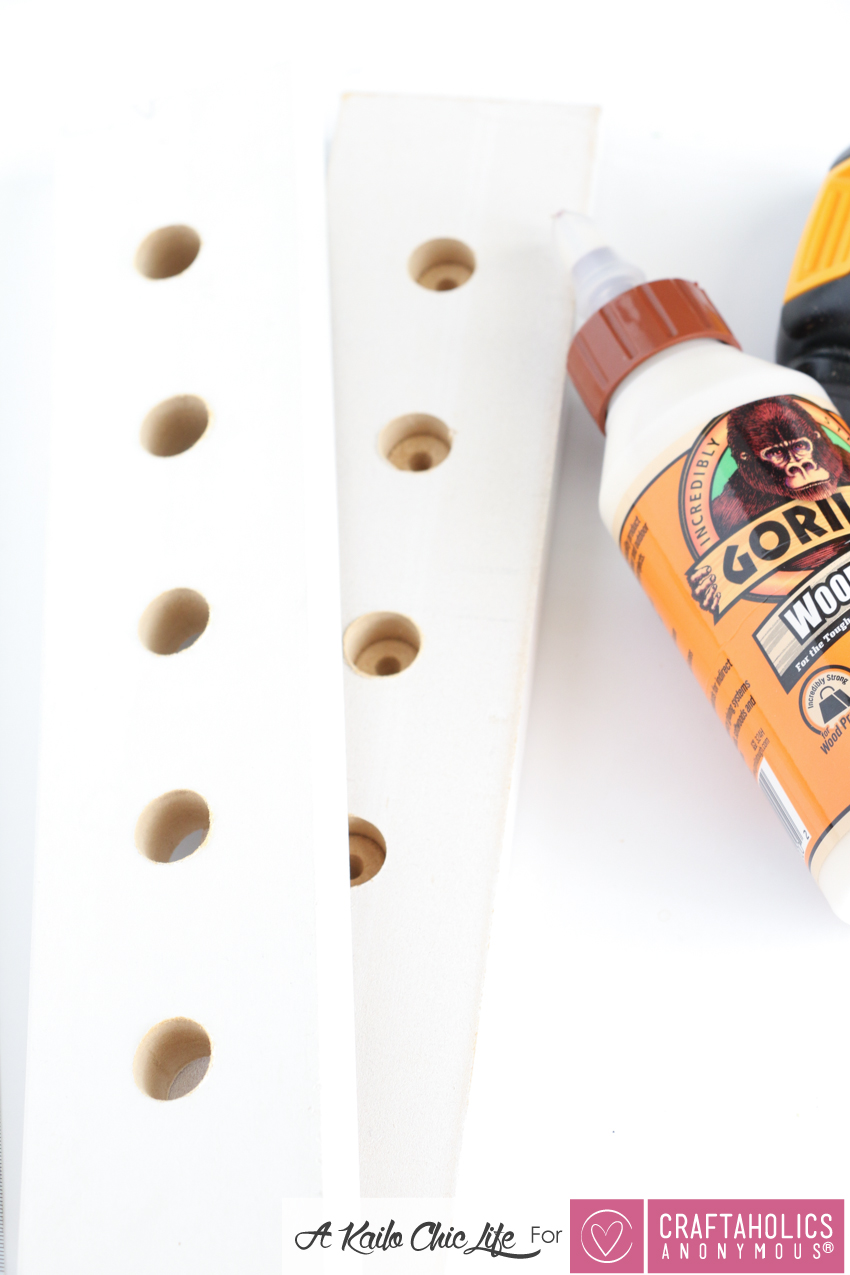 Once my holes were drilled, I used wood glue to attach the top piece of wood to the bottom piece and then used clamps on the ends to secure the wood while the glue dried.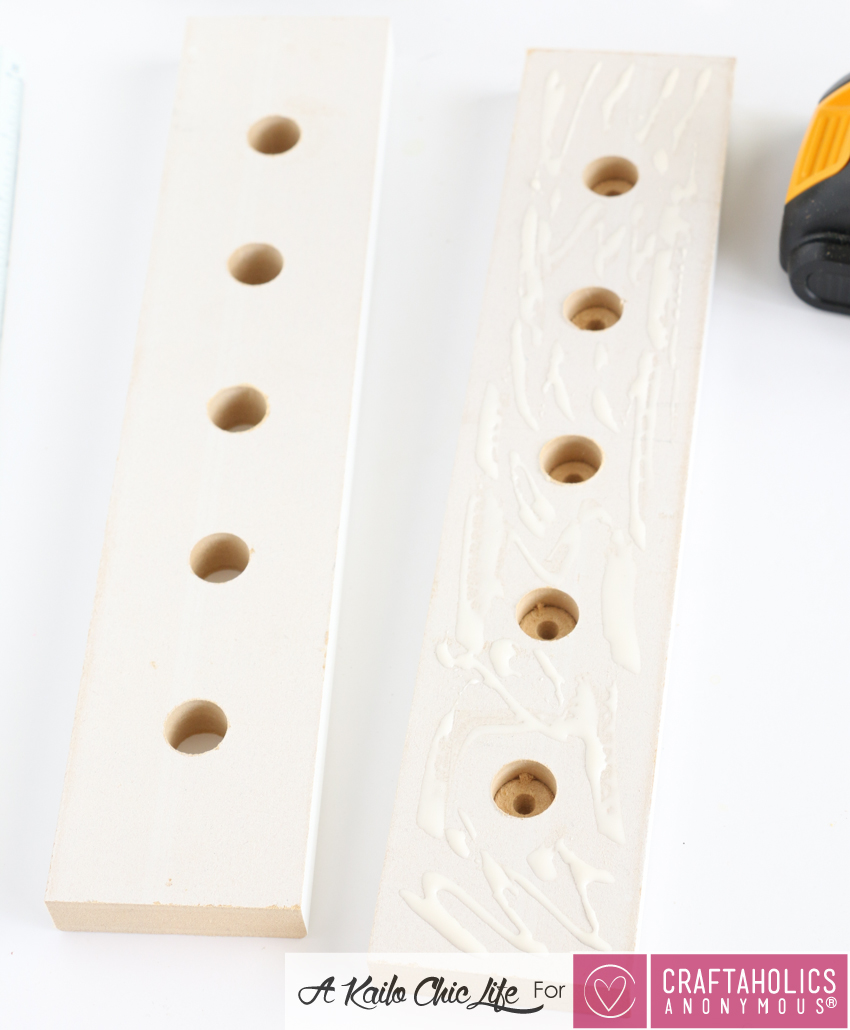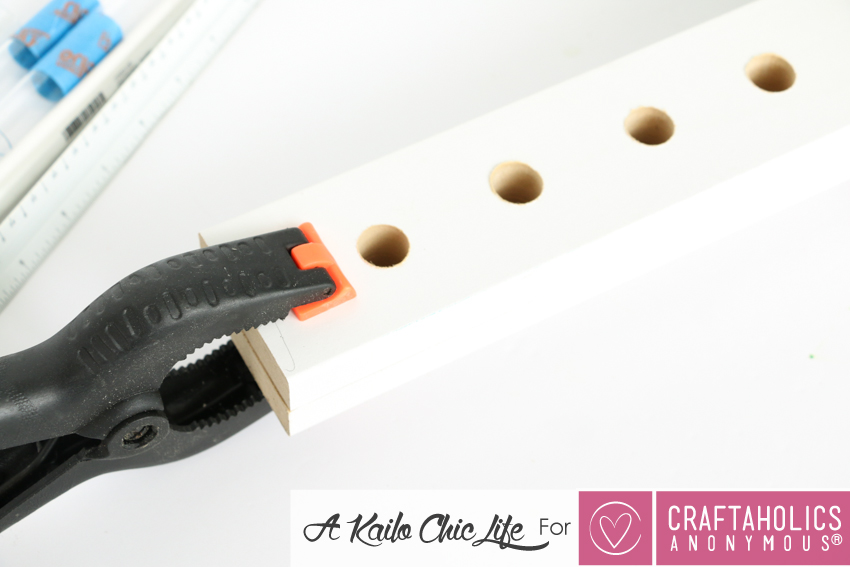 While waiting for the glue to dry, I went ahead and taped off the test tubes 2″ from the top and painted each a different color with my acrylic paint and then placed them in the wood base to dry. You may need two coats of acrylic paint on the test tubes depending on the color and paint you use.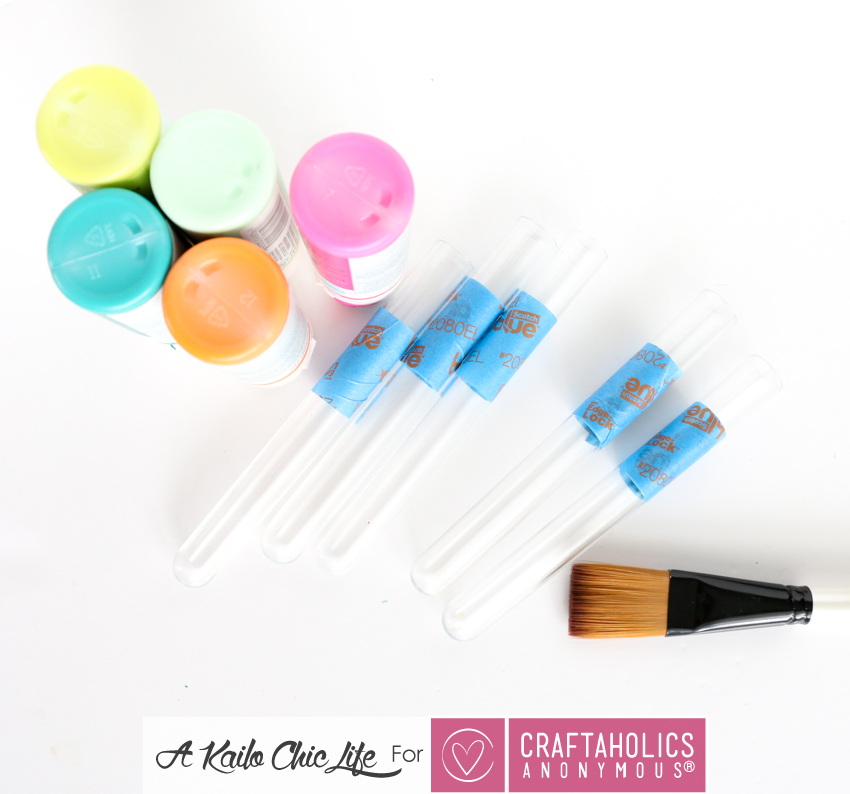 The next day, once everything had a chance to dry, I removed the painters tape and clamps. Then I removed the test tubes from the base stand and gave the stand a coat of white gloss spray paint. Once the spray paint dried, I replaced the test tubes and filled them with a few faux succulents. But since this DIY test tube bud vase uses test tubes, you can easily add water to the tubes and put fresh flowers in the vase as well. I just really love the greens of the succulents with the blues that I used on the test tubes.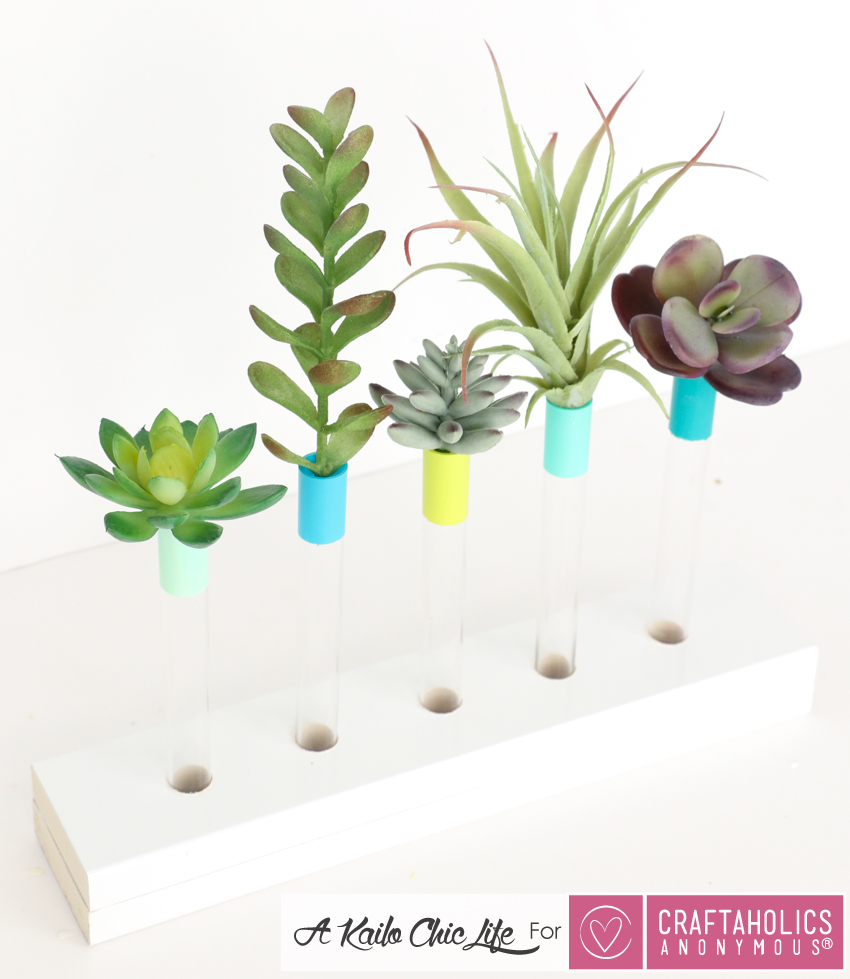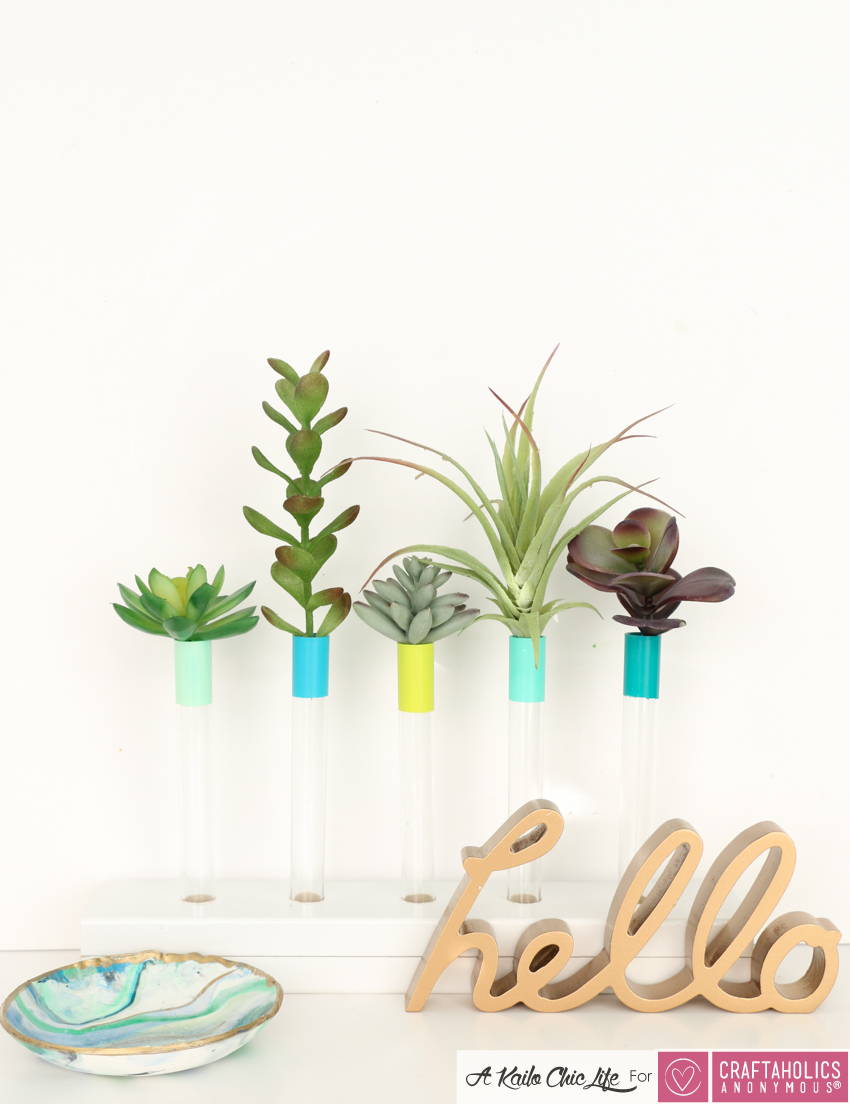 I hope you all enjoyed this fun tutorial and now feel the need to create your own DIY test tube bud vase using your favorite colors. Bonus, it is the perfect way to display all the spring flowers that are in bloom!
Feel free to check out my blog, A Kailo Chic Life, for even more craft and DIY projects.

More easy spring crafts!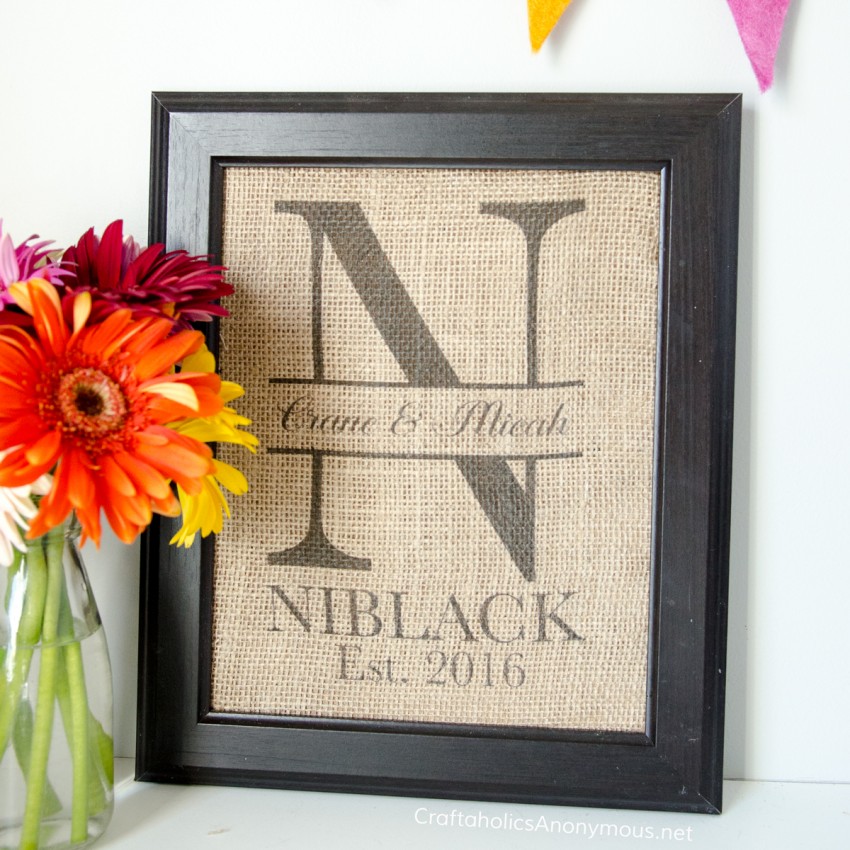 Monogram Burlap Print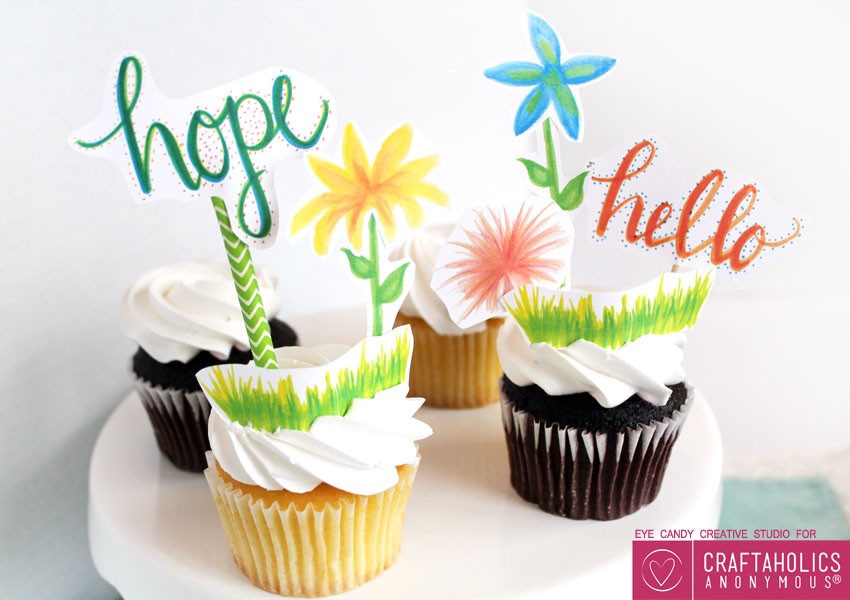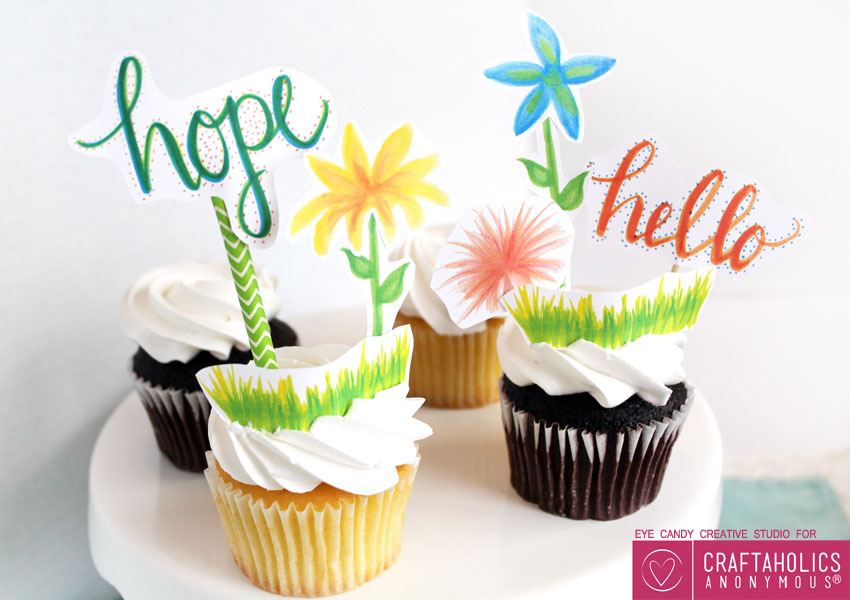 Spring Cupcake Toppers
Kara is the creative force behind A Kailo Chic Life where she blogs about all sorts of colorful crafts and home décor projects as well as a few fun recipes. She is a mom of two that resides in Austin, Texas with her family.
Latest posts by Kara Whitten (see all)