Hey friends! It's Aki from Minted Strawberry again here to share another DIY with you – I always ALWAYS make lists – I have tons of notepads and notebooks for that. Sadly, I forget them at home most of the time, and making lists on my phone is just not my thing. I've made quite a few lists that I am sure to not forget, and here's an addition to that! It's perfect to hook to your set of keys, your bag, a lanyard, or anything you take regularly. Use a fine-tip chalk marker or pencil to list your needs on the backside, and erase when you are done! And as a bonus, download the free png file for these designs if you want to make your own exact one!
Chalkboard Reminder Keychain
Supplies:
2″ or 2.5″ wood circle
Sandpaper
Drill
Scissors
1/8″ hole punch
Chalkboard paint
Paintbrush
Mod podge (Matte or Gloss)
Scrapbook paper
Vinyl letters or Template (download here, for personal use only!)
Keychain
Jump rings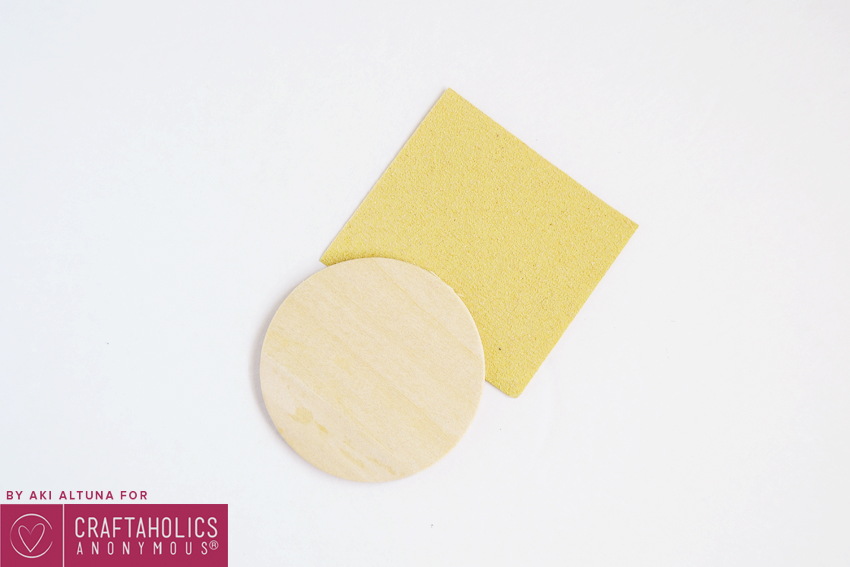 Take a piece of sandpaper and sand your circle, making sure to file the edges and round them off.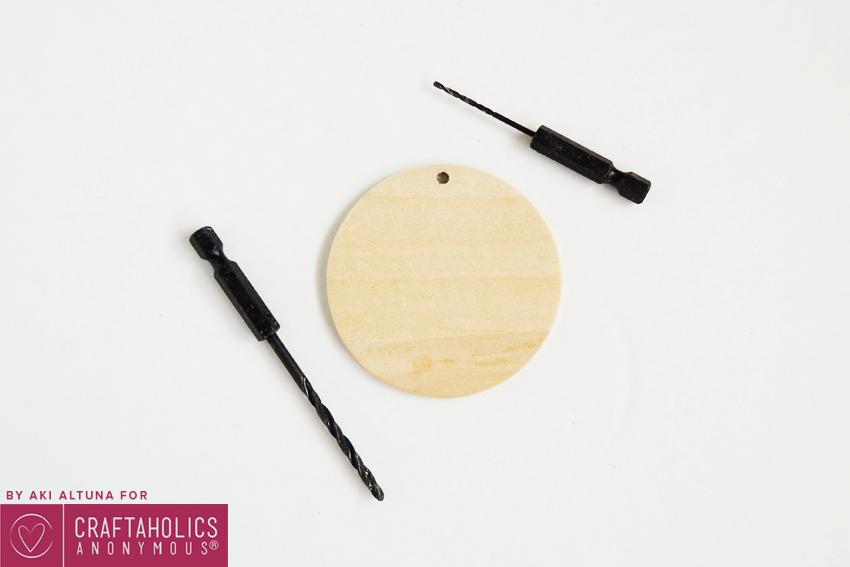 Drill the hole where you want to hang it – use a smaller bit to drill a pilot hole, before using a bigger drill bit to drill a 1/8″ hole onto your circle – this is to ensure your wood does not split as it is thin.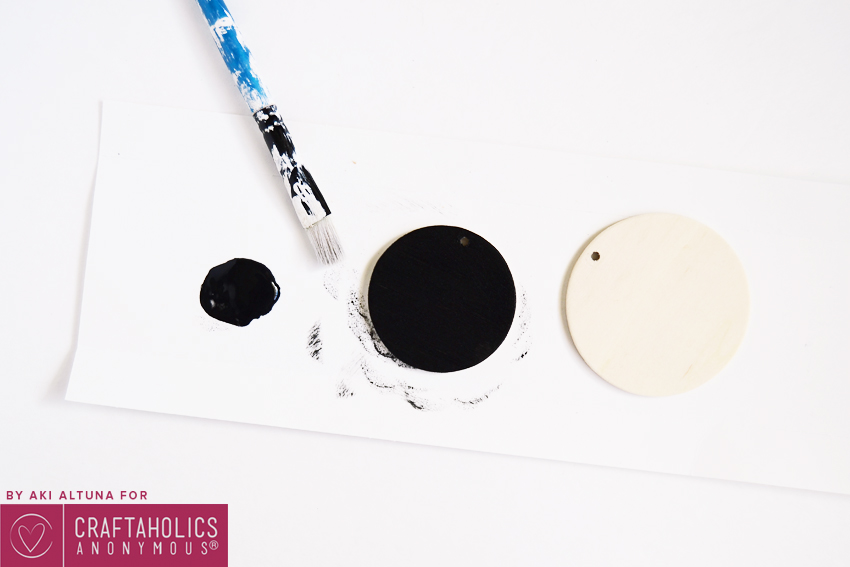 Paint your circle, starting with the sides. I used about 2 coats of black chalkboard paint – but you can use any other color! Match it with your scrapbook paper or go with a completely different hue.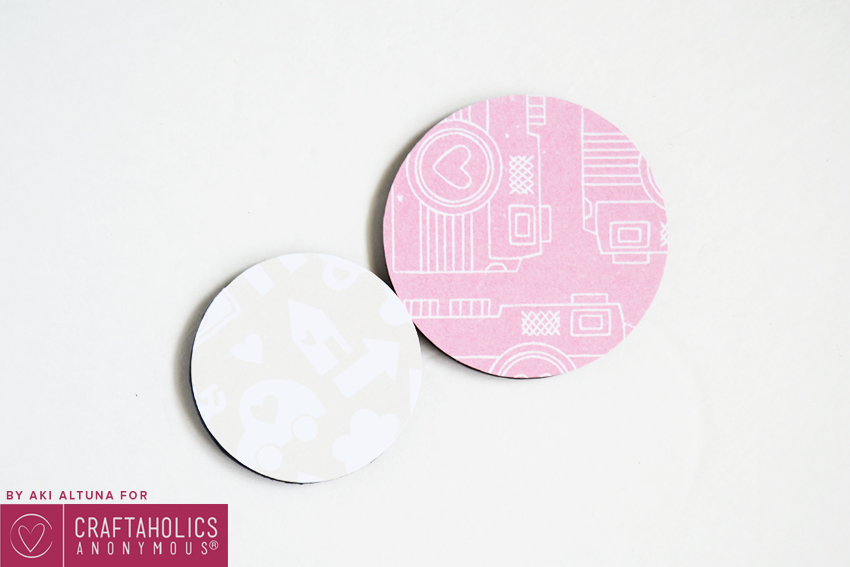 Take a piece of scrapbook paper and cut a circle the same size as your wood circle.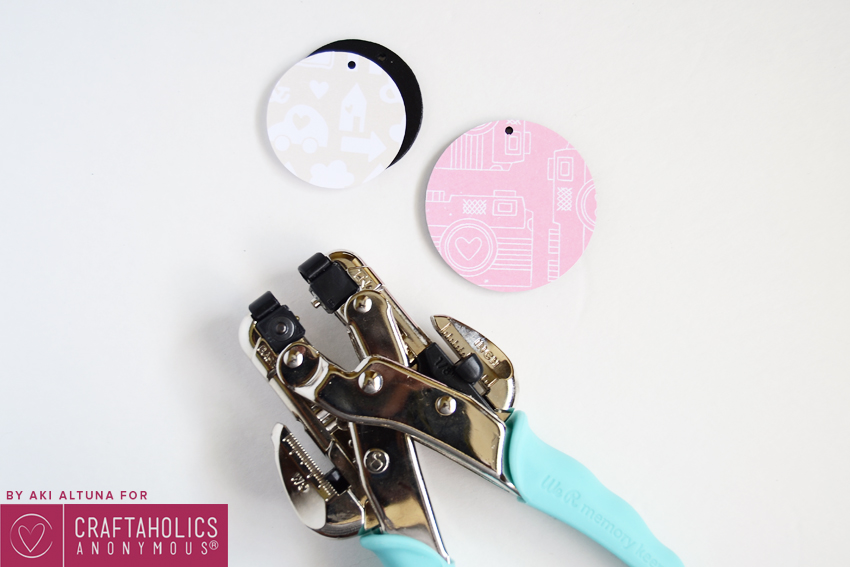 Mark the back of your paper circle with where the hole is on your wooden circle, and use the guide to punch a hole on the paper.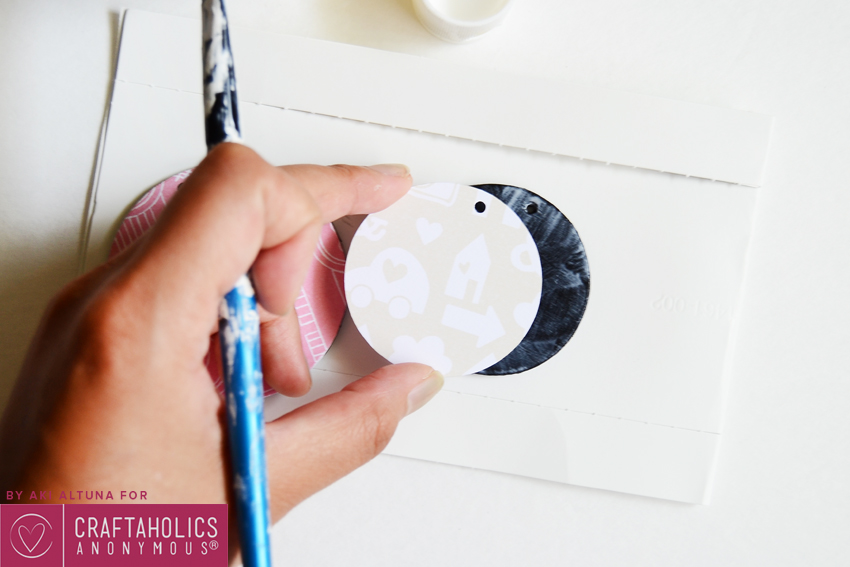 Align the holes together and mod podge the paper onto the wooden circle – add one coat of mod podge on the wooden circle, stick your paper circle on it and add two coats on top to ensure the paper gets thoroughly covered.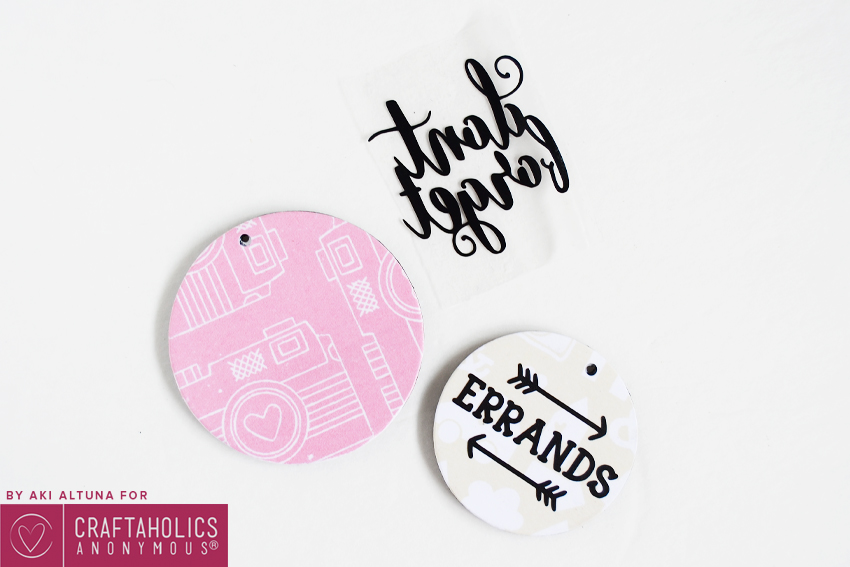 Finally, attach your vinyl wording! You can use the template provided or make your own – I think a monogram design would be great as well.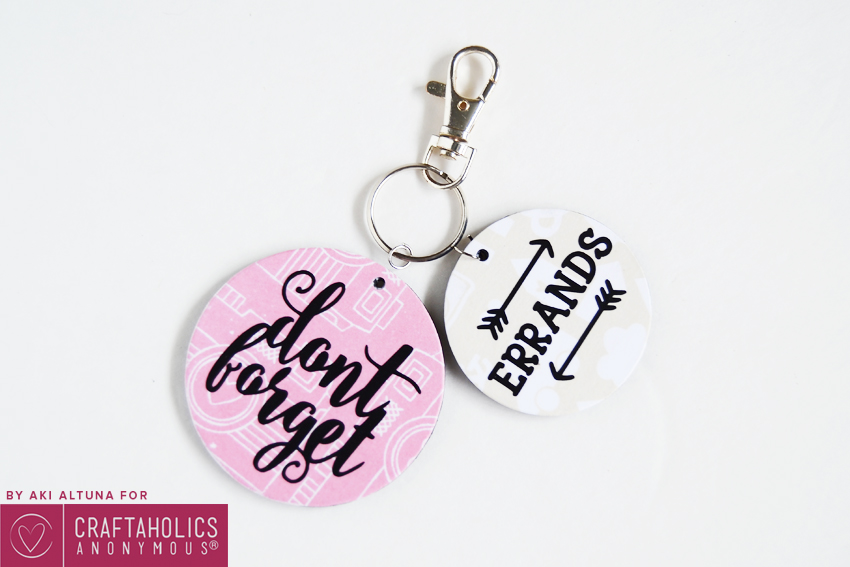 Finally, attach your circles onto a keychain ring using jump rings.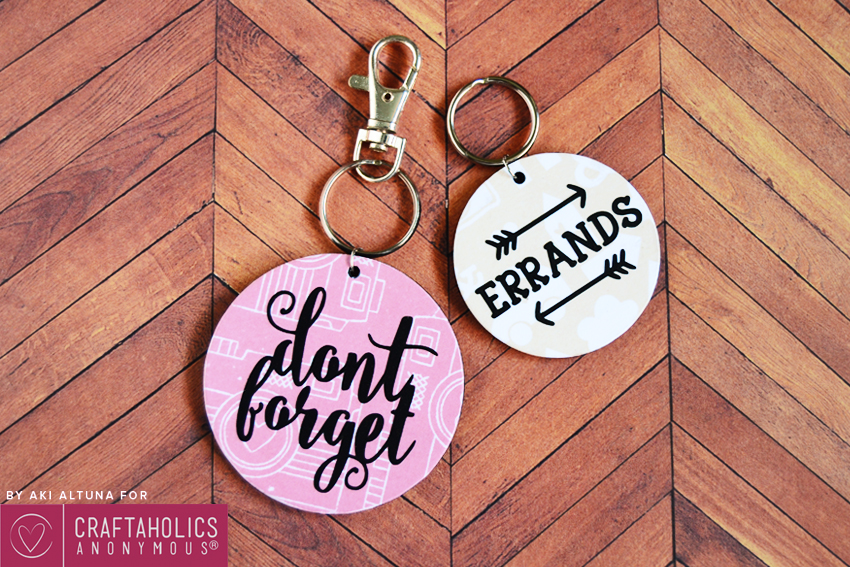 And you are done! I attached the big one onto my set of keys and the small one onto my grocery bag – but I find I'm using the bigger one more as there is more space to write on it. No more forgetting to go to certain stores for me!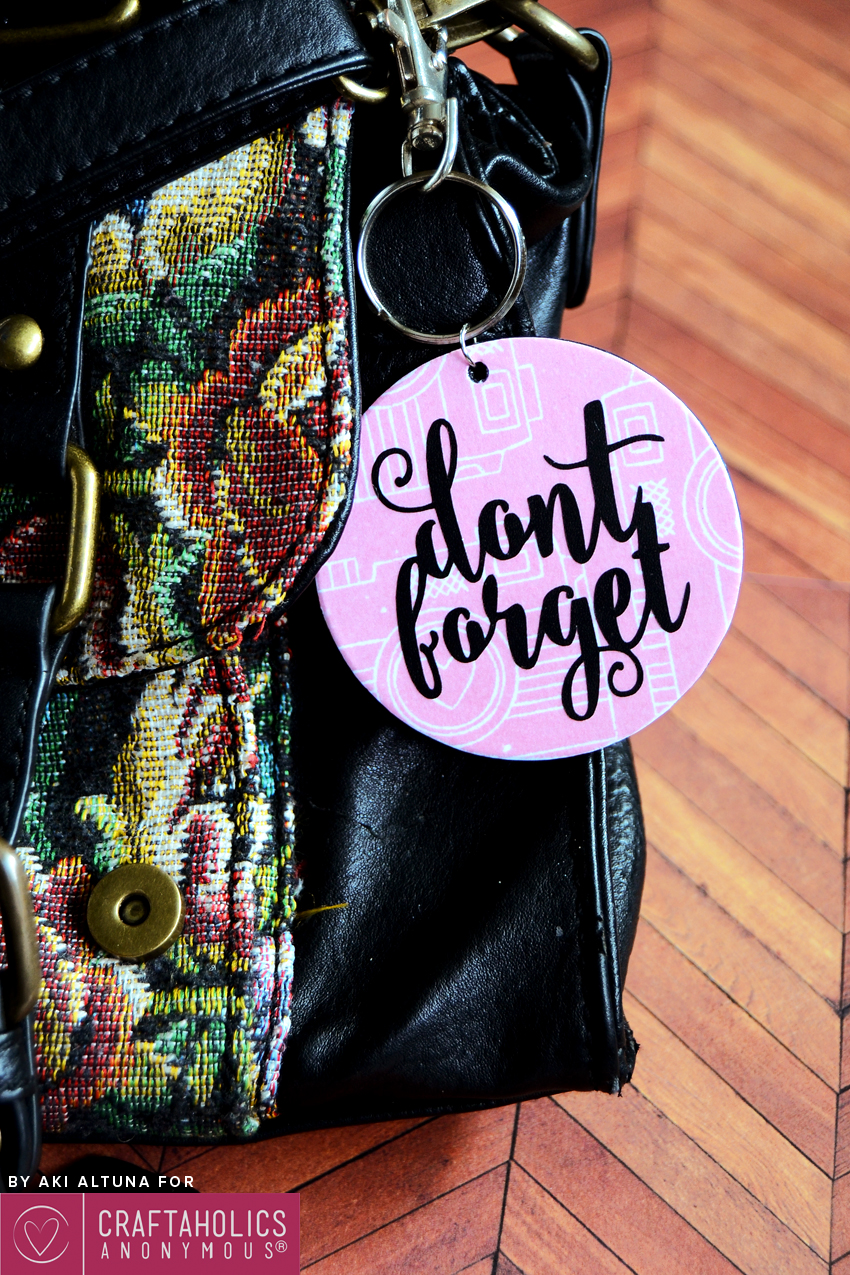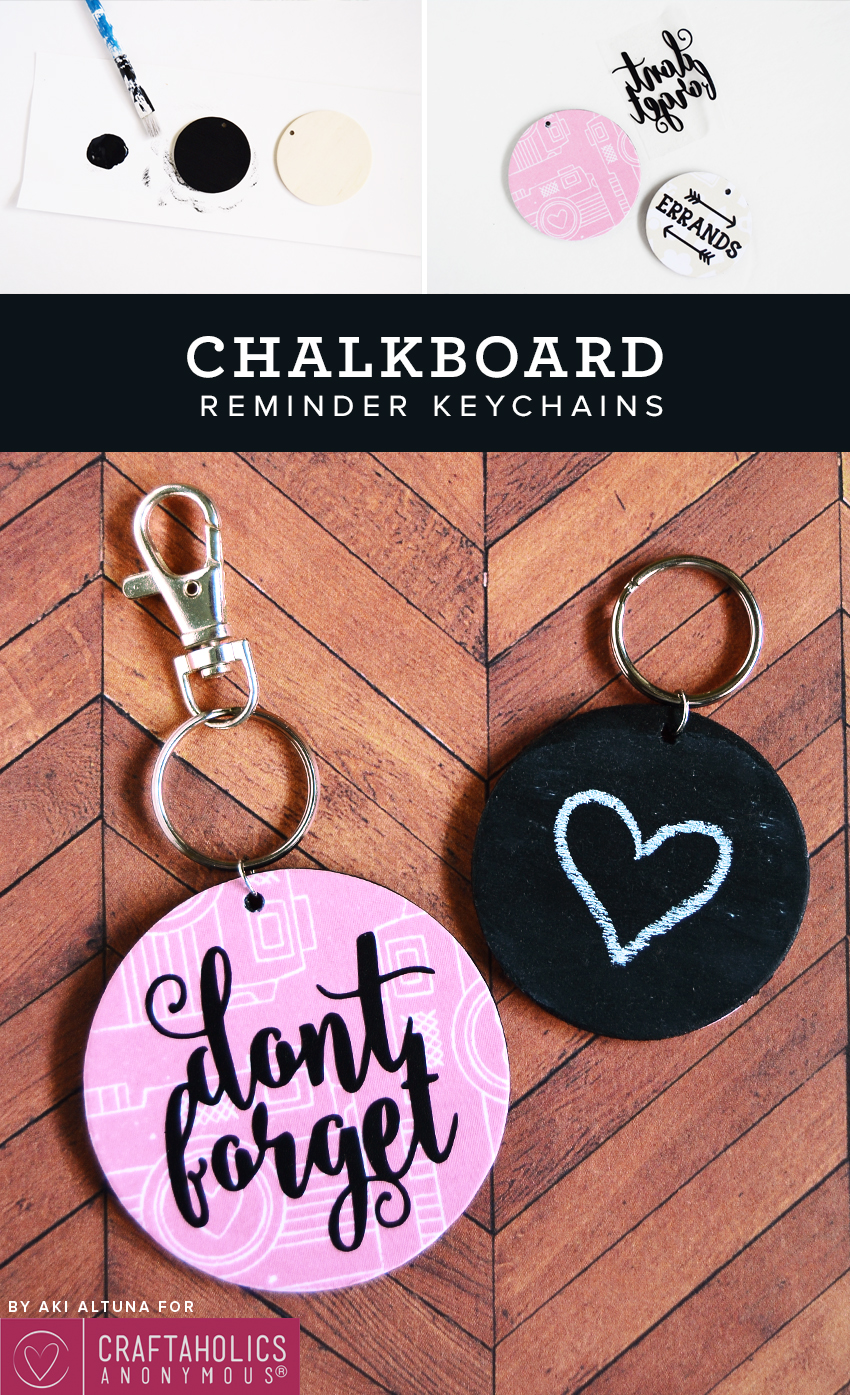 Hope you enjoyed this tutorial! Don't forget to visit my blog for more tutorials like this and free downloads! Happy crafting, friends!