Hello! It's Ginger from GingerSnapCrafts.com, & I am so happy to be a part of the Craftaholic Anonymous Creative Team this year! I love stopping by each month to say hello & share my latest projects, crafts & ideas with you. Today I'd love to show you how I made this Simple Garden Bench with just a few supplies I had on hand. So let's get started.
Simple Garden Bench
I don't know about you, but we tend to collect scrap pieces of lumber around our house. You know the leftover pieces from past projects or projects you never got to! It tends to pile up in our shed. ha! So it cost me nothing to make this simple garden bench. I had everything I needed on hand. Love that! If you do need to buy the wood it shouldn't cost too much. So let's get started.
You'll need some 2×8, 2×4 & 1×4 boards for this project. Cut your boards using a table saw into the following lengths.
2×8
(2) 40 inches long pieces

(2) 37 inches long pieces
2×4 
(4) 30 inches pieces

(4) 14 1/4 inches pieces
(2) 16 inches cut at 45

° angles
other supplies:
table saw
wood screws
drill & drill bit
sander & sand paper
wood stain
brush or old rags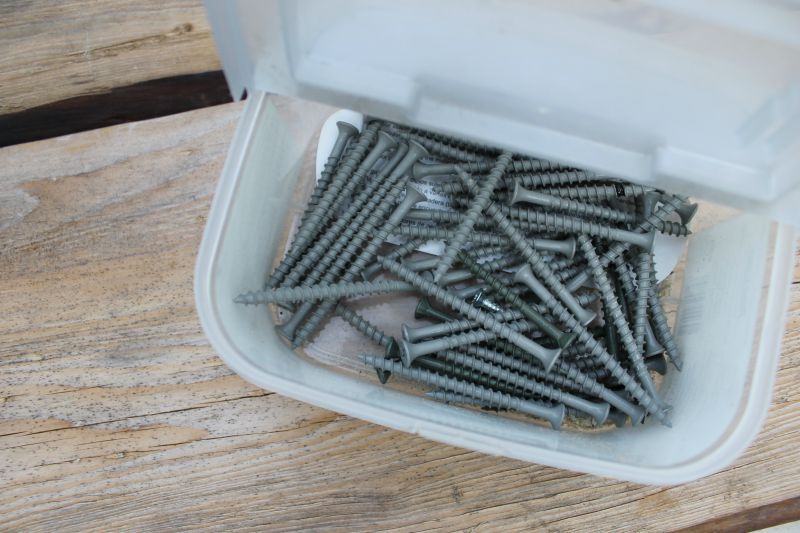 First, lay out the two 40 inch long 2x8s on the ground. Screw two of the 14 1/4 inch boards on each end using wood screws. Make sure you leave space on each end to fit the 2×4 legs. We will be putting those on in just a minute. I just used a scrap of 2×4 & a pencil to mark the space.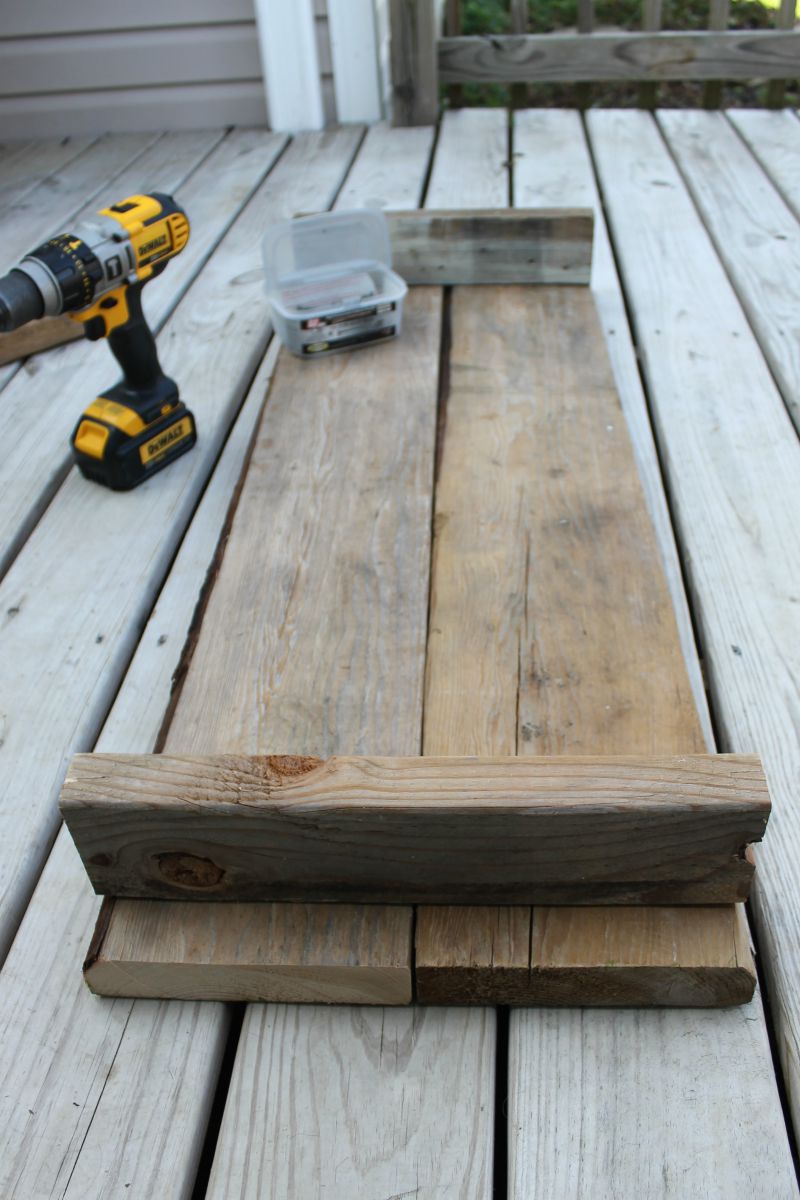 Next you will attach the legs. These are the four 30 inch long 2×4 pieces. Screws those into to the small 2×4 pieces with wood screws & drill.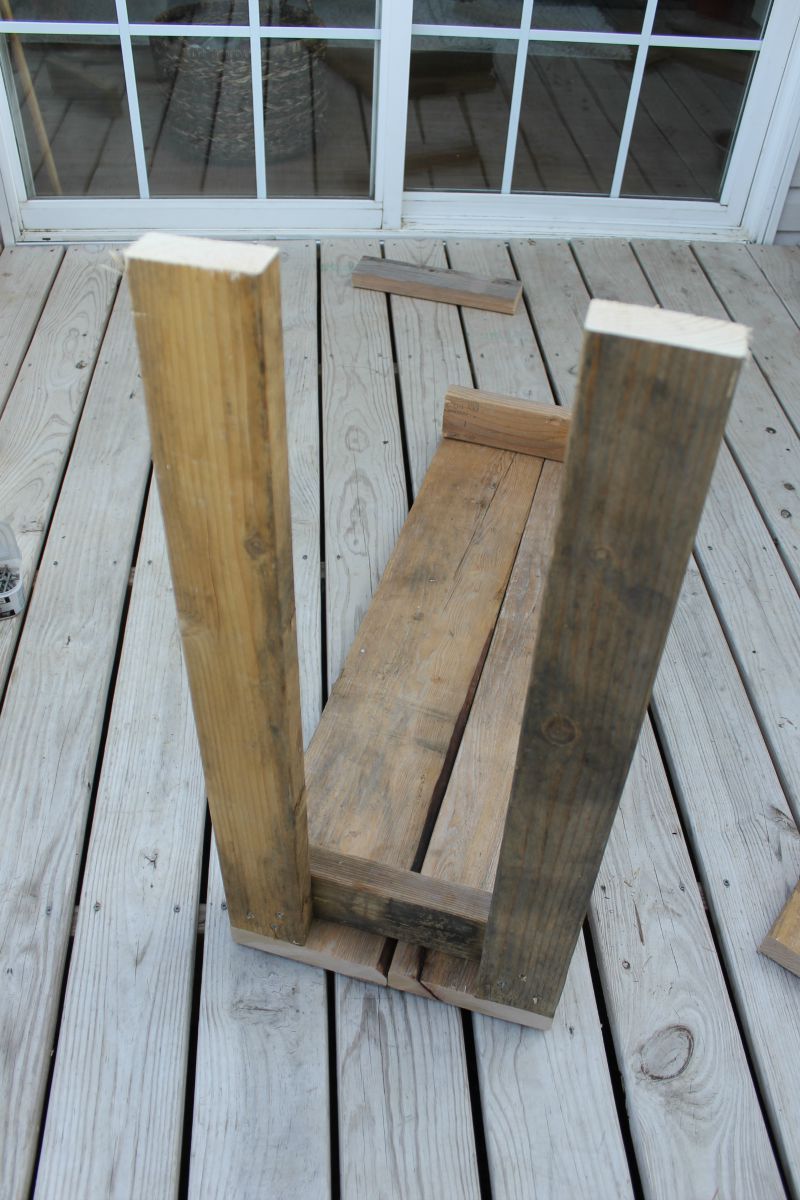 After I got all of the legs attached I flipped the table upright onto its legs.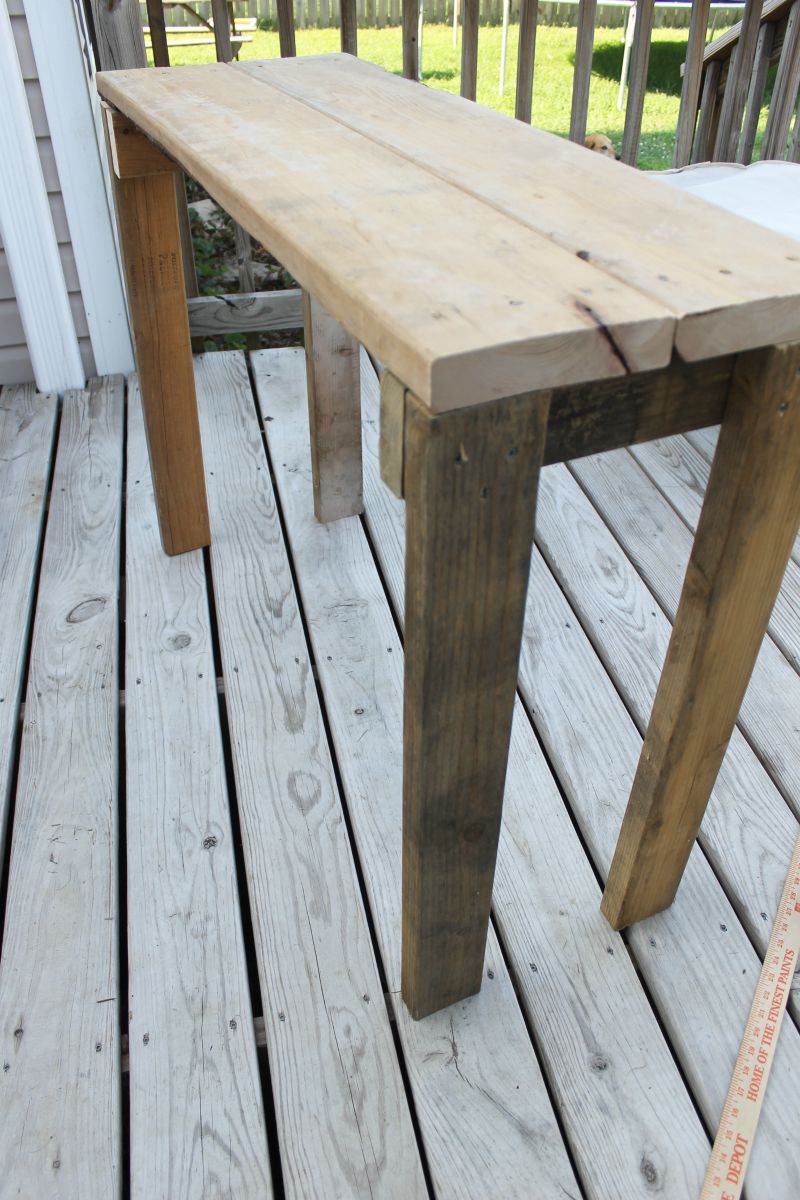 Next I measured how high I wanted my bottom shelf to be. Then I attached the other two 14 1/4 pieces of 2×4 (one on each pair of legs) with wood screws.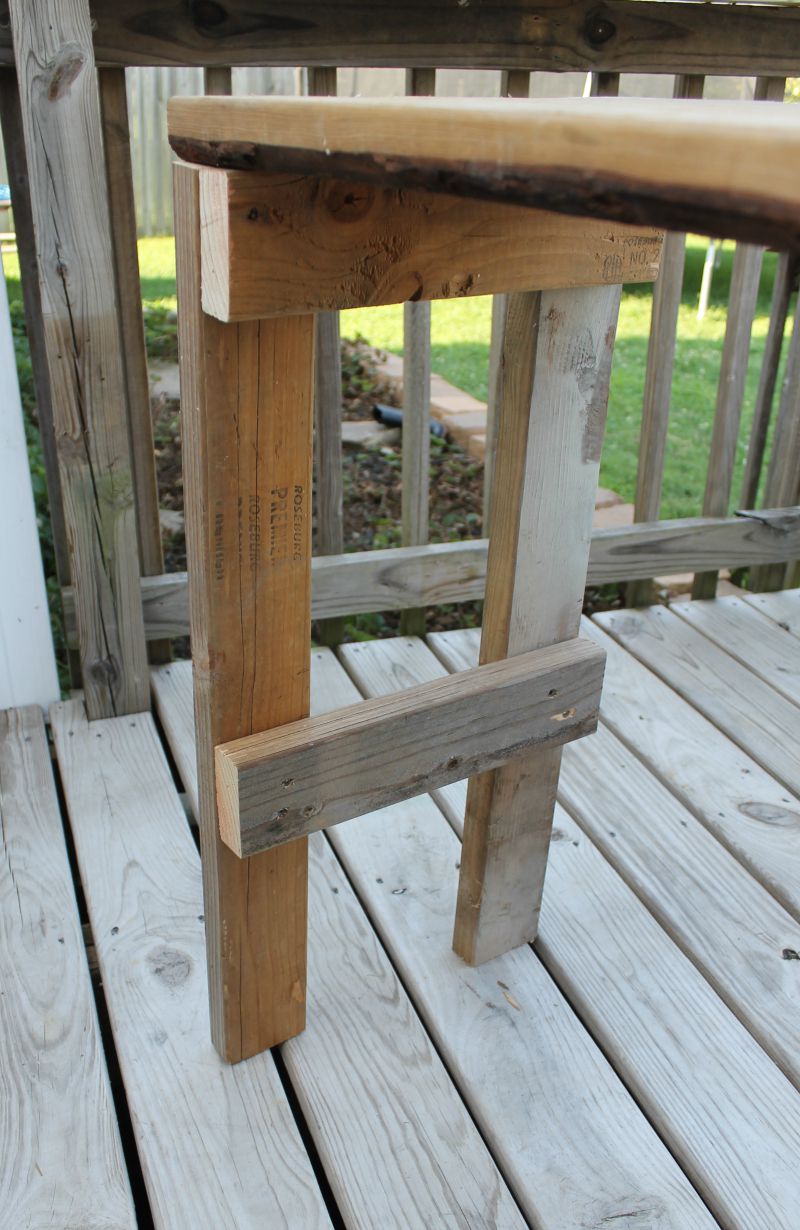 Then I slid in the two 37 inch 2×8 pieces right on top of the 2×4 braces & screwed them in on each end. This makes your bottom shelf.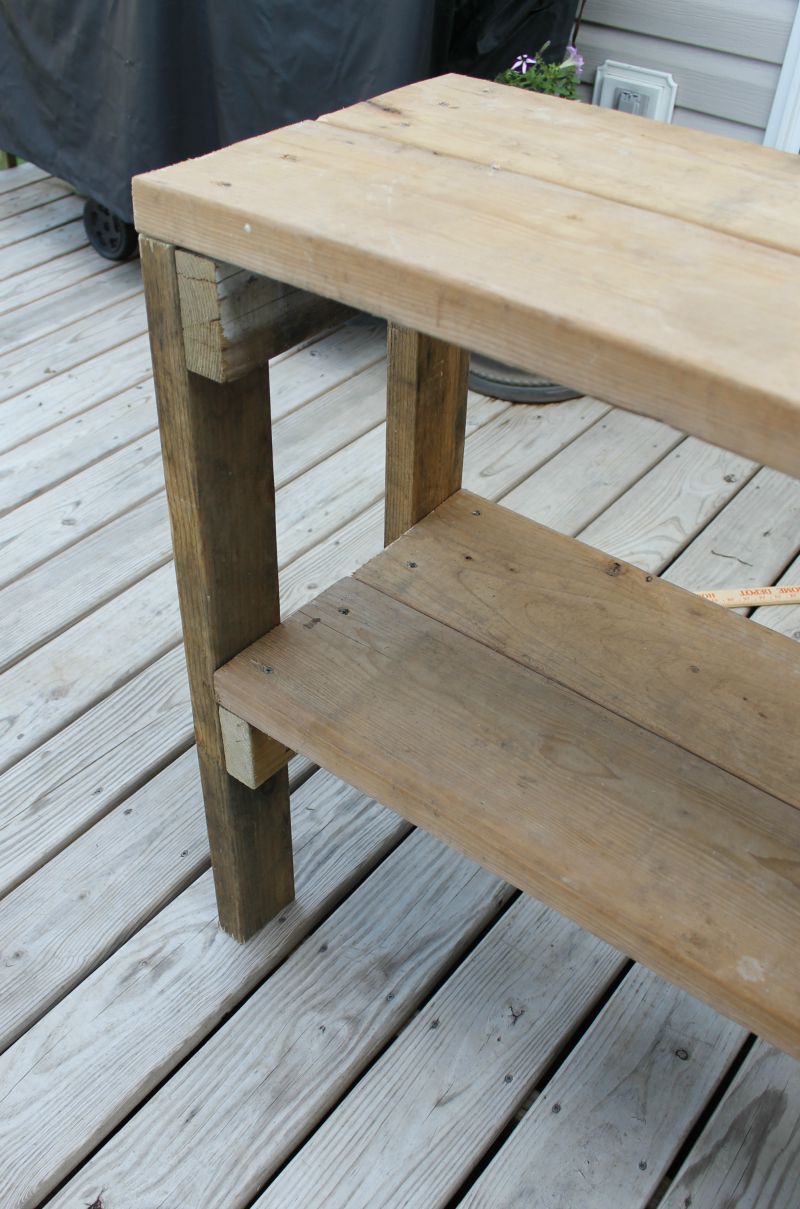 To help square up my bench I used two pieces of 1×4 board cut at 45° degree angles & screwed them into the back top two corners of my bench. These will be in the back, so you don't have to worry about them showing.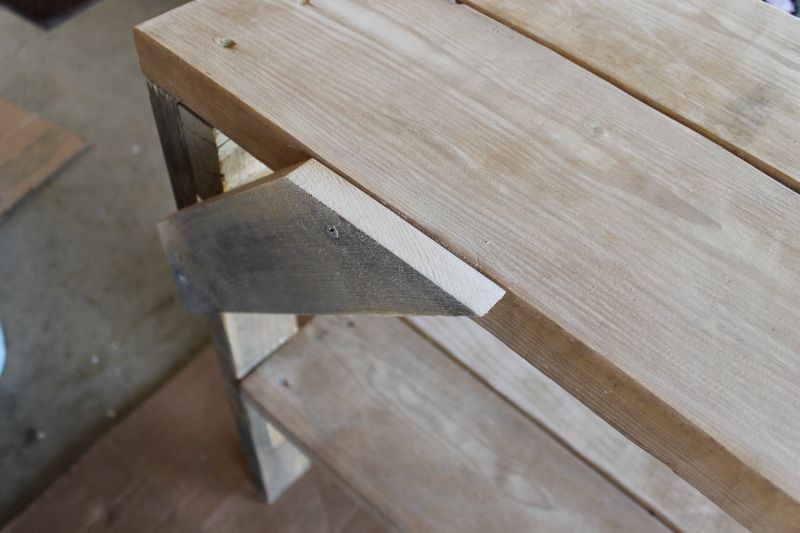 Then I sanded everything down really well. Then I wiped down everything to get off any dust or dirt. Next I stained my table with two coats of wood stain ~ letting it dry between coats. I used MinWax PolyShades in Antique Walnut. It's my go to stain. ;)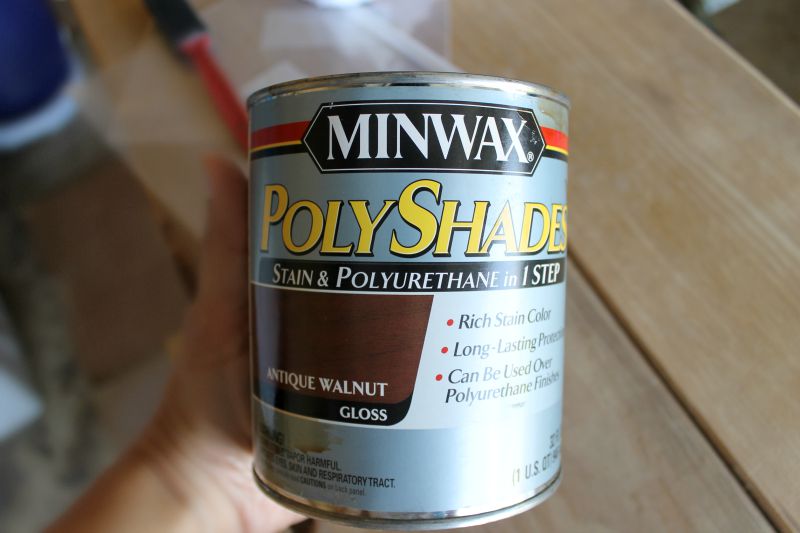 The staining made this garden bench! It was so pretty after I stained it. I was amazed at the results! :)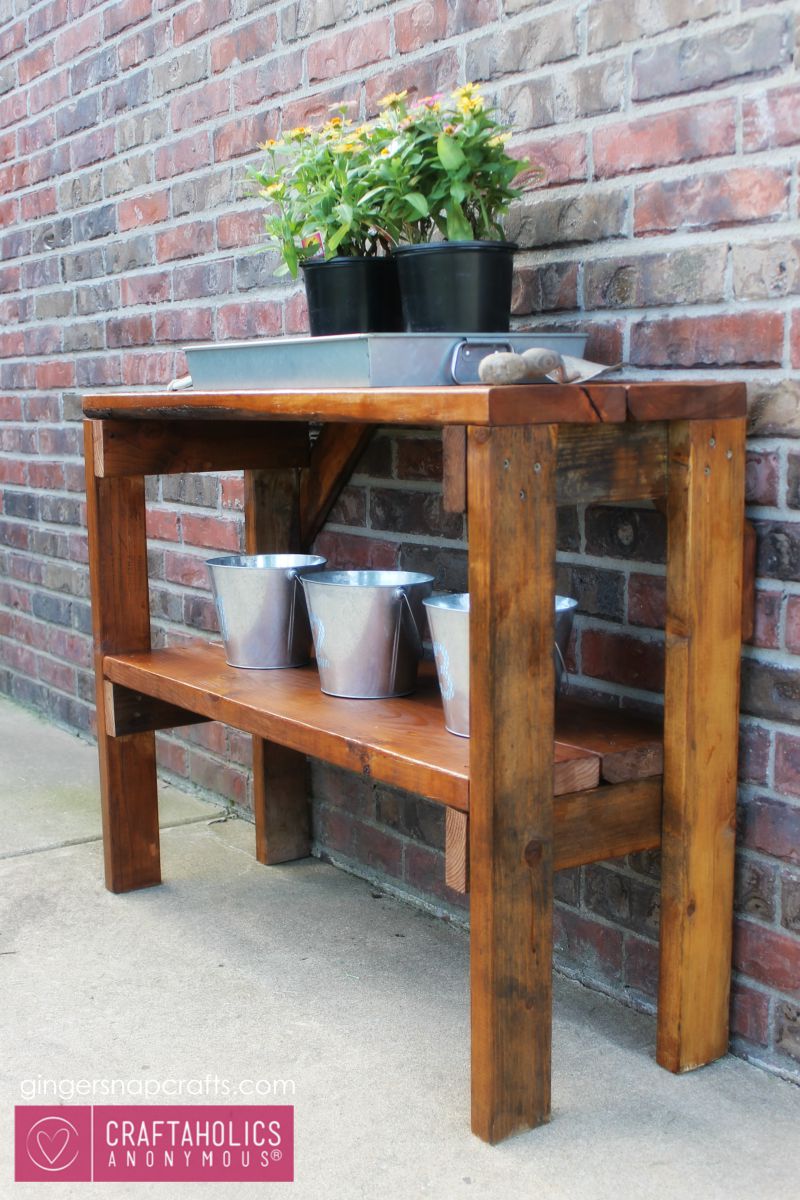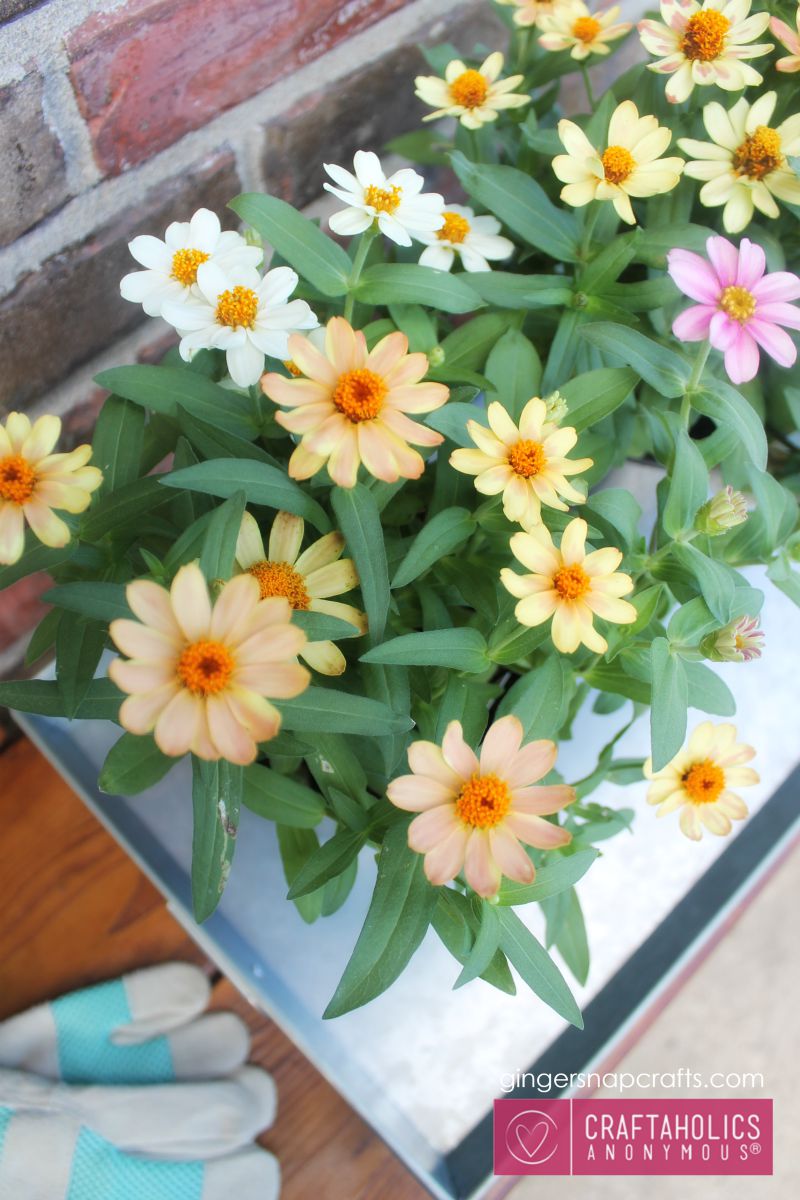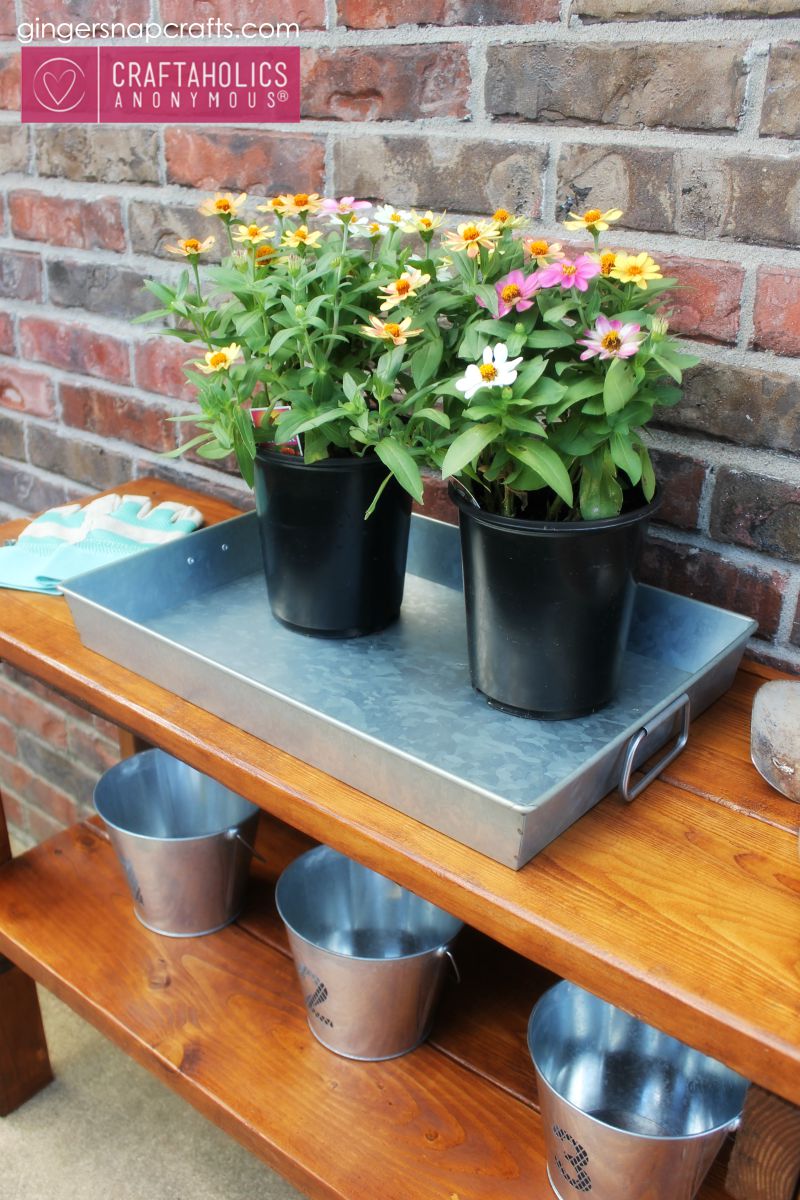 This simple garden bench also comes in pretty handy for parties! You can see how I made this simple party backdrop over on my blog.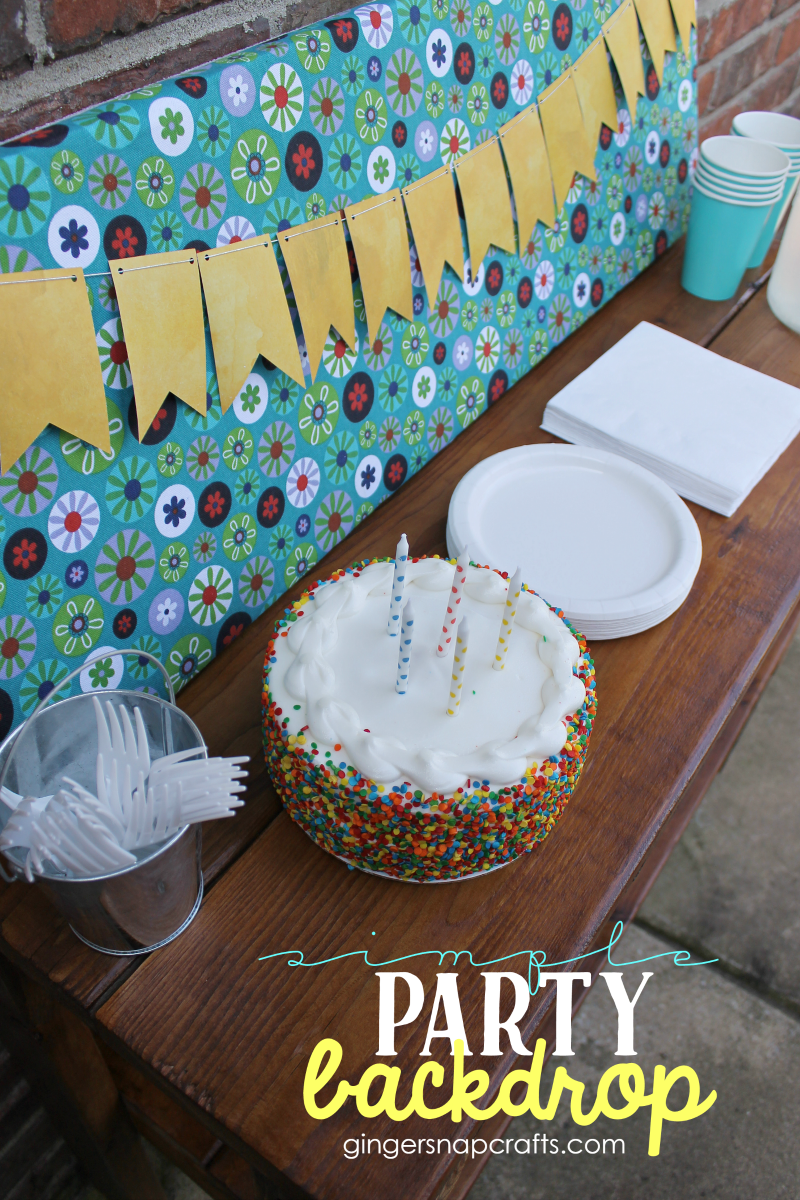 Thanks so much for having me over! I'll see you again next month! :)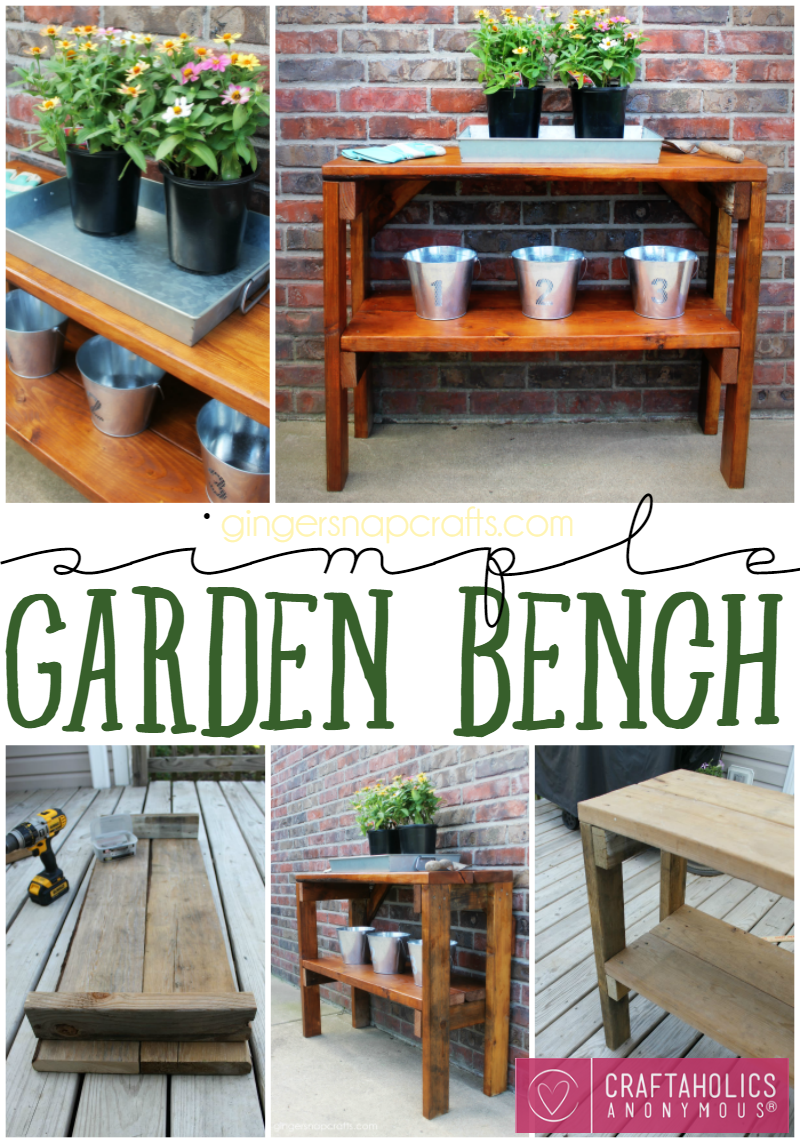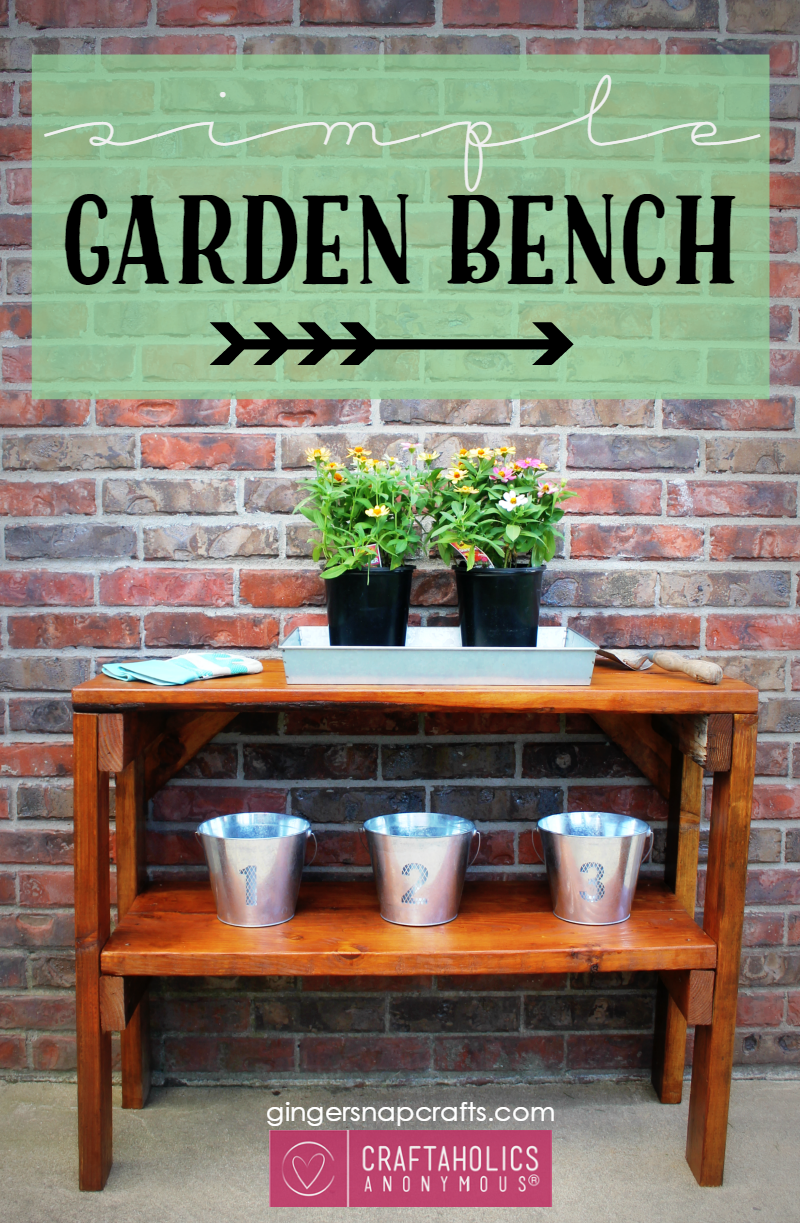 More Outdoor Projects!