This post is brought to you by TIKI® Brand. As always, all opinions are 100% my own. I received free product to try.
We have a tiny patio.
As in it barely fits our patio table and a grill. And if you move your patio chair too far away from the table, you're sitting in the grass! And as you can imagine, it is pretty bare minimal piece of cement. No decking, no railing, no structure, no fancy features, just a slab of brown painted cement in our backyard. It's not my favorite.
But after a little TLC and elbow grease, it's looking pretty fantastic now!
Small Patio Spruce Up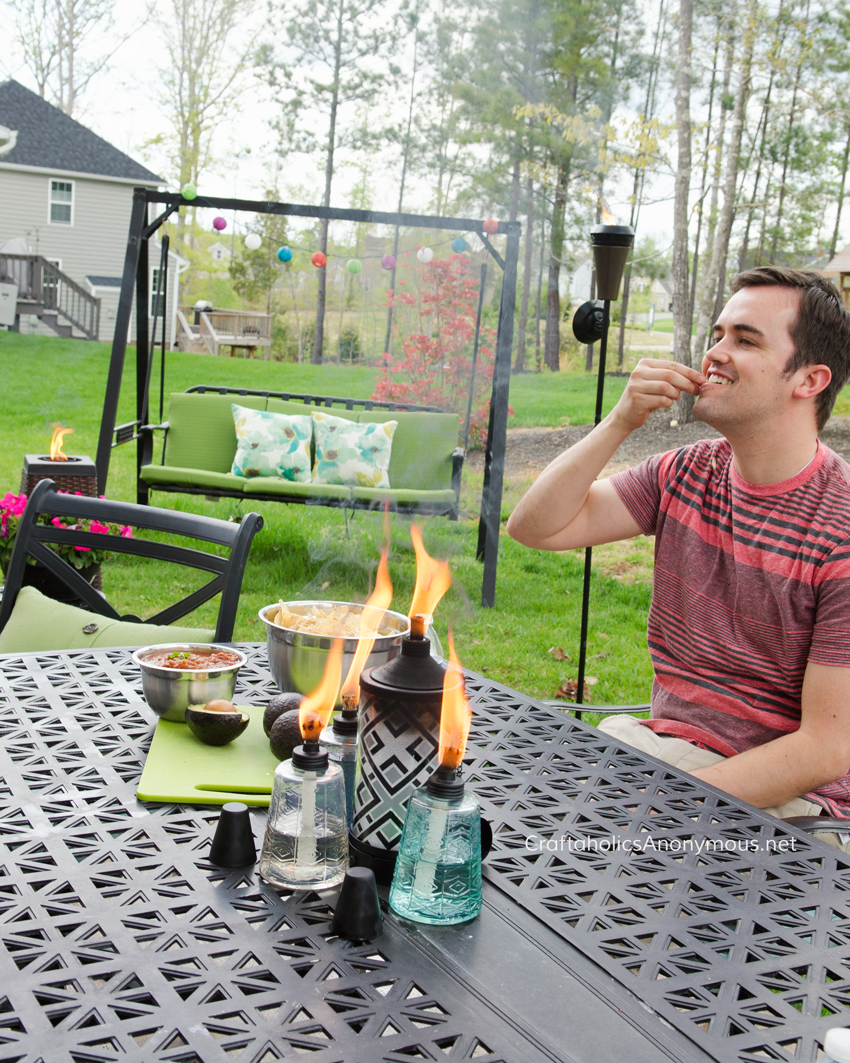 Since money is tight for us with Davis starting a business last fall, we wanted to get our patio looking good on a small budget. This is our first spring in our new to us home so a good cleaning was first up. I used the garden hose and a stiff broom to clean off dirt, stains, leaves, and debris. I was surprised how well the broom worked. Cleaning it myself saved me some money from hiring someone to power wash it. It didn't take long to do and looked a ton better. Although my arms were a tiny bit sore the next day. ha!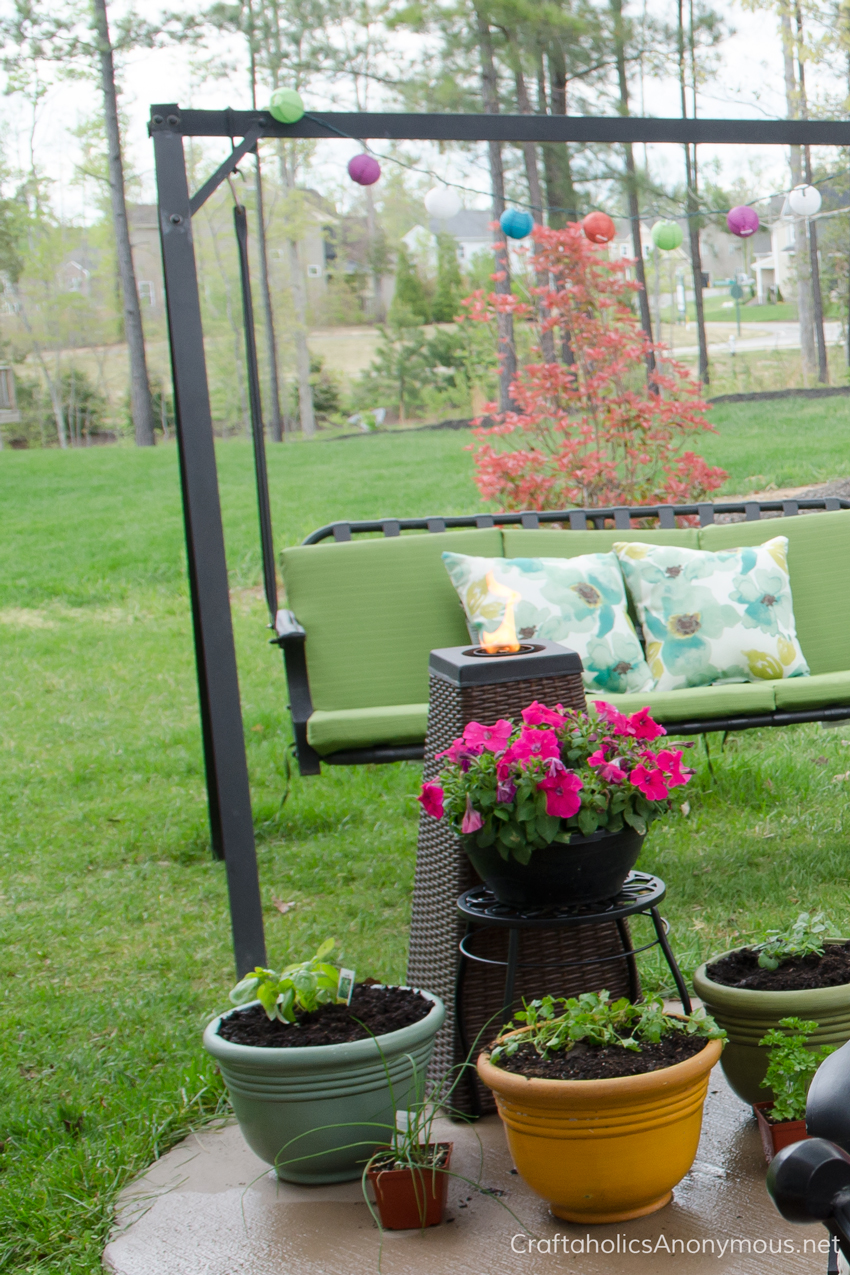 Next I bought replacement pillows and cushions for our swing. The old ones were worn out. New outdoor cushions and pillows are a great way to spruce up your outdoor space on a budget. They are relatively inexpensive to buy and add great color. Plus the prints and styles update the look of our furniture immediately so you can put off buying new patio furniture longer.
*Tip: If your patio furniture is looking dull and sun worn, a fresh coat of spray paint is a great way to add life back into them!
I put a small herb garden in our patio pots this year including Basil, Chives, Cilantro, Parsley, and Oregano. They add nice greenery without looking too bulky for the small space. Plus I can save money by harvesting fresh herbs from my little patio garden when I'm cooking instead of running to the store. So the herbs work double duty as being pretty and functional.
And of course, I pulled out my favorite TIKI® Brand Fire Sculpture! We've had that for several years and we love it. The TIKI® Brand Fire Sculpture not only looks nice on our patio, but it also works great for lighting and helps keep mosquitos away with Citronella Torch Fuel.
Our cement patio is right in the grass. Our last house had an above ground deck, so we will be dealing with more bugs now then we are used to. There is also a little stream a couple houses down. So bugs are definitely an issue. I love how the TIKI® Brand Citronella Torch Fuel has mosquito repelling properties in it. Again, loving the double duty!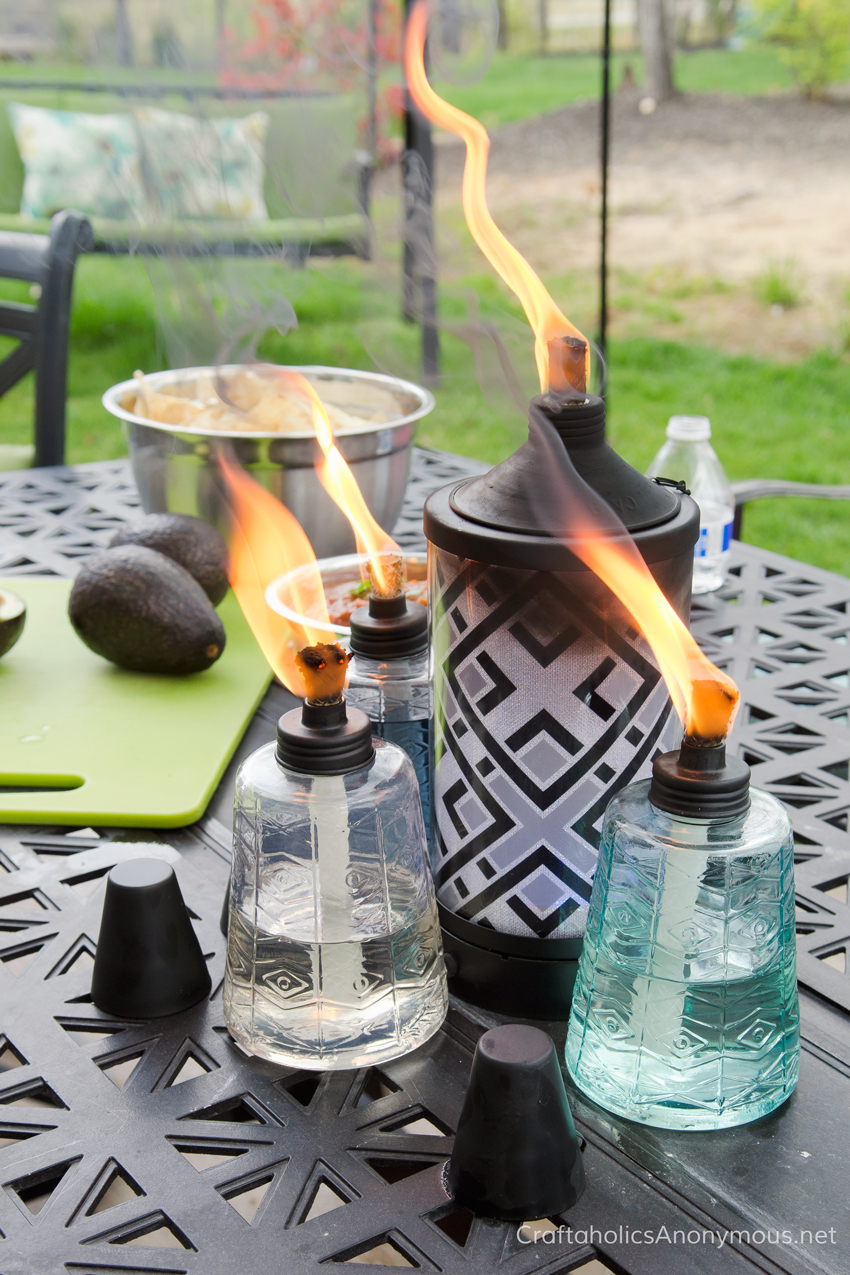 Look at those flames! These pretty glass TIKI® Brand Table Torches are great. The large torch in the center has an LED light in it that makes it glow. And if you want, it can change colors. My favorite torch is the blue tinted one on the right. The color is really pretty!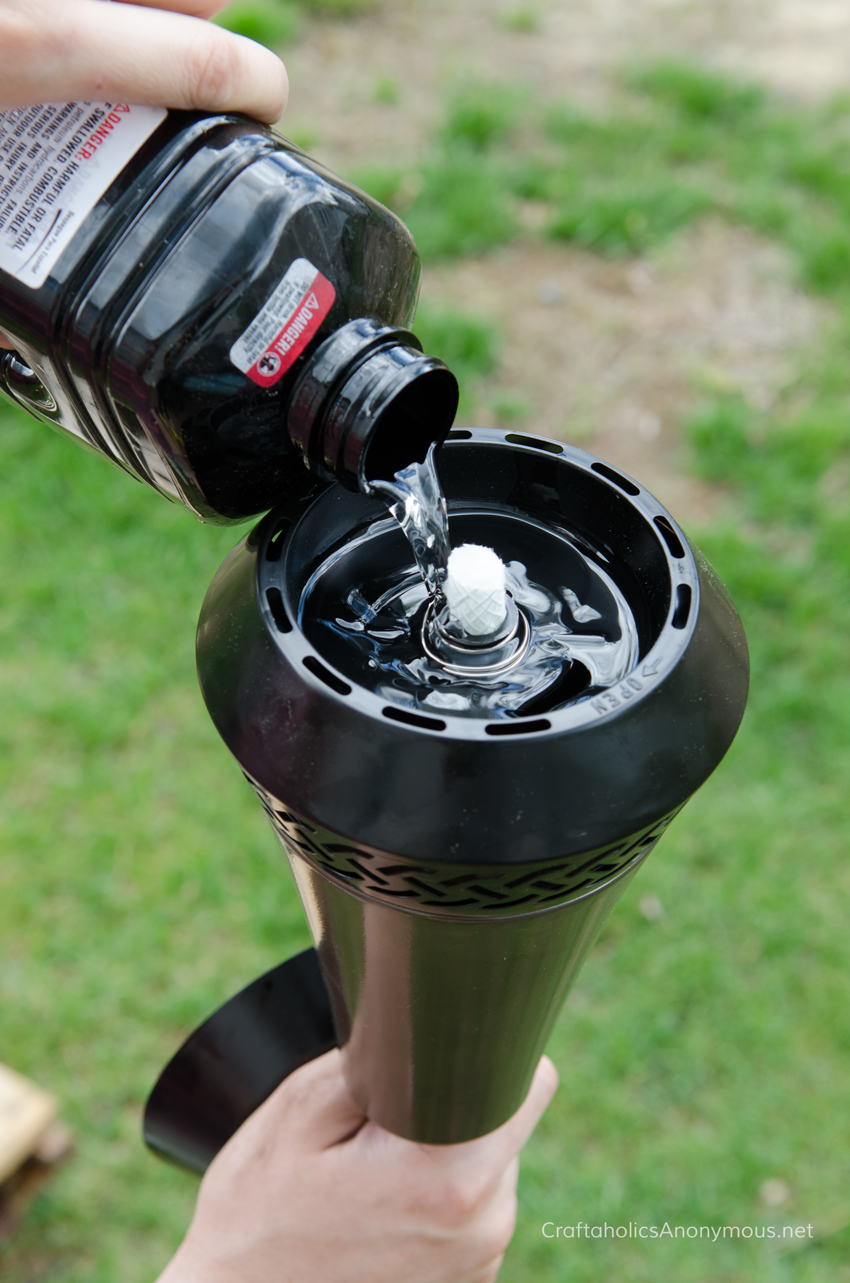 For more added lighting and bug fighting, we put a couple TIKI® Brand Island King Torches in the grass around the perimeter of the patio. Those things can put out the light! Very nice large flames. Plus they are super easy to use because you don't need a spout to fill them with the TIKI® Brand Citronella Torch Fuel. Simply twist the top to open, pour in TIKI® Brand Citronella Torch Fuel, and then twist closed.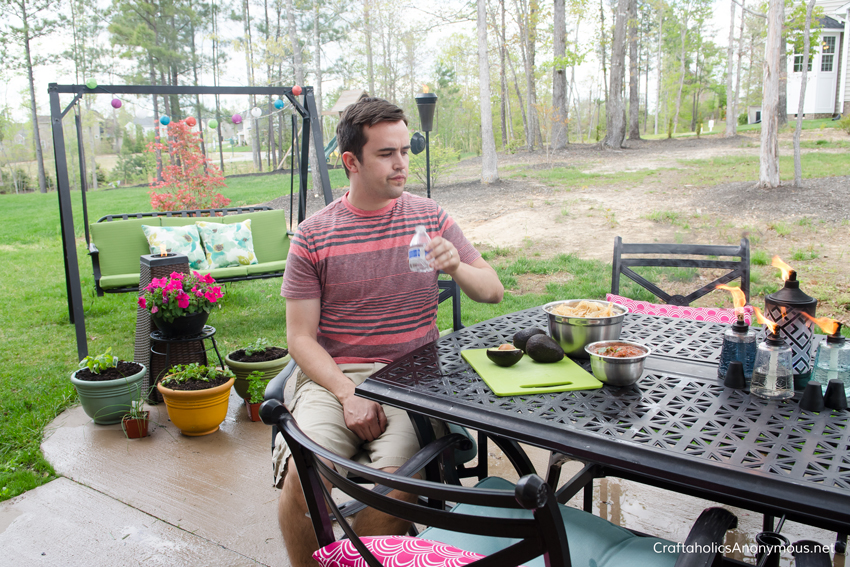 So that is our mini patio makeover for this year. I'm excited to use our patio for entertaining this summer!
Bonus: Click here to check out these playlists that are perfect for outdoor entertaining/relaxing.
More posts you'll love on outdoor spaces!
TIKI® Brand Giveaway!

Hi! I'm Linda, the craft addict behind Craftaholics Anonymous®, a craft blog. Crafting is cheaper than therapy, right? When I'm not DIYing something, I can be found taxiing around our 4 crazy kids or working out. Or shoe shopping... because you can never have too many shoes! Happy crafting! ♥