Hey Craftaholics Anonymous® readers! Its Jessi here from Practically Functional! I'm so excited to be here sharing an awesome upcycle craft with you guys today! We have a bunch of old t-shirts from college that we just don't wear anymore, but they still have sentimental value so I didn't want to toss them. So I turned them into tote bags! It's so easy to turn a t-shirt into a tote bag, and the best part is, there's no sewing required! All you need is scissors and an old t-shirt, you can make a super awesome tote bag!
No Sew T-shirt Bag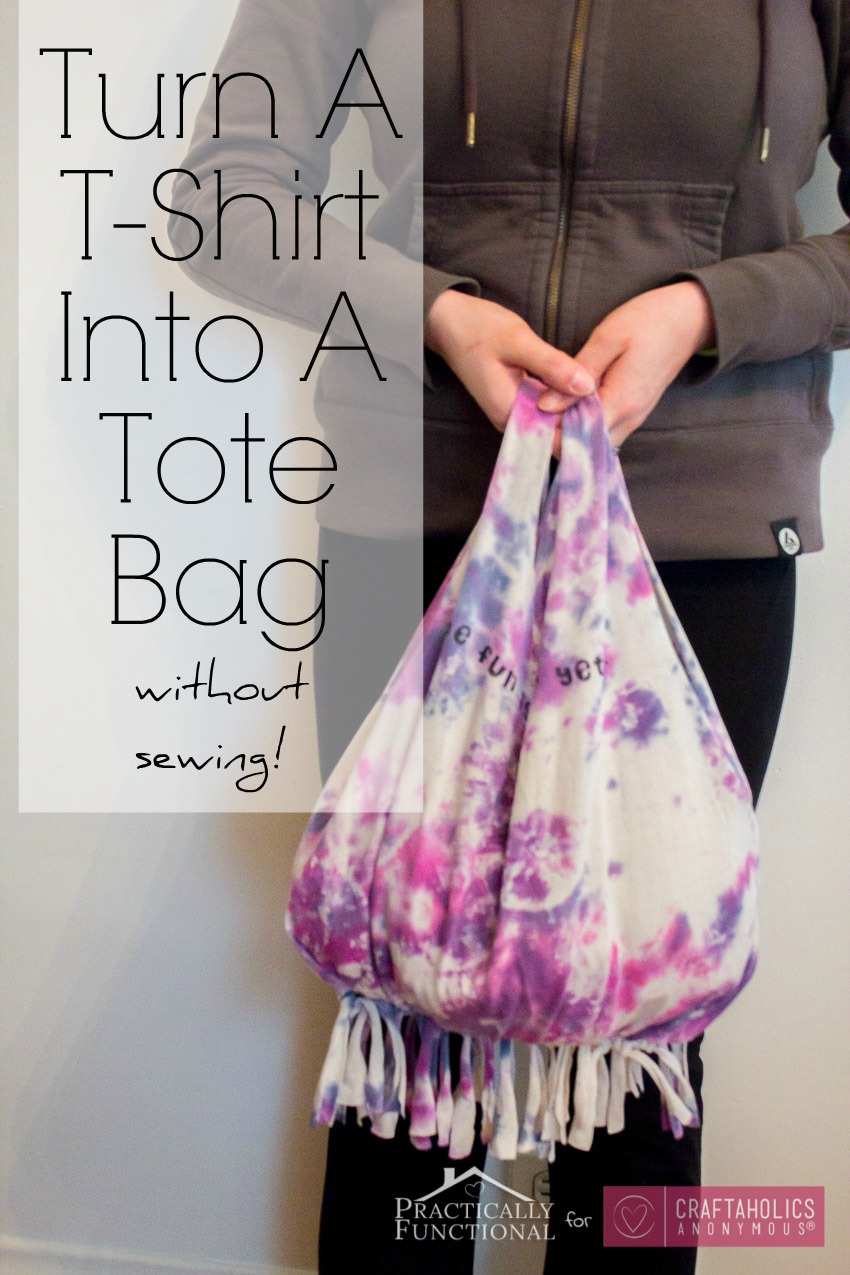 It's a great way to recycle old t-shirts instead of throwing them away, especially if they have sentimental value. And if you have kids, this is a great way to keep their favorite shirts useful even afer they outgrow them! PLUS this would make a great kid/teen craft idea.
How to Make No-Sew T-shirt Bag Tutorial
Here's what you need:
Though you can do this with any t-shirt, the thicker the t-shirt fabric, the stronger the bag will be. Just be careful that you don't choose a t-shirt that has been worn threadbare!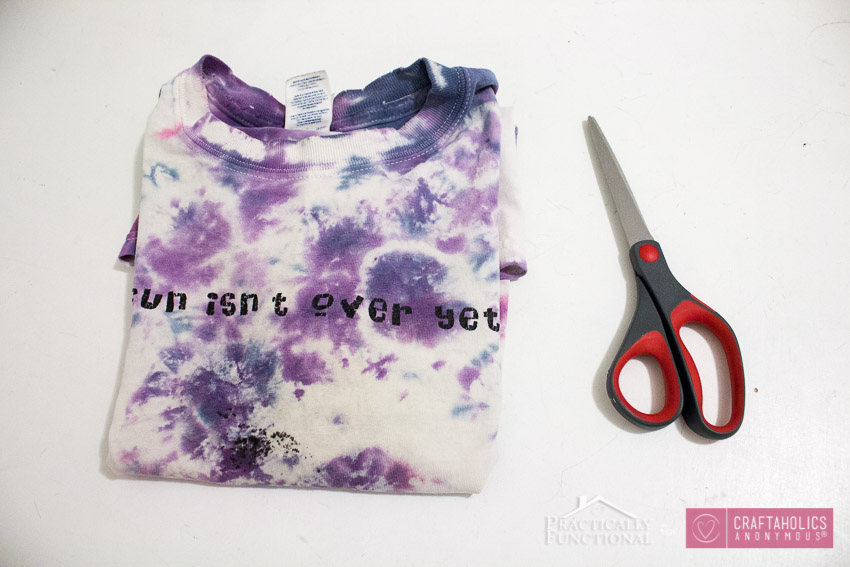 My husband accidentally exploded a pen all over this shirt…. so he couldn't wear it anymore. But it's perfect for a t-shirt tote!
Start by cutting the sleeves off of the shirt.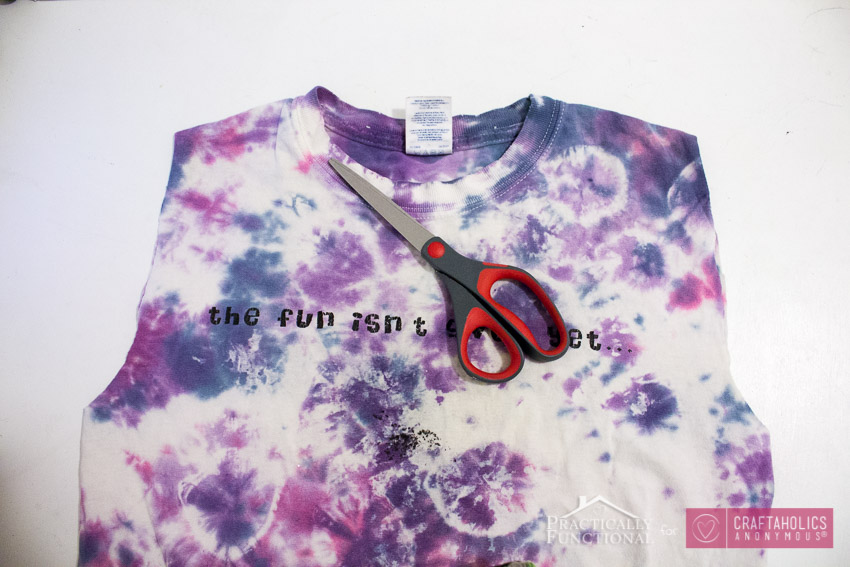 Next cut out the neck of the shirt. Instead of cutting the neck exactly around the stitching, you can cut a little bit lower down into the shirt so that the opening of your tote bag is large enough to get stuff inside.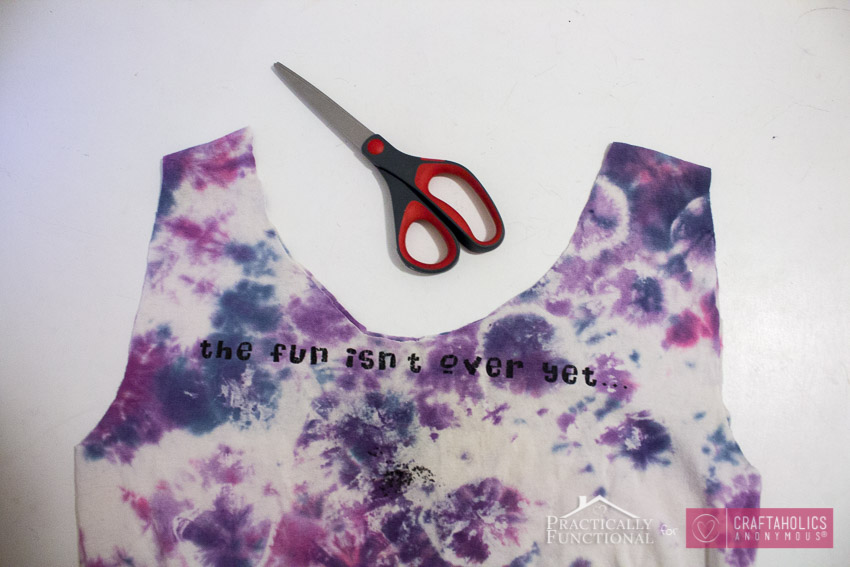 The last step is to cut a fringe and tie up the bottom! First, decide how long you want the bag to be. Remember, as you use it the fabric will stretch out a bit, so it might be too long if you use the full length of the t-shirt.
For this bag I cut the hem off of the t-shirt, then I cut the fringe up about 3″. The longer you cut the fringe, the shorter the bag.
Make sure your fringes are about 3/4″ wide and that you're cutting through both the top and bottom layers of the t-shirt as you go.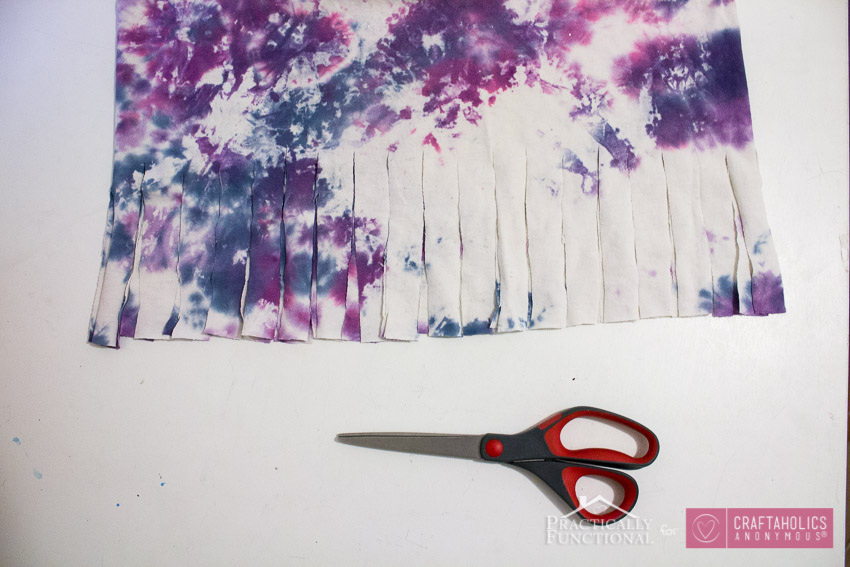 Then start tying your fringes together. As you tie them together the fringes will help close up the bottom of the bag, but there will be holes between each set of tied fringes.
To fix this, just lay out your tied fringes as shown in the photo below (one fringe going up out of the knot and one fringe going down out of the knot), then tie the "top" fringe from one pair to the "bottom" fringe from the pair next to it. This will close up those gaps between the pairs of fringes.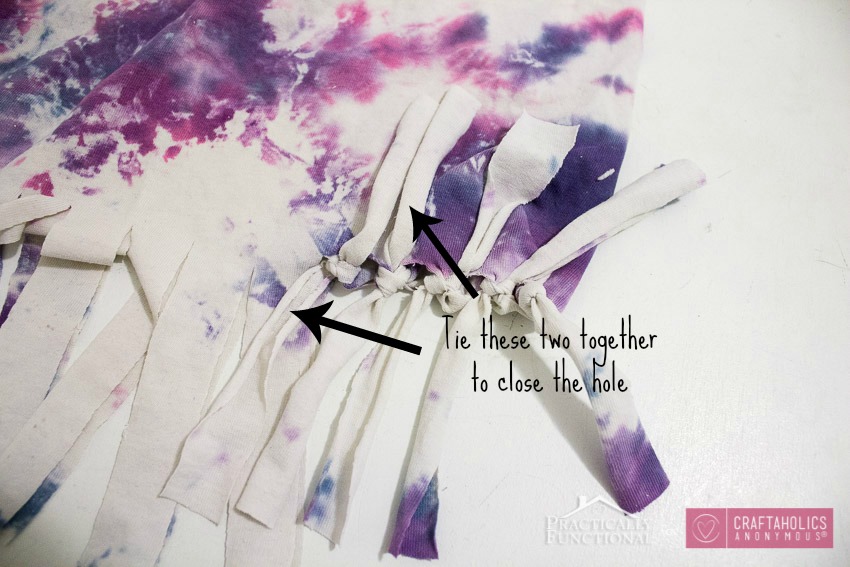 It should look something like this once you have closed the gaps.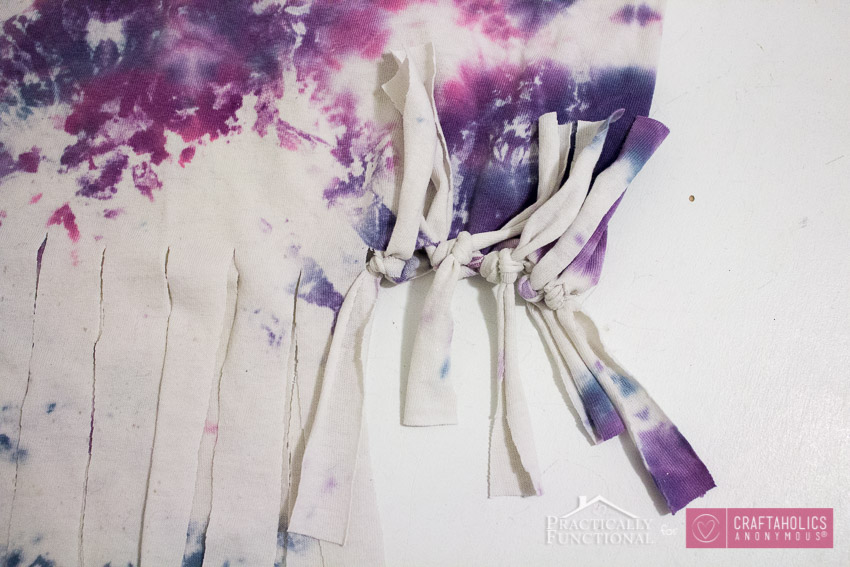 Just keep tying pairs of fringes together, then tying the top fringe from one pair to the bottom fringe of the next pair to close the gaps. Once all your fringes are tied and all your gaps are closed, you're done!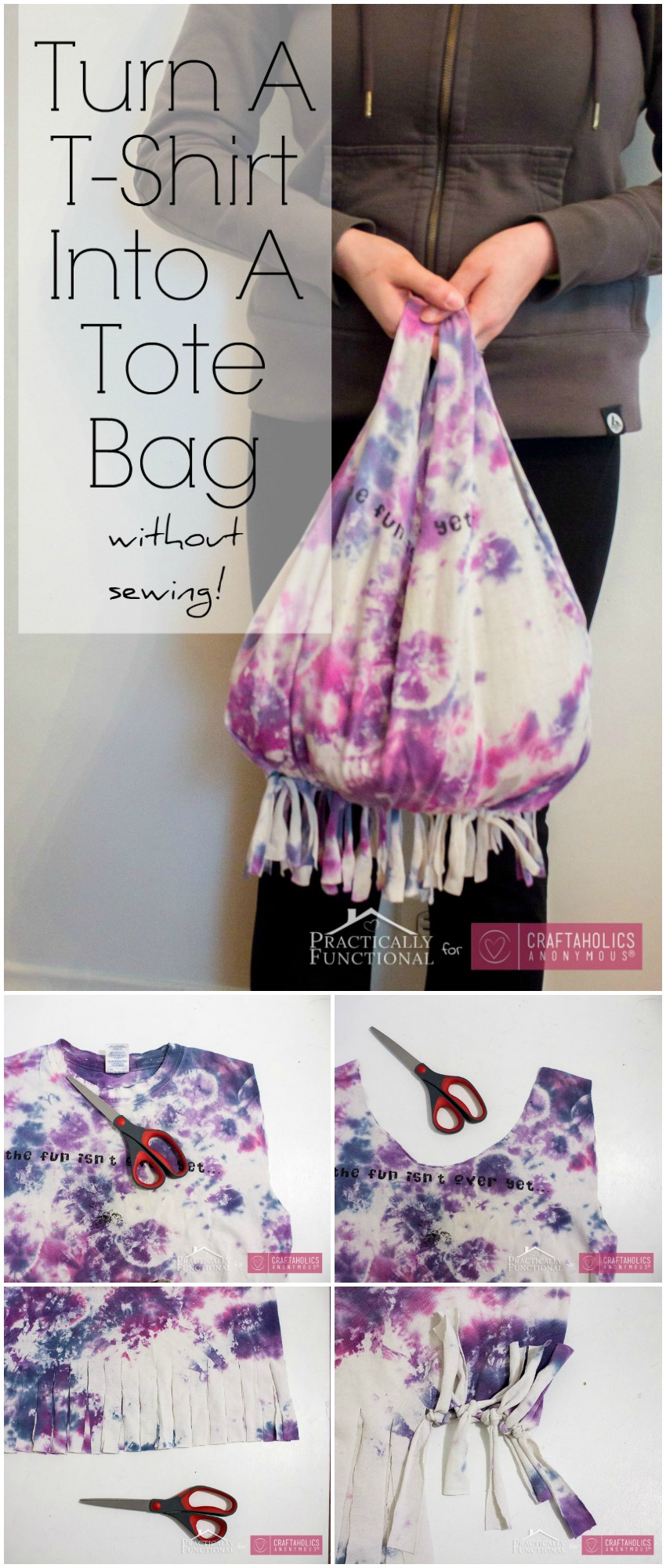 If you don't want to leave the fringes hanging down you can tuck them up inside the bag, or cut them off. But I kinda like the fringed look at the bottom!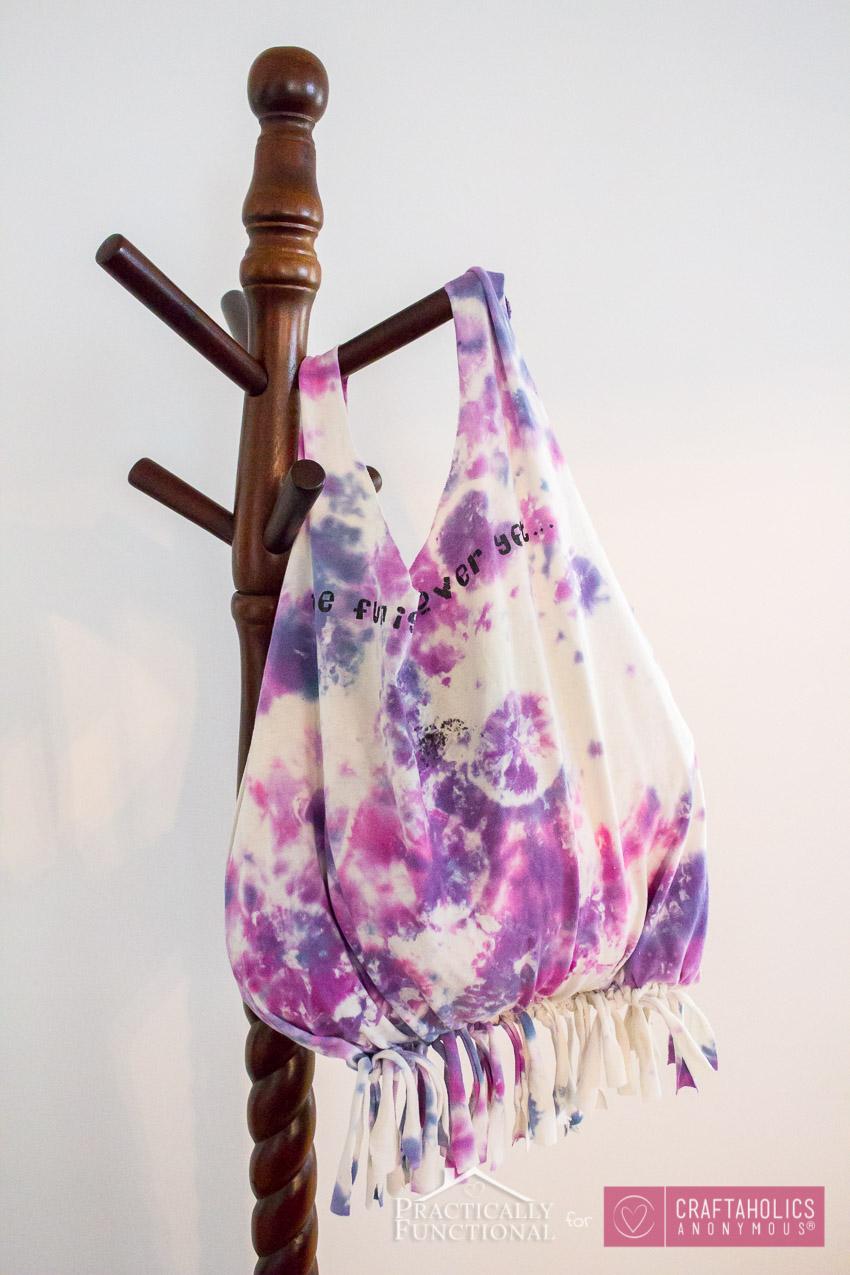 Take your new tote bag to the farmer's market, the beach, the park, the grocery store, or anywhere!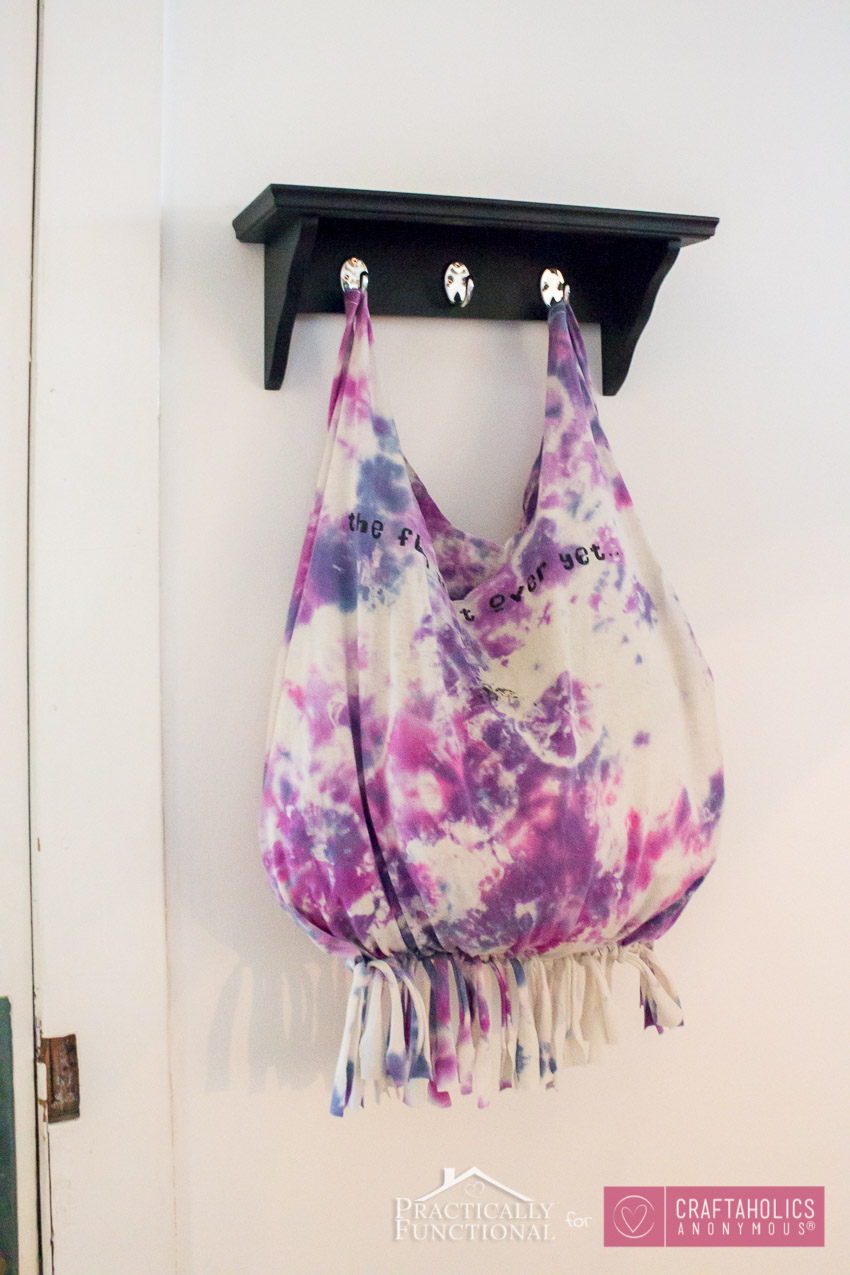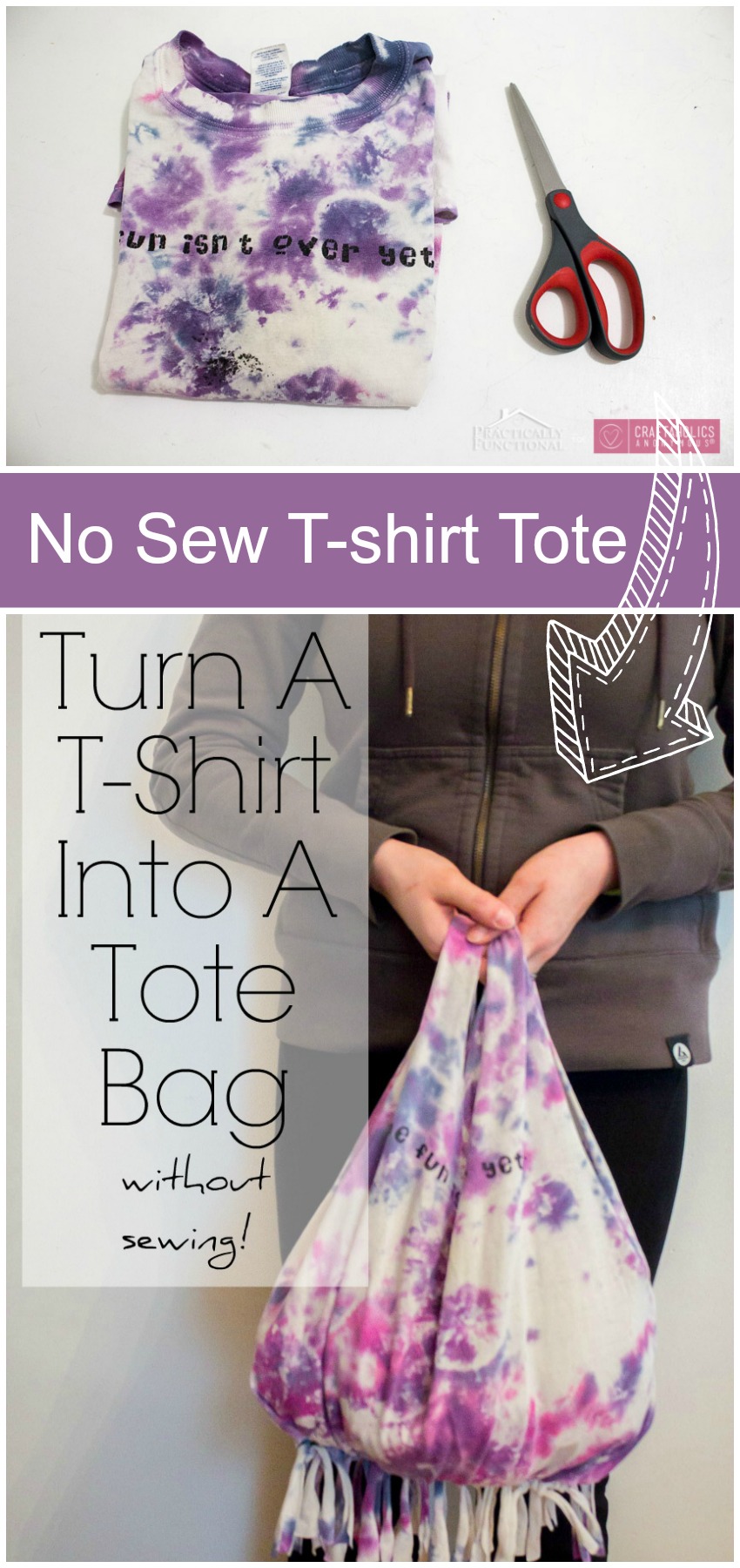 If you want to see another great t-shirt craft project, check out this tutorial on how to make a bleach spray t-shirt! You can make it with any design or graphic you want and it only takes about ten minutes!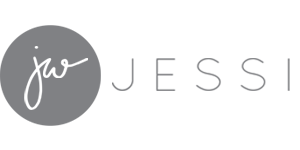 Hi, I'm Jessi, and I blog at Practically Functional, a blog about real projects that real people can actually do! You don't have to be a pro in order to craft or do DIY projects; Practically Functional is full of projects for everyday life that anyone can do, regardless of skill or experience! Whether you're looking for fun crafts, DIY projects both big and small, gardening advice, cleaning tips, or quick and easy recipes, you'll find them here! Follow the step by step instructions in every tutorial, and don't hesitate to ask if you have any questions! Make sure you
subscribe to free weekly emails
so you don't miss a single tutorial!
Latest posts by Jessi @ Practically Functional (see all)