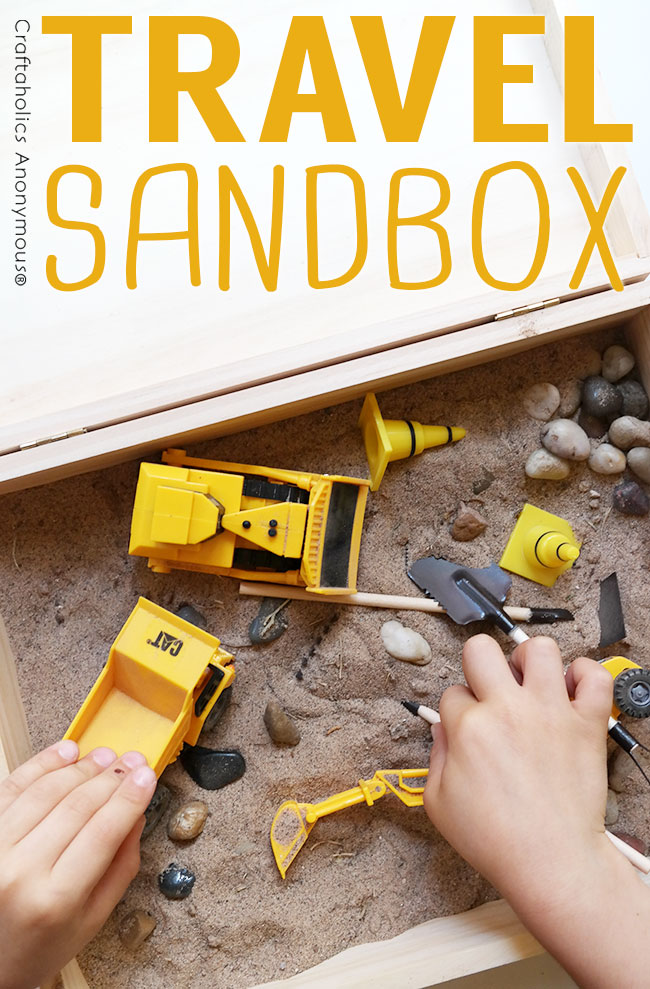 Hi everyone, it's Vanessa from Tried & True and I'm back with another quick and easy tutorial to entertain the dirt loving kids in your life! My nephew's third birthday is coming up and he's absolutely obsessed with anything having to do with construction vehicles and tools. I saw a great miniature sandbox set at a local toy boutique but knew I could easily make it for 1/3 of the price!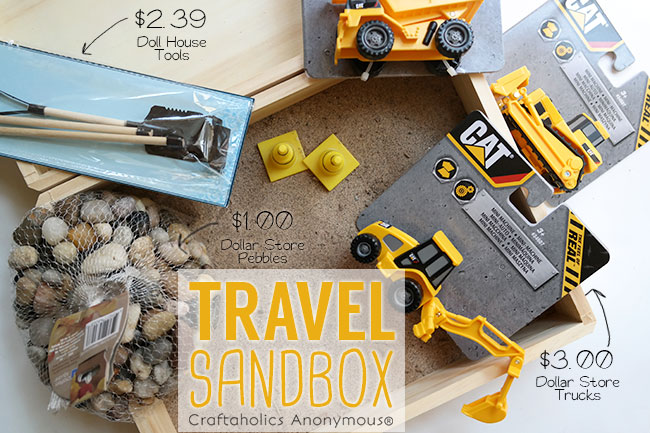 DIY Travel Sandbox Tutorial
Materials:
Construction Vehicle Toys ($1 each at Dollar Tree or Amazon)
Small Pebbles ($1 per bag)
Miniature Yard Tools ($2.39 at craft store)
Wood Box ($2 at thrift store)
Sand (free from our backyard sandbox)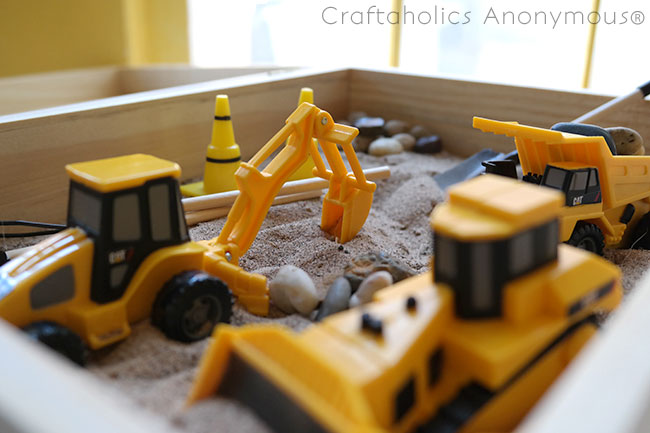 This gift couldn't be easier, just place all the supplies inside the box and give to that special construction worker in your life!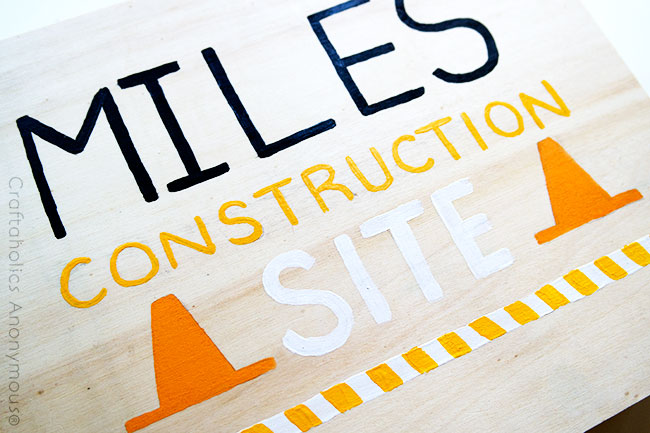 If time permits, you can customize the front of the box with a little paint. Don't worry if you can't or don't want to paint, you can always leave the top plain or add construction themed stickers. Don't worry too much about the outside, the recipient of this birthday gift is going to be too excited about the inside contents to even look twice at the lid!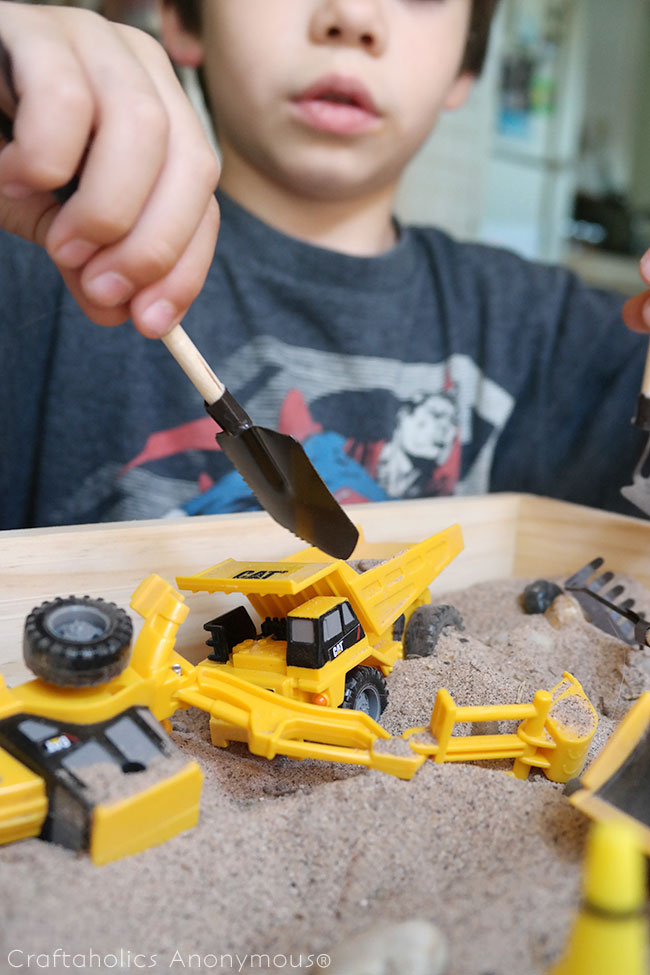 I was curious about what my five year old would think of this Travel Sandbox (and plus I needed pictures for this tutorial!) and was pleasantly surprised that he spent a good 20 minutes playing with it. That's almost a lifetime for the high-energy needs of a little boy!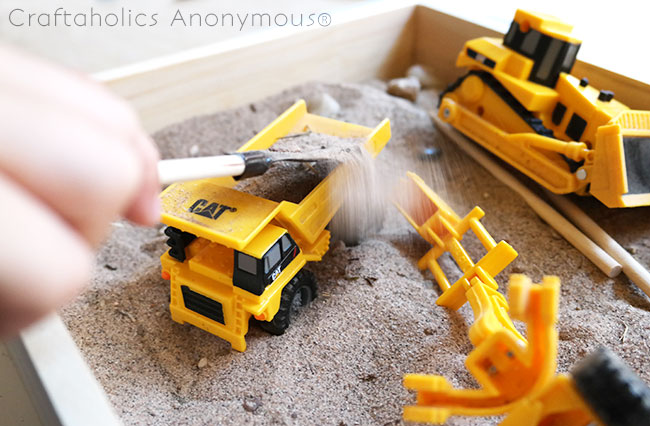 I can't wait to give this to Miles! He's going to have a blast loading all the vehicles, digging through the sand, picking up the mini rocks, and so on. I'm sure he's going to be able to tell me the names of the vehicles as soon as he opens the box. He may love the fact that this is his own personal construction site but I love that I paid under $10 (instead of $30!) for a gift he'll enjoy for quite a while!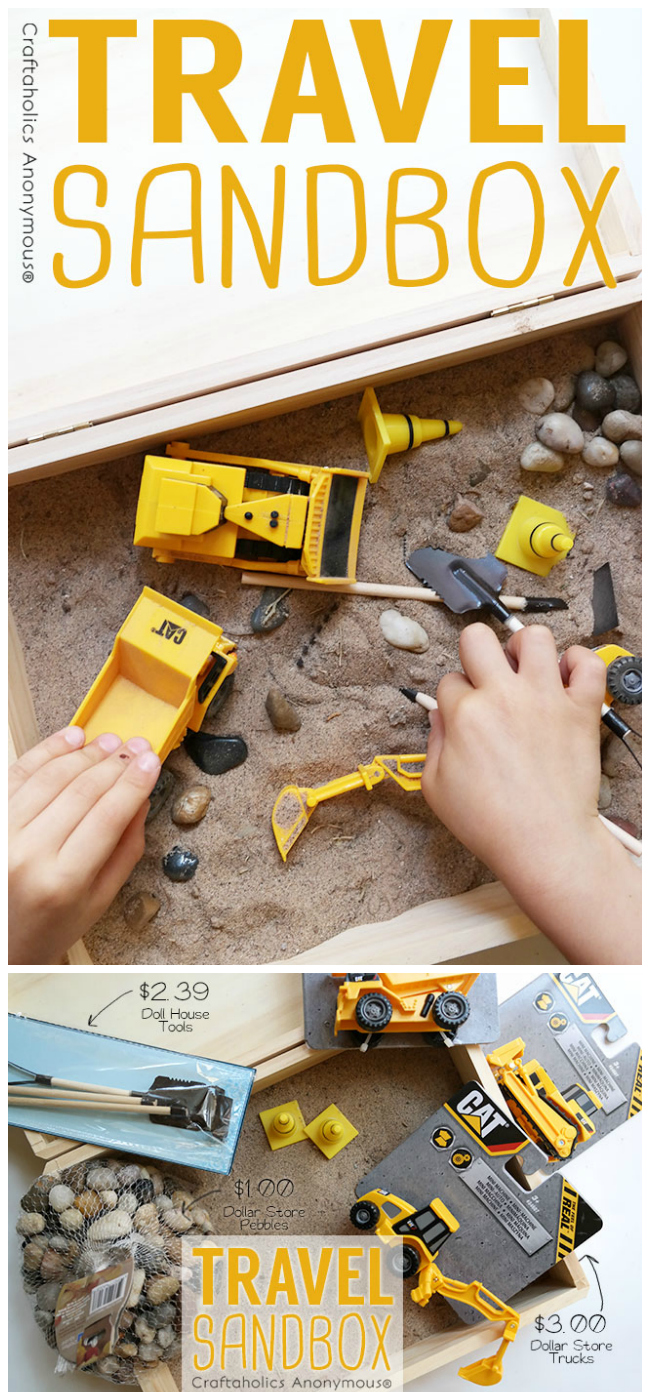 Make sure to check out more great birthday ideas from Tried & True: Dissolving Dinosaur Skin Kit
For more Craft Ideas and Inspiration, follow along on Pinterest! 
Vanessa
Vanessa Brady is the mother of two boys and when she's not pretending to be a robot or superhero, Vanessa enjoys creating original projects and tutorials for her creative living blog, Tried & True.