DIY Tangrams Art
By: Natalie from Doodlecraft
A Tangram is a Chinese dissection puzzle consisting of 7 flat shapes.
They all fit perfectly in one square.
My dad is a Mathematician.  He collects "smart games".
He loves all sorts of thinking games, puzzles and riddles.
So I grew up putting tangrams together.
You can even make all sorts of things with the pieces…animals, people,and things!

Since geometric anything is all the rage, I though it would be fun to make
Rubber Stamp Tangrams art and cards!
This would be so fun to make for a teacher appreciation gift–A little stack of cards and some envelopes wrapped in twine!
Or just to send someone a smile in the mail!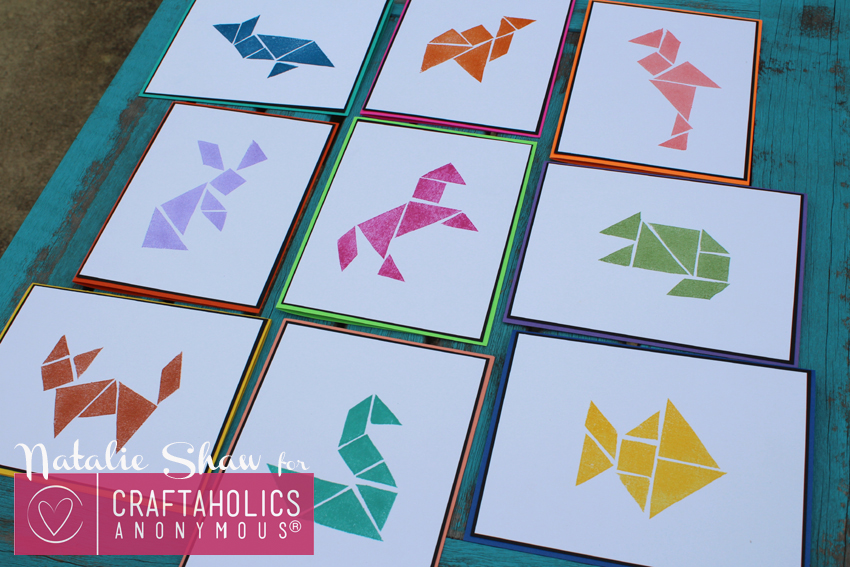 Here's the Tangram.
There's a cool website that explains it all here.
How to Make Tangrams Stamps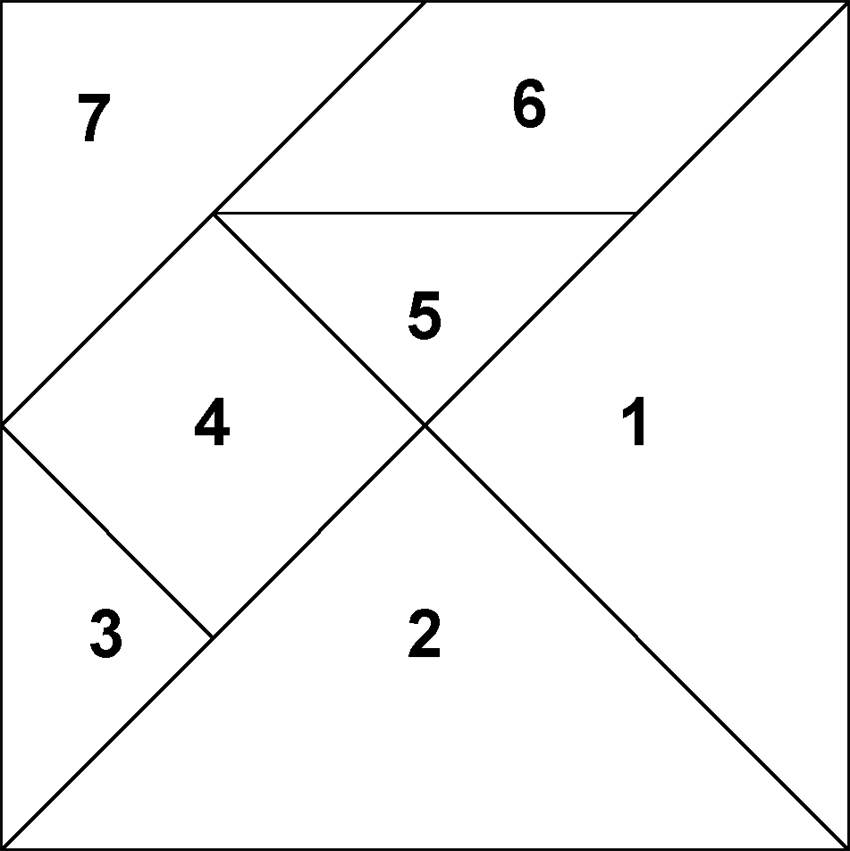 Supplies for Tangrams Stamps:
Pink Carving Rubber:  I got mine here…Speedball Carving Block

(you could do with with pink rubber erasers or scraps of cling mounted rubber)
Hobby Knife
Ruler, pen, scissors, 1.5″ square paper
Rubber Stamping Ink Pads or Crayola Markers
Paper to stamp on…lunch bags, newspaper, old books!
Supplies for Cards:
5 1/4″ x 4″ pieces of cardstock in white
5 3/8″ x 4 1/8″ pieces of cardstock in black
5 1/2″ x 8 1/2″ pieces of cardstock in assorted colors…and then folded in half
Tape or glue stick
Begin by cutting a 1 1/2″ square of paper and make all the
folds and cuts for the Tangram.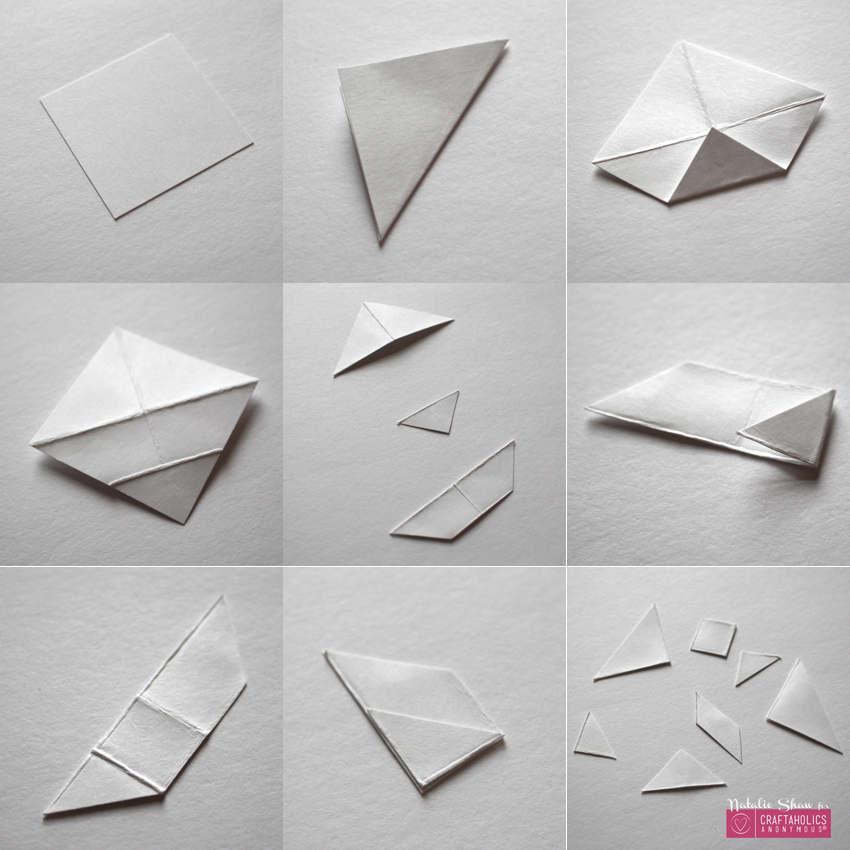 Then trace the paper pattern onto the pink carving rubber.
Brace your lines with a ruler and make the cut with a hobby knife.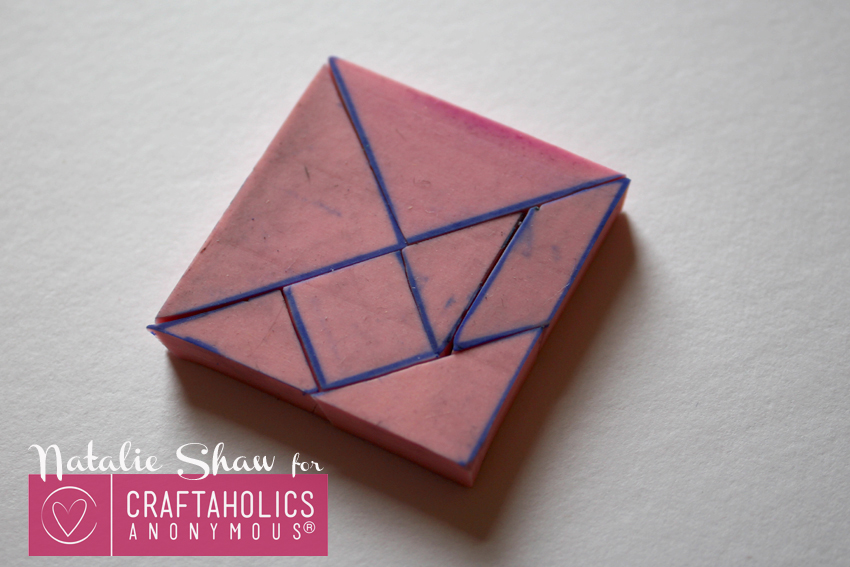 Just like this.  Now you have 7 pieces to play with!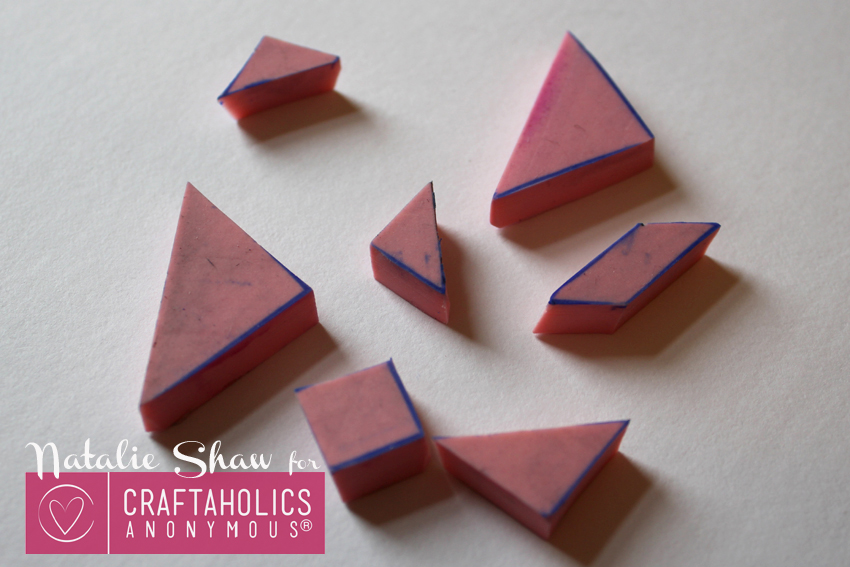 Now just add tape or a glue dot to the backside…and press onto an acrylic block in any pattern or design for stamping.
Like this bunny!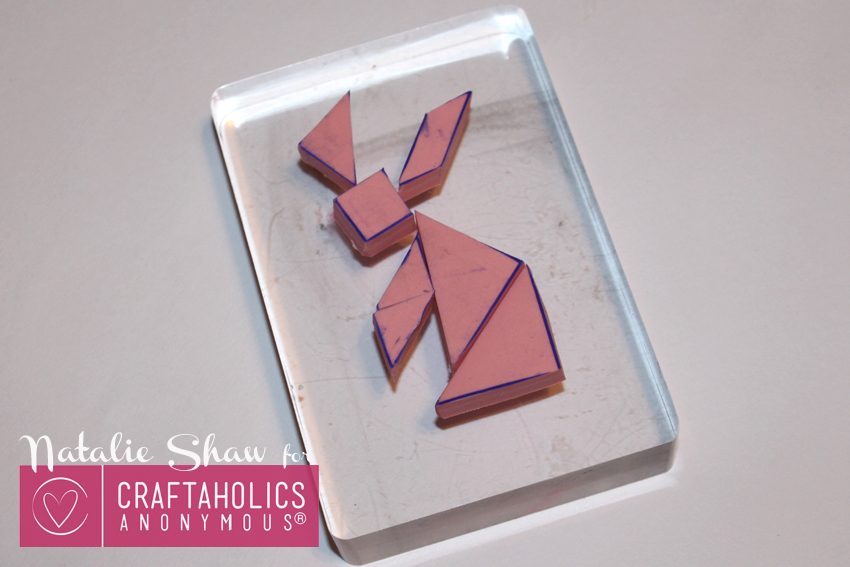 There's so many fun designs…
But to get you started, feel free to save or print this picture as a reference.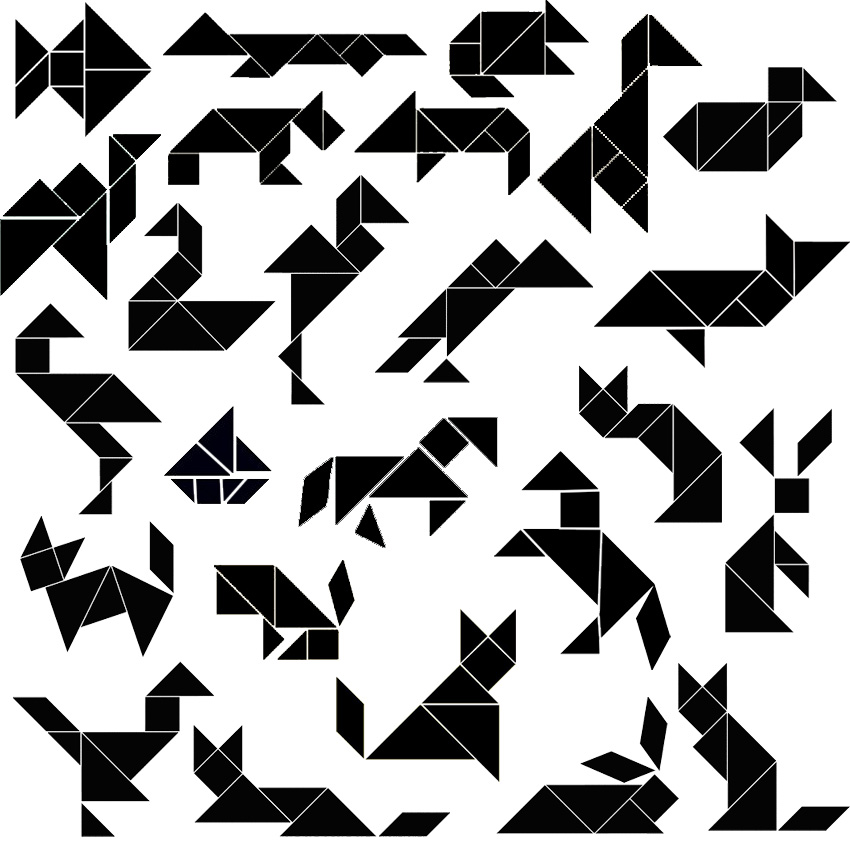 Here's another option when making the tangram stamps:
I buy rubber stamps all the time with cling back mounting foam on them.
They come in a sheet and you peel the stamps out of them.
This leaves a bit of wasted rubber…so I just laid out my Tangram pieces
and traced them on wherever they fit on the rubber!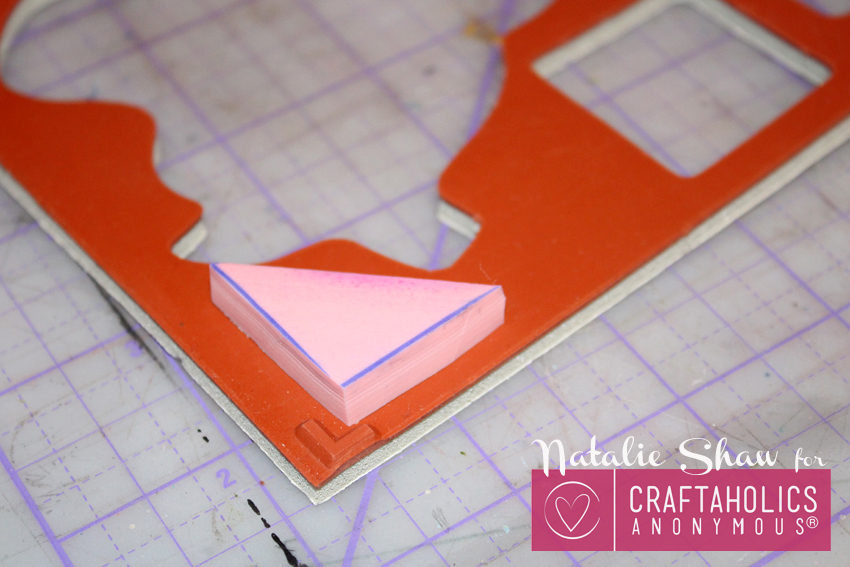 Then cut them out with rubber stamp scissors.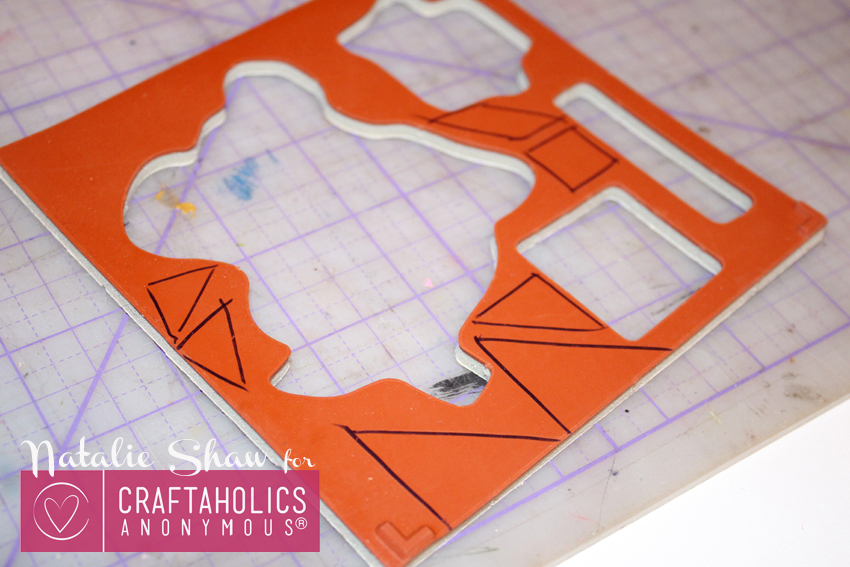 They don't fit together quite as nicely as the one cut from a single square…
but they are easier to use with the cling back…and still make the same adorable shapes!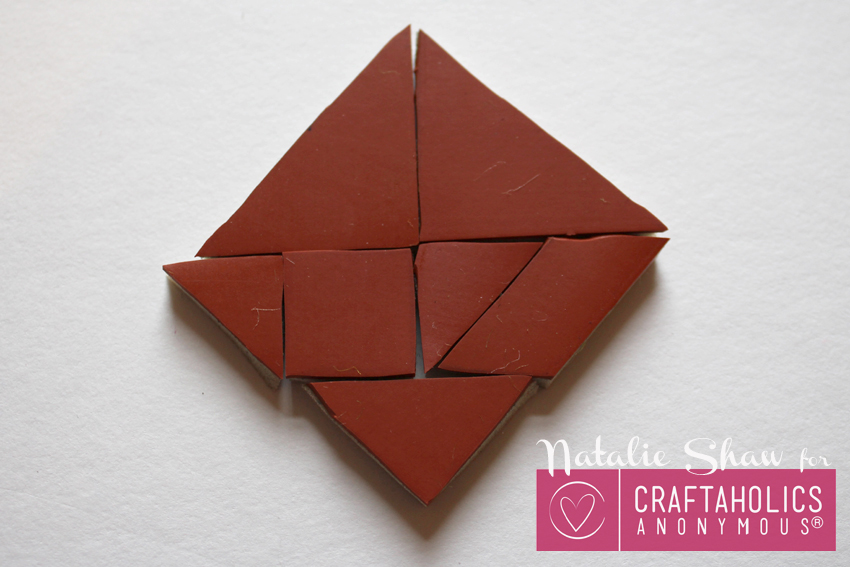 Just arrange them,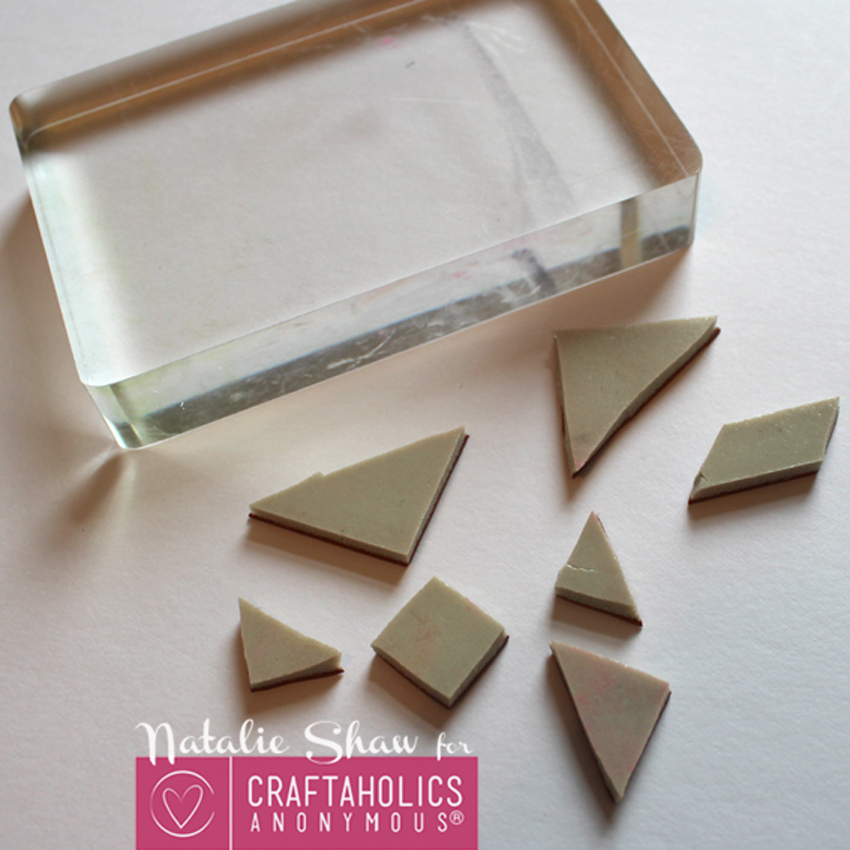 However you want…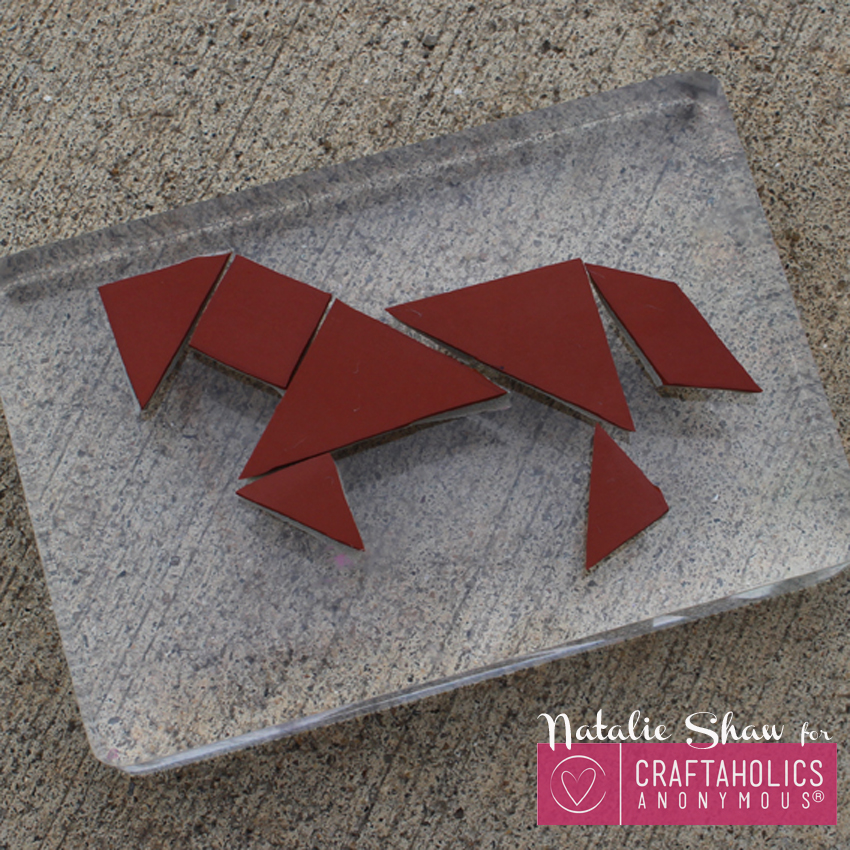 Press in ink…or, if you don't have ink pads…use markers!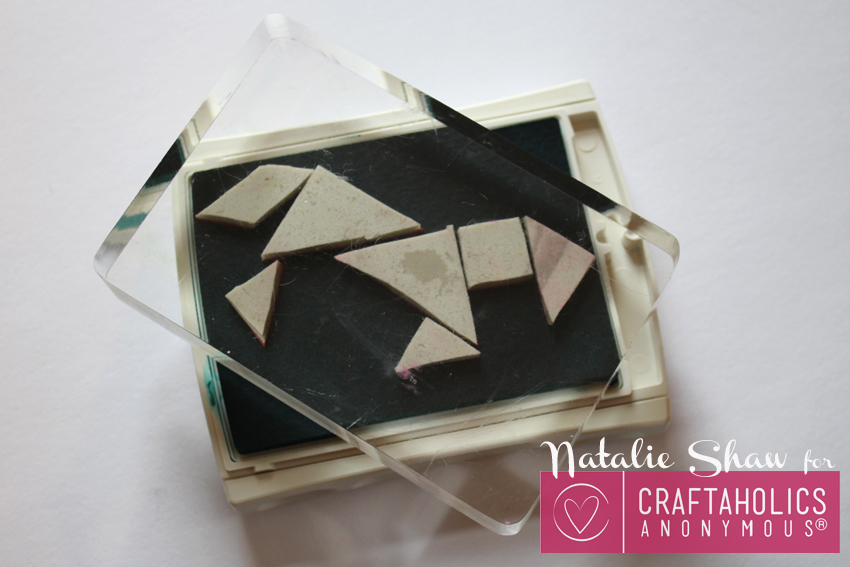 Press evenly onto paper.  Do not rock back and forth.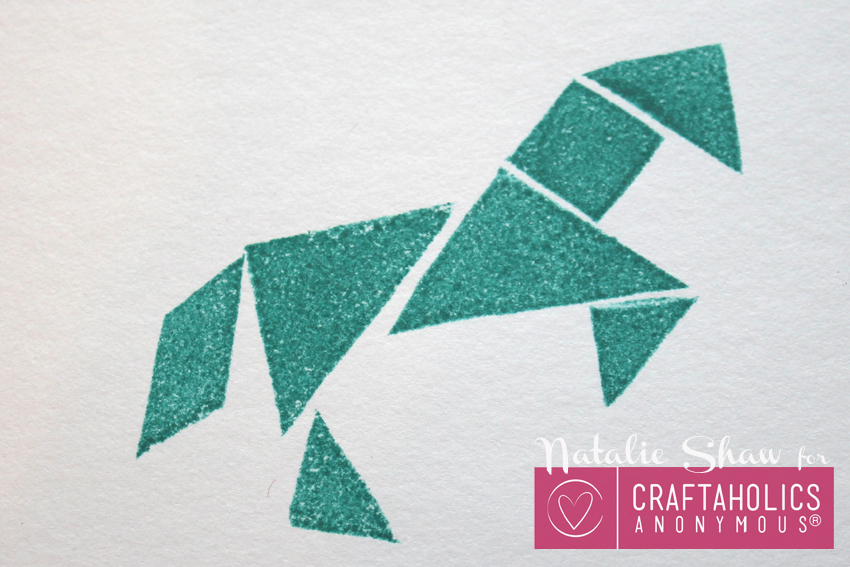 Use a baby wipe or damp paper towel to clean up the excess ink…then rearrange and do it again!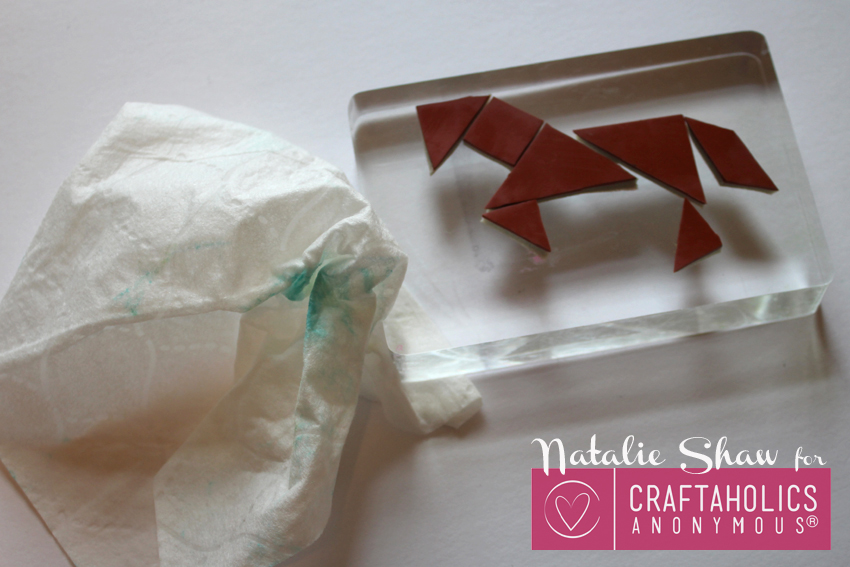 This time, with a cat…or fox!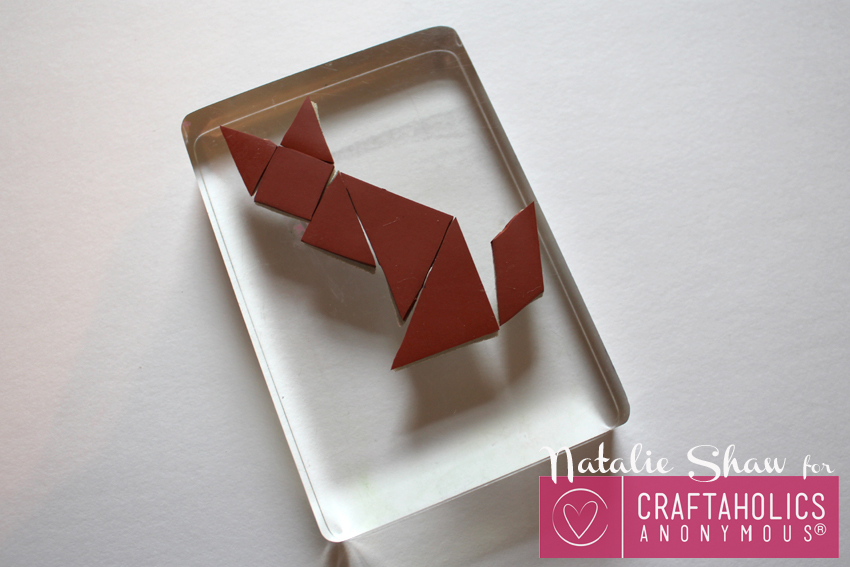 Pretty soon, your desk will look like mine!  Just keeping it real here!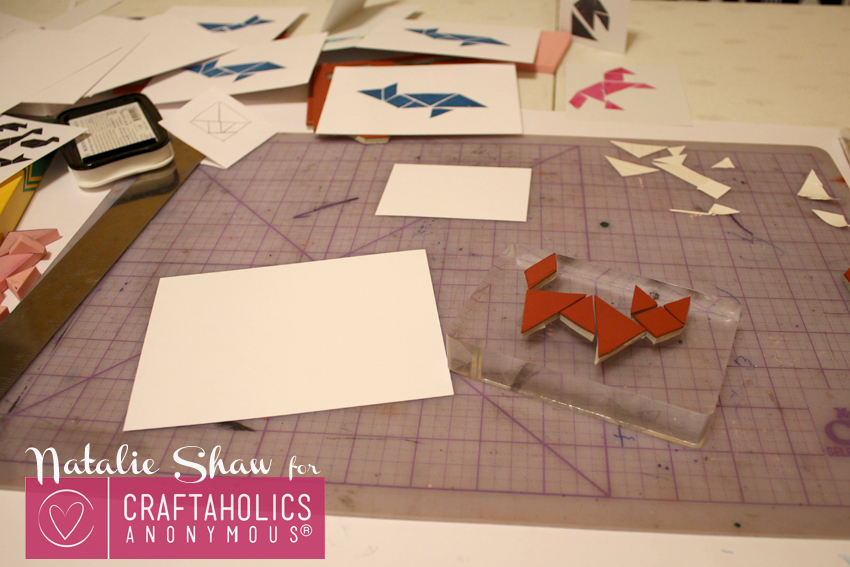 They are so cute in all their geometric glory!
Then if you are using them as cards, cut paper as outlined in the "supplies for cards" above and mount them together!  Easy!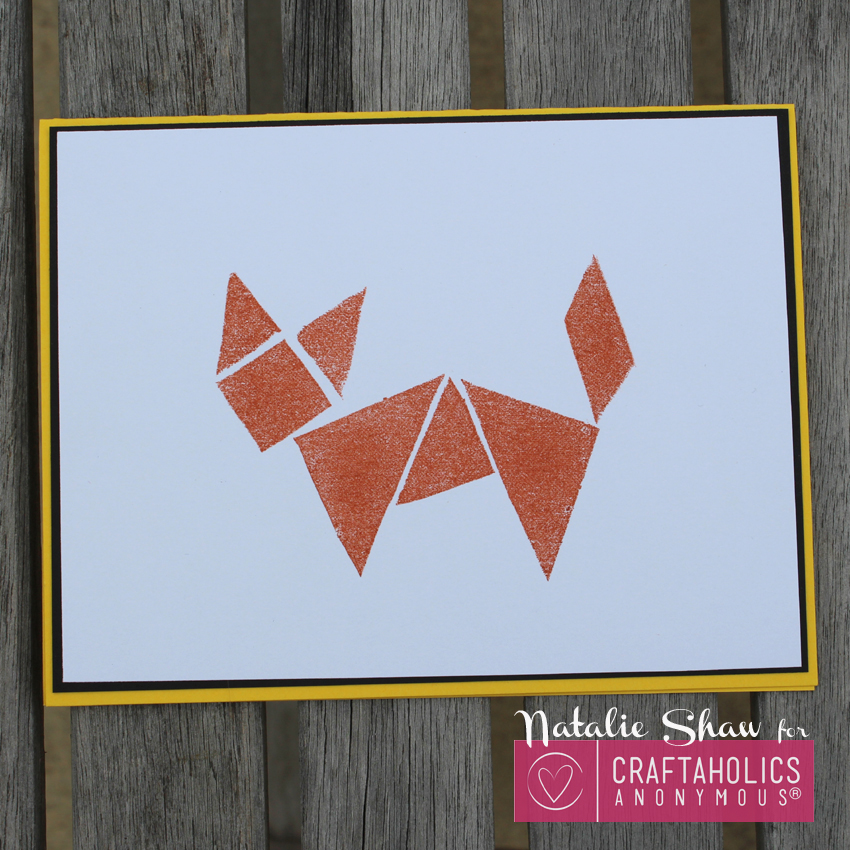 I totally love this whale.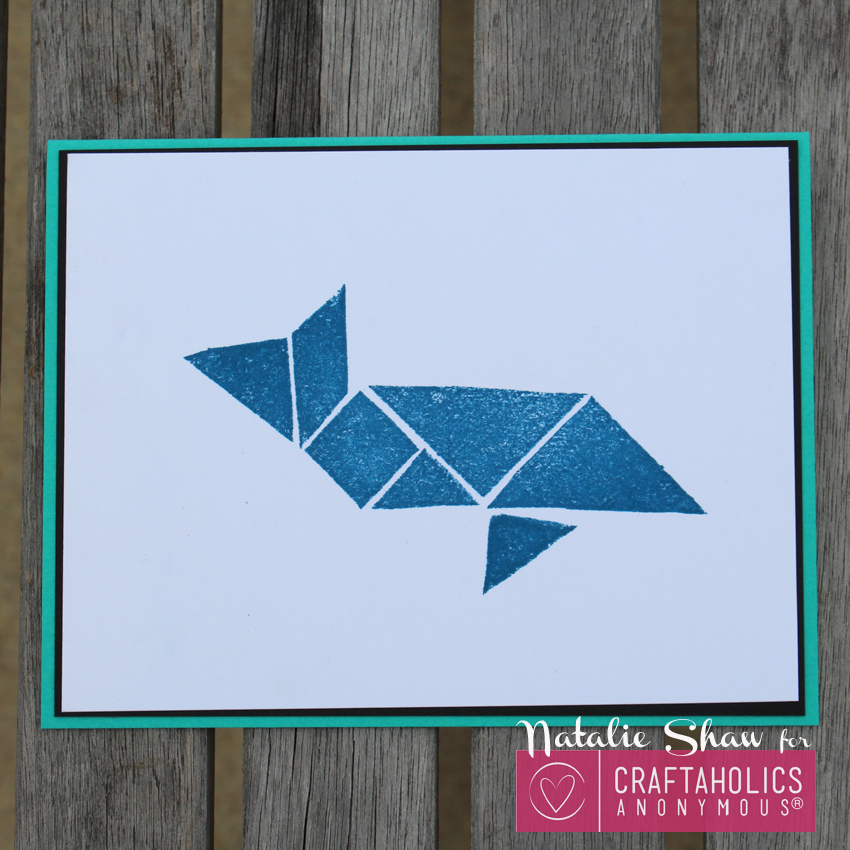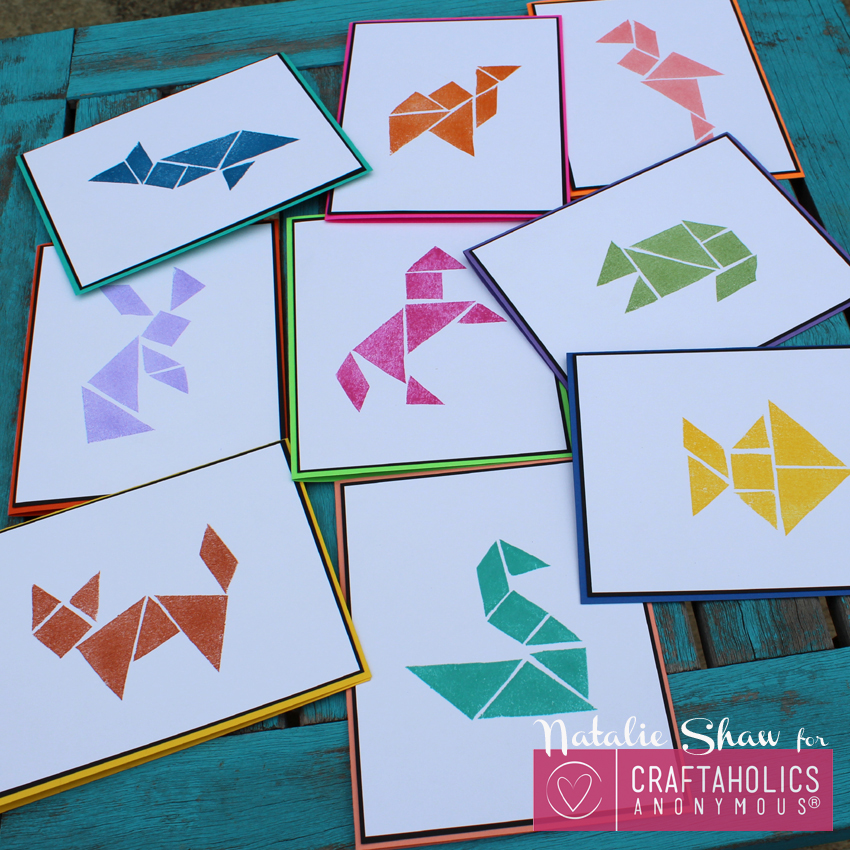 Have you ever played with Tangrams? I'd love to hear about your experience with Tangrams in the comments below!