Stephanie, from the Creative Team, is here with a clever craft to help teach kids about money. You'll want to book mark this one for sure! Enjoy! -Linda
The topic of money management is different for every family, and the way children are taught to handle money also differs. Whatever your views on allowances, wages, or budgeting, I think we can all agree it is important for children to learn the value of money.
How do you teach your kids about money now?
Do you use a piggy bank or some other container for "loose change"?
Do they have an allowance or earn money some other way?
Teaching Kids About Money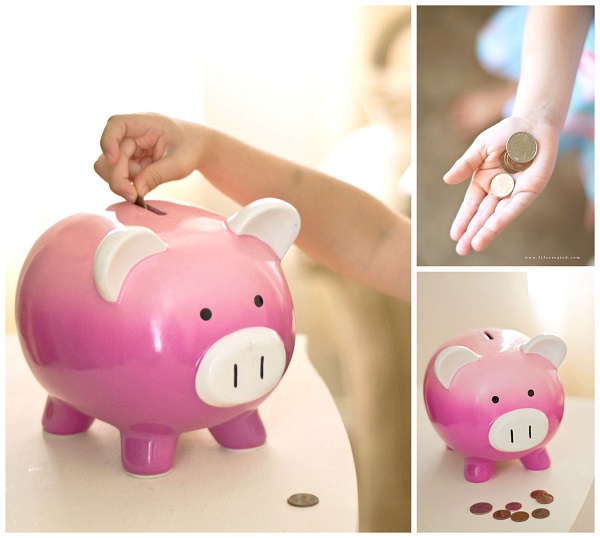 There are many online resources for teaching kids how to count and manage money, so here is one fun craft you can do with your kids that takes just minutes.
As soon as your child is old enough to count, you can start discussing the value of money. Start by talking about the difference between needs and wants and modeling good spending habits.
At the bottom of this post are a few more fun ideas for introducing the idea of money to your kids!
Budgeting Craft for Kids: Money Pouch Organizer
 (Choose an organization method you prefer. For this craft, I used 3 zipper pouches, but you can easily use 3 reusable containers, jars, envelopes…or even sew one pouch that has 3 sections….whatever is best for you.)
 I like the zipper pouches because they are cheap (88 cents), transparent, zip up so money can't come out, and can be held together with a key ring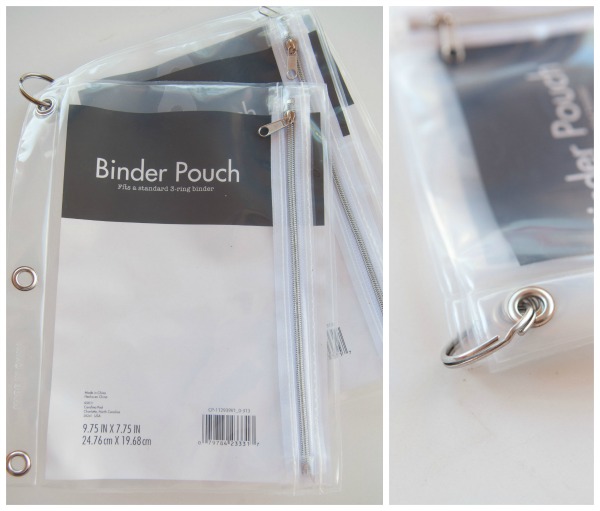 Label each of the pouches "spend", "save", "give"
SPEND- have kids put a majority of their money in this pouch. (40-50%).
They can use it on things they want when they want them. (For example, going to movies with friends)
SAVE- Teach kids about setting a financial goal. Maybe they want to save up for bike or a more expensive video game. Many money-managing professionals even suggest using this section in 2 parts: 20% can be for short term savings and 20% for a long term savings. Show kids that having a short term goal of earning that bicycle and the long term goal of saving for college are both important. Make sure your kids see you saving too!
GIVE- This section is useful to teach kids the idea of giving to others. Whether you give to a church, non profit organization or charity, the fundamentals of giving are important at any age. We can give of our time and resources, not limiting ourselves to only giving money. Generally, the last 10% can be put in this section and given at any time you see fit.
Budgeting Craft for Kids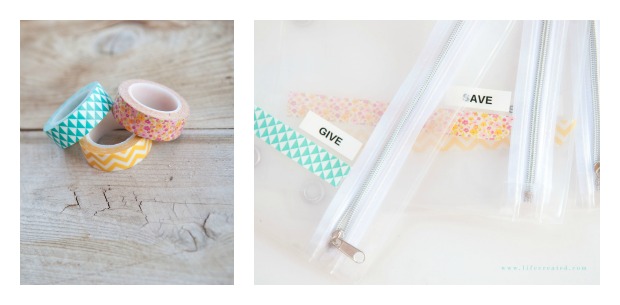 Once your pouches/jars/envelopes are labeled, your kids may decorate them and put them somewhere visible where they can keep track of it. We used just a little washi tape for ours!
Here are a few more ideas for teaching kids money management:
For older kids, consider giving them a note pad to track where their money is going.
Use things like coupons and price tags as teaching moments in the store. Show them how you can pay with cash, and then show them what a receipt is.
If you find your child asking for things, ask them if what they are wanting is a need or a want? It is OK to want things, but spending for needs is more important.
Take them to the bank and help them set up their own savings account
Use real coins and bills for teaching (depending on their age)
Make learning about money and cost fun and not stressful. Whatever your financial situation, make the reality of bills/cost evident to them, without it feeling like a burden.
How do you teach your kids about money? 
Thanks for stopping by!
Stephanie
***
*Google Reader is going away on July 1, 2013!! Only a few days left! I invite you to follow Craftaholics Anonymous® on Bloglovin! so that you don't miss a single craft tutorial!
***
Lifestyle Crafts is having a 4th of July Sale that starts today! You can get an extra 20% off sale prices with our exclusive discount code: CRAFT
Run over and save big at Lifestyle Crafts now until July 3, 2013!

I am a mom who loves photography, crafting and anything handmade! I blog about crafting with family in mind, throughout the home and kitchen. I enjoy spending time with family and getting creative.
Latest posts by Stephanie (see all)