Looking for the perfect fonts for your 4th of July crafts? Kori is here to share her collection of 4th of July Fonts with us! Enjoy! Linda
With the 4th of July only a few weeks away, it's time to start working on that holiday decor! I love finding fun "themed" fonts to use for our printable party-ware like food labels, signs, and cute cupcake toppers! Wanting to really bring home the "Americana" feel with these 4th of July fonts, I found some great designs that incorporate stars and stripes, and a few classic types too! I love to mix and match fonts, so the chunky and bold 4th of July fonts shown here, would work really well with a basic thin san serif, such as Century Gothic. By the same idea, the fun whimsical fonts will work well with a mid-weight classic font! Try these out with some of the fonts you already have in your library and you may surprise yourself at how much designing you can do with typography after a little practice!
There are fantastic fonts that can be bought for commercial use, but the ones I am sharing today are mostly "free for personal use only". I have the download link to each font below the picture.
4th of July Fonts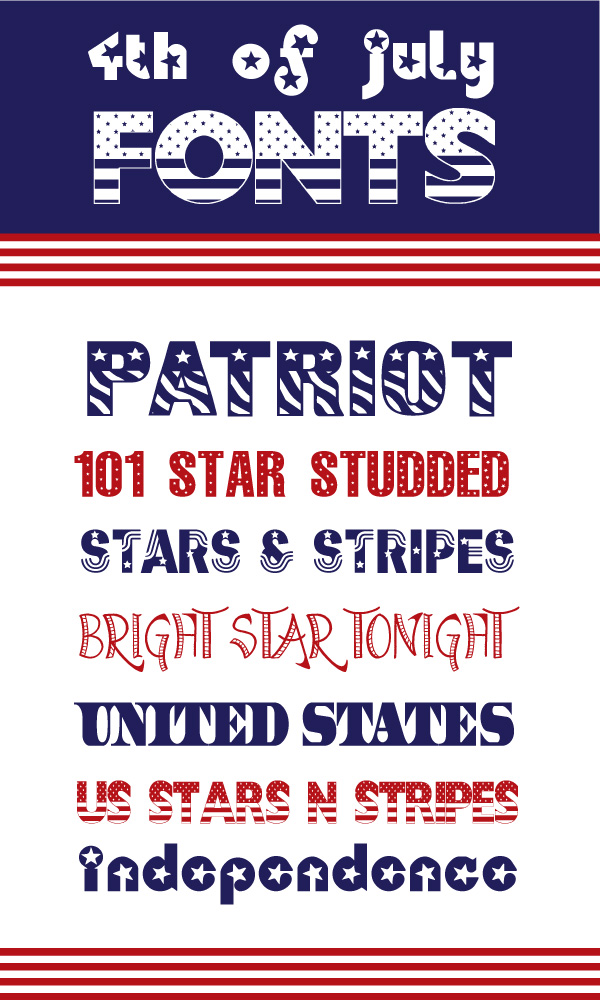 TO download these fonts for personal use, simple click the link of the one you like below.
101 Star Studded – This one is fun and I love the basic style, but you will need to adjust the spacing on some letters…It's still worth the effort!
Independence (the retro vibe and cuteness of this one make it my favorite!)
I hope you enjoy all of these free fonts for celebrating this 4th of July!! If you would like any of the commercial rights, most of the links here provide contact information to the font designer and you can email them to inquire about purchasing those!
Thanks for stopping by!
Kori
More Craft ideas and inspiration on Craftaholics Anonymous® Pinterest boards!