Do your kiddos love cars? Looking for ideas for play car mats? This post was inspired by Charity when she posted this question on the Craftaholics Anonymous® Facebook page:
"Hi, I am wanting to make a road for toy cars. I love the ideas with the tape on the floor but I don't have the room to leave it out all the time. I was thinking about making one on a sheet or some kind of fabric. Any ideas on how to make one? Thanks!" – Charity
Play Car Mat Ideas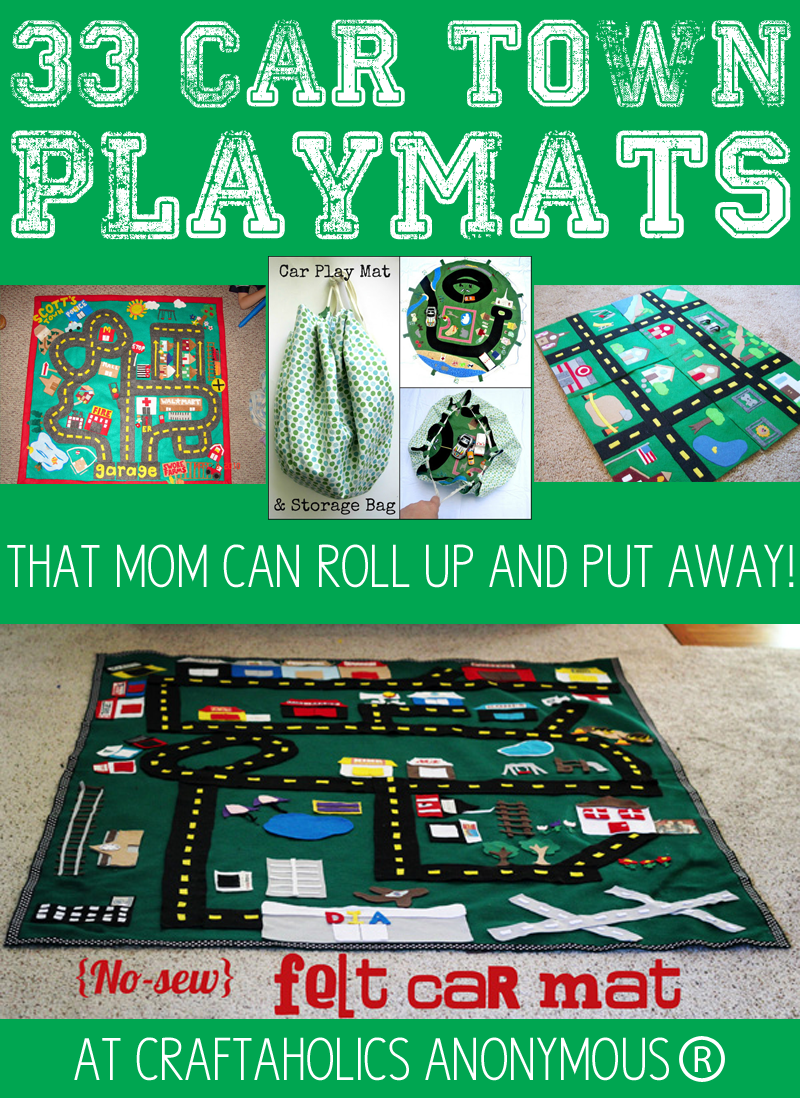 images from A Girl and a Glue Gun, The Creative Vault, Glued to my Crafts, and Oopsey Daisy Blog

This post is compiled from answers provided on this Facebook thread.
1. "A big piece of black felt or fleece." – Hayley B.
2. "You can buy "grass" carpet at Lowe's or Home Depot for very cheap and roll it up when done playing with it!" – Kim P.
3. "I made one years ago out of a flannel backed table cloth. Worked great." – Margret B.
4. "Make it on the underside of a pre-existing area rug, or one that matches your decor!" – Sara D.
5. "Check out A Girl and a Glue Gun. She has some great ideas for felt towns to play with cars." – Rebecca R.
6. "I'm not sure if you will get it over in the USA if you're there but I found the plastic table cloth material that you can buy by the metre – it has winding roads and town on it – my son loves it and you can fold it up and take it with you – I waited until it was 1/2 price and bought enough to go the length of the room which was about 4 metres (metric) but it can be folded as it's not think. We moved and it's still in a box so my son got hold of the roll of Ikea butcher's paper (drawing paper) rolled it out and drew his own road and scenery that was when he was 6 – took it to school for his mates to play with can be recycled and a new one draw when ever they like." – Jacqueline T.
7. "I cut up an old pair of adult jeans, & used masking tape to create "roads" on them. My 4 year old lives them!! I cut long pieces in different shapes to make it windy in spots!" – Jessica K.
8. "I actually found a fabric panel with everything printed on it – bound the edges and used it in my preschool class. However, I got it at JoAnnes fabrics several years ago." – Donna E.
9. "When my children were small we drew one with markers on a large piece of cardboard. When my oldest grandson was younger we made one. Later I bought one of those carpets with roads and buildings on it. My grandchildren still play with the cardboard city more than then carpet one. I just fold it up and stick it behind a door between times." – Lori H.
10. "We made one last year for kids to play with at a baby shower. We took a couple large pieces of cardboard and different colored duct tape and made roads and parks and stores. Then the kids could play with it on the floor, outside or inside or even hung up on a wall – the kids really thought that was fun! Good luck!" – Kristin L.
11. "I have seen one one pinterest where they used a shower curtain and the kids could color on it too" – Brandy J.
12. "I bought gessoed canvas from an art supply store intending to paint one with acrylic paints but haven't gotten around to it so this is our temporary solution Or maybe you could find a pre-prînted fabric panel like this one" – Lucinda J.
13. "Pinterest has the cutest one ever- paint it on fabric squares- then they can make the road first and it's easy storage!" – Elizabeth F.
14. "Use an area rug you can roll up and store." – Tracy G.
15. "I like an old sheet or large piece of fabric with fabric paint. You can keep it simple and just outline the roads or create a whole town with green grassy areas different shapes and colors to represent buildings. If you have toys (houses or legos) or blocks your child can have a whole afternoon building the city and playing on it. Have fun!" – Ann Z.
16. "Duct tape comes in wonder colors and designs. You can use a permanent marker to do the markings on it. Use denim, it is nice and sturdy and can be rolled up and put away." – Lupe I.
17. "Harbor Freight has tarps for a couple of dollars you could use." – Daphne W.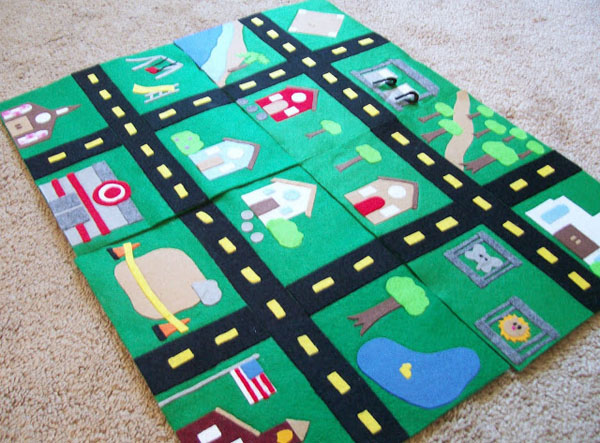 image from Serving Pink Lemonade
more car play mat ideas…
18. "Some places that sell toys have rugs with "roads" on them and pictures of tree's and towns and when done with it, you can roll them up and put away." – Judy G.
19. "Felt! Remember the old felt boards where you could move the shapes around? I think it would be fun to get a large piece of felt, then cut out road sections and road signs from felt. The pieces could be rearranged and moved around to make new adventures every time! Then roll it all up and tuck it away when you're done." – Marie B.
20. "Vinyl table cloth or even a plastic one from the dollar store." – Jana M.
21. "How about a canvas drop cloth? you can paint it on there and roll it up when done." – Angie M.
22. "I'd grab a cheap clear shower curtain, the kind Target sells for 2 or 3 bucks." – Katy W.
23. "Dollar store shower curtain and sharpies." – Deana D.
24. "I have painters tape on the floor of my 6 year old sons room. He drives on it whenever he can. it doesn't take up any space. Why can't you just leave it on and step over it? I wouldn't do it in my living room but…" Samantha M.
25. "Vinyl. It's wipeable, it can roll up for easy storage, tape will stick to it easily. You could even paint on it then spray a clear coat over it for protection." – Clare R.
26. "What about a painter's drop cloth? Or duck cloth?" – Linda L.
27. "How about finding a large box. You can ask for one on Freecycle.com or craigslist for free. It won't move around like fabric will and be more durable and you can fold it flat." – Kathy H.
28. "You can purchase foam board very inexpensively at the dollar store or at your local Wal-Mart. Paint it green then put gray or black tape down for the roads. You can even put trees on the roadside (the ones that are used for decorating villages at Christmas time)." – Renee G.
29. "Brown thick crafting/packaging paper. Draw it out, then have it laminated. Durable and easy clean up. Just roll up when you are done." – Wendy Z.
30. "I would use tape on a piece of fabric and then get like little 3d trees and stuff. Boys play with cities for hours. I have drawn one out of chalk and he played with it for days until it rained." – Nicole P.
31. "My sister-in-law cut out shapes from old denim jeans (straight, curves, x,) and uses yellow fabric paint to put dashes. The child can build his road and you can help if he's little It also doesn't take up a lot of room in a little bag!" – Andrea M.
32. "Small, cheap, Wal-Mart rug, like a hall rug you can tape on and then roll it up. " – Krista J.
Like · Reply · April 26 at 9:02am · Edited
33. "A thin rug maybe? The thin kind that is made of that tight office kind of carpet and is easily rolled up?" – Hanna J.
Some great ideas on play car mats!
Have a craft question? Share it on the Craftaholics Anonymous Facebook Page to get tips and answers from crafters just like you!!
***
Did you see Pick Your Plum has Washi Tape on sale for $1.50/roll?! Such a great deal! I am loving the cute anchors washi!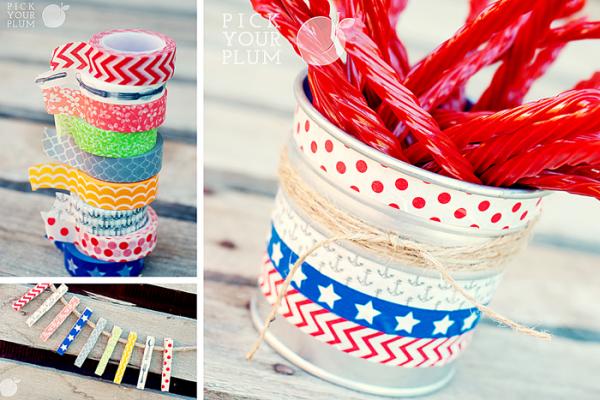 Latest posts by Craftaholics Anonymous (see all)