Whether you're getting ready for a wedding, tea party, or a romantic candle light dinner, Katie {from the Creative Team} is here to show you how to kick up your tea lights a notch! enjoy! Linda
DIY Party Tea Lights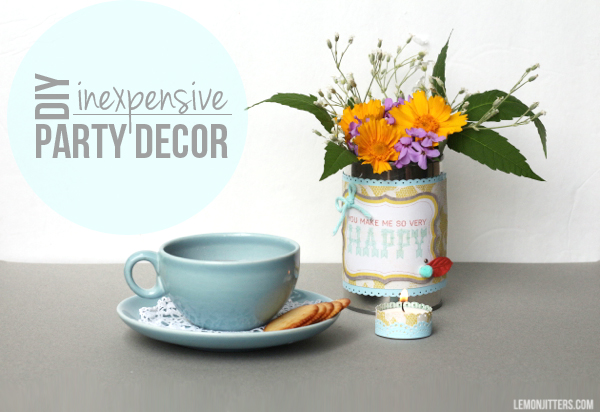 I am usually the party planner at work. I always volunteer to decorate and plan the baby showers, going-away parties, etc. That means I often foot the bill for the decor  – this is my gift to the party recipient. To keep the cost manageable, I have a few go-to DIY methods. First up, let's talk tea lights.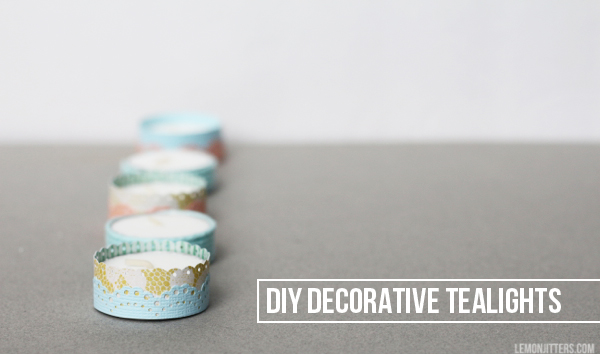 It sometimes surprises me that people remember the little touches well after the party is over. It's all in the details! Spruce up your party tea lights with a very inexpensive technique that can match any party theme.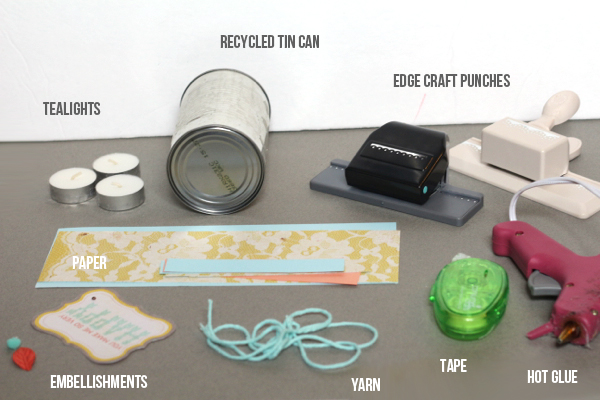 Supplies: Tealights, tin can, edge craft punches, paper, embellishments, yarn, tape, hot glue

Step 1: Cut several strips of 1/2in x 5in paper. You will need two strips per tea light.
Step 2-3: Use a craft punch that is meant to create shaped edges. I prefer to use a punch with a shallow design on the first piece of paper. This will be your backdrop for the coming steps.

Step 4: Take a coordinating strip of paper and use a different edge punch to create a design. I used a punch with a deeper design on this strip.
Step 5: Layer your strips of paper. Use the strip from steps 2-3 as the background and tape the strip from step 4 to the top.
Step 6: Use a hot glue gun (or some other strong glue) to secure the strips of paper around the tea lights.
TIP: Make sure you follow the measurements I used because this will leave just a tiny bit of paper above an average sized tea light base. I tested this by burning a candle for a long time. If you use wider strips of paper, I can't be sure it is safe!

I decided to make a couple of yarn-wrapped tea lights to add some texture to the decor.
Step 1a: It worked best to use double-sided tape for this project. I put a dab of tape on the tea light, covering a vertical area.
Step 2a: Wrap the yarn around the tea light, keeping each layer close to the previous layer.
Step 3a: When you have covered the tea light, cut your yarn off and secure it to the previous layer with double-sided tape.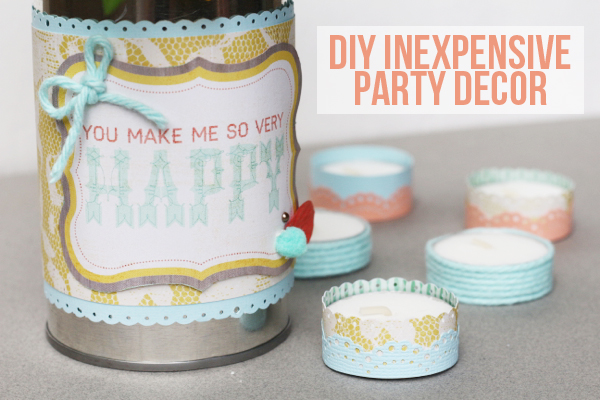 For a larger focal point, I love to use recycled tin cans as vases. I used the same tea light method to wrap the can.

Step 1b: Cut two strips of coordinating paper. One strip should be 3 1/2in x 10 in and the other strip should be 3in x 10in. I used the craft punch to create a decorative edge for one of the strips. Then I taped the strips together, just as I did with the tea lights.
Step 2b: Hot glue the strips around the can, pressing firmly where the strips overlap in the back.
Step 3b: Embellish the front of the can. I used a scrapbooking embellishment, yarn and other matching knick-knacks.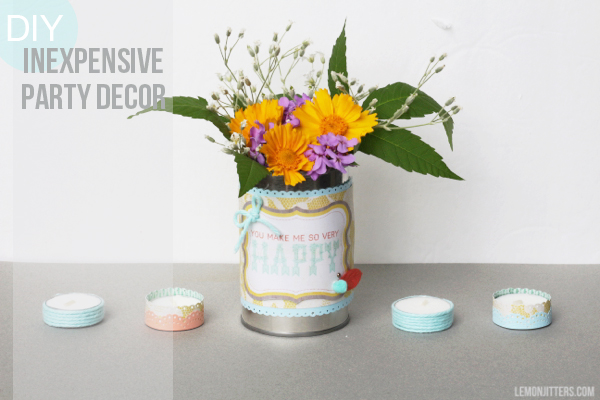 I love reusing household items for party decor! It's a great way to reuse and recycle. And your decor will match perfectly every time. No more driving to multiple stores (or scouring online stores) to find the perfect peach centerpiece. You can easily match all of your decor with pretty paper and a couple of craft punches!
Do you have any go-to methods to create inexpensive party decor?
Happy crafting,
Katie
For more craft ideas, follow Craftaholics Anonymous® on Pinterest!
Don't forget the Silhouette Promotion going on right now!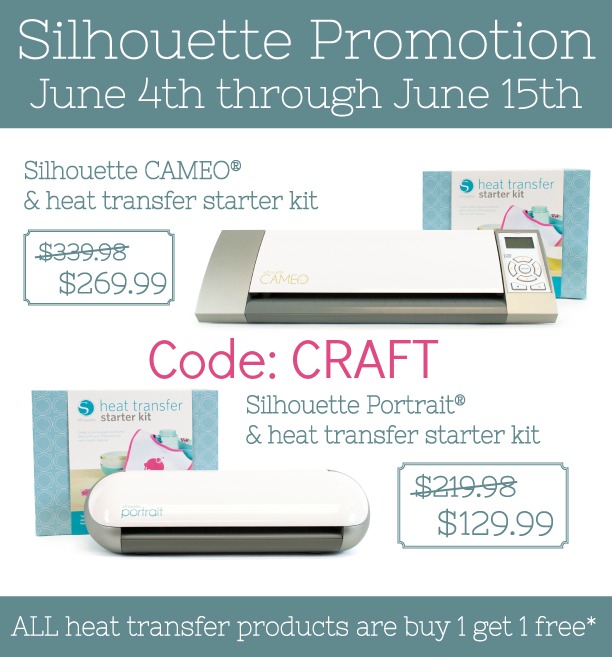 Share and Enjoy
Latest posts by Katie Wade (see all)