How many of you have tons of old t-shirts lying around? I know I do! Well, today is your lucky day! We have 24 T-Shirt Craft ideas from fellow crafters to help you make something beautiful out of your old tee stash!
T-Shirt Crafts
Zoe asks, "Hi- I have just de cluttered and now have about 10 jersey and cotton tops, t shirts and long sleeves, which I would like to use the fabric from. They're mostly unworn so in good condition, I was wondering if anyone had any original ideas or what to use them for, besides headbands and baby things which is what springs to mind! Thanks!"
Suggestions for this post were taken from this thread on the Craftaholics Anonymous® Facebook Page. Follow along on Facebook for daily Crafting Q&A and Craft Tips!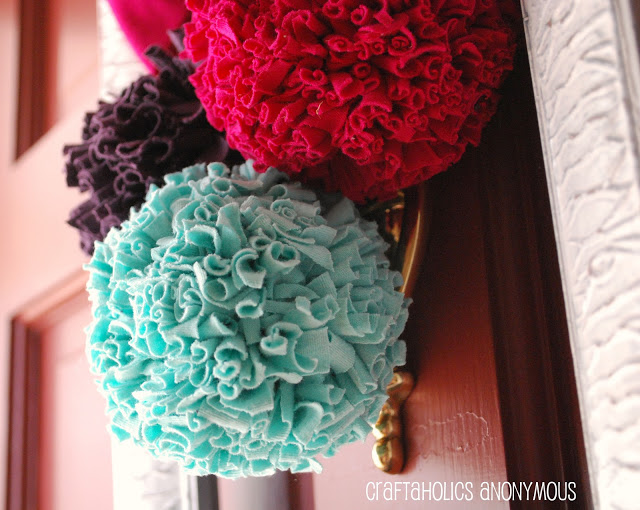 T-Shirt Pom Tutorial
"Tote Bags!" – Peggy K.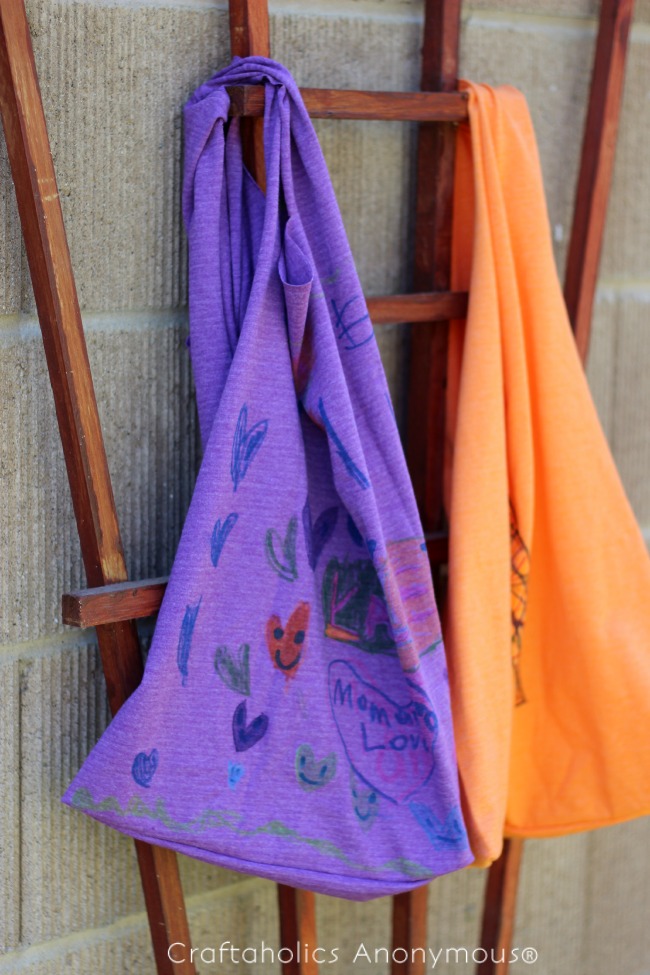 Easy Tote Bag Tutorial
"I was just going to suggest rugs. In fact I have a small collection of shirts ans whatnot that I plan to cut into t-shirt yarn and work with. Eventually…" – Sharon T.
How to Make a Rag Rug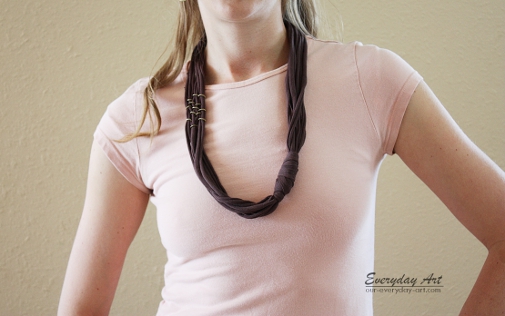 DIY T-Shirt Necklace – Five Ways
"There is a great youtube video on making a t-shirt circle skirt. Comfy and twirly." – Lisa C.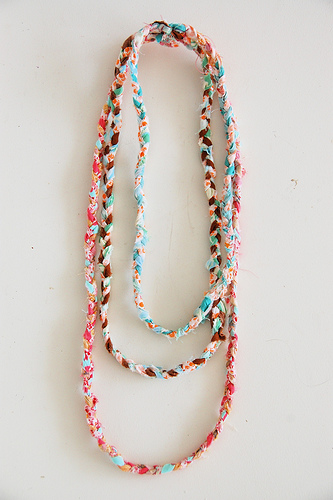 Recycled Tees into Braided Necklaces by My Cakies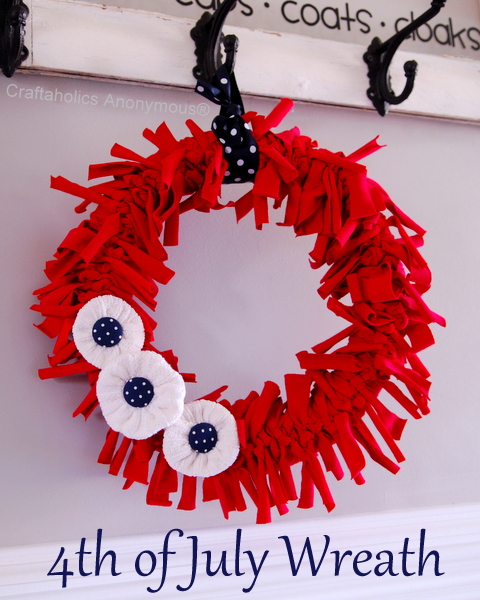 4th of July T-Shirt Wreath
"I make no sew prayer flags or party flags. Cut the bottoms into squares and use the hemmed edge to draw a string through. To make them prayer flags, have everyone write or draw something inspiring. They look fabulous in your yard for parties if you have lots of colors, but I like plain white too." – Tina K. "You can also refashion into peasant tops,cardigan or summer dresses for younger girls" – Lori G.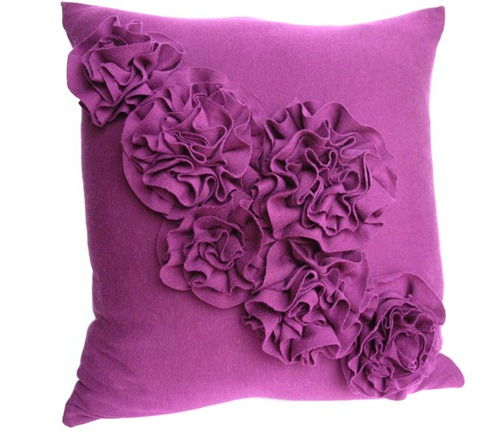 DIY Rosette Pillow from The Sweet Life
"Also, knit scarves using blocks serged together to create an infinity scarf." – Lynda S.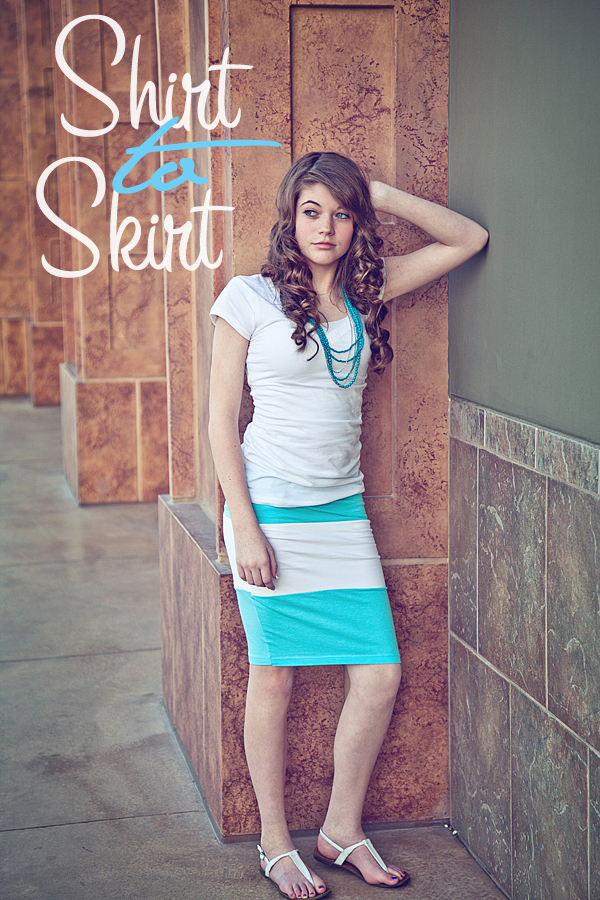 T-Shirt into Skirt Tutorial by Whipperberry for Craftaholics Anonymous
"T-shirt flowers. You can put them on statement necklaces or hair clips." – Sami H.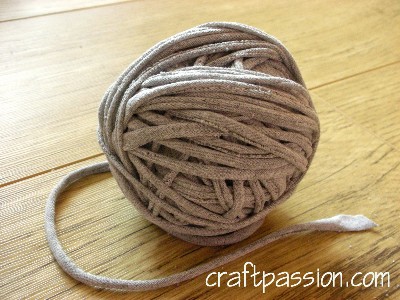 DIY T-Shirt Yarn from CraftPassion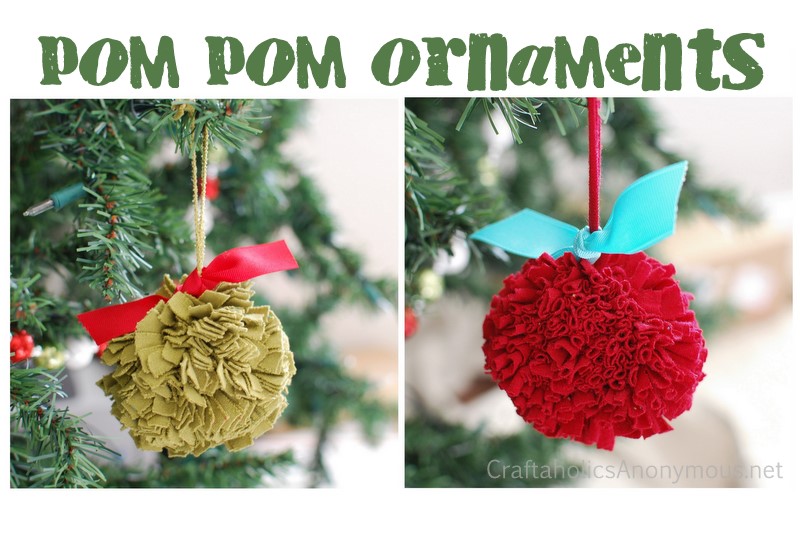 DIY Christmas Pom Pom Ornaments from T-Shirts
"Use them for waistbands for skirts and yoga pants. You could make arm warmers." – Carly E.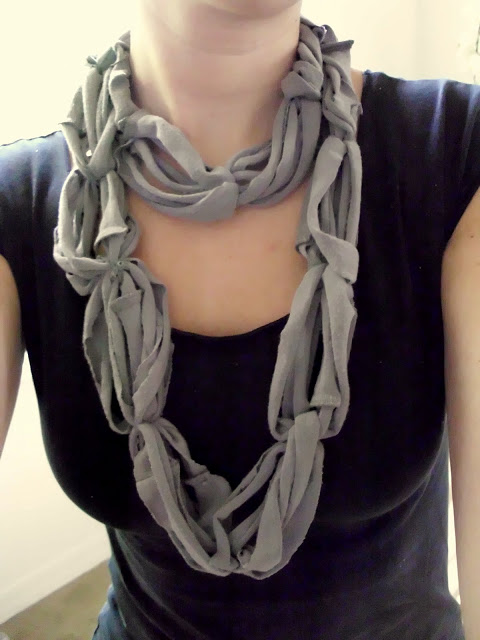 Infinity Scarf from T-Shirt Tutorial from Schwin & Schwin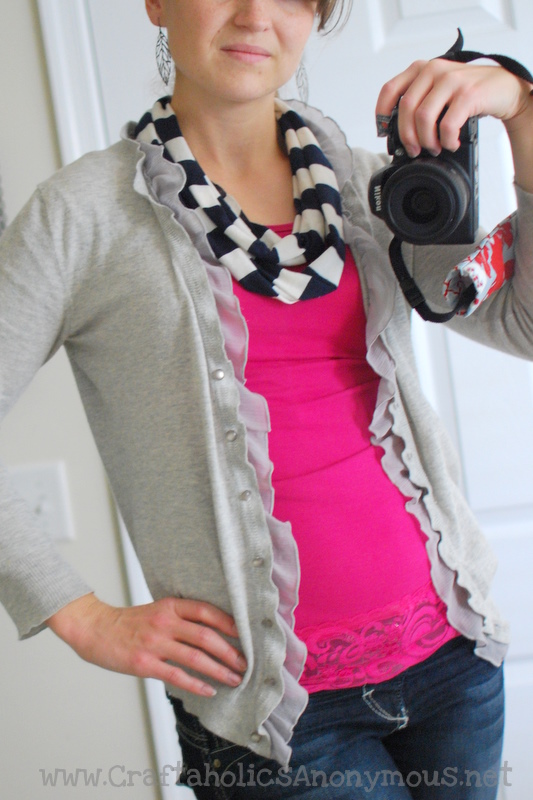 T-Shirt to Infinity Scarf Makeover
"You can make small pet beds with the long sleeve t-shirts. You sew the neck hole together, stuff the sleeves tightly with old fabric or fiberfill and then sew the wrists together which forms a circle. Lightly stuff the upper portion of the shirt for a comfy bed,then stitch the shirt body to the sleeves. I'd turn the excess shirt bottom to the inside so no cutting is necessary. Now you have a circle bed !! Little or no cost. Use,donate to shelter or give to friend! A quick repurpose!" – Becky C.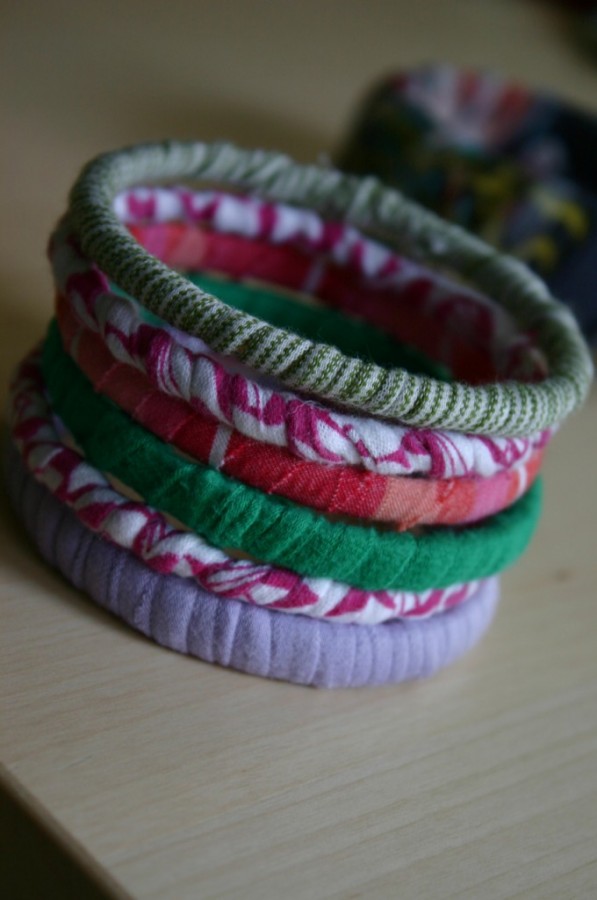 Turn Old T-Shirts into Bracelets from Family Chic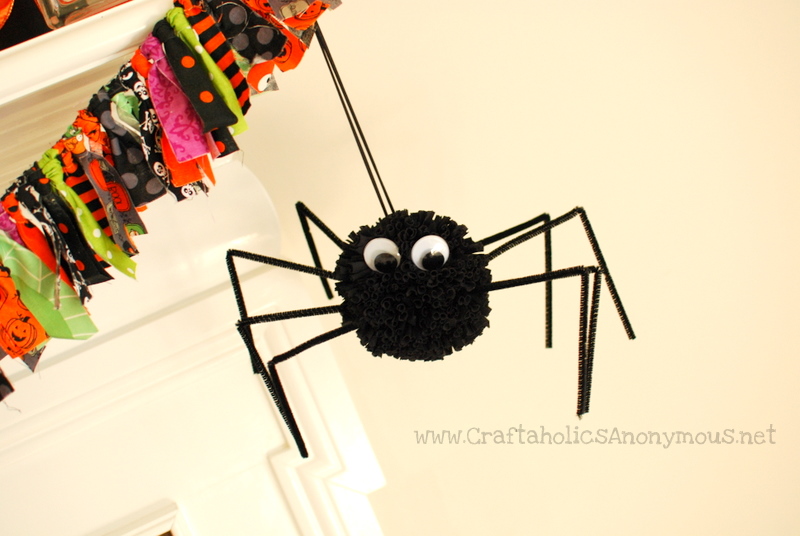 T-Shirt Pom Pom Spider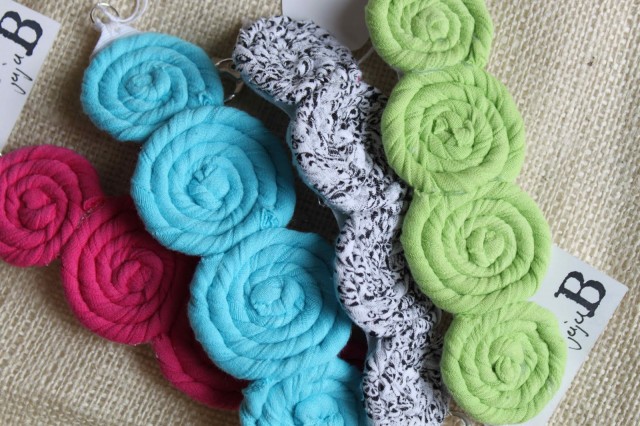 Jersey Rosette Bracelets from JuJuBe for UCreate
What are your favorite things to make from old t-shirts? How do you reuse old tees? I'd love to hear in the comments below! 
Join us on our Facebook page for tons of crafting inspiration!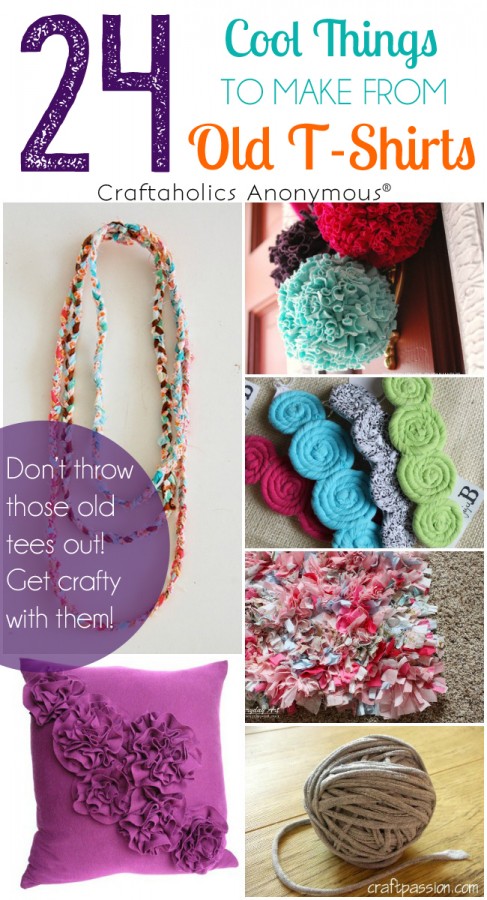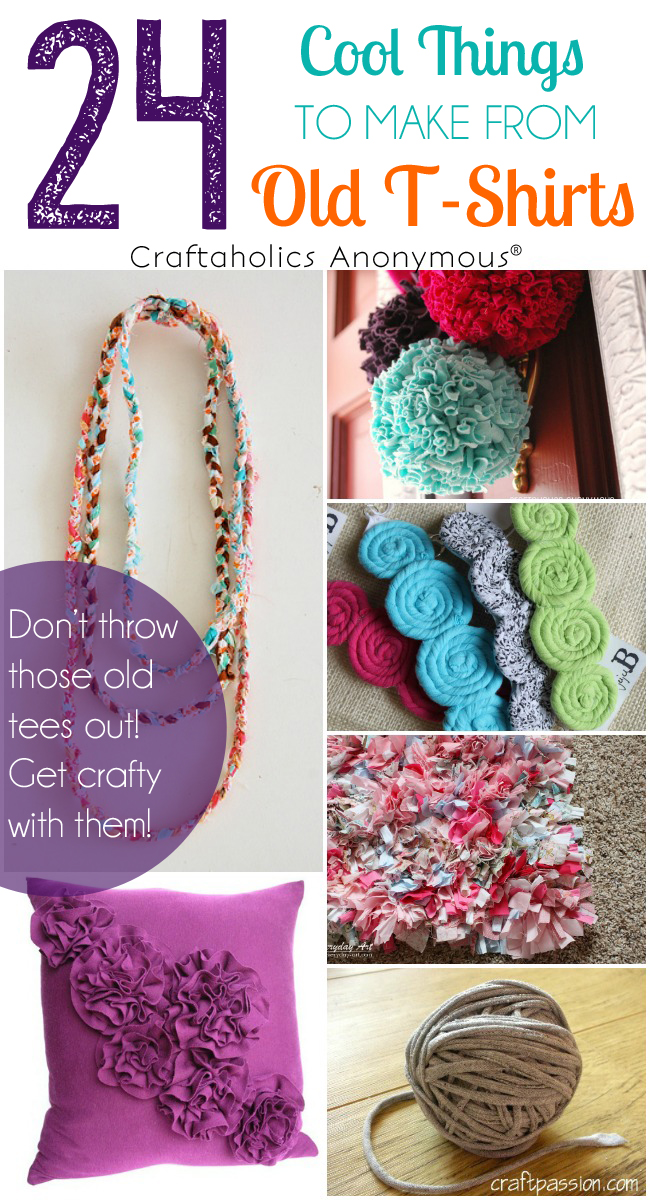 Hi! I'm Linda, the craft addict behind Craftaholics Anonymous®, a craft blog. Crafting is cheaper than therapy, right? When I'm not DIYing something, I can be found taxiing around our 4 crazy kids or working out. Or shoe shopping... because you can never have too many shoes! Happy crafting! ♥