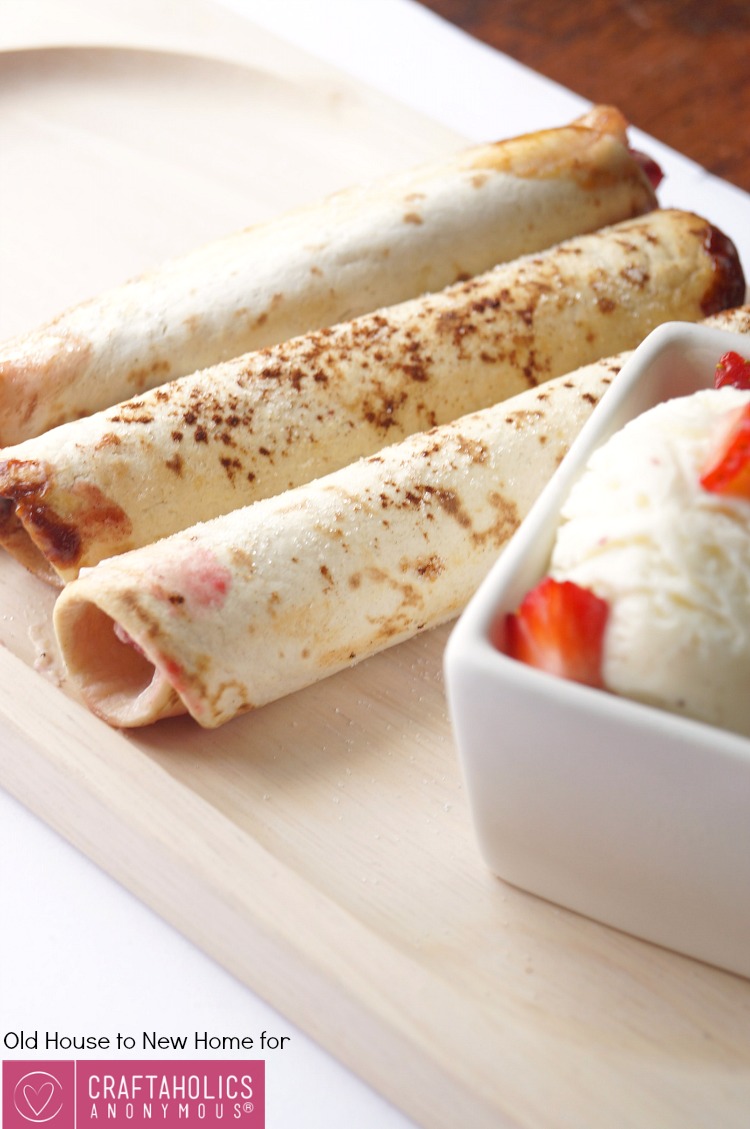 Strawberry Nutella Cheesecake Flautas
Hello and Happy Summer! I am so glad to be back here this month from Old House to New Home sharing a delicious summertime dessert recipe! Summer nights are the perfect time for dessert and after a long hot day, nothing tastes better than a bowl of ice cream…or so I thought. You know what makes a bowl of ice cream taste even better? A crispy cinnamon sugar tortilla stuffed with a layer of sweet cream cheese, a smear of nutella, and then topped with fresh bursts of strawberries dunked into that ice cream! So refreshing and delicious!
If you aren't familiar with flautas, they are a tortilla rolled up, typically filled with chicken and cheese, and topped with a white cream sauce. They are usually fried until crispy,  but my method bakes them, so make them slightly healthier, ya know, so I can fill them with cream cheese and nutella! Flautas are one of my favorite Mexican restaurant dishes, and this dessert version definitely does not disappoint.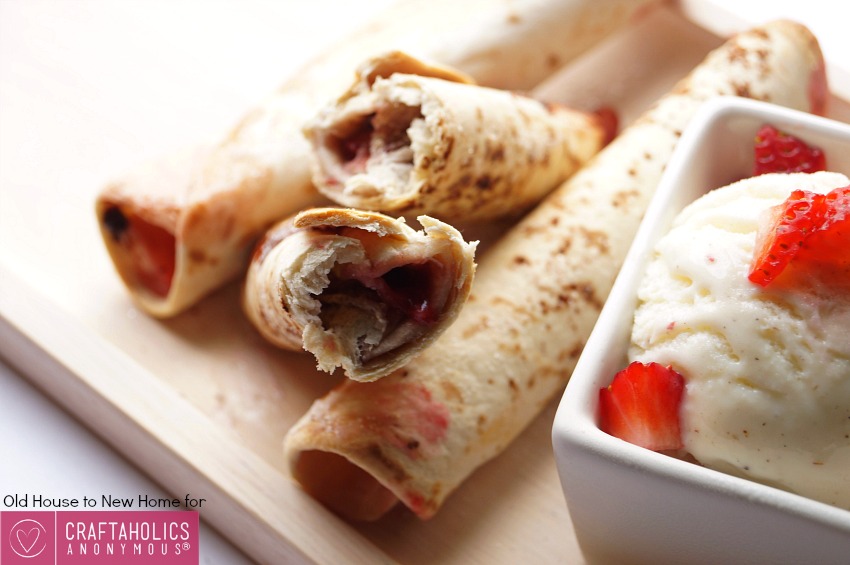 For the sake of research, I made lots of different varieties of these little guys, and the cream cheese nutella version was our family favorite. I stuffed one with strawberries, chocolate chips, and marshmallows for a s'more variety and it is a great alternative if you aren't a nutella fan! You could also just leave out the nutella and make them strawberry cheesecake with just the sweetened cream cheese.
We dunked ours into a delicious vanilla bean frozen yogurt, topped with even more strawberries, which I think was the perfect combination of flavors.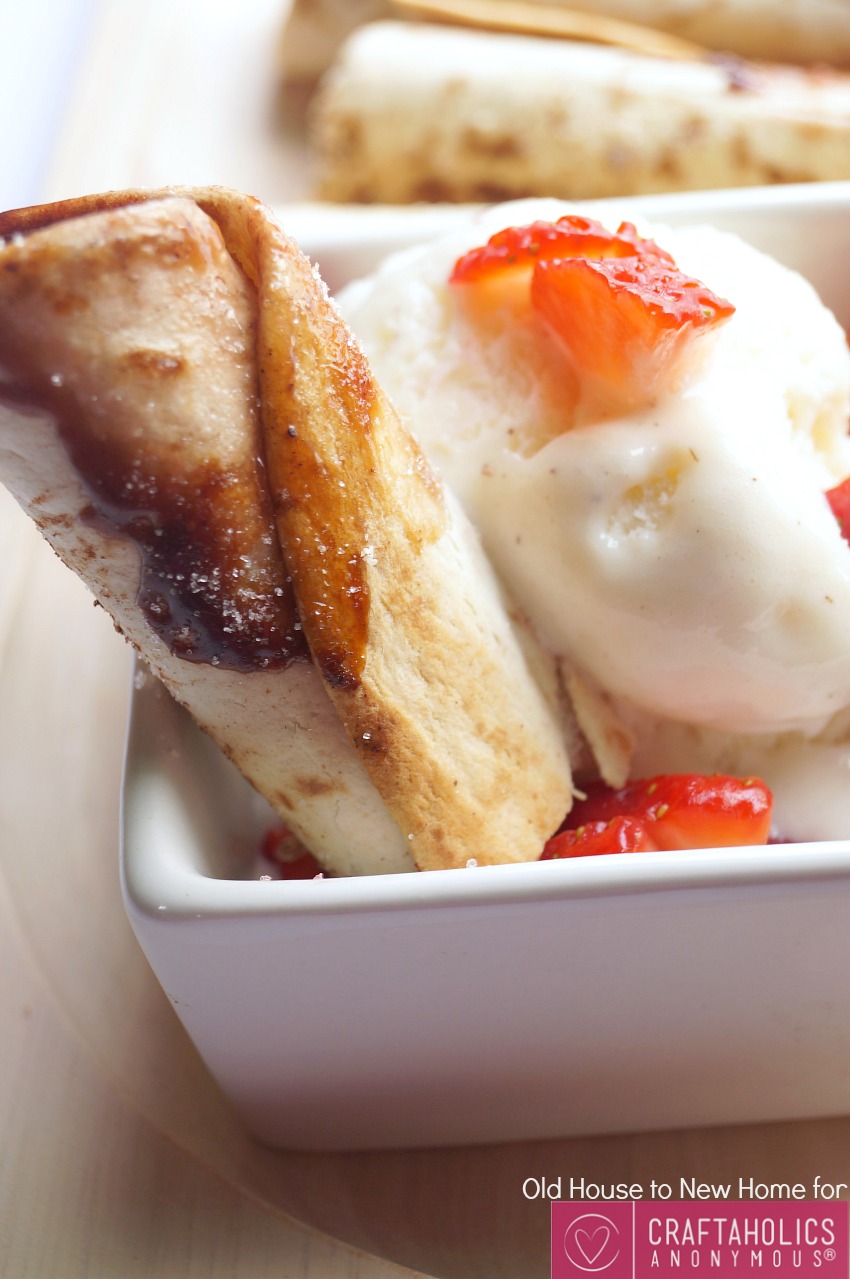 These Strawberry Nutella Cheesecake Flautas took only minutes to throw together after dinner and were the perfect way to end a lazy Saturday! If you are looking to mix up your normal summertime ice cream sundae, then you should definitely try these!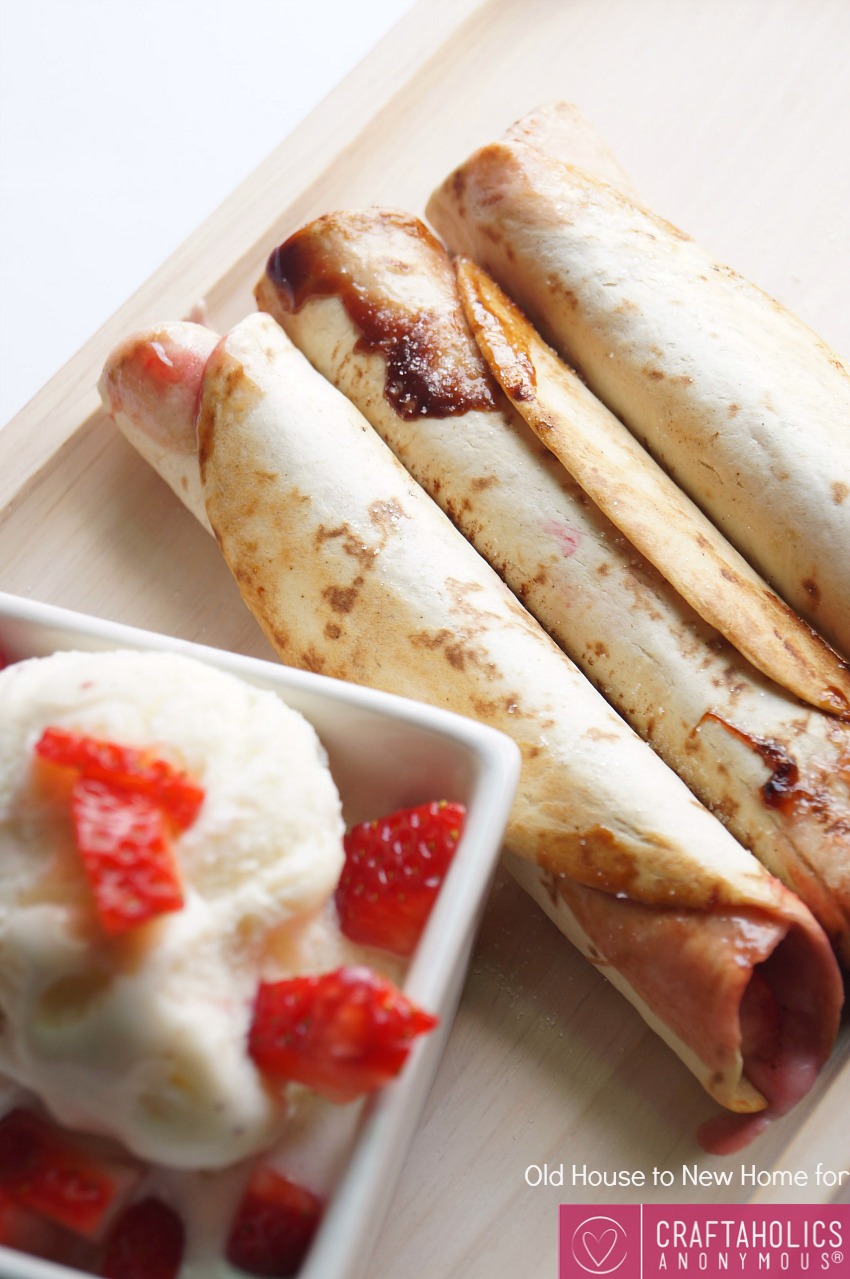 Strawberry Nutella Cheesecake Flautas
Ingredients
Recipe Makes 4 Flautas
4 small taco sized flour tortillas
1/2 cup strawberries, diced small
3 heaping tbsp. whipped cream cheese (or regular, but whipped is easier to spread)
1 tbsp. powdered sugar
1 heaping tbsp. nutella
2 tbsp. brown sugar
1 tbsp.white sugar
1/2 tsp. cinnamon
Ice Cream for serving
Instructions
Preheat your oven to 450 degrees.
In a small bowl mix together the cream cheese and powdered sugar until no lumps remain.
In a separate bowl, combine the brown sugar, white sugar, and cinnamon.
Lay your four tortillas flat on a baking sheet.
Smear a layer of cream cheese, then nutella, then sprinkle with strawberries on each tortilla. Keep filling off center toward the edge so that you can roll these up tightly.
Sprinkle filling with 1/2 tsp of the sugar/cinnamon mixture.
Roll up tightly and lay on baking sheet, seam side down.
Spray with cooking spray and then sprinkle the tops of each tortilla with more brown sugar and cinnamon.
Baking for 5 minutes and then flip. Bake an additional 3 minutes, or until golden brown. Some filling may run out, but that is okay!
Serve hot alongside ice cream, enjoy!
https://www.craftaholicsanonymous.net/strawberry-nutella-cheesecake-flautas