Mini Caprese Skewers with Creamy Pesto Dipping Sauce
Hey everyone! Amanda here from Old House to New Home sharing a delicious and easy no cook appetizer recipe for New Year's Eve! These Mini Caprese Skewers with Creamy Pesto Dipping Sauce take minutes to prepare, are colorful and look great on a platter, and are a crowd pleaser!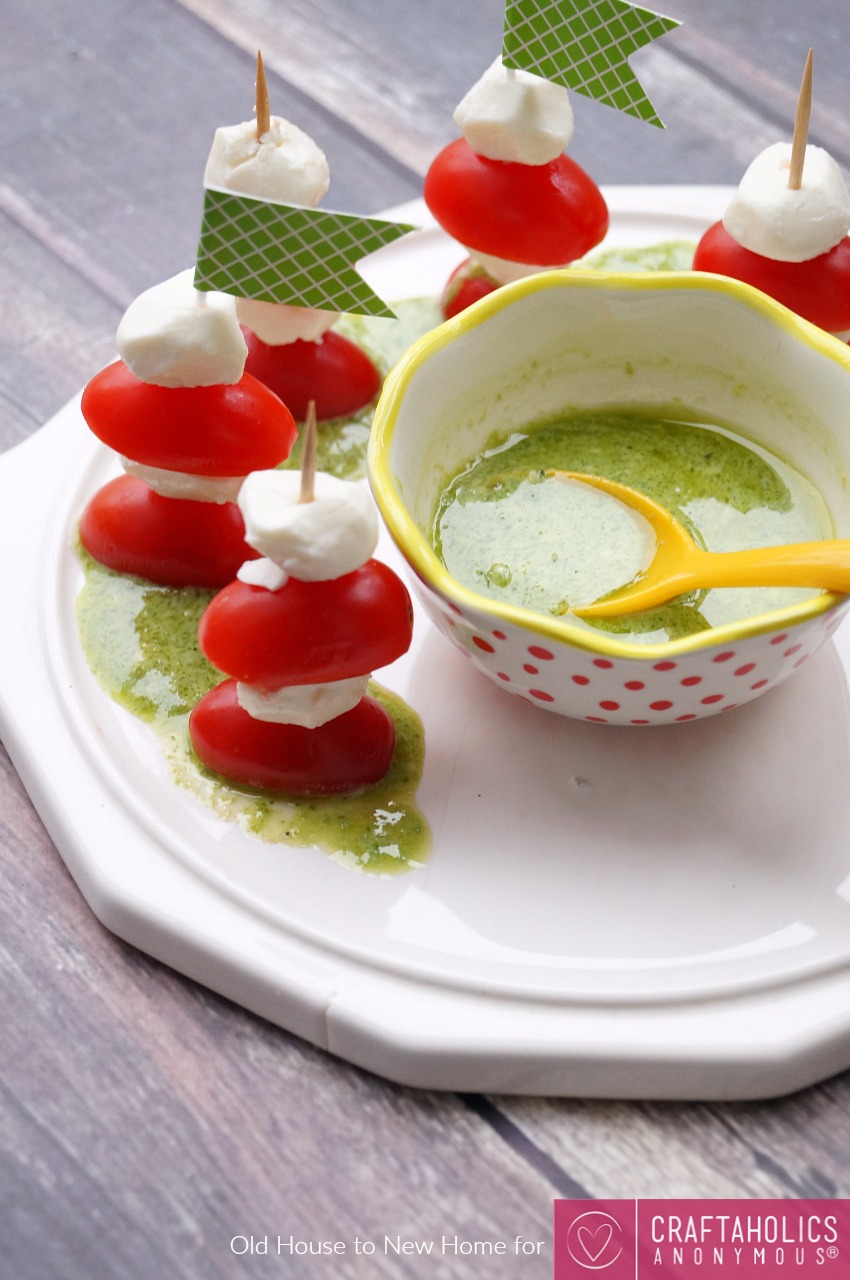 There are two types of New Year's Eve people…those who love to get dolled up and go out on the town and those who love to stay home and ring in the new year with loved ones. Since having a daughter, I am definitely in the latter category. We used to go out for a nice dinner, but now we love to stay home, have our immediate families over, and cook up tons of appetizers.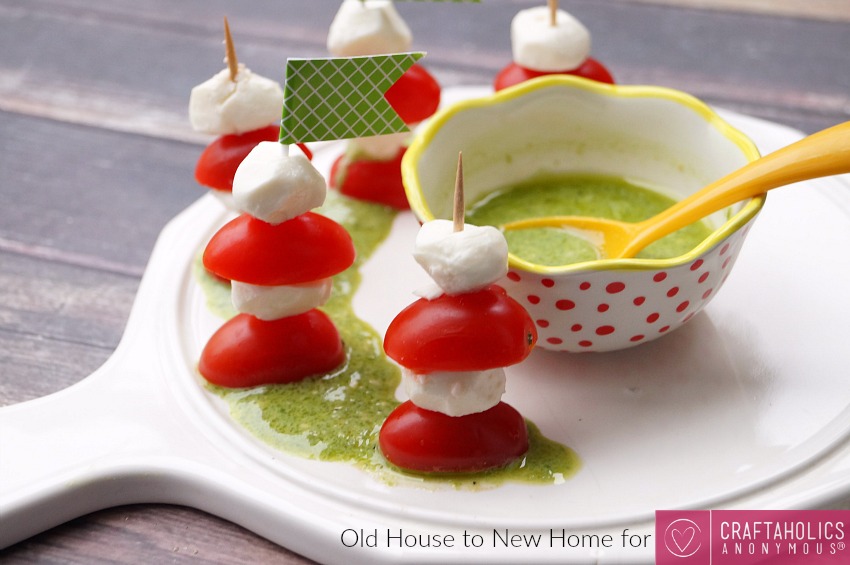 I love to make a combination of easy and more difficult appetizers so that I don't stress myself out too much. It is so important to not try eight brand new highly complicated recipes two hours before guests arrive! These Mini Caprese Skewers are awesome because you don't even have to heat up your stove! Just cut the tomatoes in half, and slide them on a toothpick with small mozzarella pearls.
There are two options here for making the pesto. If you prefer, you can just buy store bought and mix it with the greek yogurt and chicken stock to make it creamy. Or you could use my homemade recipe below. If you are short on time, don't feel bad about using the store bought! Lots of brands carry delicious versions!
I hope you are having a wonderful holiday season and are spending lots of quality time with loved ones!
Mini Caprese Skewers with Creamy Pesto Dipping Sauce
Ingredients
For the skewers:
1 pint cherry tomatoes, halved
8 oz fresh mozzarella pearls
salt, pepper to taste
For the dipping sauce:
1 cup fresh basil
3 garlic cloves
1/4 cup Parmesan cheese
1 tbsp. almonds, toasted
1 tbsp. fat free Greek yogurt, sour cream, or cream
extra virgin olive oil
salt to taste
Instructions
Layer mozzarella and tomatoes on a toothpick. End with the flat end of a tomato so they can stand flat.
Sprinkle each skewer with salt and pepper.
Set aside until serving.
In a food processor, put in all ingredients but the olive oil. Pulse the processor until everything becomes chunky.
Then, with the processor running, begin to stream in the olive oil until everything starts moving freely around the bowl. Run until the mixture is smooth and then check for consistency. If the mixture is too thick, add more oil and process again. If it is to your desired consistency, check with seasoning and add salt if necessary.
Refrigerate until time to serve.
https://www.craftaholicsanonymous.net/mini-caprese-skewers-with-creamy-pesto-dipping-sauce