Are you ready for the most DELICIOUS Strawberry Lemonade Cupcakes ever?? They are sweet and tangy and tickle your tongue all the way down!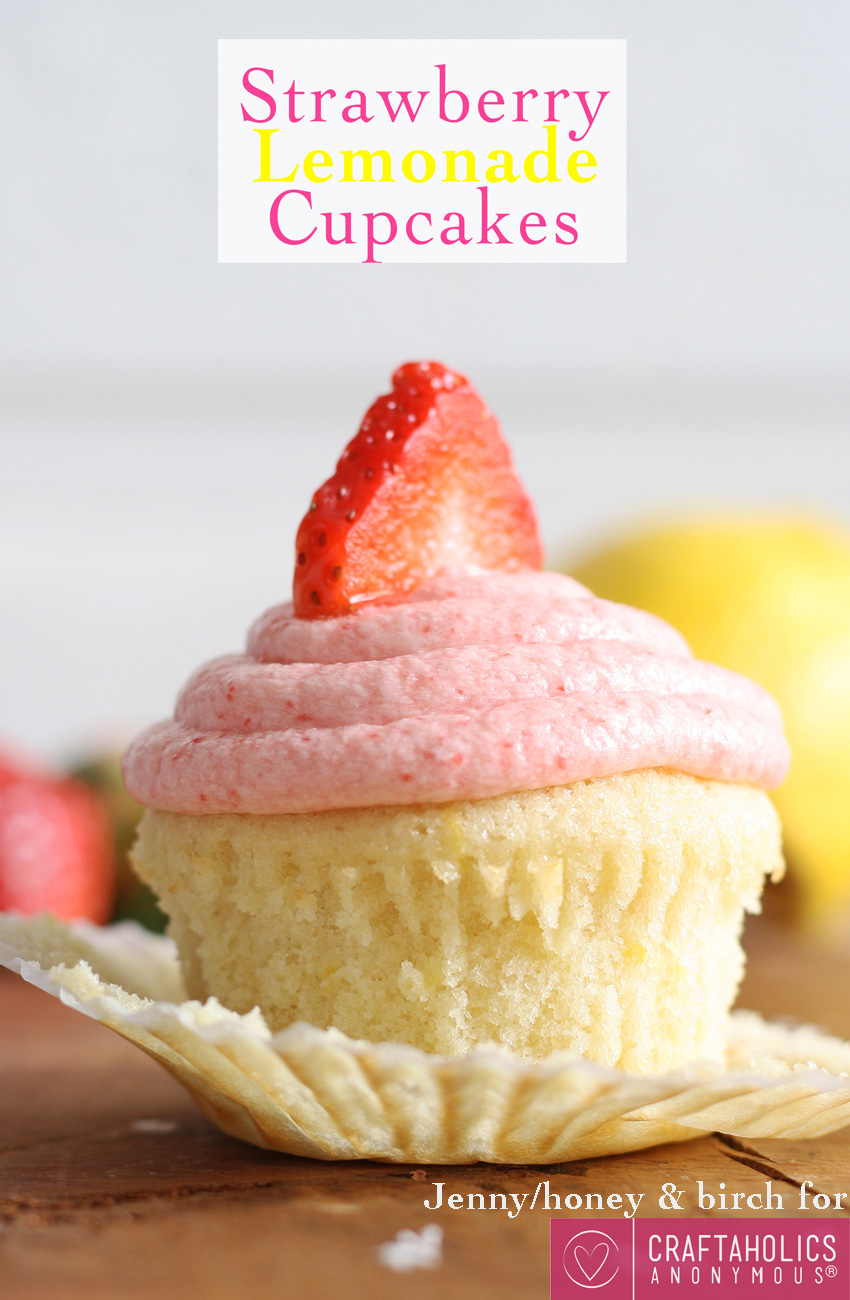 Strawberry Lemonade Cupcakes
Hi again! It's Jenny from Honey and Birch, back again to share another fun recipe with you. Between this recipe and the last one I shared here, you would think that all I do is bake.  I swear, I do more than that – in fact, on my website I haven't shared a baked good in a while. That's because I save them for everyone here!
I have always wanted to be a woman who bakes cakes. I have tried several times and have had minimal success. Baking cakes is hard. Maybe you feel the same way as me? It's kind of a fun club to be in because we get to eat lots of cookies and pies.
And cupcakes. Oh the cupcakes!
Cupcakes are so much easier to make. I attribute it to their bite-size-edness – I think less time in the oven means less chance of messing up! Also, no worrying about greasing pans because you can just put some colorful cupcake liners in your pan.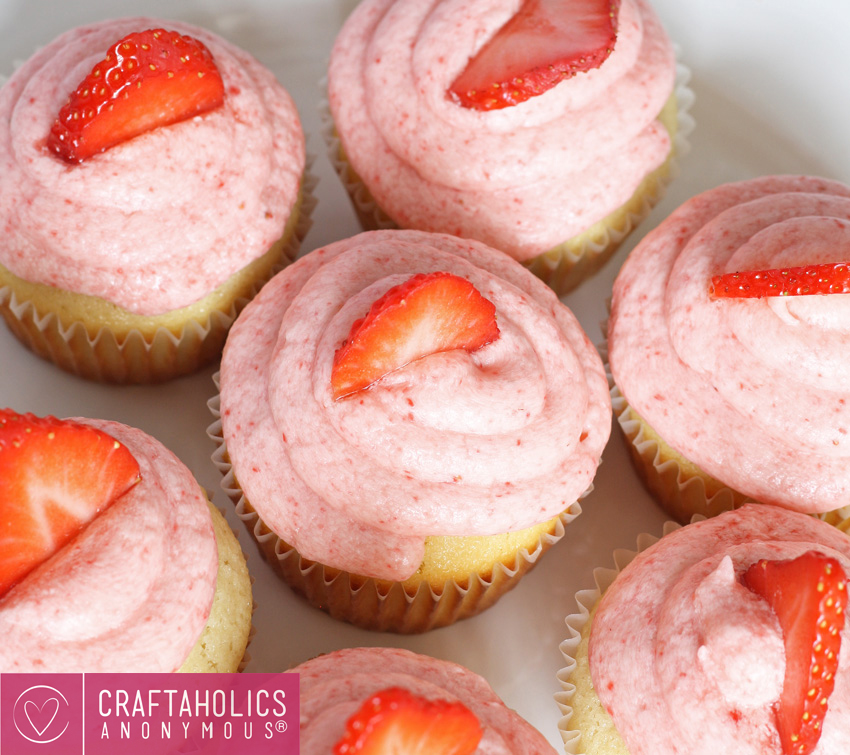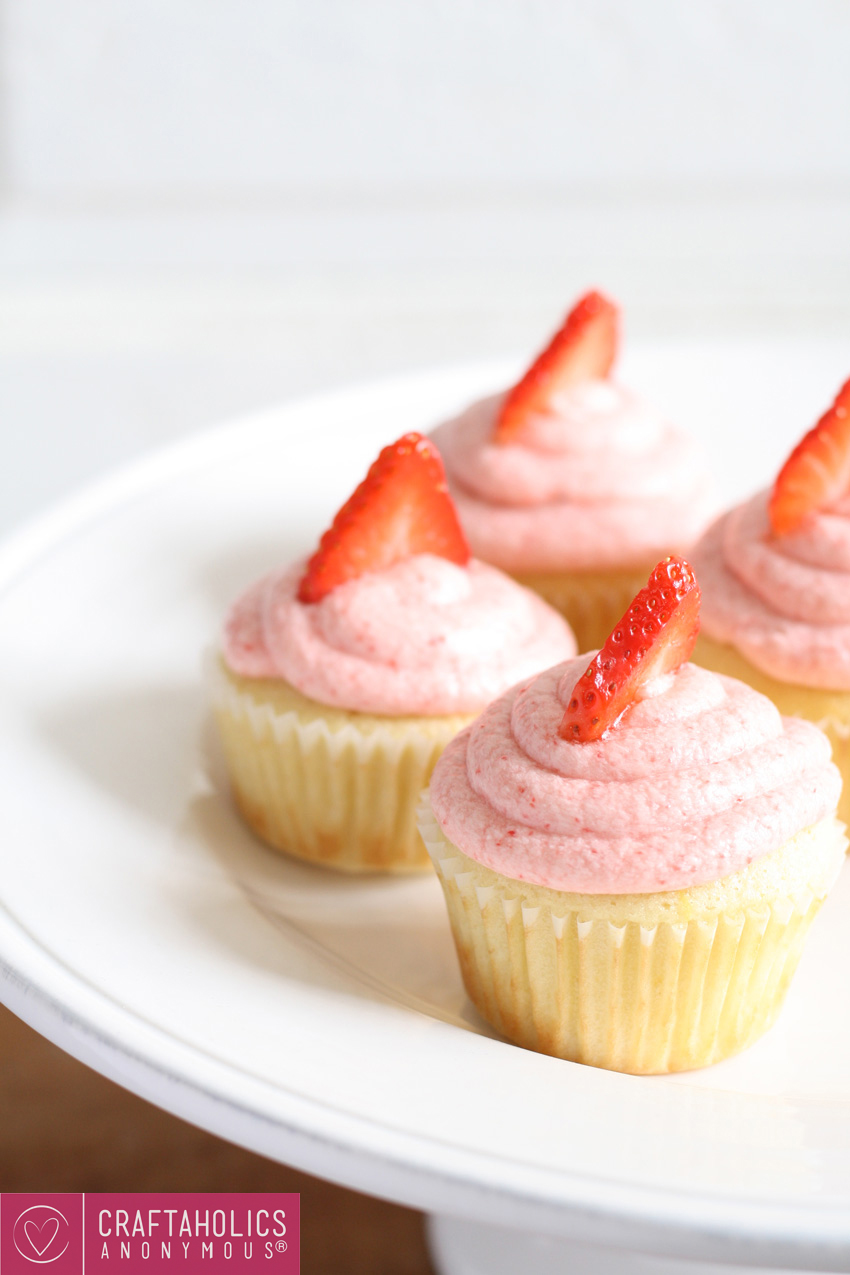 Today's cupcake recipe is perfect for that time between winter and spring. While lemons are easy to find year-round, citrus has always fallen in the realm of a winter fruit for me. And strawberries… well, strawberries are the epitome of spring to me. Joined together, you have the perfect dessert for March days that may be cold or warm.
Between the cupcakes and the frosting, you will need a half of cup of strawberries and 1 lemon. It may not sound like enough, but believe me, these cupcakes will be packed full of lemon and strawberry flavor.  I suggest zesting your lemon first and then juicing it.
If you are worried that you won't have enough lemon juice, I have a little trick for you.
Lemon Trick: microwave your lemon for 20 seconds.
Yep, put it in the microwave! Then just wait for it to cool down and you will be able to squeeze out a lot more juice. This is especially helpful if you aren't using a juicing tool and are squeezing by hand.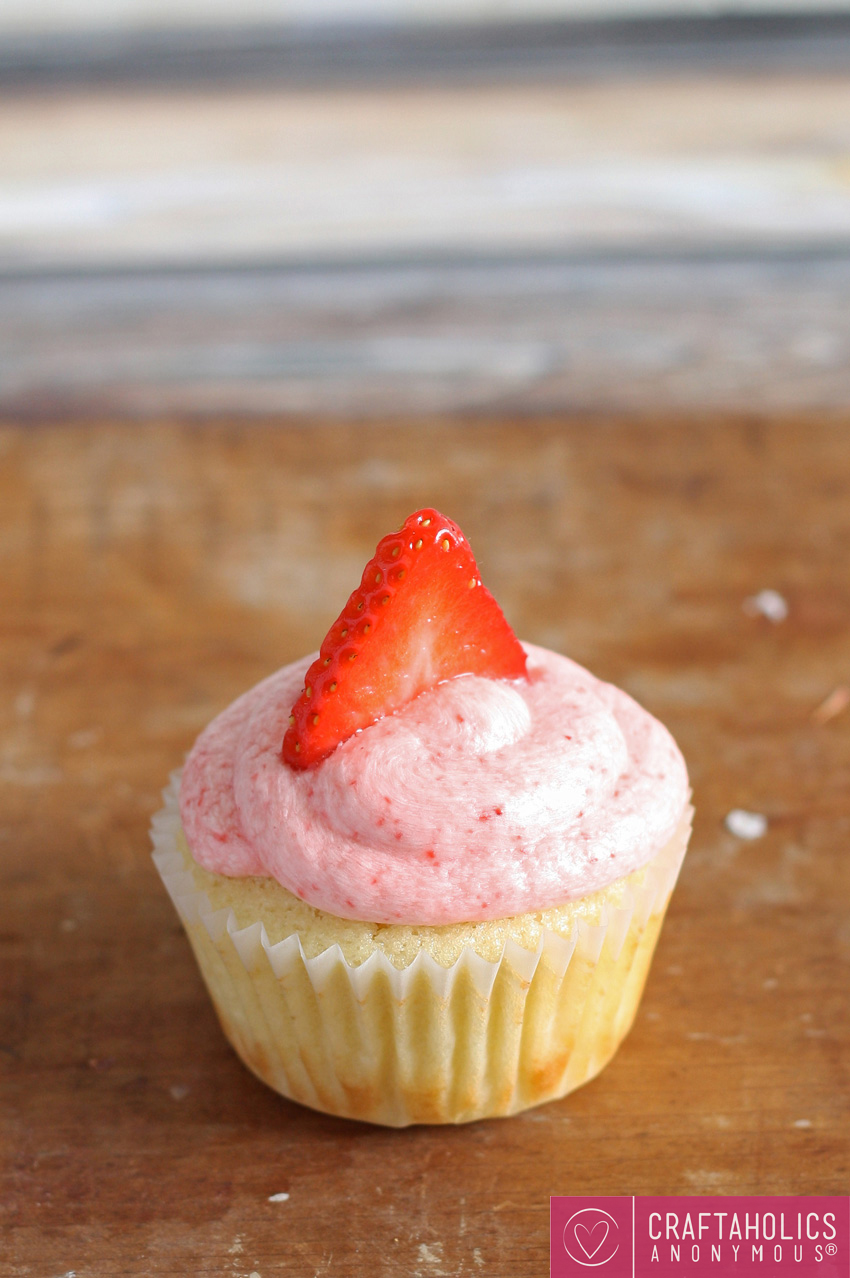 Strawberry Lemonade Cupcakes Recipe
Cupcakes
2 cups flour
1/2 teaspoon kosher salt
2 teaspoons baking powder
1/2 cup unsalted butter at room temperature
1 cup white sugar
2 egg at room temperature
1 cup milk
1 1/2 teaspoon vanilla extract
zest of 1 lemon
2 teaspoons lemon juice
Frosting
1 stick unsalted butter, room temperature
1/2 teaspoon lemon juice
1 tablespoon strawberry puree (about 1/2 cup diced strawberries blended or processed)
2 cups powdered sugar
Preheat oven to 375 degrees. Prepare a muffin pan with 12 cupcake liners.
In a medium bowl, whisk the flour, salt, and baking powder together and set aside. In the bowl of stand mixer fit with a paddle, on medium, beat the butter and sugar together until smooth. Add the eggs, one at a time until well mixed. Beat in the vanilla extract, milk, lemon zest and lemon juice until combined.
Add the reserved flour mixture to the wet ingredients and mix on low for 1-2 minutes, until the wet and dry ingredients are combined.  *Batter will be thicker than normal.
Pour the batter into the prepared muffin pan, distributing the batter evenly. Bake for 16-18 minutes or until a toothpick comes out clean. Remove pan from the oven and let cool for 10 minutes. Then take the cupcakes out of the pan and continue cooling on a cooling rack.
While the cupcakes are cooling, make the frosting. In a bowl, whisk the butter until smooth. Then slowly whisk the powdered sugar in until combined and fluffy. Whisk the lemon juice and strawberry puree into the frosting until just combined.
Pipe or spread the frosting on the cupcakes when they are completely cool.
Update: I have edited the amount of liquid in the frosting after reading the comments and remaking the frosting and cupcakes. I have also fixed the missing direction.
After making the cupcakes a fourth time and rereading the comments, I added a cup of milk and liked the consistency better. I have updated the recipe accordingly. Another suggestion: make sure that you don't over bake the cupcakes and that you properly measure your flour. This is the technique I use: stir the flour before spooning it into your measuring cup and use a knife to level off the flour before using it.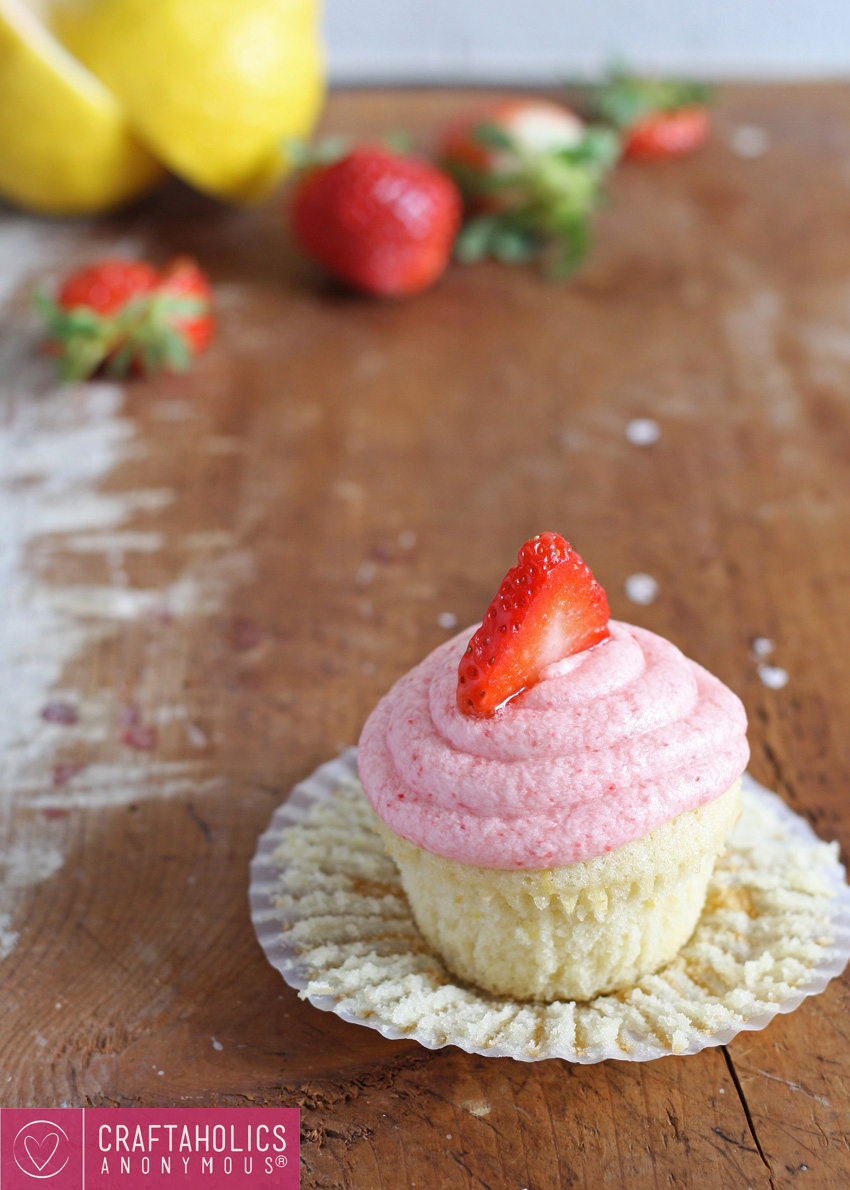 Looking for more cupcake recipes? Try these: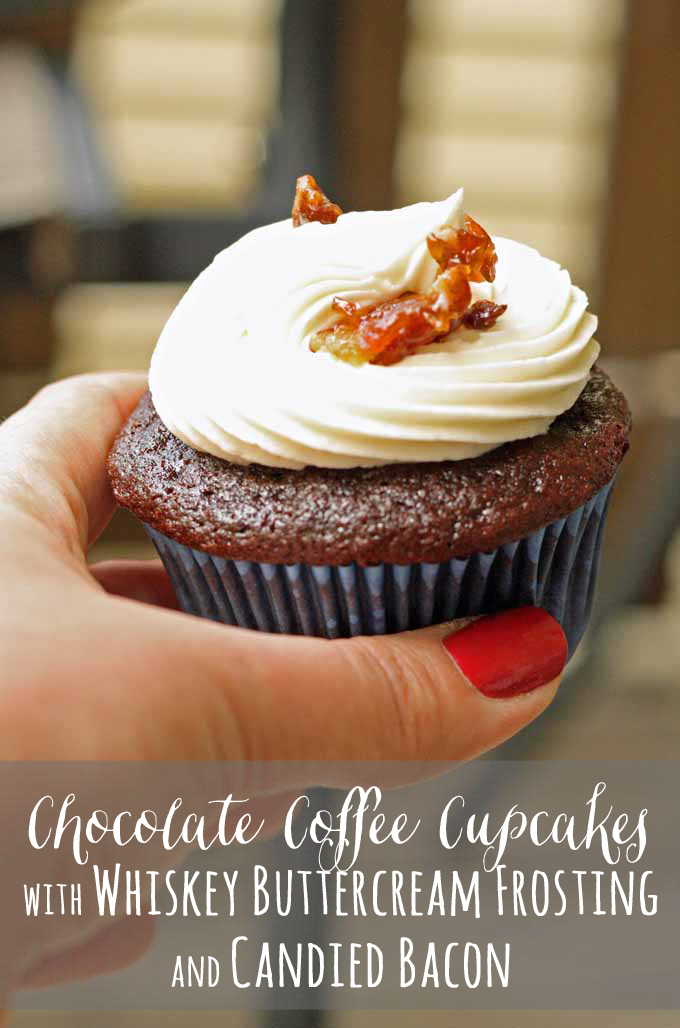 chocolate coffee cupcakes with a whiskey buttercream frosting and candied bacon