I am in love with Stephanie's pretty sheet music wreath! I know you're going to love it! Stephanie is an awesome member of our Creative Team. enjoy! -Linda
Back in the spring I got to help a friend with a few decorations for her daughter's wedding reception.  Since the bride and groom were both musicians, we included bits of sheet music into the decor, without making it overwhelming.  This wreath uses a few of the easy sheet music flowers I made.
Sheet Music Wreath
First, you'll need some sheet music…even just printing some off of the computer will be fine.  If you want a darker, aged look, you can tea stain the music.  I had some tea bags left over from a wood staining project (since we don't actually drink it, I just buy the cheapest stuff I can find!)
How to Tea Stain: Make the tea really strong by using a couple tea bags in 1 cup of hot water.  When it has steeped and cooled a bit, pour it into a pan or cookie sheet (with edges!) and submerge one sheet of music at a time.  Set out on paper towels to lay the sheet music on to dry.  If you have some warm weather, outside is a great place to do this to avoid a mess in your kitchen!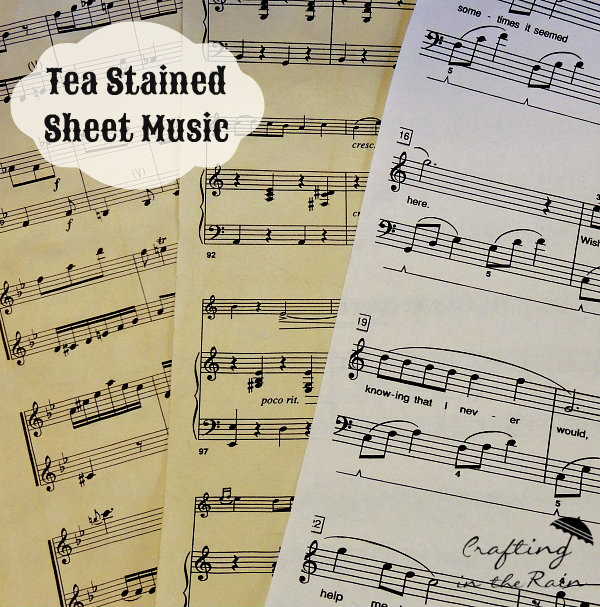 How to Make Sheet Music Flowers:
When the music is dry, start cutting circles.  For each flower cut 2 circles in each size- 4.25, 3.75 and 2.75 inches.  Then freehand cut the edges of the circles to be a little wavy.  Spritz lightly with water and crumple gently.  To speed drying, place them on a cookie sheet in a 275 degree oven for a few minutes.  They will turn quite stiff after being in the oven.  Layer the 6 circles, starting with the largest on the bottom and the smallest on the inside.  Poke a hole with a nail or thumbtack and insert a brad to hold the flower together.
I ended up making 3 flowers and you can see I did one a little smaller than the first two.  If you're feeling ambitious, you could make enough flowers to cover the whole wreath!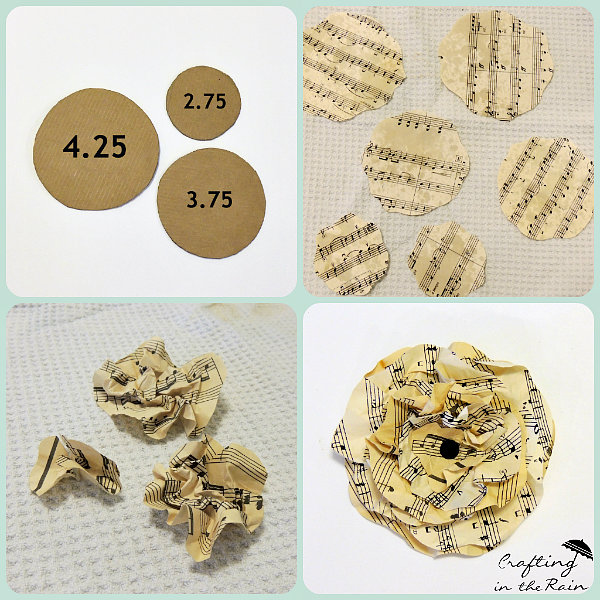 Once the sheet music flowers are made, gather the rest of your supplies:  Grapevine wreath, twine, paper triangles and a glue gun.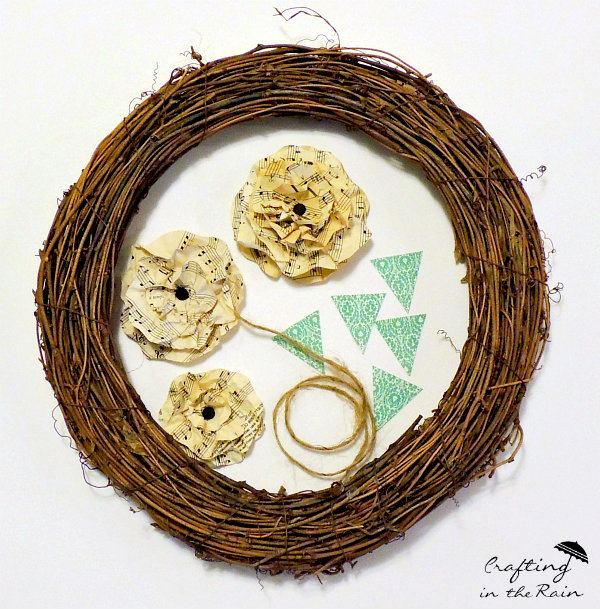 To make the little bunting banner, cut 5 triangles out of scrapbook paper, or make your own pattern with washi tape.  I love the teal color of this roll I had, so I put several strips down on a piece of cardstock, matching up the sides, and then cut triangles out.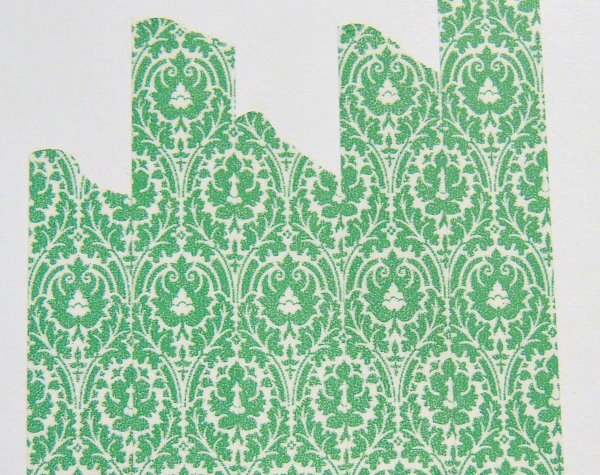 Glue to a piece of twine and glue ends of the twine around the backside of the wreath.
Attach paper flowers in a cluster, about diagonal to where the banner hangs.  Put it on display where everyone can see!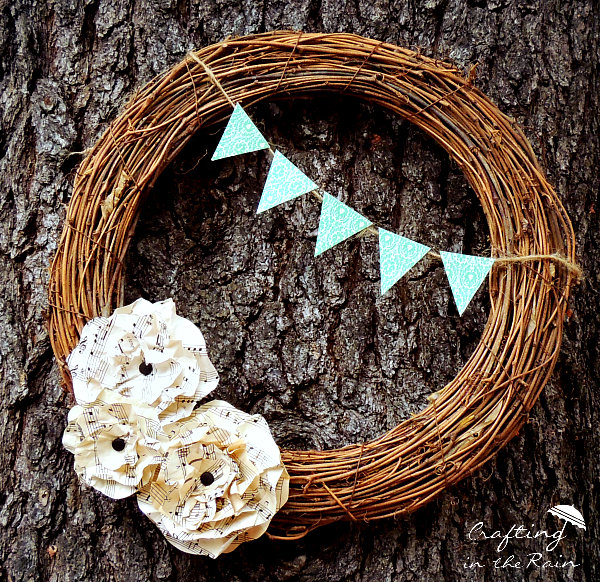 What could you do with these cute sheet music flowers?
Don't miss a craft!! Follow Craftaholics Anonymous® on Bloglovin for new crafts and on Pinterest for crafting inspiration from around the web!
Steph lives in the Pacific Northwest where she can usually be found cutting or gluing something. Besides making messes, she stays busy with her 3 kids, church, PTO and of course blogging.
Latest posts by Steph Paxman (see all)