With cooler weather just around the corner (I hope!) I can't wait to decorate my mantel for fall! Jenn, from the Creative Team, shares some fun and original fall mantel decorating ideas. Enjoy! – Linda
Fall Mantel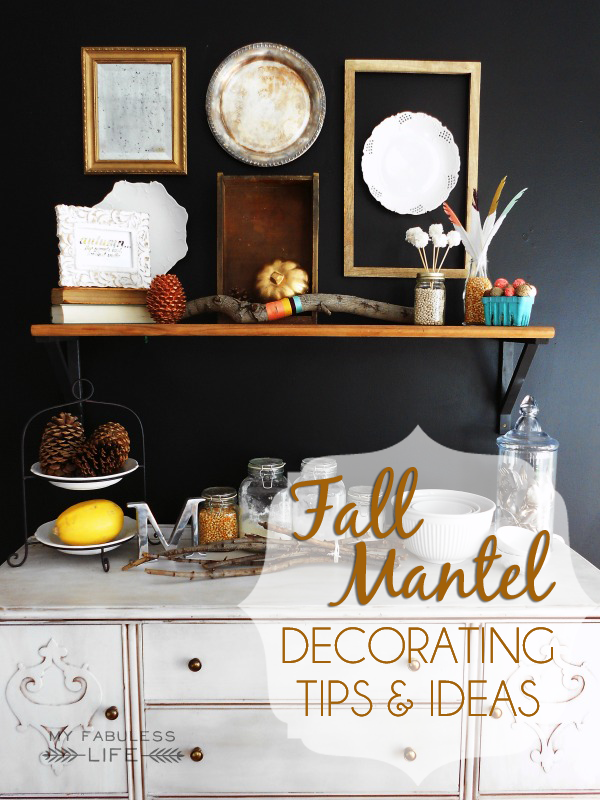 I LOVE fall, most especially, decorating for fall. I love the colors, the textures, everything! I don't actually have a mantel in my house, so a large shelf over the buffet in my kitchen gets the mantel treatment around here. Last year, I went with very neutral, mixed metals. This year, the mixed metals still made their appearance, but I threw in some pops of color (and my walls are now BLACK!). Anyone else loving all the turquoise and coral this fall? The best part about this though, is that it was almost COMPLETELY collected from either things that were already lying around my house, or the great outdoors. It cost me a grand total of $5.00 (for feathers and embroidery floss).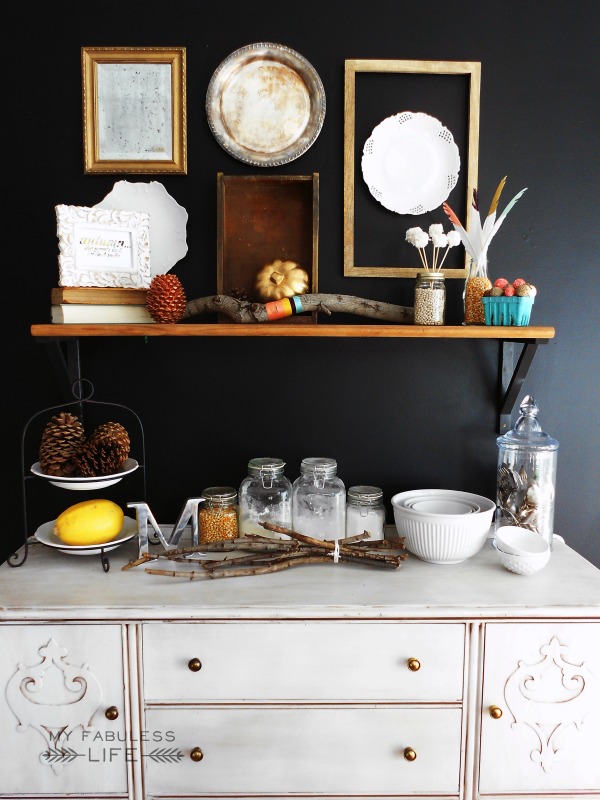 I bought a package of feathers at Hobby Lobby and just painted the ends (with leftover craft paint from my daughter's recent birthday party), to give them a dipped look. I'm SO diggin' the dip these days! If I'd had access, I would have found some real feathers somewhere, because these definitely look a little synthetic, but alas, the supply of real feathers around my neck of the woods is pretty scarce.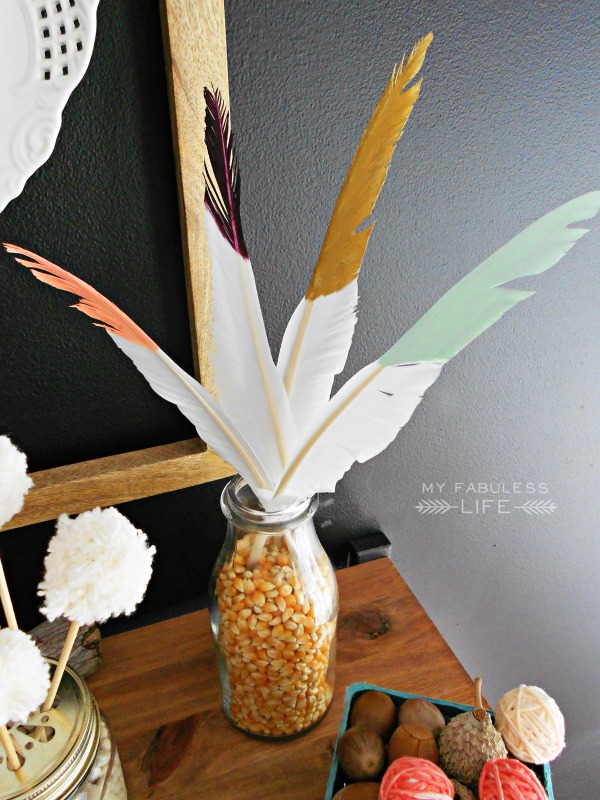 Food makes great vase fillers, so I pulled some popcorn kernels from last year's mantel and some navy beans that had been hanging out in my cupboard for longer than I'd like to admit, so I put them to better use in a mason jar. The "flowers" are just yarn pom poms on skewers–super simple.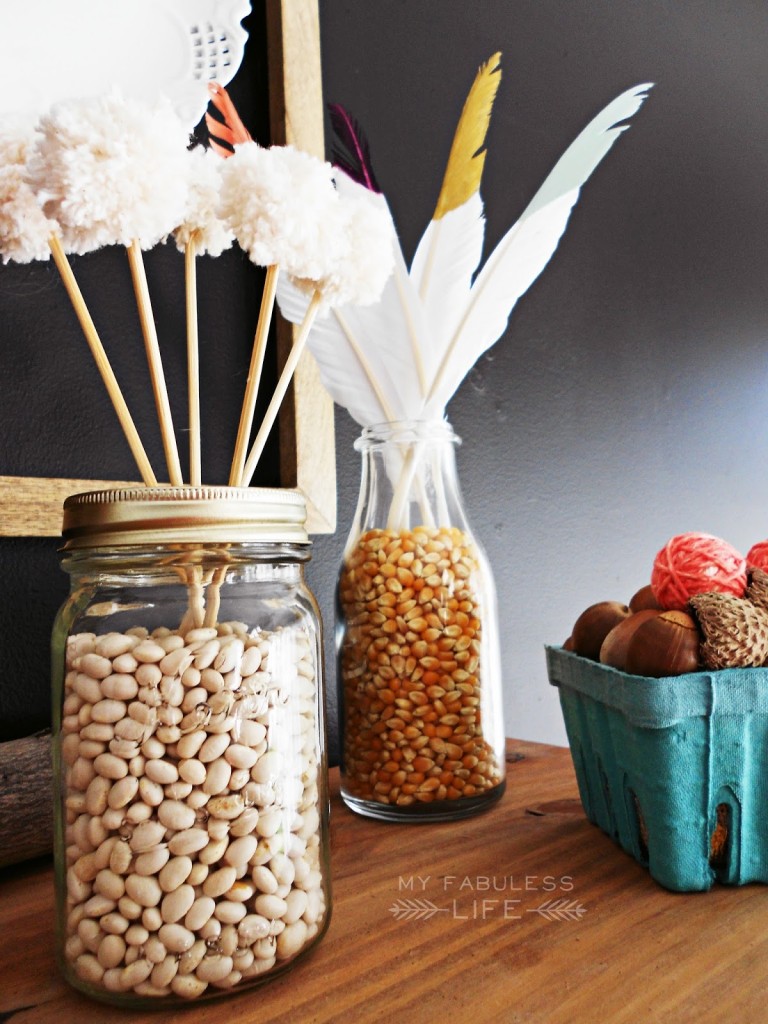 I found these super cool, gigantic acorns a couple of years ago on a lunch-break walk at work, and filled up my purse (these are the things that make my husband think I'm certifiably insane). Pop them in a berry basket, with some DIY yarn balls, and you have colorful, texture-y, fall goodness.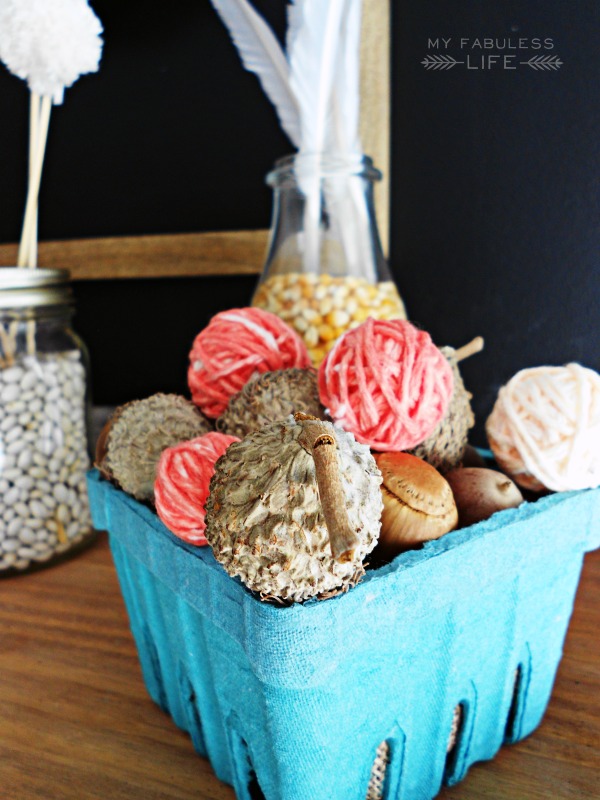 I also have a tendency to collect dead branches when I visit my grandma (again, drives the hubs crazy), and I loved how twisty and knotted this one was. I wrapped some embroidery floss around it for a little more color, and to tie everything together. The pumpkin is from the dollar store and spray painted, what else, gold. It's sitting in an old dresser drawer–great for shadow boxes!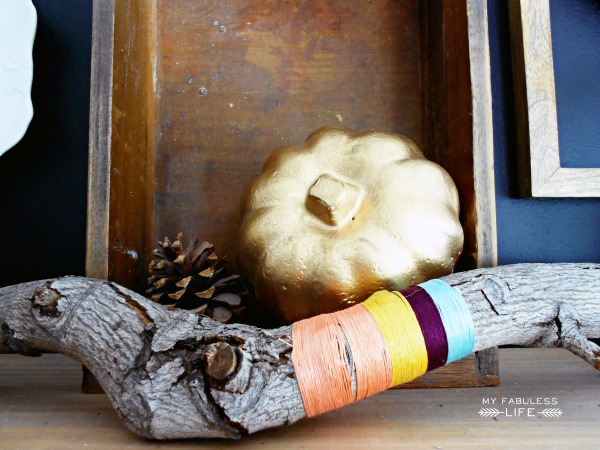 And finally, a couple of old books, turned backwards to show those beautiful aged pages, a printable from yours truly, and a pine cone candle holder (courtesy of my boss at work to the tune of like a 30 of them – the beauty of people knowing you're a hoarder collector) spray painted copper.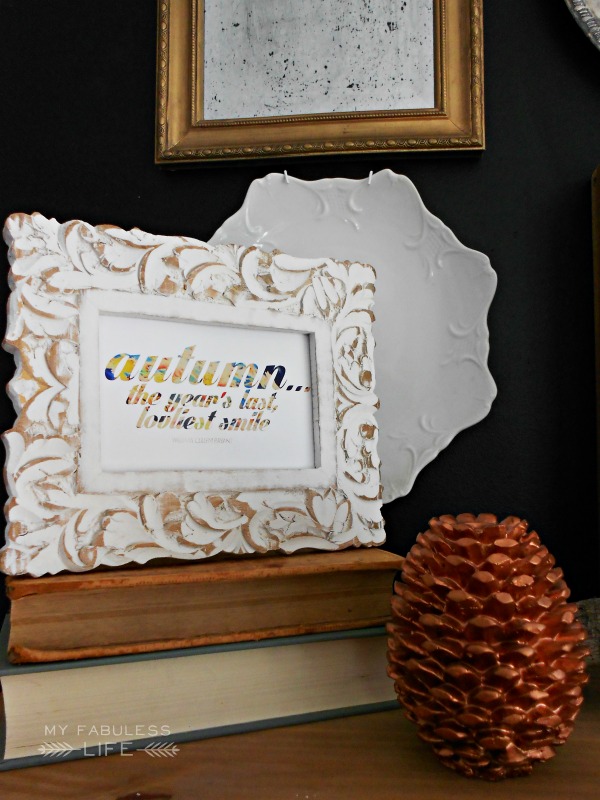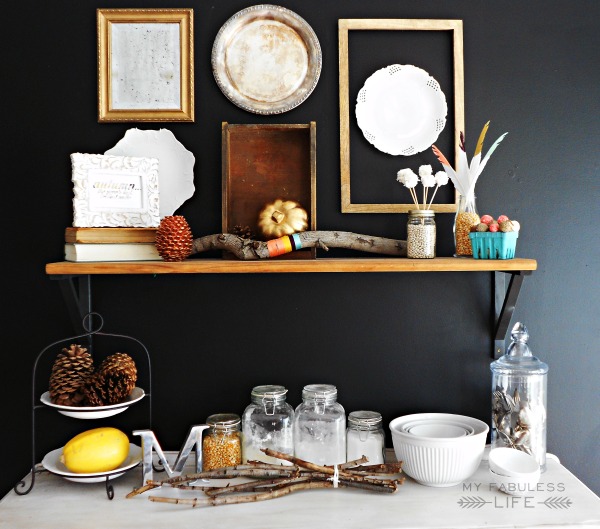 Isn't her mantel beautiful! I love all the texture and color. Thanks Jenn!
Latest posts by Craftaholics Anonymous (see all)