Pimento Cheese and Corn Stuffed Mini Sweet Peppers
Hi everyone! Amanda here from Old House to New Home sharing a delicious recipe for tailgate season! These mini peppers are stuffed with a delicious mixture of homemade pimento cheese and sweet corn and then baked until hot and bubbly! Don't save these just for game day though, they make the perfect appetizer for before dinner or for snacking!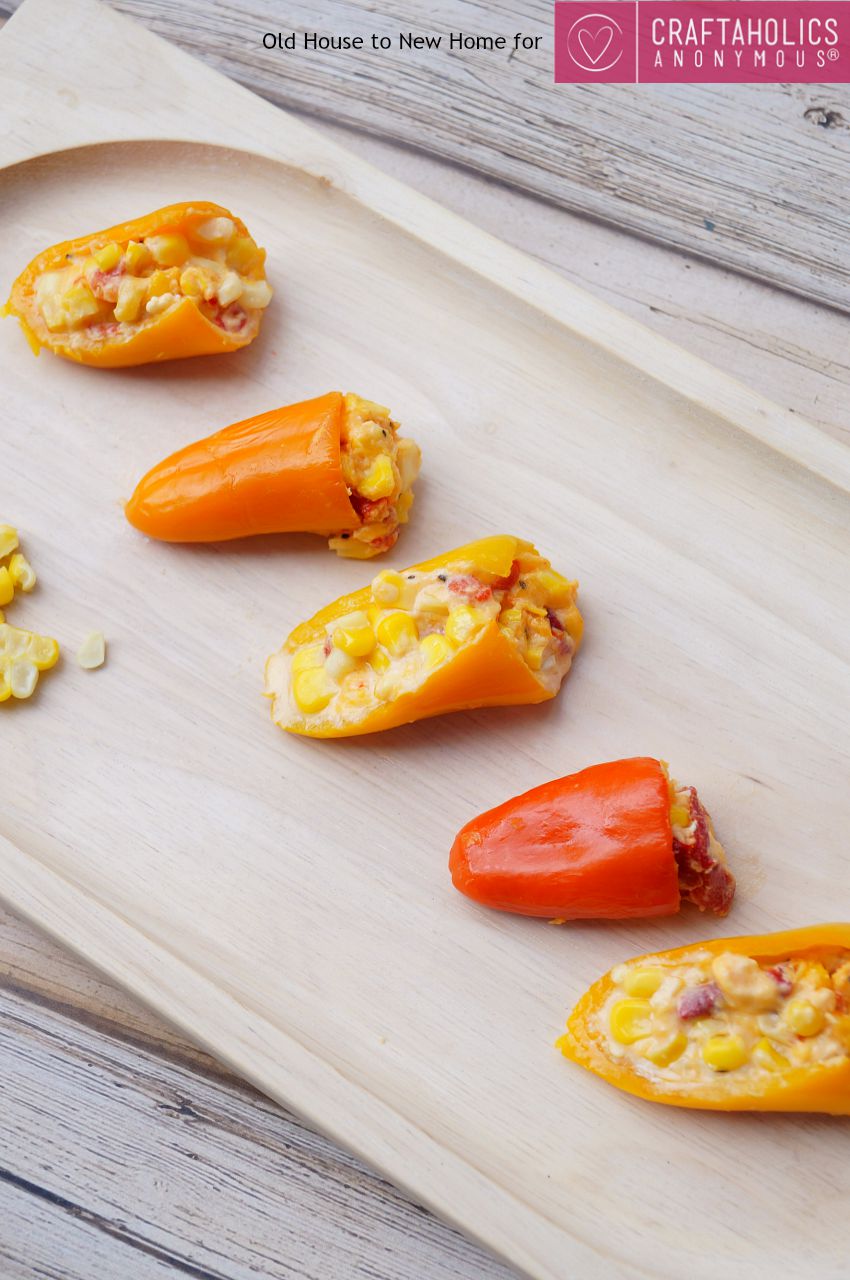 Now I am not from the South, so I know my pimento cheese is not completely authentic, and I'm okay with that! I'll let the experts make the real stuff! To make the mixture hardier so it didn't all run out of the pepper, I added cream cheese. I also like how the cream cheese smoothes out the mixture and makes it extra creamy! If you have a pimento cheese recipe you love, just use that and add the cream cheese and corn to it and you'll get the same results! You can also make these spicy by adding a chopped jalapeno pepper to the mixture or by using spicy peppers instead of sweet ones! I love spicy food, but when cooking for a hungry football crowd, it is sometimes better to leave out the spicy stuff, unless you really know what they like!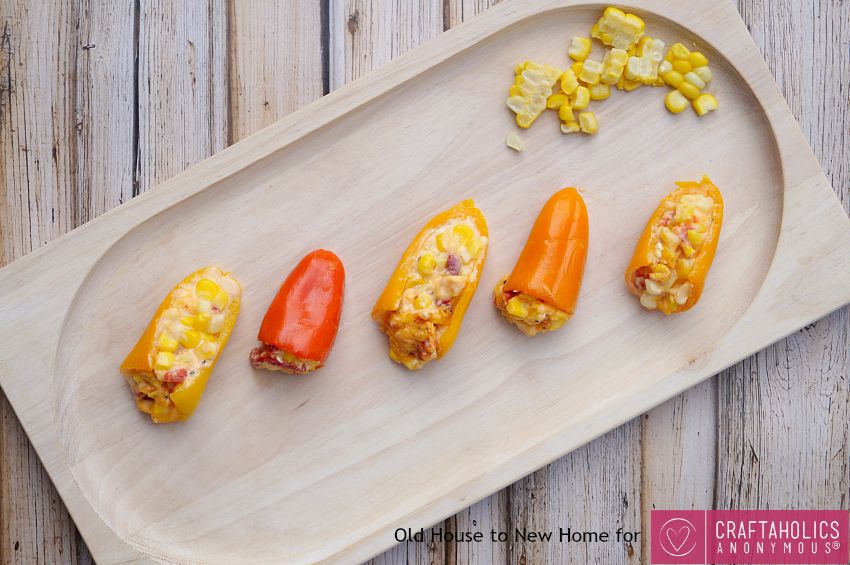 I used leftover corn on the cob that I had stripped from the cob for this recipe, but you could also use canned corn that is drained well. I love the taste of the fresh corn, but I know that corn season has nearly ended, so use whatever you have! The flavors in these peppers are just delicious. You have the sweetness from the peppers and corn, the creaminess from the cheeses, and the slight tang from the sharp cheddar cheese and hot sauce. They combine all the best flavors into one tiny little flavor packed bite which will make them a hit with anyone who tries them! If  you have any leftover filling after stuffing the peppers, the cheese mixture tastes delicious on tortilla chips!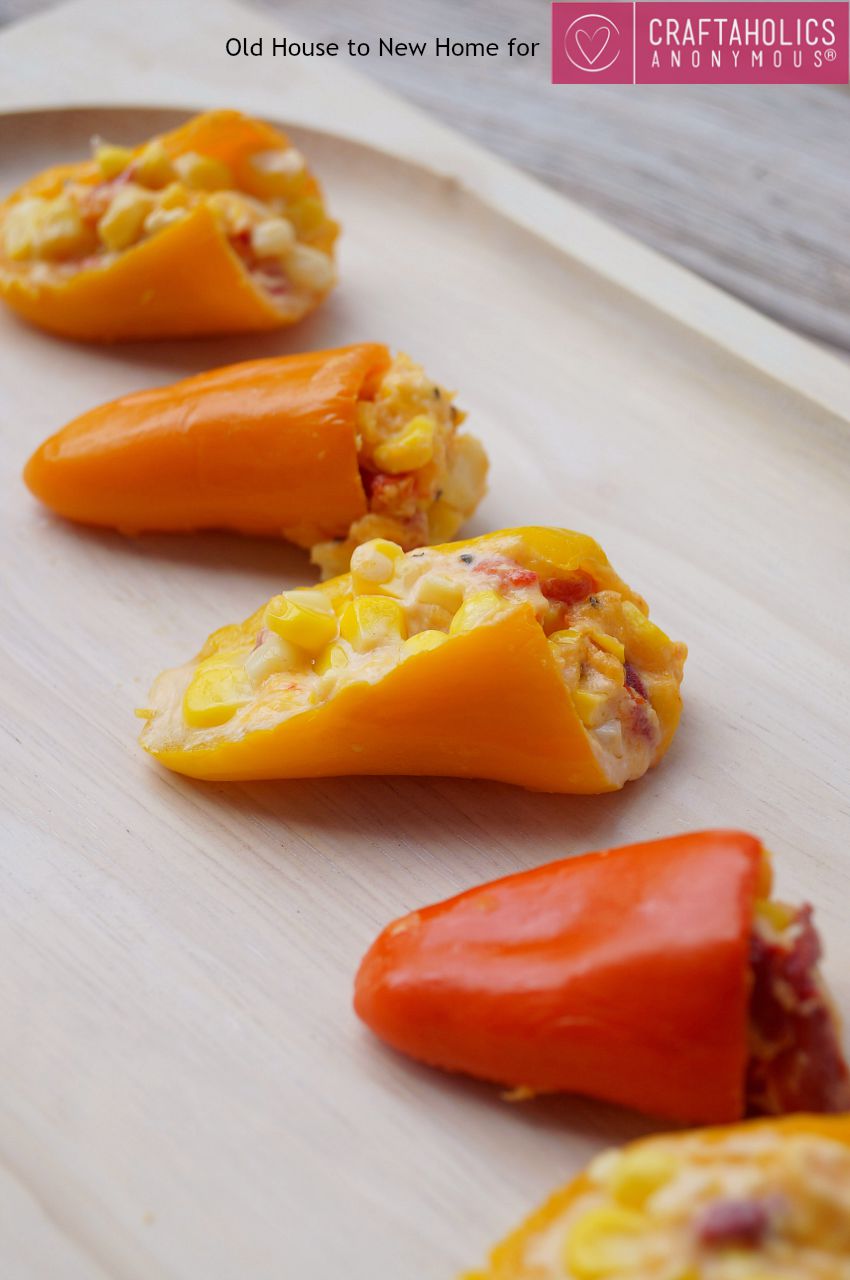 Recipe Note: I cut my peppers in half for the pictures, but I think the filling stays in the whole peppers better! But it is up to you!
Pimento Cheese and Corn Stuffed Mini Sweet Peppers
Ingredients
16 mini sweet peppers, deseeded, cut in half if desired
3 oz cream cheese, softened
1/3 cup mayonnaise
1 cup corn
1 cup extra sharp cheddar cheese
1/4 tsp. garlic powder
1.4 tsp. onion powder
1 4 oz. jar pimentos, drained
1 tsp. hot sauce, optional
salt and pepper to taste
Instructions
In a bowl, mix together cream cheese, mayonnaise, sharp cheddar cheese, corn, garlic powder, onion powder, pimentos, and hot sauce if you are using it. Mix well until all ingredients are incorporated.
Cover and refrigerate for at least 1 hour so the flavors can meld.
Preheat oven to 400 degrees.
Stuff each pepper with about 1 heaping tbsp. of filling, depending on the size of your pepper. Push filing away from the top of the pepper so it doesn't run out when baking.
Once each pepper is stuffed, place each one on a baking sheet and bake for 10-12 minutes, or until mixture is hot and bubbly on the inside.
Some mixture may run out, but you can push it back into the pepper once you remove from the oven. Let peppers sit for 5 minutes so that the the filling can set up.
Serve warm and enjoy!
https://www.craftaholicsanonymous.net/pimento-cheese-and-corn-stuffed-mini-sweet-peppers