Peanut butter + oatmeal + Chocolate Chips…. Does it get any better than that?? You will LOVE this Peanut Butter Oatmeal Chocolate Chip Cookies recipe!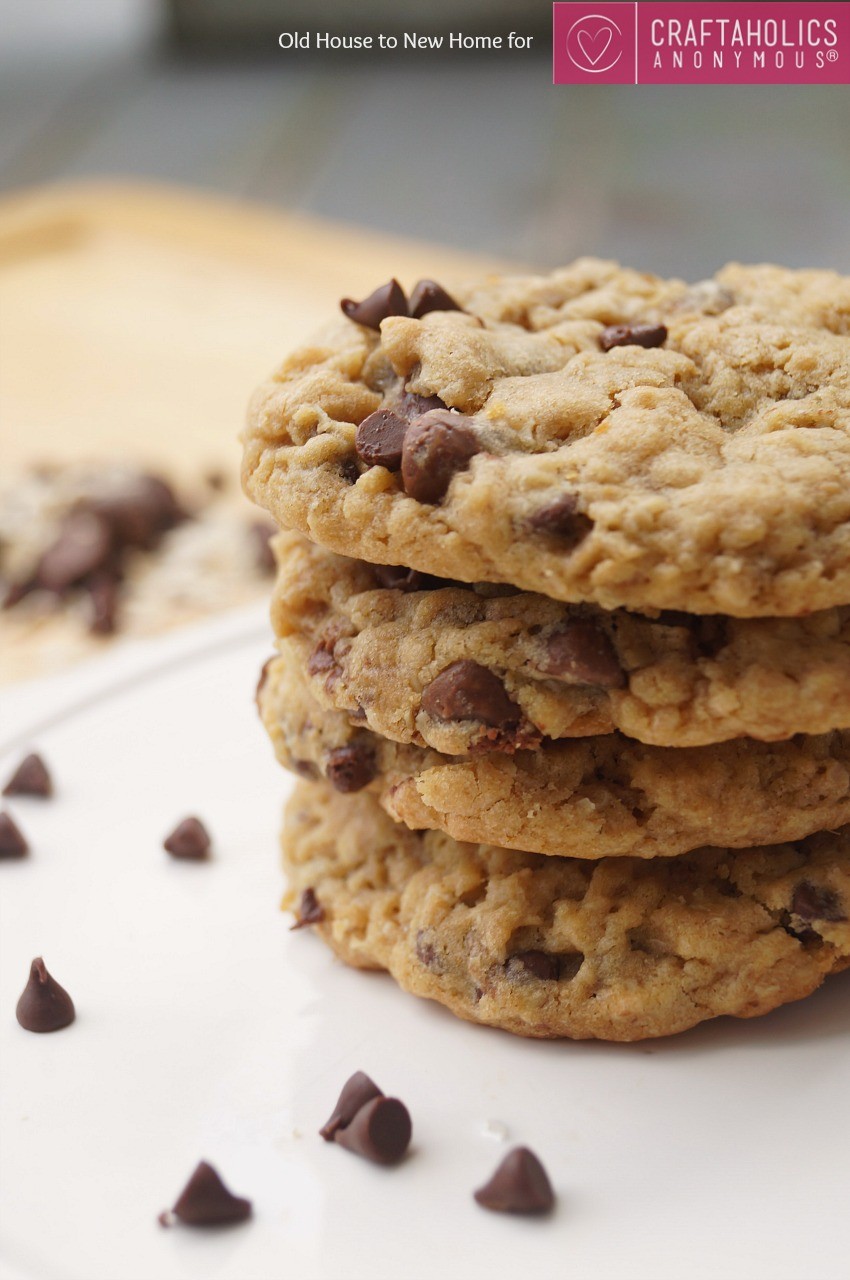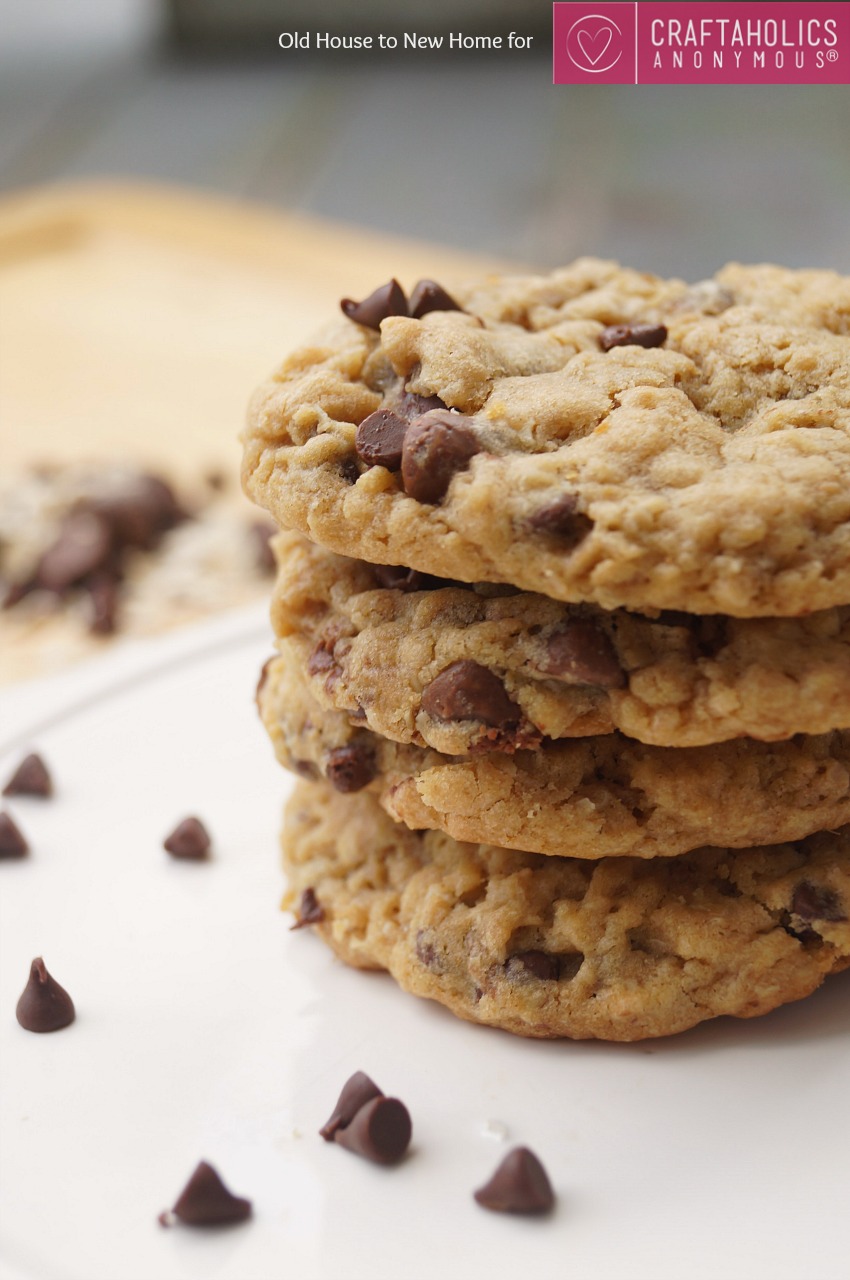 Peanut Butter Oatmeal Chocolate Chip Cookies
Hey everyone! Amanda here from Old House to New Home again sharing a cookie recipe that is quickly becoming a family favorite! There are so many different options when it comes to homemade cookies, but with these Peanut Butter Oatmeal Chocolate Chip Cookies, you don't have to pick and choose what to make because these combine all the flavors into one cookie!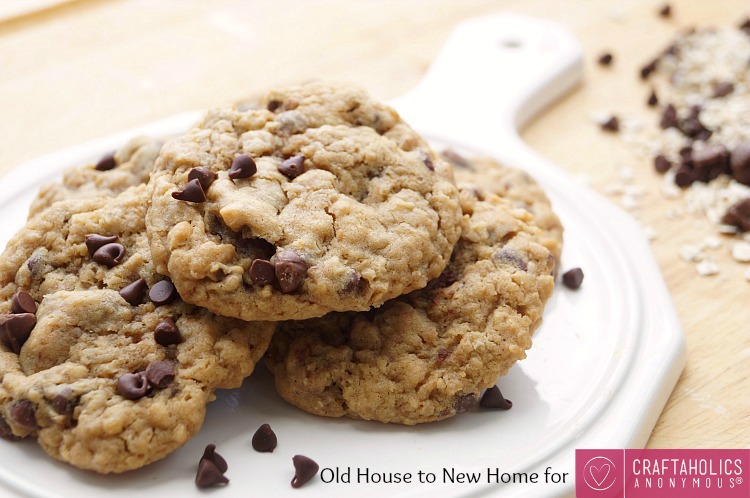 I love different cookies for different reasons. Peanut Butter are usually my favorite because of the rich texture and saltiness from the peanuts. I love chocolate chip because they are just classic and who doesn't love chocolate? And you can't forget oatmeal cookies. The oatmeal brings such a good texture to the cookie and makes you feel like you are getting just a smidge of nutrition! I love this cookie recipe because you get all the goodness of those three different cookies in one.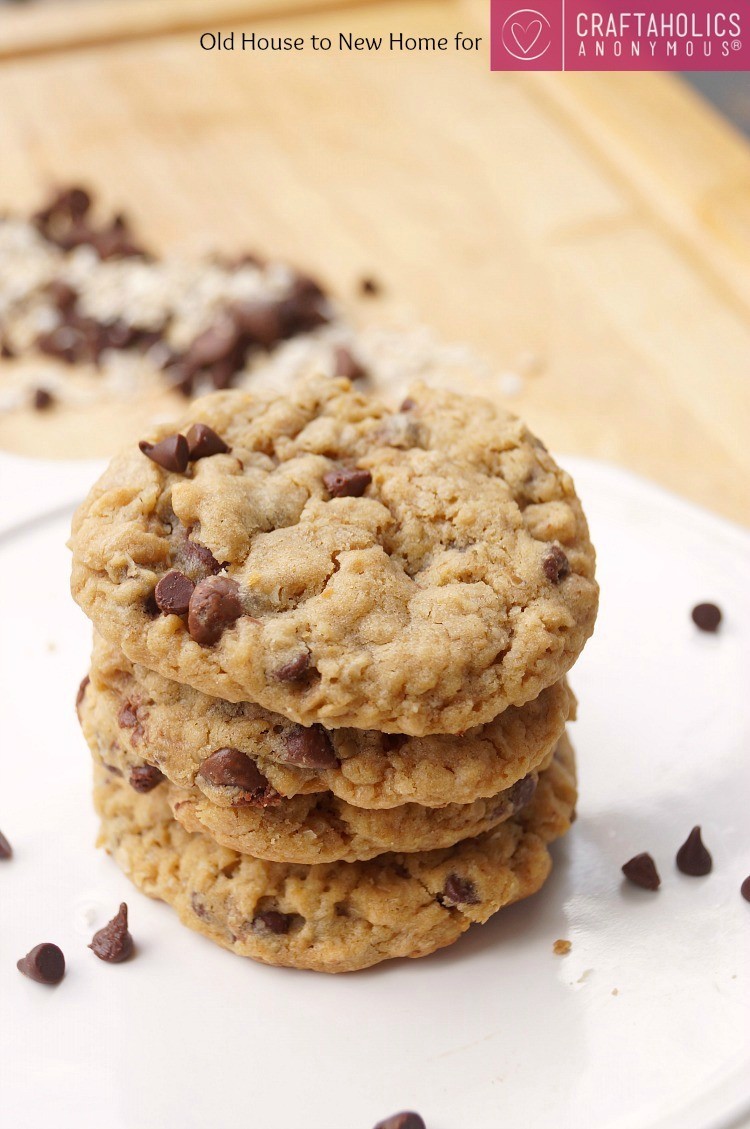 These cookies are a breeze to make and one of my favorite things about them is that you don't have to pull out your mixer! Have you ever made cookies with melted butter? I am always drawn to those recipes because the mess and cleanup is much smaller! My husband and daughter helped me throw all the ingredients in the bowl while I was making dinner and we had these mixed up quickly! You do need to refrigerate the dough, so plan ahead and know that you won't get your cookies instantly, which was quite disappointing to my three year old!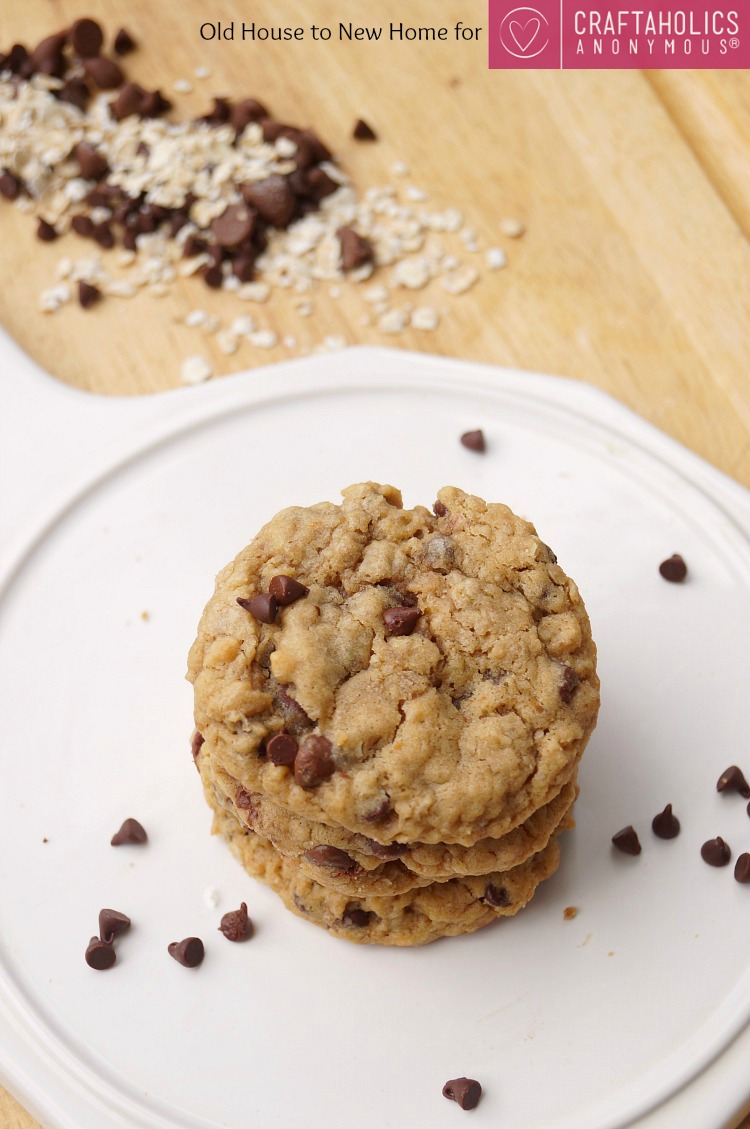 I know that we don't want to think about it yet, but in a few short weeks the kiddos will be headed back to school and this would be the perfect treat to throw in their lunchbox or to serve as a special after school snack! We have been noshing on them all week and I know that there will be a request to refill the cookie jar with these as soon as it is empty!
Peanut Butter Oatmeal Chocolate Chip Cookies
Ingredients
1/2 cup unsalted butter, melted
heaping 1/3 cup creamy peanut butter
1 large egg + 1 yolk
3/4 cup light brown sugar, packed
1/2 cup granulated sugar
2 teaspoons vanilla extract
1 cup old-fashioned whole rolled oats (quick oats work fine too)
1 1/4 cups all purpose flour
1/2 teaspoon baking soda
1/2 teaspoon salt, or to taste
1 1/2 cups semi-sweet chocolate chips
Instructions
In a microwave-safe bowl add the butter, peanut butter, and heat until melted, about 1 minute. Add 15 seconds at a time if not smooth and melted after 1 minute. Stir well when melted and set aside for 5 minutes.
After 5 minutes, add the egg and yolk, both sugars, vanilla, and then whisk until smooth.
Add the oats and stir well to combine.
Add the flour, baking soda, salt, and stir to combine, but don't overmix. Mixture should be fairly thick.
Fold in the chocolate chips and then cover bowl and refrigerate for at least 2 hours.Do not bake without refrigerating, mix will be too oily and will spread!
After the chilling is complete, preheat your oven to 350 degrees and then line two baking sheets with either Silpats or cooking spray.
Scoop heaping tablespoons of dough out and roll into a ball and then place on cookie sheet. Flatten slightly with your hand.
Bake 8-10 minutes or until starting to set up and golden brown. Cookies should still be soft when you pull them out of the oven.
Let cool on a cooling rack.
Store cookies in an airtight container for 1 week or put in the freezer for up to 3 months! You can also freeze unbaked dough for 3 months and bake as needed.
https://www.craftaholicsanonymous.net/peanut-butter-oatmeal-chocolate-chip-cookies
Recipe slightly adapted from Averie Cooks