Summer Paper Fan Garland
By: Erin
I wanted to add a little color to my bedroom this summer, so I made this Summer Fan Garland. I adore it…these paper fans are one of my very favorite crafts. They're so pretty and versatile. I first used them for one of my parties and I've been addicted to them since! This garland takes a little time, but trust me…it's worth it!
How to Make Paper Fan Garland
To make these, you will need:
Scrap book paper
Ribbon
Glue gun
Paper trimmer or scissors
1″ Round hole punch
Score board (I got mine at Michael's)
For the first part of the tutorial, you'll need to make each individual fan. Cut out squares of various sizes (from about 3″ to 6″). You'll need 3 squares for each fan.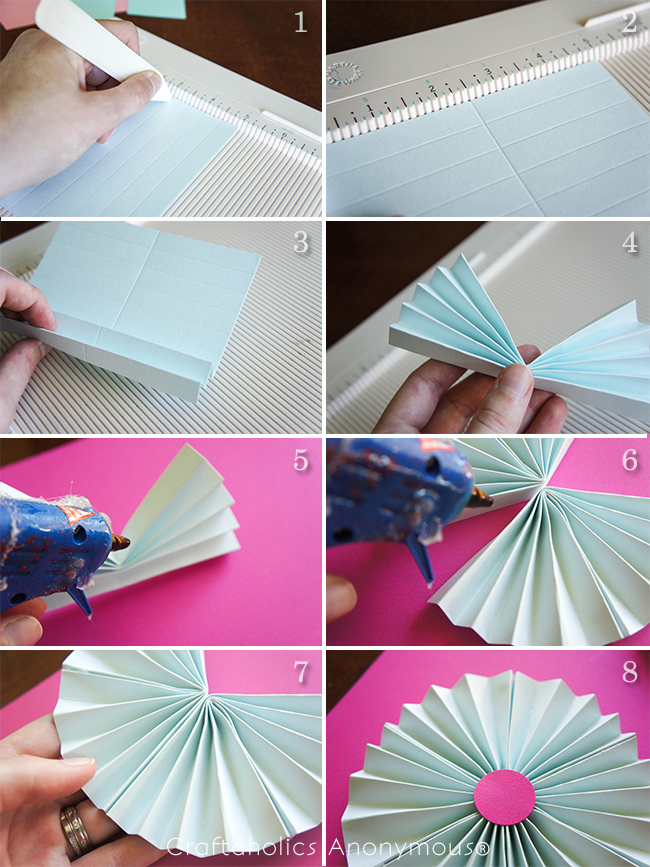 Instructions:
Once you have all your squares cut out, use the scoring board to score the paper. I score it every 1/2″ for squares that are 3.5″ or larger and every 1/4″ for squares that are 3″ or smaller.
Turn the paper at 90 degrees and score in the middle of the paper.
Fold it like a fan.
Bend it in the middle.
Glue the middle together so you'll have 1/3 of the fan.
Repeat steps 1-5, then glue each fan together.
Spread the fan out and glue the final pieces together.
Cut out a circle with a 1″ hole punch and place it in the middle of the fan.
For the second part of the tutorial, you'll create the garland.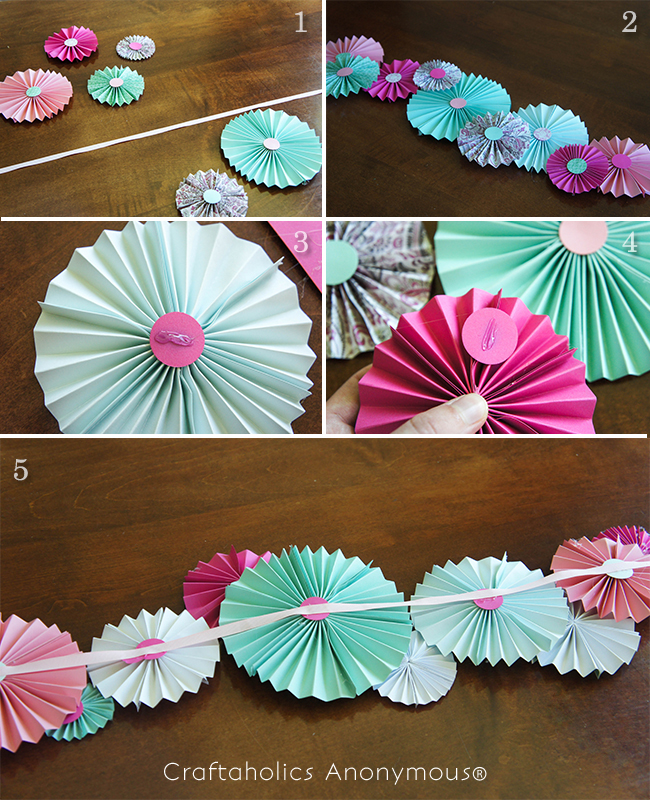 Lay a piece of ribbon out. Measure how long you want it to be and mark it. Leave the sides long in case you want to tie them in bows.
Lay out the fans how you want them to be. Feel free to layer them on top of each other.
Place another 1″ dot on the back of the fan and glue it to the ribbon. Do this for each fan that will be directly on the ribbon.
Next, add the layered fans. I glued a dot to the sides and attached them to the fan. This makes them more secure.
As you can see, the back is not too attractive! I secured any fans that seemed loose. This banner is quite heavy, so feel free to add another larger ribbon on the back to secure the weight of the fans.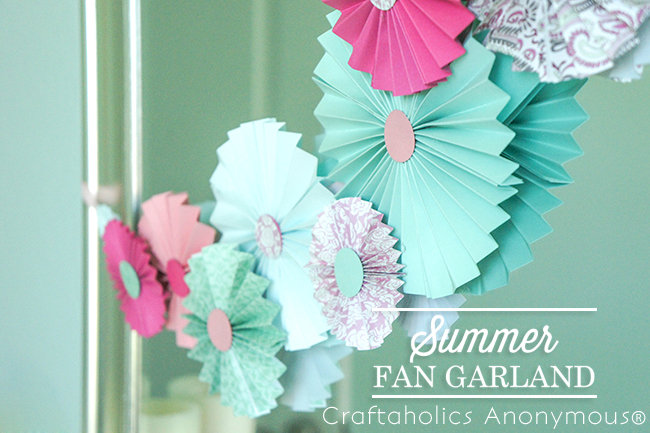 These fans are so versatile and you can try different techniques, like using a border punch around the edges. You can see an example of this on my blog. I have also used these for cupcake toppers, but I think this fan garland is my favorite yet!