Have you ever wondered how to get perfect lettering on a sign without using a stencil? We asked the crafting community on our Facebook page and got some great tips!
How to Paint Letters on Wood
Lisa asks, ""What is the best way to put letters onto wood? I want to make a sign but I think I'll need a stencil and not sure how to make one."
Suggestions for this post were taken from this thread on the Craftaholics Anonymous Facebook Page.
"I've done it before just by printing it out on paper, then tracing it onto the wood & painting in the lines. If you're going for cheap." – Amber H.
"You can make a stencil with freezer paper. Very easy and inexpensive." – Tricia M.
"Draw it on paper, put the paper on the wood and use a ballpoint pen to trace it, pressing down hard. It makes guidelines for you in the wood to paint." Jessica W.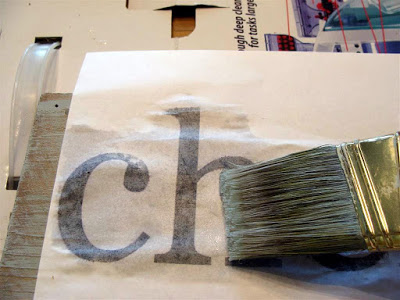 Easy transfer tutorial from Diddle Dumpling
"Look into the Sillhouette Cameo or SD! The BEST addition to my craft room (die cutting machines)" – Kristin F.
"I don't own a silhouette or cameo or any of those. I can't afford one, so instead I print out my letters, and trace them onto wood, then hand paint the letters." – Alicia F.
"Put on the letter stencils, dry brush or paint over them, then peel off the stencils." – Kim F.
"Yep I do wood burning aka: pyrography. You can use carbon paper and trace letters you've printed onto the wood and then trace it with a wood burning tool. Or you can trace the letters on wood with carbon paper and paint them in." – Shealynn B.
"You can always buy plastic stencils; check on Etsy or eBay." – Cindy M.
"Wood burn the letters into the wood using a handheld wood burning tool (Walmart or Joanna) and use wax paper to draw or write out your design or phrase and trace over the design with the wax paper on top of the wood." – Brittany A.
"I cut letters out of paper on my silouette and then mod podge to wood." Laurel S.
"Just be careful with paint. You need a sealer over the wood or the paint will bleed if you're going to leave the wood natural. I've always loved bold painted ones with beveling around the letters with gold or other color. There are tons of fonts on the internet. Print out one that you like & do it the old fashioned way- rub the back with your pencil & trace over the front – ta-da!" Lisa P.
"I made a wooden address sign. I stained the wood first, a dark walnut . After that had dried well I placed my cut out letters, contact paper,or any stick back..could even use basting spray on paper letters. Any how once the wording is in place I painted the sign a matte black, over the letters as well. Just have to make sure your letters stick well at edges so no bleed through underneath. When dry, peeled of the letters. Looked really nice. Waxed the whole thing with clear min wax." – Alice B.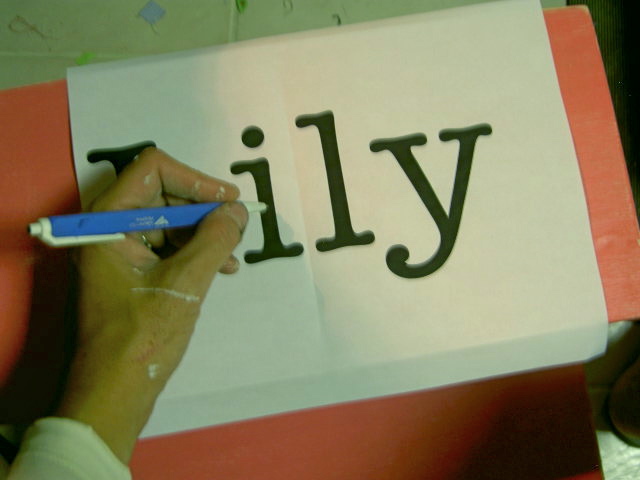 The ball point pen method from That's My Letter
"I've seen a genius idea on Pinterest where you print out the letters on regular paper, put the paper on your wood, and trace it with a pen, using a little force. It "carves" the outline into the wood, which you can then paint, plus the indented outline makes for nice clean edges." – Chandra J.
"I always use transfer paper and hand paint it after. You can cut stencils from frisket paper which can be found at art supply stores. Cut the letters with an exacto knife and then stick it on the wood. Frisket paper has an adhesive back." – Karen J.
"I used to play around with printing the letters and then trace the lines with carbon paper and paint them in. My son just bought a large vinyl cutter from US Cutters and now he can make the vinyl letters for me." – Missy V.
Looking for more vintage wood ideas?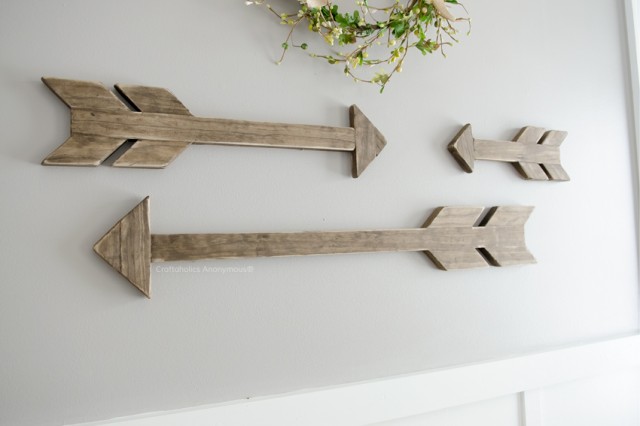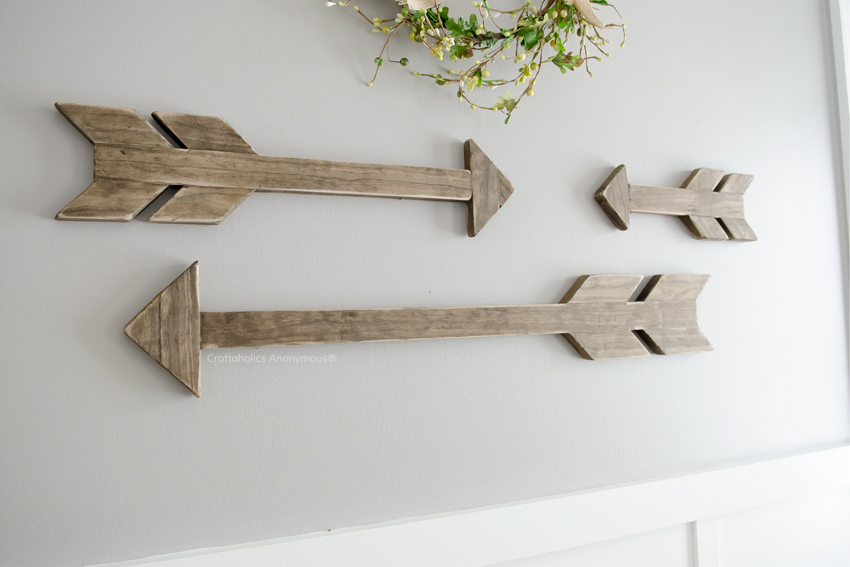 DIY Wood Arrows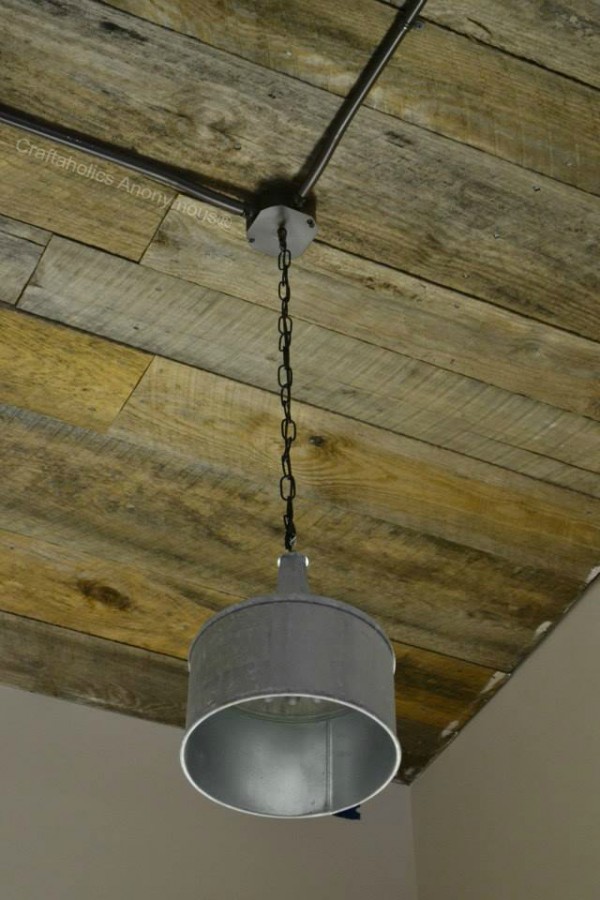 How to Install a Wood Ceiling
Latest posts by Craftaholics Anonymous (see all)