You are going to LOVE MeLissa's old wood ceiling! Its gorgeous! When she shared a picture of it in one of our weekly Craft Therapy on Facebook, I knew she had to share how she did it with us! Here is How to add Wood to a Ceiling. Enjoy! -Linda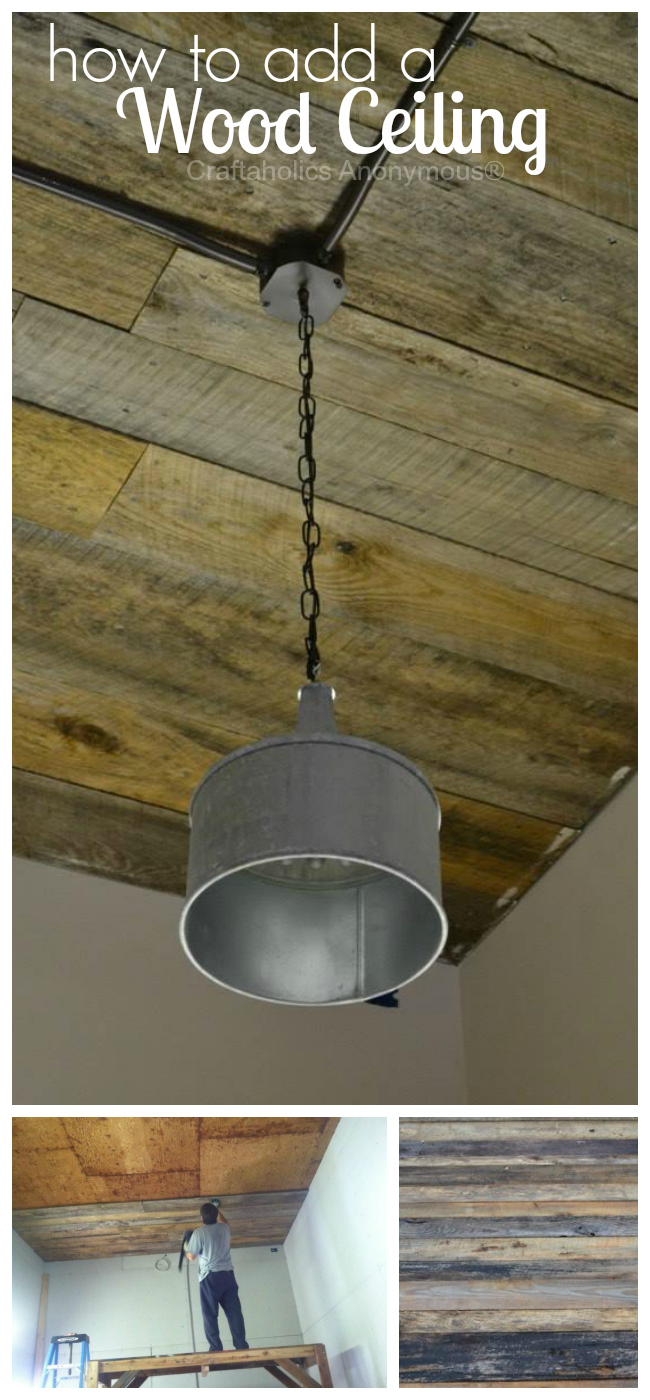 DIY Wood Ceiling
Hi.  I'm MeLissa Miller, and Craftaholics Anonymous® asked me to write a guest blog about the wooden ceiling in our master bedroom and how we made it happen.  What will (very soon) be our master bedroom was originally a one car garage with a 14' plywood ceiling, exposed studs, and a concrete floor.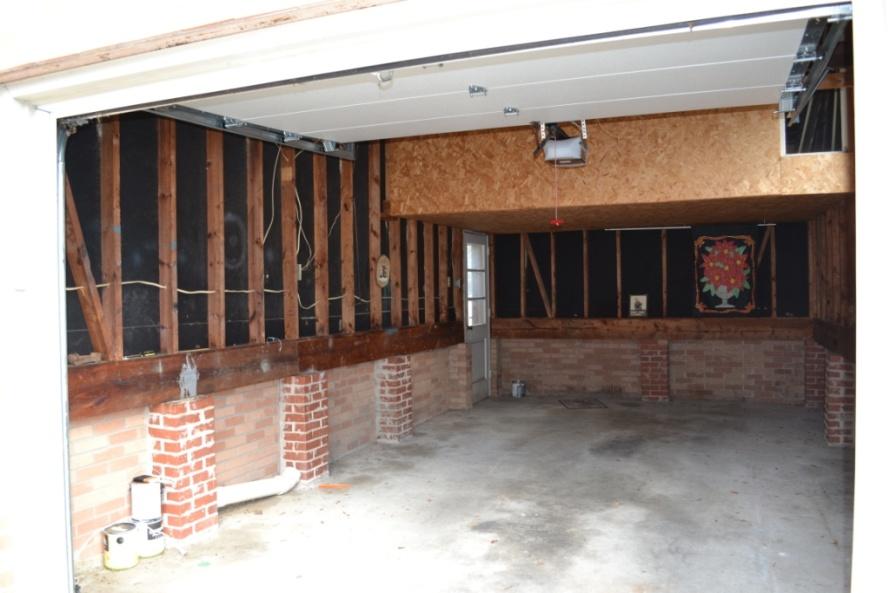 When discussing the ceiling and lighting for this room my husband's idea was to have a central ceiling fan, recessed lights, and cove lighting with a drywall (some call it sheetrock) ceiling.  BORING!  Not at all what I had in mind for our bedroom.  For the first time I had a blank slate on which to create the sanctuary I've always wanted, and since this will be our 'retirement home' I was sticking to my guns no matter how crazy Kyle thought I was.  I wanted an old wood ceiling.
              So the search began for a source of old wood for the ceiling.  Wow…those folks with old wood to sell are extremely proud of it and the price per board foot was way outside of our budget for this project.  To cover the ceiling (approximately 300 sq ft) would cost almost $1500!!  So the search began for an ECONOMICAL source of old wood for the ceiling.   The use of pallets to create beautiful wall coverings, signs, and even furniture is wildly popular right now.  After seeing so many of the pallet wall photos on Pinterest I thought 'why not on our ceiling?'  Most of the time they're free so that would take care of the budget issue.  We gathered several old pallets to test, but after 30 minutes of fighting to remove a measly three nails from the first pallet we decided that was not the route for us.  Our oldest is a freshman in college and our youngest is in first grade…no time for pulling nails around here.  (**Not to mention there are some pretty scary chemicals used to treat these pallets.  So if you decide to use old pallets for a project make sure you research those chemicals before bringing them into your home.)
             We were feeling defeated at this point.  We were discussing just where we could find the old wood I had my heart set on and not blow the budget.  The AT&T repairman at our home for a service call overheard us and suggested a local sawmill.  As soon as he left we drove over to the local sawmill, and spoke with the owner.  Folks…he GAVE us the old wood.  GAVE it to us because it would get it out of his way!!!
After getting the lumber home we had to prep it for long-term use in our home.   Here are the steps we took to ensure a lasting, beautiful, critter free ceiling.
How to Add a Wood Ceiling Tutorial
*****Tools/products we used:  Pressure washer, garden sprayer, Tim-bor Professional insecticide/fungicide, air nailer (and air compressor), nails, circular saw, and hammer.
Step 1:  We spread the boards out in a single layer in the back yard and pressure washed both sides.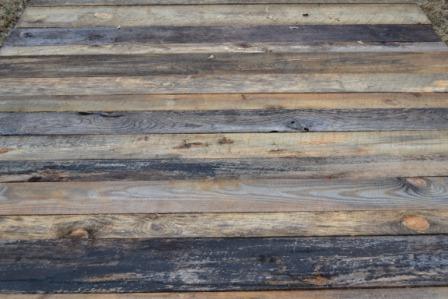 Step 2:  We left the boards for 7 days (without rain) so that they could dry completely.
Step 3: We soaked the tops side of the boards with an insecticide and fungicide that is safe for home use.  We simply followed the directions on the container and used a garden sprayer.  We left the side we'd just soaked dry for two days, and then flipped the boards to treat the second side.  Once again we left the boards for 2-3 days to completely dry.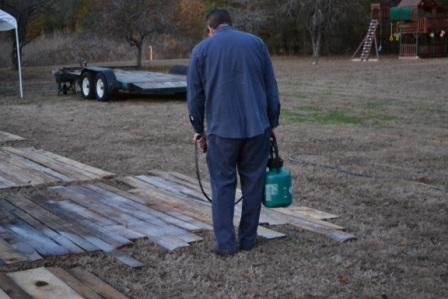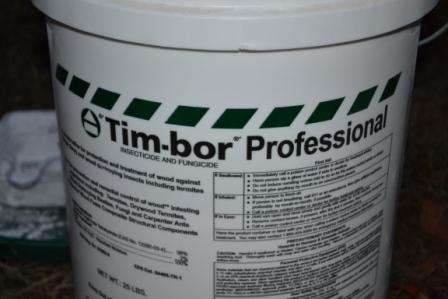 Step 4:  We brought the completely dried boards inside, stacked them, and left them for 3-4 days so that they could acclimate to the interior climate of our home (the same as you would do with raw hardwood flooring).
 Step 5: We cut and nailed them.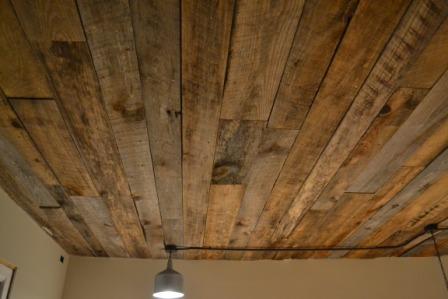 A gorgeous ceiling that I cannot stop looking at.  I'm constantly surprised by how it changes throughout the day as the sunlight coming in through the windows changes.  Oh, and yes those are tractor funnels we made into pendant lights…another of my crazy ideas my sweet hubby indulged.
I'm totally envious of MeLissa's awesome old wood ceiling! Thanks for sharing how you did it, MeLissa!  

Today is the last Day to enter the Silhouette CAMEO + Portrait Giveaway!
Follow Craftaholics Anonymous® on Pinterest for more DIY and craft ideas! 

Hi! I'm Linda, the craft addict behind Craftaholics Anonymous®, a craft blog. Crafting is cheaper than therapy, right? When I'm not DIYing something, I can be found taxiing around our 4 crazy kids or working out. Or shoe shopping... because you can never have too many shoes! Happy crafting! ♥